One Last Birthday Bash
John Haber
in New York City
Velázquez in New York Museums
Watteau and His World: French Drawing
I am not having another birthday this year. Birthdays, centenaries, millennia—will I ever get a break from it all? Peter Pan must have got his start the same way.
In the art world, of course, the celebrations mean business. A century of Modernism has brought a scary role for collectors and museums. As public institutions in a commercial culture, they now grow, merge, define an academy, and become the the very subject for art.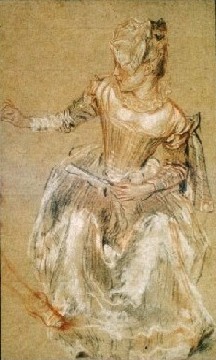 What is a small museum with any integrity to do? The Frick collection tries some flash, but also a lot of care. If other museums agonize over a dying American century, the Frick looks to a more modest and lasting centennial. It tackles the four hundredth birthday of Velázquez along with remarkable Watteau drawings. They make yet another pair of starts for modern painting at a century's end, but none more revealing.
No excuses
Born in 1599, Diego Velázquez could easily stand for the Baroque by himself. Let me fill in the story. His career begins with the hallmarks of Caravaggio and his still unsettling breakthrough over in Italy. Younger and older artists alike, such as the father and daughter pair of Orazio and Artemisia Gentileschi, now placed living models even into religious scenes. In bold stories and expressive faces, Velázquez, too, creates the inner tensions of ordinary people. For the Spaniard, however, that means not outsize, sexually charged drama, but a world of hard work and simple piety. The generation before in Spain, the time of El Greco and his influential portraits, seems a world away.
Peasants and nuns alike have craggy features. If the nun looks rather mean on account of hers, plain men and women find pathos and an unsentimental dignity in their frank poverty. Eggs look so freshly broken open that they seem to glide across the surface of a bowl. Those thin, dry, fresh layers of oil point not to George de la Tour or other great Baroque genre painting soon to come, but rather back a century—to Titian's Venice. Diego Velázquez is to develop their potential all his career.
Jonathan Brown, the curator for the Frick's exhibition, long ago traced props like these to Caravaggio's early scenes. For Velázquez, they come so without theater or obvious excuses that one wants to read allegories into them. That only begs for frustration. Men and women do their kitchen duties and eat plain meals. They worship the Virgin as a vision come to earth. In a Spain battling by force of arms against Protestantism and a loss of empire, she had.
Like so much of Baroque portraiture, although perhaps not Anthony van Dyck, Velázquez moved toward less drama, greater compositional unity, and a wealthier audience. This man now works for popes and kings. Earth tones give way to dark schemes enlivened by intense, decorative color. Faces grow reserved, as befits the class of his sitters. At the Spanish court, the king himself sets the fashion of simplicity. Only women and children, notably his own daughters, can dress outlandishly.
At the end of the painter's career, a new richness of style has taken over. Compositions hide their very complexity—and a fabulous palette of black, red, yellow, and gold. In his surest masterpiece, in Madrid's the Prado, Velázquez paints himself at his easel, amid a seeming chaos of court figures, doors, and mirrors. From barely seen paintings to the edge of fine dresses, the shadows of Las Meninas teem with life.
For Velázquez the course of the Baroque had personal significance as well. In his limited output and evolving style, Brown spots a wish to escape the role of painter as servant. He wishes his due as nobleman and courtier, Diego Rodriguez de Silva y Velázquez. Perhaps, but he never loses sympathy, even identification, with the serving class.
The pose of a servant
At the end of his career, portraits still give life and dignity to a court dwarf and, most famously, a black man, once his own slave. An allegory of weavers returns him with new delight and sadness to a world of work. Las Meninas surrounds him with a truly motley crew—a dog, mere children, attendants.
Las Meninas in fact receives the ultimate postmodern compliment: Michel Foucault has taken it as emblem of modernity. Perspective stays clear, and yet one's eye roves in all directions at once. The painting seems to have several focal points—the painter, the royal couple that he is painting, the infanta, the vanishing point in a bright spot quite outside the room. Foucault sees a modern mind coming into play, constructing reality. He too has a point, but I prefer to remember the painter's own place in his huge canvas, balanced between the aspirations of his life and art.
Like Velázquez as court servant, the figures about him in Las Meninas have something in common: they cannot legally speak for themselves. (Well, a dog would have a harder time still.) And all lie on the far side of the mirror from royalty. Only here they do find their expression: all distinctions between speech and silence, between art and nobility, have become lost in an artist's great hall of mirrors.
In the Baroque, realism had only begun to carry the weight of personal revelation. Like the artist in Las Meninas, for Velázquez no one figure ever stands in isolation, except as a pose—the necessity of courtly portraiture. The painter's realism meant tracking the connections while understanding the pose.
I cannot hit Madrid again, to see how it all comes out, so I better start in New York. The Frick does the man honor on his big birthday. It reserves an octagonal room for just six portraits. Three of them, rarely seen, look rather less dingy than when I bother to track them down up at the Hispanic Society. If one wishes to complete one's studies, the Met retains one more painting per the terms of its bequest. It would spoil a theme of portraiture anyhow.
The portraits survey a career in miniature. They range from a casual sketch, to polished work for nobility, to perhaps his most personal, signature portrait of all. Would I take to Velázquez based on these works alone? They may look dour compared to portraits by Rembrandt or van Dyck down the hall. They may look spare, too, compared to Vermeer's charged serenity. Give them time, though, and they honestly will reveal the scope of an artist easily the equal of his more accessible peers.
Just a few faces
One can start with his first entry to court, with the nobleman who introduced Velázquez to King Philip. Count-Duke of Olivares gives a taste of the painter's early, most theatrical style. A black cape, elbow out, firm hands, sweeping shadows, and a stage curtain—they all come with barely a smile. They also show how the artist's courtly restraint in color did not detract from the character within. Velázquez balances every detail within a larger composition, a concern he was soon to outgrow. Here the young artist rigs vertical lines and gestures in parallel, like an overeager stage director.
At the other extreme stands Philip IV himself, from the Frick's holdings. One of at least nine renditions of the king, I shall take this one any day. Now the reserve pays off. In any other hand, the hat held over a crotch with a staff sticking up would get complaints from the mayor of New York. Here they show a man confident in himself, his position, and his inner strength. The king need never stress the emblems of royalty or masculinity.
The props also provide one's eye with resting points in the middle of dazzling brushwork. The shining red hair and coat stand out against a slightly reddish background, so that the king can structure the painting. Velázquez builds on this, using looser, finer brushwork in layers of white, gray, and silver to create lace, face, and pose. One feels the man's features and personality as the painting's surface, even as it blends into shadow.
Most people's favorite will be Juan de Pareja. Compared to Philip, he earns his dignity, with no silly trappings. Yet Velázquez models a human form more lavishly than before, mixing layers of black, white, and red into the predominant green. One remembers loose, black hair and a ruddy complexion, against what appears—at first—nearly a monochrome canvas. One absorbs the rest effortlessly and with pleasure. As also the artist's former assistant, he could stand for the dignity of a painter, in his life and craft.
I prefer to pass on the king's daughter. Among the many versions of her, I think I should like one without lemon slices in her hair. Instead, I lingered on Velázquez with his guard down—and his technique just coming into being.
An unfinished portrait shows a little girl. Never identified, she goes by tradition as the painter's granddaughter. True or not, she has the informality and affection of a close relationship. Her lovely blouse shows Velázquez developing a ground, quickly, dryly, and yet carefully. And her eyes have an adult awareness that I cannot put out of my mind.
A singleness of purpose
Velázquez loved the single figure in a perplexing world. No wonder he meant so much to Edouard Manet. Decades later, Jean Antoine Watteau made that insight into a new era for art. After thirty-five drawings by him, one can study thirty by a dozen other Rococo artists. Together they show what Watteau's breakthrough meant.
Take just four of his drawings. In one, of Watteau's soldiers, the subjects stare speechlessly, distracted with fatigue. If the curator sees men together at ease, I see them isolated from each other by battle. Perhaps in the same way, they have separated the victims of war from their own lives. More wonderful still, Watteau studied the occupying army as it devastated his own land. His sympathy for individuals and gift for rhythm make a sheet of drawings flow instinctively as a work of art.
A second drawing shows a stage character in red chalk. Watteau models the human form utterly without regard for any academic system. Not outlines or cross-hatches, but the lines of the clown's suit make the man. Watteau takes up the sweeping lines of northern Europe's favorite Baroque artist, Peter Paul Rubens. However, the technique now can isolate and celebrate human folly.
A third adds black and white highlights, the three-chalk technique he made famous. The full sheet depicts a single figure, a beggar. The black, added last, brings out the ragged edge of his clothing, the weight of his pack, the madness in his eyes, and the eerie intensity of his smile.
One last example brings Watteau's skill to his signature subject—a delicate, well-dressed woman. A single smear of white stands somehow for the shine of her dress, its fragile fabric, and the shadows that mold vision as she bends. She seems a long way from the garden world of his Fêtes Vénitiennes.
Watteau created the Rococo, a century of artifice, escapism, and Enlightenment theater. Even, or especially, a woman would have to accommodate to its class warfare. In his hands, however, each person's wiles and every act of escape has its particular pathos, just as each subject has its own determining form. The empathy for subject is unforgettable.
Random access and art-world reality
In recent years the Frick has rehung its permanent collection, the best group of European painting in New York. It also makes audio available for free—and not guided tours, but "random access" to works, keyed by number. In five languages no less, the audio handsets show real concern for the mansion and the art. And it works, for museum-goers actually look at painting. Someplace else I could mention, a museum blocks access to the art so that everyone is sure to read endless, tiresome placards. The Met could learn something, if it could imagine anything not up for sale.
I know, hundreds strolling the Upper East Side with imitation cell phones—it must sound frighteningly up-to-date. (I should work it into my own parody docent tour.) Fortunately, the Frick finds more serious ways to cope with postmodern times, too. It gets top mileage out of its resources through creative exhibitions. Shows of works on paper, such as the Medieval Housebook last spring or Watteau's drawings now, take a role in New York's cultural life that the Met and Morgan once played alone.
Still smaller shows share works with nearby museums. This past spring the Frick united the two surviving fragments of Manet's destroyed Bullfight. Meanwhile the collection has made a rare loan of its own, a great Ingres portrait to the Met. And of course the Frick now displays all but one of Velázquez's paintings from New York City museums.
If art thrives on ambiguity, not every change is unambiguously for the better. Thanks to its efforts, a spot I loved as my own private enclave teems with visitors. There is no getting around it. As with museum blockbusters and shock art, the economics of crowd control has come to the forefront of art.
What to do about it? Reflect, relax, and join the crowds. Think about art's hardly novel connections to reality, including patrons, power, and money. And do catch some small but truly revealing exhibitions.
To celebrate the century or the millenium is to search for art's origins. In fact, art multiplies origins, just as it disrupts the search for any other truth. Velázquez portraits, together with Watteau drawings, may make the best birthday celebration of them all.

"Velázquez in New York Museums" set to run through January 16, 2000, at The Frick Collection, was extended through February 26. "Watteau and His World" ran through January 9. Related reviews look at "Watteau, Music, and Theater" and "Watteau's Soldiers."