If you want to elevate a medium associated more with craft than art, some might say, you have two choices. You can make it artier, or you can make it funkier—anything, in other words, to destroy its use value.
When it comes to ceramics, I could be speaking of its leading lights, in Ken Price and Arlene Shechet. Yet it also describes Elizabeth Jaeger and Bruce M. Sherman.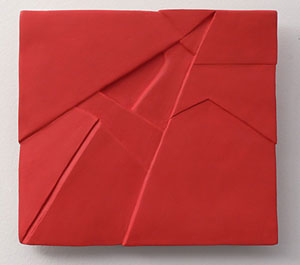 As it happens, their galleries share an entrance on the Lower Side, and ascending the two-tier space is all about exploring the possibilities. Yet they also share a fascination with the medium and the human body.
Jaeger offers one body after another, and they do not look happy, at Jack Hanley through April 16. Female torsos lie draped over steel bars as if skinned alive. The lack of heads and feet underscores the objectification of women in her art and, by extension, a dominant art and culture—and she has in the past portrayed the sex act and animals. The sheer array adds to the anonymity of its subjects, and the slices lead to an asymmetric placement of breasts that adds to the discomfort. They avoid big boobs, too, refusing to play to male expectations. If they offer any comfort, it is in a woman's art.
Still, there is no getting around the art and craft. They retain the smooth surfaces of both female beauty and stoneware, with neither scars nor blood. The slim black bars and their twin supports are just as elegant and minimal. Jaeger calls the installation Pommel, evoking the saddle shapes, as if women should expect to be ridden, and the pummeling of naked flesh. Yet it also evokes gymnastic equipment, with women capable of athleticism and grace. Besides, the word alone sounds sophisticated.
Sherman takes things back to ceramics in another way—not with stoneware but with its shapes. One or two even look like vases. Yet he makes them fun, funky, and punning, at Nicelle Beauchene. They have sharp edges, irregular outlines, and bright colors from their glazing. They morph easily into bodies or architecture, like castles, and in real life both are inhabited. A woman's face appears on the vase.
One could call the opposition modern and postmodern, much as for Price and Shechet, although those categories are as slippery as ever. Price has his contoured shapes, but speckled with color and riddled with cuts, like Isamu Noguchi or Constantin Brancusi and his tea ceremony after an encounter with pattern and decoration. Shechet has her crusty textures and Pop imagery, but also a closer approach to tradition—because now, after Modernism and the demand to "make it new," anything from any time is available. She curates a collection of Rococo porcelain and her own at the Frick. Jaeger and Sherman recap a similar history, but with a difference. Here the modernist is the imagist, the feminist, and the threat.
Then, too, history keeps reversing expectations. Modernism embraced design and use from the very start and, by the end, industrial materials. The present, in turn, has been relishing fine design and folk art, including tapestry. Altoon Sultan, recently at McKenzie through March 26, has three concurrent approaches to abstract art—in rug-hooked and hand-dyed wool, porcelain bas reliefs, and egg tempera. The tapestries have the nested geometry of Minimalism, while the paintings and sculpture borrow from both industrial parts and the Renaissance sculpture of Lorenzo Ghiberti, and she titles one work Convergence. Jaeger in particular, though, makes all the possibilities personal, pressing, and one.
Read more, now in a feature-length article on this site.