The art of Barbara Chase-Riboud should remind anyone to treat African Americans as critical to the mainstream, even were the followers of Donald J. Trump not determined to shut them out. Like Melvin Edwards, she is grounded in Modernism and resolutely abstract. Yet both in turn ground Modernism in a broader history, from slavery to Malcolm X.
They appeared in "Witness," a show about the 1964 Civil Rights Act at the Brooklyn Museum in 2014, and both were in their mid-twenties at its passage. Fifty years later they are still bearing witness, in gallery exhibitions on a scale that a museum would envy, only much of what they see lies within. I wrote about them together in 2014 (along with an African American painter, Eugene J. Martin).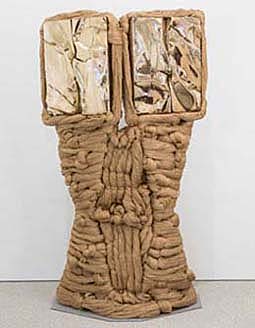 Allow me, though, to revise my thoughts considerably in light of an incredible series by Chase-Riboud in memory of Malcolm X, at Michael Rosenfeld through November 4. It has me rethinking completely my hesitancy about her monuments. It also has me appreciating all the more her command of materials, her depth of color, and her play between a monument and its support.
Both artists have worked on public monuments, although Chase-Riboud also intends her series as sculpture for its own sake. Edwards completed his Homage to Poet Léon-Gontran Damas in 1981, for the State University of New York at Purchase. Damas, a founder of the Négritude movement of the 1930s, sought to affirm black identity in opposition to French colonialism. The monument's circle, touched by uprights of welded steel, quite literally looks to Africa, taking its orientation from the sun. And his most recent work attests to over forty years of engagement with Africa, in his travels and with a studio in Senegal since 2000. He incorporates machetes and shackles in small constructions hung from the wall spanning fifteen years alone.
Chase-Riboud, too, has exhibited two broad bodies of work. Pencil sketches from 1997 proposed public monuments, while steles of bundled silk and bronze from roughly 2007 pay tribute to Malcolm X—as do bolder and larger monuments woven and cast in 2016 and 2017. A patina of black, red, or gold brings a shine to fine threads and thickly knotted cords, which mask the work's support. Other steles take fabric as their subject as well as material, with a majestic robe for Chairman Mao or the stripes of a golden flag. She called her 2014 show "One Million Kilometers of Silk." I lost count, but I can well believe it.
Both remain close, too, to late Modernism, much like another African American sculptor, Richard Hunt. Edwards relies on the same processes as Mark di Suvero. He also shares with di Suvero, a founder of Socrates Sculpture Park in Astoria, Queens, a dedication to communities. For all his allusions to Africa and the slave trade, his materials belong to urban America as well. One recent series clusters its welded parts at the center of four-by-four wire grids, another on disks curving outward like hubcaps. They relate both to formalism and to the streets.
Chase-Riboud shares her dark mysteries with white artists herself, like the steles and Surrealism of Louise Nevelson or the craft and knotted fabric of Sheila Hicks—and she has lived in France for much of her career while casting bronze in Italy. Does she assert a woman's pride as well as an African American's in exile? Does all that blood red and shimmering gold have something to do with sex? A writer as well as a sculptor, she is best known for a novel about Sally Hemmings, Thomas Jefferson's mistress and slave. And the subjects of those unfinished monuments run to the Marquis de Sade along with Nelson Mandela. Signs of bondage have more than one history.
Among the LA artists in "Now Dig This" in 2013 at MoMA PS1, Edwards was at his most abstract. Yet the title of his contribution alluded to the Watts rebellion. Chase-Riboud has her share of white role models, with proposed monuments to Lady Macbeth and Oscar Wilde as well as Malcolm X. Yet her overpowering sensuality also parallels African totems in women's shoes for Willie Cole. Their reshaping of materials brings Edwards and Chase-Riboud closer to one another as well. Her silk takes on the solidity of his steel as if it were the work's base, while he called a work from 1966 Cotton Hang-Up.
The question keeps recurring: is there a uniquely black abstraction, and is it then any less black or any less abstract? These artists move easily between Post-Minimalism and the world, with no apologies for either one. Her monuments may have no obvious relationship to their subjects, but her silk and bronze still trap one in their tangles and their shine. Both artists deserve much more credit alongside their white peers. Now, at last, Chelsea takes note.
Read more, now in a feature-length article on this site.