Cheetahs do not run wild in Madison Square Park, at least yet, but wait: summer is coming, and one is already about to pounce. It was heading that way on the first day of spring, behind the glass of the Flatiron Building's Prow Art Space, where it had been suspended in its leap for weeks. It is, after all, a work on paper. For all its drama, visible from the street through May 11, it is in a tradition of inner contemplation rather than external danger. Lin Yan calls it Embracing Stillness.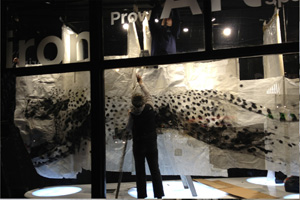 It is not a paper tiger, but it would not be the same without the texture of handmade paper. Seen as a painting, it derives its breadth and economy from Chinese art. Seen as an installation, it is a translucent curtain dividing a well-trafficked intersection, much as the metal drapery of El Anatsui shrouds a hall at the Brooklyn Museum. Either way, it is just a few sheets among many, most of them blank. Coming at the cheetah from behind, one may see only the paper. Coming at it at night, it is more likely to look larger than life.
I was tempted first by the installation—and what I took for an abstraction. The artist, who more often works on a conventional scale and in two dimensions, has brushed much the same image on sheets covering the floor, and I saw only black dots and curves. And then I walked around the curtains and looked up, and both images took shape.
The version on the floor has the advantage of shifting shape as well, as heat rises from vents in the floor, as if breathing slowly in its sleep. Gwyneth Leech, Hu Bing, and Rebecca Riley have all made good use of this space now, organized by Cheryl McGinnis, for work piled high and suspended from the ceiling. With this kind of potential, I hope its use for art lasts, but I realize that stillness will not last forever.
Art in the park has a more mixed track record, maybe because it tries so hard to please. The Madison Square Park Conservancy seems to want it less to accommodate the park's topography and traffic than to attract families and tourists. In the park's latest redefinition of site-specific art, through April 6, Sandra Gibson and Luis Recoder allow a welcome degree of solitude. Some may mistake their white cylinder for a public toilet or a construction site, and most seem to pass it by. Those who linger will find space for just one or two, shared with a park ranger waiting inside. First, though, one has to knock.
Gibson and Recoder do defer to their surroundings, although only as an image. Their enclosure serves as a camera obscura, for a ghostly panorama projected by nature alone. Light through a pinhole on its the south side does nature's handiwork, which changes with the time of day—although with admission only before 5:00 sharp. The blurry silhouettes have the charm of an old photograph, only larger. Yes, that dark tower pointing down is the Flatiron Building, and trees spread out along the floor. The path of light has no choice but to project them upside-down.
The scale adds interest to an obvious formula, separating the experience from a jpg online. So does a surprise I ought to have anticipated: the image moves. The apparent rapid passage of a bright circle across the wall is not the peephole in motion, but reflection off passing cars, and the dark pedestrians at top that appear right-side up are their shadows on the sidewalk.
Topsy Turvy is fun to enter, especially when it rights itself, but this experiment in art and optics still feels like a leftover from any number of science fairs, and it looks from the outside like a cross between a bunker and one of those dreadful cylindrical paper lamp shades. For a bridge between paper and the park, one is better off across the street.