It can be just one step from grace to a fall. Ask athletes or dancers about their last titanic leap. Ask Hillary Clinton about the ten days before the election. Or ask Lee Relvas, whose sculpture seems poised between a glorious ascent and collapse, at Callicoon through May 21. Her figures have all the grace of athleticism or a dance, but always in touch with the floor. They also have an inner life that would be impossible without that rise and fall.
Her technique alone evokes both grace and the workaday dignity of just plain plodding along. Her curved wood comes as close as anything to Modernism's ideal of "drawing in space,"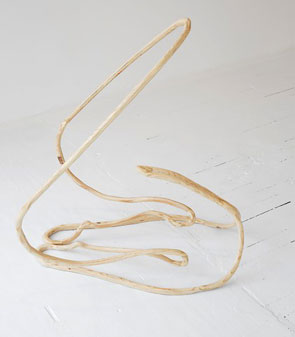 as with sculpture by Ibram Lassaw. One can mistake it for the fine craft of bentwood furniture. In practice, though, Relvas cuts her pieces from plywood, sticks them together with a compound used for joints in plumbing, and sands away. The process is itself a kind of choreography. Plywood is already soft as wood goes, and rubbing softens it further—close, she says, to flour.
It works just fine as abstraction, like wood for Ursula von Rydingsvard. One can delight in following a curve from its start to the end, looping back on itself. One can easily overlook the branching here and there. Still, it does not take long to see a room of people, neither quite together nor alone. Some seem to sink into helplessness, while others seem to rise, and more than a few do both. Still another amounts to rigid planes joined at the waist, where a further loops around like the sash of an old-fashioned dress.
One can read all sorts of things into them, including their narratives and their character. Relvas does, too. The firm or, if you prefer, matronly stance is Deciding. Others are Hiding, Withholding, Thinking, Offering, Mourning, and Lifting. In each case, she associates a physical gesture with a state of mind—a state poised between moments of action. She treats exterior form and interiority alike as transient and fleeting.
Elaine Cameron-Weir, too, would love to rise but keeps stumbling, in the lobby of the New Museum through September 3. A snake of copper and stainless steel needs a sandbag to sustain its vertical. Mostly, though, she is hooked on the body as, in her eyes, at once transcendent and corrupt. A garment of metal sports breasts and spreads its arms, but it looks less triumphant than an instrument of torture. A pole topped with a skull and a lamp draped with parachute silk look neither life affirming nor all that illuminating. Then again, a snake once brought corruption to humanity as well, by tempting a certain woman.
The Canadian artist is fond of the body all the same, enough to aspire to engage the senses, with some of the same materials as Anicka Yi. Heat lamps warm a resin used in perfumes and fumigating. If all this seems like a lab experiment gone awry, she also claims to draw on scientific texts from before modern science, to locate the tensions between the occult and science. And if her art starts to sound like nonsense, so do her titles. One runs to forty-two words—including viscera, erogenous zone, altered state, subcutanean, and tantric. It could do with less messaging and more grace.
Read more, now in a feature-length article on this site.