Josef Albers did not have a taste for monuments. He turned out thousands of paintings, not one privileged above the rest—and each resolutely abstract. Yet he and his wife, Anni, returned again and again to Mexico for its pyramids and temples.
Their thirteen trips began in the winter of 1936, barely a year after their appointment at Black Mountain College in North Carolina, and continued for thirty years. They brought their relatives and another painter, Max Bill. They collected countless postcards and photographs, from such sites as the Temple of the Sun and Moon and the Avenue of the Dead.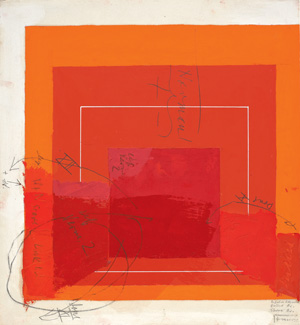 "Josef Albers in Mexico," through February 18, sees the trips as central to his art—and I have worked this in with other recent reports of Modernism to the max as a longer review and my latest upload. The Guggenheim proceeds not chronologically, but by location. It displays his photos, interspersed with paintings on masonite and paper. It concludes with examples from his most influential series, the nested but not concentric shapes of Homage to the Square—begun in 1950 and continuing until his death in 1976. He had found "a country for art like no other." Had he also found the abstract vocabulary that he had sought all his life?
He was not the sort to worship "the primitive," unlike Pablo Picasso in encounters with African art. Yet he believed in fundamental laws for color and form, and how could those laws not extend to the deep past? They did, after all, extend to Mexican homes in the present, a source for his Variant/Adobe series starting in 1946. He took pre-Columbian art seriously, because he took everything seriously, but without concern for its place in another time or culture. His wife looked to tradition along with Modernism as well in her weaving, although the show cannot find room for her at all. They pursued their variations on a theme like a ritual.
Albers may have been the most dogmatic of modernists, but he came by his dogma the hard way. The Nazis had closed the Bauhaus, where he and his wife taught, in 1933. He was in exile at forty-five, but he knew what he wanted from art. His nested but not concentric squares explore close and contrasting colors, but without the mysteries of rectangles for Mark Rothko—or the earthly surprises of black squares for Ad Reinhardt. He sticks to the plainest of geometry, like Donald Judd, but without Minimalism's way of getting in your face. He is just laying down the law.
Still, he kept returning to Mexico as a lifelong learner, much as he kept returning to his series. The curator, Lauren Hinkson, sees his cut-and-paste photos as collage, although he never exhibited them. One might better see them as research. He closed in on relief carvings to watch them unfold. He closed in on grand staircases or the space between pyramids for the staggered rectangles, V-shapes, and shadows. Their pairings with his paintings can feel arbitrary, but they point to growth in his art. Albers found in them what he wanted, but he found something nonetheless.
He doted on every painting in Homage to the Square without thought that they were becoming a postmodern wet dream of endless reduplication, but they disrupted symmetry all the same—and so did the rest of his art. Some mazes look like Op Art, and shapes set at nearly right angles verge on 3D. An early Tierra Verde has enough brushwork for the promised texture of green earth. He sets small paired rectangles in larger fields like windows or doors. No doubt he would have found them wherever he looked, even had he stayed home, because fundamental laws are like that, and so are stubborn artists. At the end, though, the most finicky designs disappear, and the squares take on the translucency of oil.
Read more, now in a feature-length article on this site.