In 1848, in his mid-forties, Peder Balke traveled to what was thought to be the northernmost point in Europe. He did not have far to go.
The son of landless peasants, he had fallen in love with the land. The North Cape was only the latest in his meanderings through Norway in search of his art. Even when he made it as far as Dresden in 1835, he studied with a countryman who had settled there, Johan Christian Dahl. When the Met calls him a "painter of northern light," through (oops, my apologies) July 9, he could only approve.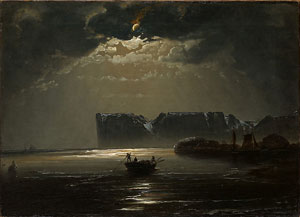 He did not have far to go as an artist either. He had also met a far greater exponent of Northern Romanticism, in Caspar David Friedrich, and drenched himself in its tenets. He keeps returning to moonlight and cold grays—as well as to sky, rocks, and coastlines. On an earlier trip to Stockholm, his rare cityscape pushes the skyline into the distance, with steeples as bare as masts against a stormy sea. Moonlight only hardens the crests of the waves. "Human beings," he wrote, "the children of nature, take a secondary role."
With the North Cape, Balke settled at last on his formula. A broad arc of clouds tops an otherwise empty sky, with the moon at its center, like the savior in a painting from Baroque Italy. The broken rhythms of a rocky shore define the scale—much as, a few years later, nearly abstract waves will define the horizon. The painting's most prominent feature, a sheer cliff, could pass for arctic ice. A small boat makes its way into the distance, with a man standing above its crew like Washington crossing the Delaware. Wherever the painter now goes, mountains or even a waterfall will appear to be rising, and the boat will be making its way.
People, then, have a role after all, even an active role, but nowhere near so much as in his predecessors. He does not treat ports as the site of boundless activity, like J. M. W. Turner. He does not transform the sky, again like Turner, into an apocalypse—or, like John Constable, into a singular record of changing weather. When the Met turns from him to Dahl, the scene seems to plunge all at once into depth, color, and vegetation. For Balke, only a near absence of human transformation approaches the sublime. As he also wrote, he is interested not in what the mind brings to nature, but in the "impression made on the eye and mind."
That concern for the impression may explain his increasing turn inward. Unlike Dahl, he did not paint on the spot but rather in his studio in Oslo, where he settled in the 1850s. Maybe he preferred the filters artifice and memory, or maybe he just could not bear company. He gave up painting for others altogether in 1879, leaving him all but forgotten at his death eight years later. By the 1850s he already works small, in oil on paper mounted on panel, and by the end he works smaller still. With just seventeen paintings of his, this is also a small exhibition.
Maybe the Met never can decide whether to mount a retrospective. It uses its room for "focus exhibitions" of just one or paintings in context, like Turner's whaling pictures or an altarpiece by Jan van Eyck, but here it aspires to more. Still, the show does not run chronologically, and it intersperses work by Dahl even before a concluding section for contemporaries. It does, though, conform well to that inward turn—and, in the process, a final break from passivity. In its last and smallest panels, paint thins out and color vanishes entirely, almost like ink or a photographic negative. The spare points of black serve for clouds, trees, the northern lights, or a foretaste of abstraction. Balke has reached his extreme point and discovered ghosts.
Read more, now in a feature-length article on this site.