To wrap up my tour of summer sculpture, Anish Kapoor is not the only sculptor evading death. Lluis Lleo raises sandstone slabs along Park Avenue, like burial steles for Minimalism. If the graves lie empty, blame it on zombie formalism.
One side of each stone has an overlay in color, the other a second color with the very same geometric shape cut out from it, as a display of positive and negative space. You get to decide which is which, but watch out.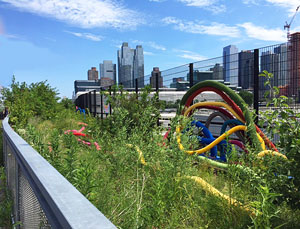 Summer sculpture in Manhattan has more than enough positive and negative vibes to go around.
Not to be outdone, Joy Brown brings nearly five miles of sculpture to Broadway—but with just nine clay pieces. Think of them as official greeters to subway stations from the Upper West Side deep into Harlem. Not even I can claim to have seen them all, but Brown has sure spread a lot of conviviality. Each has the mass of Fernando Botero, the childlike smirks of anime, and the rounded outlines of both. With heads in hands or as parents with children, they all but cry out adorable. They made me grateful to catch the ride home.
Back in Rockefeller Center, Jeff Koons means his forty-five foot Seated Ballerina to honor National Children's Month. It does better at calling attention to America's enduring love of kitsch and, more to the point, Koons himself. Up by Central Park, Liz Glynn leaves out gray concrete arches and chairs, as Open House. She models them after the ornate interior of a Fifth Avenue mansion, designed by Sanford White. The rigid seating plays out against the mansion's disappearance into history, the arches against the great outdoors. No one seemed to worry, though, about either the layers of meaning or the discomfort—not when seating comes in handy at lunch.
The High Line calls its summer show "Mutations," but much of it is static and lifeless. Dora Budor does say that her white blobs change color when wet, but pardon me if I do not venture up in the rain to find out. And Veit Laurent Lurz says that a craggy stone fountain flows with the "herbal juice of the future," but pardon me if I hold off until then. Henry Taylor looks down on them all from a mural, but if only he could see Sheila Hicks half a mile north after a late start. Her colorful tubes lie poised against rusted inaccessible railings and lurk in weeds. The Hudson Yards may not welcome more than luxury real-estate, but it can still run warm and wild.
Josiah McElheny treats Madison Square Park to sets for music, dance, and poetry, but I prefer to see them as elements of architecture. His sea-green floor never quite settles into the grass—or a perfect circle. For a ceiling, he has a red and yellow arch, facing the deep blue curve of a wall. McElheny achieves his colors with painted wood broken by circles of prismatic glass. They have their own territory in the lawn, fenced off from sunbathers. With luck, they will never settle into a structure that keeps out the summer sky.
Katja Novitskova, an Estonian, looks for the complexity of life on two scales, one more intoxicating than the next. Her aluminum disks in City Hall Park take on the rotundity and fertility of the earth or, she imagines, distant moons—but with an overlay of microorganisms, human cells, and marine biology. So is New York for the summer a pool party, a banquet for the senses, a graveyard, or a laboratory? If you have to ask, you have missed the depth of its history and the diversity of its pleasures. The Governors Island Art Fair holds off until Labor Day. I shall let you know more.
Read more, now in a feature-length article on this site.