Questions of Travel
John Haber
in New York City
Joan Jonas and Other Tour Guides
One can think of artists as spies or voyeurs—always looking and always observing. Even when they create their own reality or accede to the reality of a patron, they oblige others to look at it. Feminists and others have made that eternal gaze part of a critique of art and its notions of "the primitive." Artists have made it a critique, too, in art about censorship and surveillance after 9/11.
One could put it differently, too: artists make good tourists. It sounds nicer, and it suggests the memories of their travels they leave behind. Starting 2007, several artists gave their travels personal and political meaning.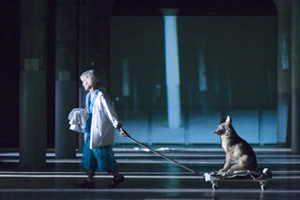 Joan Jonas recreates her life as both performance and travelogue, from America's solar energy to darkness in her own studio. Michael Waugh journeys to art conventions—the kind that fill convention centers. As for the other kind, standards and rules, Francis Alÿs and Walid Raad try to pinpoint a time and place in the Middle East conflict. Like Simon Lee, they see the eyes looking everywhere as displaced lives. Finally, Michael Rakowitz and Lincoln Schatz take one from the gallery to crisis points in Iraq and Dallas—and back again.
Morning, noon, and night
Joan Jonas has been working in the space between installation, sculpture, video, and performance for as long as anyone. She could well have defined it. Well before Matthew Barney, she united music, dance, travelogue, and her own athleticism, leaving her props, large and small, as cryptic reminders. Before and alongside some classics of 1970s feminism, she extended what video could do with a woman's own body.
Her latest video installation opens another and fancier kind of space. Yvon Lambert has a new gallery this spring, this time with a window. Beyond a black curtain, Jonas fills it with five screens, white painted curves on the wall, a dog's head on the floor, and more related paraphernalia than I can remember. She points to other spaces as well, beginning with various site-specific performances and concluding with the total work's performance in October 2005 and 2006 at Dia:Beacon. At Lambert's old gallery, since closed, she added a tour of her studio and kitchen—but these, too, as constructed spaces. One can see them in a photograph or in a long, enclosed video theater, distorted as in a convex mirror.
She asks one into her studio personally, leaning into the camera a few times to say good morning and, before one knows it, good night. The informal touch helps her avoid turning her life or her mind into a private mythology. It seems only right that she collaborates here with a jazz musician, Jason Moran, whereas Bill Viola, Eve Sussman, and Barney invoke grand opera. One of the first words I caught, schizophrenia, further insists on her moment-by-moment changes and their risks. The main new work's title, The Shape, the Scent, the Feel of Things, makes explicit her belief in intuition. It may help explain her relatively low profile for so a noted an artist.
If not exactly a myth, she has nonetheless developed a sort of mythos. It involves performance as travel—as she puts it in the spoken narrative, "allegories of the world and of bodies in motion." The personal greetings may allude to a past work, Good Night Good Morning, as part of that physical and mental journey, and one could almost call the new installation "Good Night Good Morning America." Projected scenes include a wind farm, passing trains, and a loft-like interior, like a recent inventory of indoors and outdoors by Lorna Simpson. She also shows herself open to other peoples' mythologies: the animal head accords with another spoken word, paganism.
She is also open to more specific histories. Some of her text derives from Aby Warburg, an early twentieth-century historian of Renaissance art who may in fact have suffered from schizophrenia. Jonas's visual range parallels Warburg's creation of a great library. Naturally she refuses to peel apart the layers of history by stating just who contributed what words. I trust that only Warburg, however, could have witnessed Italian Fascism as a pagan revival. The nasty association reminds me not to elevate Jonas to mythic status too easily myself.
I find her work fascinating, liberating, and frustrating. I may miss a sense of humor or structure like that of Marina Abramovic, Martha Rosler in her kitchen video, or Yoko Ono. I may miss the old male challenges to my philosophical underpinnings, like those of Gary Hill. Or maybe I just need to develop my intuition. Jonas knows when art has to do with more than beginnings and ends, whether as a myth of origins or as morning apart from night.
This means war
I should really have gone to the 2007 College Art Association meeting, right here in New York. My employer had a booth there. As an editor but not, sadly, as a critic, I sent a book. Perhaps I could have lectured on tourism, the male gaze, and "the primitive."
Michael Waugh has come to assuage my guilt. Waugh papers one wall with the meeting program, along with text of his own in equal measure. True, I could have read the program online, but he includes a video as well—on a monitor the size that eager academics have to lug around themselves. People appear to mill about or head for their next presentation or maybe coffee, although Waugh in fact has staged readings from his own texts, on gay rights and perversion. It relieves my guilt in more ways than one. Not only can I now feel that I attended, but I can dismiss it all as perverse anyway.
Who here is perverting whom, you ask? Another wall accords Miami Basel very much the same treatment, and I positively boasted of not attending that art fair. True, one event gathered scholars and teachers, the other an overblown set of overhyped artists, dealers, and collectors. Can Waugh locate the differences, and can he elucidate the art world or arts education? I suspect so, and besides he made me laugh. This artist can think on his feet, and I bet that soon he will work out even better where he wishes to land.
Waugh is smart enough to play on his currency, much as a gathering of political art called itself "Headlines." Waugh's show opened to the day after the CAA's annual meeting closed. His time frame draws implicit parallels between cultural and national politics. He plays, too, with the immediacy of breaking news versus the mediation of art and language. As in earlier shows, he also makes figurative drawings, with quavery hand lettering in place of ink lines—again of his own polemical text. The drawings allude to artistic traditions, while making it difficult at best to pin down the allusions.
The drawings echo actual history paintings or landscapes, with old tales of war or peasant traditions, but with homoerotic overtones. Some bearded faces in open landscapes suggest Romanticism's fascination with "the orient." They they range from Cabeza de Vaca, the Spanish explorer who recorded gay marriage among the natives, to an effeminate George Washington. Then again, I could just be imagining all this—or making it up.
The mix of tiny letters and naive imagery has much in common, too, with Amy Wilson's political art. As with her fine Socratic dialogues on the Iraq war, he could be sparking debate and enjoying the comedy. He could also just be working too hard. I may need time myself to get the point, but I appreciate the spark.
Questions of travel
When it comes to politics, art works because it opens a unique space between the public and the personal. Where Waugh keeps his distance, Francis Alÿs and Walid Raad both err on the side of the personal. Alÿs has walked and indeed dripped paint along the Green Line. Now he documents his travels as much as one could conceivably want. He also sets out mock automatic weapons, with film reels in place of cartridges.
Raad recalls decades of war in Beirut, too many of which he remembers. He did not have to seek them out like Alÿs either. He overlays paint, color coded to mark explosions and types of ordnance, against weary grays recalling faded newsprint. In this way, he places dates in a nation's history at an uncertain remove. Both artists lay their own lives on the line, even if only with toy guns. Yet both may end up trivializing very real losses and one artist's very real memories.
Simon Lee truly does commit himself and others to rites of passage. The British artist even calls his show "The Purpose of All Travel," and that All sounds as if it might encompass the viewer along with the victims of war. Before, he merely lifted a plastic curtain to let one's gaze through. Now his camera catches passing buses, in cities nations or worlds apart. Other, less memorable photographs show what the passengers might have observed through the window.
Lee's forgettable landscapes have a conceptual point. They underscore the similarity between people, as with Barry Frydlender in Tel Aviv, where politics and war create such differences. Their banality points to the passengers' anonymity, which has political overtones in light of refugees from war and of bombs placed in mass transportation. The exhibition title takes on more concrete and threatening meanings, quite aside from its existential longings. Mostly, however, one clings to the close-ups of bus windows. Faces pack uncomfortably together, looking out as if in hope of somewhere to belong.
Probably they do not belong in Robert Chambers's Lay-Z-Boy, which hangs upside down from the ceiling, opening and closing all by itself. Perhaps the gallery just needs new and more functional furniture. The month before Ivan Navárro set out fluorescent lights in the shape of modernist chairs. Instead of Mies van der Rohe's comfortable leather on steel tubes, one had uncomfortably dark, mostly empty rooms interrupted by cold lights.
The seating plan recalls Banks Violette's neon fixtures, with their cross between tanning salons and torture chambers. Navárro in fact claims to represent interrogation sites, although I doubt anyone will make the connection without prompting. I prefer to think of him as updating Mies for today's bars and shopping malls.
Invisible enemies
Michael Rakowitz has his own travel plans, with "The Invisible Enemy Should Not Exist." He recreates objects looted from the National Museum of Iraq, when America went to war with the army it had. The evocative title translates the name of Baghdad's ancient processional route, and it takes on new irony given the all-too-visible people and problems that America choose to ignore. It hints, too, no doubt at the elusive mobs that carried off seven thousand irreplaceable artifacts. Does that matter in comparison to so many deaths in the years since? It makes sense somehow that a country's devastation began with the loss of its past.
Rakowitz has been at public spaces before, although then his meanderings both ranged more widely and stuck closer to home. Think of art as a lot of hot air? In his previous show, Rakowitz wove a tale from Le Corbusier through the destruction of public housing in Saint Louis. Somehow it encompassed as well the death of Louis Kahn in a public restroom, the demolition of Penn Station in all its grandeur to pave the way for a sports arena, the World Trade Center, and the Hoover vacuum. The last, it would seem, supplied funding for some of the rest. It also supplied a betrayal or two along the way.
At the show's center, a hot-air balloon stood in for a notorious 1950s housing project. As one wound one's way around an observation platform, the balloon swelled and deflated. If one tried to dry one's hands under one of those ridiculously ineffective machines, a model of the Twin Towers rose with the gaseous exhaust. Did Modernism's utopian scale and its ideals of "democratic living" exist in a vacuum? Rakowitz's collision of art, architecture, and commerce sucked one in. Pathways this convoluted may feel more at home in conspiracy theories or cartoons, and a good thing, too.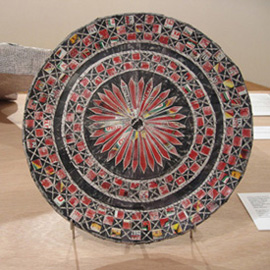 Rakowitz's more recent show makes convoluted connections, too. In particular, it connects past and present—in the form of Arabic newsprint and food cartons. The choice of materials connects to a disposable heritage and disposable lives. The look of papier-maché also lends the objects a comic earnestness, as if the artist could make up for everything with his own hands.
Perhaps enough grade school art classes could finish the job of restoring a collection. Besides, every so often a gallery should play at becoming a museum, and the Museum of Arts and Design has taken Rakowitz's project as emblematic of art, craft, and "Second Lives." On the surrounding walls, drawings with hand-lettered text tell the story, but the press release does so more effectively. And the center table speaks well enough for itself.
Like Lee, Lincoln Schatz has surveillance on his mind. For years he has been accumulating video snippets of his travels, and two projections slice and dice them thoroughly. An installation in Dallas apparently does so on a larger scale. His new-media travelogue also happens to include you, for visitors get to see themselves in time delay amid the chaos. It resembles Christina McPhee in her digital diaries of disaster, but without the narrative or the sheer beauty, and another opportunity to see oneself moments after the fact, in a midtown restaurant design by Diller + Scofidio (now Diller Scofidio + Renfro), but without the intimations of a police state. Instead, one gets a chance to pose, to share in the artist's personal history, and to join the urban traffic.

Joan Jonas ran at Yvon Lambert through April 28, 2007, Michael Waugh at Schroeder Romero through March 17, Francis Alÿs at David Zwirner through February 17, Walid Raad at Paula Cooper through February 10, Simon Lee and Robert Chambers at Roebling Hall through February 10, Ivan Navárro there through January 10, Michael Rakowitz at Lombard-Freid through February 17, and Lincoln Schatz at Bitforms through February 24. Rakowitz previously appeared at the same gallery through May 28, 2005. I am grateful to Waugh for trying to correct my more stupid errors in an earlier version. The review of Joan Jonas first appeared in the June 2007 issue of Artillery magazine.