Slacker Art
John Haber
in New York City
Francis Alÿs and Maurizio Cattelan
In a 1920 two-reeler, Buster Keaton doggedly constructs a home amid a tornado, "as everything he's built spins literally out of control." Francis Alÿs goes instead in search of the tornado. He finds instead mostly art-world stardom, but that is what he really wanted all along.
He wants to be at the center of the storm, just as he wants to be at the center of everything. It goes with the false modesty of so many performances. In particular, it goes with Maurizio Cattelan. The Italian artist, too, claims to submit to fate, with a promise to give up art once for all. In practice, he is counting the toys and accolades that he has been collecting all along. Call them chaos, "relational art," slacker art, the last hurrah for macho installations, or just one big happy pair of retrospectives.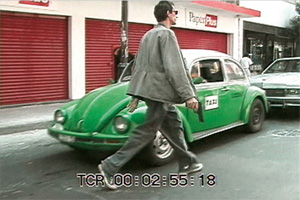 Connoisseur of chaos
Actually, for his latest video, Francis Alÿs pursues and penetrates a dirt devil, but he is not one for fine distinctions, and he has a decided fondness for dirt. In When Faith Moves Mountains, from 2002, five hundred Peruvian volunteers shovel a mammoth sand dune to nudge it ever so slightly sideways, proving that faith may not move mountains, but arts funding can do wonders. Elsewhere he drags a magnetized toy until it collects enough trash, and he dedicates most of his work to the filth of Mexico City streets. He moved there from Belgium in his twenties, after the 1985 earthquake, after failing as a budding architect. He clearly takes failure in stride—or as a badge of slacker success. As he puts it, "maximum effort, minimal result."
I quote at the outset Jana Prikryl, who explains that Keaton in fact delayed release of another two-reeler. He wanted Buster Keaton Productions to roll out with a renewed focus on situation and character. Alÿs at his best has just that, along with Keaton's dream states and silent comedy. Mostly, however, he transforms Keaton's profound stoicism into an art star's perpetual cool. He strides confidently with a loaded Beretta pointed down for the eleven minutes it takes to get arrested, like a sequel to Miami Vice for the Mexican gang wars. When he sent a peacock in his place to primp in front of the Venice Biennale, he was making fun of celebrity while reveling in it.
Performance has a history of what one survey called "Endurance." For Chris Burden or Marina Abramovic, that theme veered on self-mutilation. Alÿs settles for hanging in there. He survives the dirt devil, although the moment of impact leaves the digital video splendidly pixilated. He drives a VW Beetle to the top of a hill, to the accompaniment of an absurdist brass band—and lets it settle back down. He pushes a block of ice along sidewalks until it melts, in the 1997 Paradox of Praxis I (Sometimes Doing Something Leads to Nothing). The paintings in Déjà Vu feature a girl with a sickle, like the Gen Y daughter of Father Time, and the paintings come in a postcard-size series, like déjà vu all over again.
More than existential anxiety, he toys with earth art, urban poetry, and social critique. He calls the VW's 2001 ascent Rehearsal, like a brass band's literal rehearsal, and he compares a musician's sessions to a nation always in preparation for an achievement that never comes. He sees Tornado as a reflection of the state of Mexico, and he imagines leading sheep in an endless circle around a lamppost as a parable of bureaucracy—especially if the sheep cannot be kept in line. More paintings picture Le Temps du Sommeil ("the time of dreams") as men in suits engaged in absurd recreation, like a dream of summer for the business class. They appear in a green cloud, like a cartoon thought balloon inset on earthy red-yellow ground. The notes toward the sand dune cite Robert Smithson, Spiral Jetty, and a vocabulary of chaos and entropy, but Alÿs is self-involved enough to believe that he truly has moved mountains.
In practice he skirts safely over the top of everything but his own reputation. He is savvy enough to know it, too, showing himself in 1994 as Turista alongside unemployed day laborers advertising their services and calling himself Gringo as he walks into a neighbor's yard to challenge the dogs. His politics amounts to tourism all the same, even if it reminds museum-goers that they are tourists as well. It is hard not to suspect that the VW never makes it over the hill only because he took his foot off the gas. It hardly helps that the curators, Klaus Biesenbach and Cara Starke of MoMA with the Tate, stretch things out with the truly awful postcard paintings and snapshots from 1989, like a boy with a spoon on his nose. "Story of Deception" continues at MoMA PS1 for few works indeed—and then mostly because it has too much in the first place and because MoMA no longer knows what to do with P.S. 1.
In one video there, actors carry halves of a tuba across Venice to meet in the middle, assemble their instrument, and blow. It is a decidedly one-note affair. Alÿs still has a comedian's eye, in everything from the installation itself to the two channels on facing walls for moving mountains, one for each side of the mountain—plus a smaller screen to explain the process. I had never seen a dust devil before and never pictured its beauty. Even in that, however, success has reduced the artist to cheap entertainment. From 2005, Buckingham Palace guards in their red coats and beaver hats march singly through the City of London, fall into step as they meet by chance, gather critical mass, cross a bridge, and fall away. Like Wallace Stevens, Alÿs is a connoisseur of chaos, but real art or chaos never looks so picture postcard perfect.
Will he be back?
In 1989, Maurizio Cattelan vacated the premises. He simply closed the gallery and put up a sign: Torno subito, or "Be back soon." Now, twelve years later, he has a promise to make. After his Guggenheim retrospective, this is it. No more art for him.
Oh, and did I say that in between he has left his share of art objects? And I mean a lot of objects. Well over a hundred are suspended in midair, from scaffolding hung from the Frank Lloyd Wright oculus itself. They include the life-size wax figures that earned him outrage, admiration, and above all attention—like a boyish Hitler (yes, him) kneeling in prayer or supplication, President Kennedy in an open coffin, and the pope felled by a meteorite. And why not? "All" comes as close as physically possible to everything that he has ever exhibited.
Those looking for outrage in contemporary art will always find it, and so will those looking to call it art. They can see Christian imagery, from Andres Serrano in piss and Chris Ofili in dung to David Wojnarowicz in a swarm of black ants, as sacrilege rather than piety and self-abasement. They can hardly help finding that anything can be art, to their pleasure or dismay, because the rules are not changing again anytime soon. Cattelan makes a point of it, even now with his promise to give up art. Critics, he knows, can show off by noting that he was never really making art anyway—or that now he will always be doing so, just by having said that he will not.
Cattelan has made a career of flattering people, by reminding them of their piety or their wit. It assures him of proper outsider status, as a one-man assault on the establishment and on art. It assures them of proper insider status, as guardians of both institutions and art. Not a bad recipe for success, just as for the Young British Artists or for Jeff Koons in curating another wealthy collector's cavemen and car wrecks. Cattelan is good at the mind games, too, and I mean that as a compliment. Take his 1989 exhibition.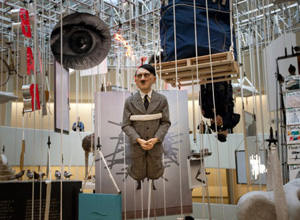 He says that it came about because he was at a loss for a show, but it was a show, in every sense of the word. It was in fact his first solo show—eight years before he looted another artist's entire exhibition. It was also show in the sense of spectacle, a sense that runs through all his provocations and culminates at the Guggenheim. And it was show in the sense of pretense, because he was not coming back any time soon. Then again, he might decide to come back even after his latest promise, perhaps with a whole new identity. Or take the mind games of his retrospective now.
On the one hand, he has already given up making art. The curators, Nancy Spector and Katherine Brinson, need not exhibit new work for the occasion or even make selections. The ramps and ordinary exhibition spaces lie empty, except for wall text at the start and a few hard but elegant benches. On the other hand, he has created an installation—a brand new and thoroughly site-specific work of art. It ascends the rotunda like nothing since Matthew Barney did so as performance, and it appeals to the same people who saw Barney's ego and excess as liberating. It wrenches old work out of context, whether in chronology or in space, while also giving it a new and changing context as viewers ascend the ramp themselves.
Death in a toy store
That invitation to shifting experience has long aligned the Italian with "relational esthetics," like the site-specific ego trips of Rirkrit Tiravanija or Carsten Höller. Höller's sliding pond takes the form of a spiraling ramp across several floors of the New Museum right now. Cattelan appeared with the movement here just three years ago, in "theanyspacewhatever"—and naturally his Disney Pinocchio, which then lay face down in the Guggenheim's lobby fountain, now hangs from above. That show played to both novices and insiders, too, with its mix of spectacle and promises. As a critic, Jerry Saltz earned the impossible reservation for an overnight stay in Höller's hotel room then. Cattelan's retrospective has wowed him, too, as much as anything since Barney.
Make no mistake: the wow factor is real, in the dozens of large objects, obvious jokes, and insider references. They include a sprawling photo of the Hollywood sign, just in case one missed the point. Cattelan has a special fondness for taxidermy, like the pigeons perched on the scaffolding or the horse bearing the sign INRI. (Take that, you papists.) I had trouble looking at a life-size elephant shrouded in white, with holes for its eyes, and not saying boo!
The one-liners include more than enough art-world jokes—assuming that anything about this exhibition is not an art-world joke. The repeated Z slashed into fabric alludes to perhaps Italy's best-known painter, Lucio Fontana. It transforms Arte Povera into a poster for European art film or the mark of Zorro. Issues of Flash Art form a literal and metaphorical house of cards. Mostly, though, this is still the kid from the streets of Padua playing with toys. He who retires from art with the most toys wins.
Of course, they are boy toys, like most art-world provocations. They include soccer scores in marble and the world's largest foos-ball table. Originally Cattelan assembled teams of Italians to play on it, North African immigrants against whites, and I have a feeling that nobody won. Like most bad boys, too, he has an obvious problem with authority. It explains the pope, the coffins, two New York cops hanging upside down, or for that matter the entire exhibition. What could be more of an urban scavenger than pigeons, and who could be more of a bad boy than Pinocchio?
One can look for the politics of immigration at the foos-ball table, but do not look too hard. One can look for outrage, for empathy, or for insight, but in the end one has only a pretend toy store and a long string of one-liners. The two cops, Frank and Jamie, appeared in 2002, just months after 9/11, and their shapes echo the Twin Towers. People have seen in them vulnerability or callous indifference, just as with the coffins or, most of all, children who have hung themselves. One can take the hangings for memories of Fascism, when Mussolini came to much the same end—an end parodied by yet another sculptor in Arte Povera, Luciano Fabro—or for a symbol of the installation itself. Better still, one can smile at the gallows humor and forget the whole thing.
The air of death in the toy store says something regardless. Museums are giving trashy spectacle its due, with Peter Fischli and David Weiss, between architecture and a wrecking ball, just as mainstream critics like Roberta Smith are turning against it and Europe is coping, badly, with its economy. Maybe this time Cattelan will keep his promise, although I doubt it. Part of me hopes he will. Either way, though, installations like his will still have a place, but their central moment will have passed, and a Harlem gallery has already faked his passing. That marble slab could serve as a final scoreboard and a memorial.

Francis Alÿs ran at The Museum of Modern Art and MoMA PS1 through September 12, 2011,"Maurizio Cattelan: All" at The Solomon R. Guggenheim Museum through January 22, 2012. Jana Prikryl wrote in the June 9, 2011, New York Review of Books. Portions of the review of Maurizio Cattelan first appeared in Artillery magazine.