Whose Mideast?
John Haber
in New York City
Barry Frydlender and Stephen Shore
Shirana Shahbazi and Igael Shemtov
In Tel Aviv for Barry Frydlender or the entire region for Stephen Shore, signs of life are everywhere. So are signs of displacement and destruction. For Shirana Shahbazi in Tehran and Igael Shemtov in Israel, a simple voyage home cannot escape a past on its way to extinction. That dilemma helps to sum up the potential for political photography, but also for the Mideast.
Border lines
Barry Frydlender lives on border lines, and the borders are constantly shifting. He can see the disruptions right from his studio window, on the border that once separated Tel Aviv from Jaffa. His photographs document a changing neighborhood, where every change leaves its mark on centuries of economic, political, and cultural divisions. Even to call the show "Yaffo–Tel Aviv" rather than "Tel Aviv–Jaffa" is to take a stand on shifting sands.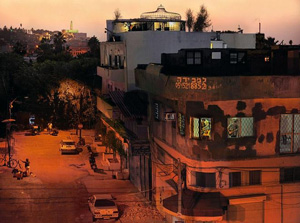 Artists worrying about whether they live in East Williamsburg or Bushwick (and whether they can afford either one) have it easy. And language is only the beginning.
Frydlender's photographs may not look unsettled, any more than those of Beirut for Walid Raad or Europe for Luigi Ghirri, but then why should they? After all, he is at home. He has a view to all sides to die for, not unlike Rackstraw Downes in paint, with clear skies and ample sunlight, close to where people have died to sustain or disrupt a fragile peace. He adopts a deep focus, saturated hues, and a stable horizon, sometimes from several photos assembled digitally. Traffic is light, and cranes in the empty lots are at rest. To a New Yorker, even faceless high rises add a comforting familiarity and a point of stasis.
Tel Aviv is a thoroughly modern city, except when it is not. It merged with Jaffa in 1950, soon after the birth of Israel, when Jaffa was still an old city with, of the two, historically a greater Arab population. Time and construction rapidly changed much of that, only starting with uniformly dreary modern buildings. Still, urban preservation is now a live issue, as elsewhere around the globe, and artists have moved into older neighborhoods in search of affordable rents, cultural roots, and each other. Look closely at Frydlender's photographs, and one can see all these tensions. One can also see signs of change.
He is surrounded by change, in lot after lot covered with falling bricks and scattered debris. Are the sites under construction or under demolition? The ambiguities and oppositions quickly multiply. Frydlender sees old and new, small and large, narrow passages and wider avenues. He finds palm trees in bloom and cars trapped in flooded streets, but also the aridity of the Middle East captured by Iranian artists and other Middle Eastern art as well. He observes communities but also soldiers moving through.
They are not the only ones in confrontation or in motion. Painters and photographers alike often use emptiness to evoke human waste and disruption, like Downes in Texas or Juan Manuel Echavarría in Colombia. These photos, in contrast, have plenty of inhabitants, although caught up in more than they know, and they never stop moving. On a balcony, where residents and their guests surely ought to relax and take in the city, one glimpses instead a threesome—two in a sudden embrace, while the third points off to something forever unseen. For all that, however, something is not going anywhere fast, in a region still struggling for a resolution. The show includes photographs from 2003 and 2013, and one can hardly tell which is which.
Jacques Derrida titled an essay "Living On: Border Lines," with all the hopefulness of "living on" and the precariousness of how. He went on to connect events in distinct literary narratives. Frydlender's Tel Aviv is a kind of deconstructive architecture, in a place where Brutalism in architecture takes on fresh meaning, and the conflict between narratives just will not go away. As an observer, he may be obliged to mirror the conflicts himself. A night view, ominously titled Rehearsal, looks much like the military's infrared photography, and a high point of view asserts control. Yet he can also see light in the sky.
The Mideast as elsewhere
Stephen Shore puts one right in the middle of the action. Not that he evokes a singular sense of place, but then he is entering contested ground. Shore photographs Jerusalem, the West Bank, and the Ukraine, and each gets a separate wall. Titles pinpoint the location and date. They had better, for it can be the only way to tell things apart. If that sounds disorienting, so are the region and his artistry.
The installation alone is unsettling, with more than half the photographs stacked as if to get them over and done. Compositions have the same deceptive artlessness. Fruit and vegetables look like aging and discarded still lifes. A boy sleeps behind a window's clouded glass. An archaeological site seems to have fallen into ruins just the other day. An elderly man and woman sit silently at a kitchen table, but twice over, in different photos from different regions of the world, in close-ups that seem to cut them off from the stream of life.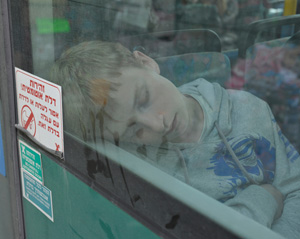 They might belong to the record of a single stay somewhere in the Middle East, without a trace of war. Huge apartment towers loom over a desert landscape that could be anywhere. Distant scenes share the scrubby dryness of an infertile planet. An old phone and a bust of Stalin have their place in time, but somewhere distant and long ago. A man still sports a chest full of medals from some forgotten war. And yet they are so close.
Shore takes far more care than may appear. He catches the vulnerability in each person and moment. It can emerge overtly, as little girls rush past the ultra-orthodox on their way to something unknown, or implicitly, in the harsh lighting. Even interiors share a desert sun. And that harshness and vulnerability speak to conflict, every bit as much as soldiers in Tel Aviv for Frydlender. Did the New Museum call art of the Arab lands "Here and Elsewhere"? Here, too, everywhere is somewhere else.
Unsettling has a particular meaning in shattered, illegal settlements. For the most part, though, the actors do not take sides, at least not since Stalinism. And no wonder, where right so often collides with right. The archaeological dig and apartment towers hang side by side, looking equally lasting and intricate. Shore is not pointing fingers and assigning blame. He speaks only to uncertain futures in a time of war.
Lives for Paul Graham, too, blend together, but beware of erasing differences. Graham photographs gold shops on deserted streets and skies pierced by a rainbow. He captures lone black men and women in shadowed beds. The shops are from New York, the rainbows from western Ireland, and the figures from continents apart, but they might all belong to a single glossy magazine spread. The British photographer means to lend poverty and human lives the dignity and glory of a rainbow, but he ends up subsuming them all into a song from The Wizard of Oz. Both sides in the Mideast know better from harsh experience.
Pathways to extinction
Iran and Israel have something in common after all—being on the way to somewhere else. Shirana Shahbazi and Igael Shemtov each present family portraits of their native countries, and each builds displacement into their working methods. Shahbazi, born in Tehran, documents a return home from Zurich, where she lives and works. Shemtov imposes the clumsiness of amateur photography on others, strangers really, in Israel. She enlarges her photos and converts them to two-color lithographs, with unearthly flesh tones and frighteningly pink or orange skies. He nurtures the grain and isolation of subjects held at a distance by circumstances and compositions that they cannot control. And each gives pride of place to a creature that nature should have laid to rest long ago.
Shahbazi opens with Dino, a pale green tyrannosaurus the size of a mountain range and in profile against one—cut off from the viewer by two long roads, a seemingly abandoned park, a tree up against its long neck, and the sheer unlikelihood of finding it there. Is it a double exposure or the record of an amusement park? Shemtov closes in on an actual playground in the form of a beached whale.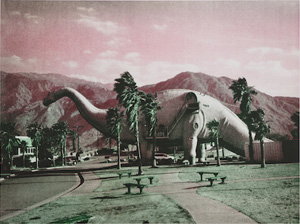 Playground equipment keeps its eyes wide and its jaws agape, but it looks less threatening than in its death throes. It might have coughed up Jonah in some mythic past when dinosaurs still roamed the earth. Children appear to have given it a wide berth.
The photographers share other subjects as well. She has a tent by the shore, he two empty lounge chairs by the Dead Sea. She has the interior of a diner that may or may not still be able to serve guests, he a sink with no one to do the dishes, a chef too sullen or tired to appreciate his own display of food, and a table with a napkin holder but no place settings. She has hikers on their way to a broad cluster of cheap housing, set into a mountain pass like an apparition. He has children walking the beach toward apartment towers that nearly block the sky. She has an easy chair hardly providing rest, he a blanket covering only an ass.
Both capture people struggling to keep up appearances. Shahbazi photographs a woman from behind, tossing a beautiful head of hair. Shemtov has an overweight couple smiling for the camera, as if to make up for its distance. For him especially, the effort may go for little. An infant in its mother's arms looks like a corpse, much as in Renaissance paintings in which the very birth of Jesus foretells his death. Parked cars look abandoned, while others look shrouded by the tarps that protect them from the weather.
Farideh Sakhaeifar is more open to beauty, reveling in the strangeness of her color shifts and the deep shadows of untitled film stills. A pool glimmers beneath the outlines of something unseen, and a blue curtain approaches abstraction, as moving in its response to gravity as a dying saint's robe by Francisco de Zurbarán. Shemtov is more open to anxiety. Both, though, are open to comedy and to artifice. In each case, too, the story belongs ambiguously to their subjects and to them. She has a road sign marking the distance to her destination, and it is far, far away.
Frydlender and Shore make lives in the region inseparable from its politics. Shahbazi and Shemtov avoid politics assiduously, but somehow it keeps creeping back. They are, after all, making family albums, but in fractured territory. That territory, too, is in a state of uncertainty. Shemtov's photos date from 1979 and 1980, when negotiations with Palestinians seemed remote but before the political supremacy of extremists on both sides, and Shahbazi, no doubt, has returned to Zurich. One can look for hope in what they share, including an eye, but also despair. Unsettled means ripe for change, but fear has a way of keeping people apart and on the path to extinction.

Barry Frydlender ran at Andrea Meislin through June 21, 2014, Stephen Shore at 303 through October 25, and Paul Graham at Pace through October 4. Shirana Shahbazi ran at On Stellar Rays through June 14, 2015, Igael Shemtov at Meislin through June 27. These reviews first appeared in a slightly different form in New York Photo Review. Related reviews look at the Middle East through the photography in "This Place" at the Brooklyn Museum and at Stephen Shore in retrospective.