Exile on Central Park West
John Haber
in New York City
Max Beckmann in New York and R. B. Kitaj
Max Beckmann has finally made it to the Met. It only took him a lifetime.
Beckmann was sixty-six when he set off to cross Central Park exactly that many years ago, only to die of a heart attack along the way. He had lived here all of two years, even counting a summer away in Oakland, where he taught at Mills College. Even then, apparently, he could not support himself entirely through his art. Yet the museum considers it the end of the German artist's many years of exile. He had an apartment on the Upper West Side, another job at the Brooklyn Museum's art school, and a favorite haunt or two in lavish hotel bars. He had found, he wrote, his long lamented prewar Berlin "multiplied a hundredfold."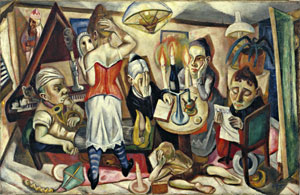 It takes chutzpah to imagine him at home anywhere, much less New York. The dozen paintings from those months rarely picture the city, and they have landed pretty much anywhere but here. Yet they and that dark December day in 1950 supply the excuse for "Max Beckmann in New York." Without them, it would amount to a small survey drawn from local collections, with their share of gaps and no other local connection. They do, though, show an artist always in society and yet always in exile. They show him, too, as a mythmaker and realist, with himself at the center of reality and the myth.
Speaking of exile, R. B. Kitaj ended his career in LA. If you think of Kitaj as an English artist, did you know that he was born here as well? He could be at home or in exile on both continents. The School of London will not go down in history for its sense of humor. Yet the man who gave the school its name could still laugh at art and himself. A postscript asks why.
Richard III in the drawing room
Sure enough, Beckmann was crossing town to see his very own image, in an exhibition of contemporary American art. If that subject and year make you think of other exiles in New York, such as Arshile Gorky and Willem de Kooning, just then breaking through to Abstract Expressionist New York, forget it. He commands the scene in a white tie, reddish orange shirt, and even more startling blue jacket. Its loose fit and the hand slipped casually into his right pants pocket only emphasize his ease and presence. As so often, a slashing black picks out the folds, and the acid colors extend to green, for a foreground table or chair. As so often, too, a more subdued and sparely painted background frames him but cannot trap him. Highlights bring out his roving eyes and high forehead.
The portrait faces the entrance wall, in a room of self-portraits. They surround visitors on every side, almost always with those cool skin tones, restless eyes, and a cigarette. The curator, Sabine Rewald, sees in them a vulnerable, even introspective character. She calls him fragile compared to the bulk of his blue jacket. Do not believe it for a minute, not even when he holds an outsize horn to his ear like a hearing aid for a virtuoso. He is both taking you in and putting on a show.
He is Richard III for a modern-day drawing room. As a child in a 1949 triptych, Beginning, he even wears a paper crown. The crown transfers to a Viking at the center of another triptych and probably his most famous work, Departure from 1933, in the collection of the Museum of Modern Art since 1942. The Viking king, his queen, and their infant child are at sea, between scenes of unspeakable torture, while a drummer marches past to commemorate their fate. Are they in exile or relentless invaders, tormented or tormentors, in a mythic past or a frightening historical present? The question applies to everyone and everything he sees.
For the record, he had a round face and pot belly right to the end. If not exactly fragile, he at least subjects himself to the same comic irony as others. It only furthers his detachment and refusal to look within. In each panel of Beginning, he plays the rebel unaware of own arrogance—on a hobby horse, passing on a nude drawing in class, or in that crown. Beckmann, though, is always self-aware. He places the child in the crown outside a window, gawking at a hurdy-gurdy player with a greater claim to artifice. He does nothing at that to identify the child once and for all with himself.
The two triptychs wrap up the show, just as they have come to wrap up German Expressionism, "degenerate art," and the artist. They also supply a handy guide to his imagery. They include the brutality of masked executioners and severed hands. They include the haute bourgeoisie in teachers and a parade of outcasts in the drummer and hurdy-gurdy man. Both, they seem to say, are false prophets. They include victims willing to accept the prophecy.
They include the cramped spaces and open waters, with the occupants of both figuratively at sea. They include figures piled vertically or suspended upside-down, in tiers that trap them that much further. They include the bright colors and thick black outlines out of crude woodcuts, often approaching a grid. They defy belief, even as they defy anyone to dismiss the horror. They slip nonchalantly between the artist's classroom or studio and the larger world, tragedy and comedy. The upside-down figure in Beginning is a cat.
Carnival in the city
If that makes you think of cat pictures on the Internet, the Met would also like you to consider Beckmann a prophet, if only inadvertently. It sees a theater's backstage devoid of people, from his last year, as a foretaste of death. It sees a falling man beside a skyscraper as a foretaste of 9/11 and Ground Zero. Never mind. He keeps coming back to the same vocabulary, with few variations, as if to hammer it home. He keeps coming back, too, for all his moves from city to city.
The show runs neither thematically nor chronologically—a far cry from the 2003 Beckmann retrospective at MoMA, for all its quality. It never so much as gives his year of birth, 1884, and it never mentions his harrowing service in World War I or his breakdowns. It has its self-portraits, then fashionable portraits of others, and a side room for visions of hell. Those include the falling man. So much for being at home in the city. It has its final room for four reclining women, his "muses," and the triptychs.
In-between, though, it nods to a survey. It picks up Beckmann only in 1920, then in Frankfurt, as the Weimar Republic briefly stabilizes along with the currency. Not that he cares much for stability. In a family scene, figures acknowledge only themselves—lost in a mirror, a book, a newspaper, a candle, a sullen dominance, or despair. On a boat for his honeymoon, the party badly needs a rescue. Wall text dutifully describes his wife, Quappi, as delicate and graceful, but he gives her the gravity and mass of a totem or a woman for Pablo Picasso.
He moves to Berlin in 1933, just as Hitler comes to power, and departs in 1937, on his way to Paris. He never gets there. He uses his ten years in Amsterdam to recreate glamorous evenings in Paris and Berlin. In the rootlessness and posturing of high society, he is for once at home. A teaching gig in Saint Louis takes him to the United States and, a year later, his final stop. Props on the floor of his New York studio take the place of his bulky nudes and dismembered arms. A hotel bar tunnels into depth between paired mirrors—surely the closest he ever comes to a subway car.
Had Beckmann finally escaped his nightmares? Not likely, but neither had he forgotten the comedy or the realism. The San Francisco skyline looks about to topple in the breeze. A cloud besets the falling man in New York, like a sky god, and ships on the Hudson fly upward in reply. A city night supplies another vision of hell, but with musicians to accompany it—and more than one opportunity for sex. An optician's shop window on the Lower East Side holds schematic eyeglasses, but also a bust with its eyes behind a mask.
To the very end, his carnival woman sports a mask—and those crazy colors. Is everything just a carnival all along? Faced with the grim spectacle, I often wish that Beckmann could get over his exile. Stop exaggerating, I want to scream, and just calm down. Maybe, though, he already has. He can always put on a blue jacket, formal wear, or a sailor suit and invite you to his studio, so long as you do not expect a welcome.
Punching back
Beginning with Francis Bacon, English artists seemed to compete to express horror and revulsion—and to inspire horror and revulsion in others. The very subjects of Bacon's best-known paintings, the Crucifixion and Pope Innocent X, attest that this is no laughing matter. R. B. Kitaj knew high seriousness when he wished, but he did not always take it seriously. His version of a dead Christ lies in what could pass for a fish tank, like a beached whale, and it is only Pretending to Be Dead. He rendered an earlier artistic rivalry,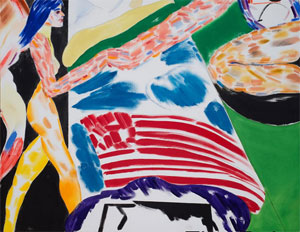 between James McNeil Whistler and John Ruskin, as a boxing match. In self-portraits he appears as a terrorist, a woman, a black sheep, and a punching bag.
Of course, in ordinary neurosis self-flagellation is also a serious matter, and Kitaj kept at it. He became The First Terrorist in 1957, six years before his first exhibition, and a punching bag in 2004, three years before his death. The boxing match, too, aspires to a place in art history. It may joke about the libel suit against Ruskin, the critic who accused Whistler of "flinging a pot of paint in the public's face." Yet it places Kitaj in their august line, and it borrows its composition from a rather earnest American painter, George Bellows. Even when he is punching himself, this artist is punching back.
All four paintings appear in a healthy selection of his work, curated by Barry Schwabsky. The show follows Kitaj to his late years in LA, as "The Exile at Home." Few artists seem anywhere near as English, but he was born in Ohio, as Ronald Brooks, and he took his name not from British colonialism in India, but from his Austrian stepfather. (Try not to pronounce it kitsch.) For him, art is always in exile, and he coined the term diasporism to describe it. He knew that Whistler, too, thrived as an American in London.
The entire school had its roots anywhere but at home. Bacon was born in Ireland, Lucian Freud and Frank Auerbach in Berlin. Leon Kossoff was the child of Russian Jewish immigrants, like Kitaj's mother. Their exile may appear in Bacon's agonies, Freud's distorted portraits, Kossoff's repeated self-portraits, and Auerbach's darkly slathered paint. Kitaj evokes a sense of displacement with the urban idlers in Arcades, after the studies of Paris by Walter Benjamin, and with Franz Kafka as only a hat. Another self-portrait calls him The Jewish Rider, punning on Rembrandt's The Polish Rider, a notoriously strange figure in a distant landscape.
All this sounds solemn enough, but Kitaj's colors keep getting brighter and his backgrounds more filled with white. Schwabsky compares them to Henri Matisse and Paul Cézanne, but they approach Modernism from the perspective of a good illustrator. A black outline here and there may recall Max Beckmann in New York, and a schematic face has the flair of Alexej Jawlensky, but German Expressionism seems long ago and far away. Kitaj comes closest to another exile in LA, David Hockney, whom he knew from their years at the Royal College of Art in London. They share an obvious facility that crosses over into glibness. He was not altogether joking when he called the show's last painting his Technicolor Self-Portrait.
As with those titles, a joke can serve as a defense mechanism as well. When he titles a woman with big boobs The Sexist, it sounds like special pleading. He is at his best when humor gets along with a deeper mystery. In I Married an Angel, the angel has wings and approaches his bedside— with the choice between consummation and salvation still to come. A nonpracticing Jew, he found in religion, too, a deeper mystery. I laughed at The Jewish Rider, but Rembrandt, the painter of The Jewish Bride, would have approved.

"Max Beckmann in New York" ran at The Metropolitan Museum of Art through February 20, 2017, R. B. Kitaj at Marlborough Contemporary through April 8 (with prints at the gallery uptown through April 1). A related article looks more fully at the artist on occasion of the 2003 Beckmann retrospective.