Who Defined American Art?
John Haber
in New York City
Abstract Expressionist New York
One does not go to "Abstract Expressionist New York" for rediscoveries. The Abstract Expressionists have never left, and arguments over them have never stopped.
Only weeks earlier, I saw the white paintings of Richard Pousette-Dart in Washington, where the black paintings of Mark Rothko were also on view. Even after eleven years, the retrospective of Jackson Pollock seems like only yesterday. So does Rothko's the year before, with still another by Willem de Kooning coming right up. They have been the subject of recent biographies, movies, and a Broadway play, not to mention revisionism and revival in classrooms every day. The Museum of Modern Art may have pulled things out of storage to displace the rest of its postwar permanent collection for half a year or so. It is a textbook collection all the same.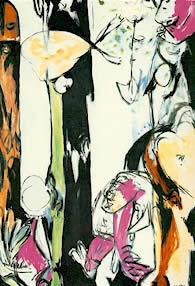 It is also a textbook about New York. Maybe the label "New York School" has now largely faded from memory. After all, who could beat the combination in "Abstract Expressionism," especially as abstraction lived on? But this is a show about memories as much as discoveries, and one goes to remember. Many back then could still remember the 1913 Armory Show, when Nude Descending a Staircase (and nearly 1300 other works) made even its organizer, the American painter Arthur Davies, seem downright provincial. They remembered, too, when a proper artist had to head for the country or the Academy—or better yet to Europe.
One gets a reminder of one's own, right in the very first room. What were the artists doing before 1945? Robert Motherwell is here, working between comedy, tragedy, and abstraction with Pancho Villa and the bars of The Little Spanish Prison. A study by Philip Guston, with the Cubist influence of many a WPA mural, prefigures the rough characters of his late work. Rothko is using huge sperm cells as totems—or maybe as Adam and Eve—in Slow Swirl at the Edge of the Sea. Hans Hoffman, that stern teacher of modern rigor, is practically making a drip painting.
Abstraction remembered
In other words, they were navigating between realism, Surrealism, and abstraction, wondering how not to be mired in any of them. The solution, it turned out, was to embrace them all. It took first burying the drawing in paint itself, and Richard Pousette-Dart and Pollock turn out to have done that in almost exactly the same way. And then it took thinning the texture over larger and larger spaces—to the point that line, paint, and canvas blend into one. Arshile Gorky did just that, as he confronted personal tragedy. Robert Motherwell turned to collage to help.
One gets a reminder that Jackson Pollock, for all his time working through Surrealism and Picasso, led the way himself. The She-Wolf is already explosive, and Sounds in the Grass (Shimmering Substance) gets drip paintings off to a fast start. He also adopted arithmetic signs into painting, even before Adolph Gottlieb and Bradley Walker Tomlin invented their own. Postmodernists will be happy to have writing as central to art. Even the "zip," or vertical stripe, of a Barnett Newman painting began as a mark with a palette knife. In working large, Newman transformed that mark entirely—into an object that can share space with the viewer.
Obviously one gets a reminder of MoMA itself, which raises the question of scale in another way. The work looks awfully good—almost good enough to justify even the awful 2004 renovation by Yoshio Taniguchi. One can make a case that Abstract Expressionism needs huge, ugly spaces, because it and the museum white cube grew up together. Still, the old galleries were the International style, in spades, and even the largest painting here makes sense only in relation to their smaller scale. The intimate relationship between painter, painting, and viewer depends on it. The curator, Ann Temkin, quotes Newman saying just that.
One remembers, too, the Modern's omissions, and many have to do with women. The museum collected only one painting by Joan Mitchell, and Lee Krasner, who introduced Pollock to Hoffman, did so much more than the two on display here. Increasingly she combined Pollock's epic battlefield with the flesh-like leaves of de Kooning's 1948 Painting—but in sepia rather than black enamel and white oil. Gender aside, MoMA simply turned away from work of the "second generation" in the late 1950s, because its textbook history said so. That leaves the Cedar Bar and all those guys with studios south of Union Square. Sam Francis turns up, but only because he studied out west with two of them.
Regardless, one remembers MoMA's role in defining all this, thanks to Alfred Barr and, yes, a woman, Dorothy Miller. A charming room for letters, photographs, and catalogs pays tribute to her. This show can turn full rooms for Pollock, Mark Rothko, and Newman into small retrospectives, and how huge Pollock's Number 1 still feels. Barr allowed "only" four paintings by Willem de Kooning, but any other museum would die for them. I suppose I could toss in a Willem de Kooning from the Whitney, Gorky's The Water of the Flowery Mill and another big Pollock drip painting from the Met, Newman's Cathedra from Amsterdam, and a couple of loans from the Albright-Knox in Buffalo, and voilà—a complete textbook. Then again, completion would deny the whole point of Abstract Expressionism.
In the end, "Abstract Expressionist New York" can hardly help itself. Even a new textbook history is a new history. The Modern's runs more or less chronologically, with rooms for artist—and, when that will not suffice, groupings by theme. They begin with the room on the theme of signs, with Tomlin and Gottlieb. Increasingly, they tempt the museum to start telling stories out of class. Action painting, by definition, is a work in progress, and all those marks akin to writing demand interpretation.
The body in question
In one of the most striking stories here, de Kooning's Woman I anchors a cluster with Lee Krasner, Jack Tworkov, Alfred Leslie, and Washington Crossing the Delaware by Larry Rivers. Leslie's thickly layered abstraction could pass for the side of a barn. Rivers's tormented, fragmented American history shows the scars of human impulse and incompletion. Pop Art's rebellion against formalism is not just prefigured, the room says. It was there all along. The show's close, with Philip Guston after Guston's abstraction and his return to a cartoon realism, may not repudiate Abstract Expressionism after all, but then it does not come until 1969.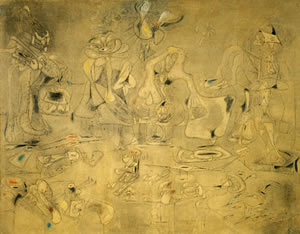 That clustering also insists on the body, just as the next room does in placing Franz Kline next to Cubi by David Smith and to Louise Nevelson. (Smith's earlier, more open, and two-dimensional Australia graces the room for Pollock.) Sure, why not see Kline's black as humans or maybe insects humping? The earlier transition from Tomlin's hieroglyphics to Newman's zips makes sense, too, as written signs become signs of something human—or inhuman. Nevelson's black may belong to either one. Ad Reinhardt makes clear how much he needed to abandon signs in favor of that intense blackness.
In turn, with a drip painting, the body becomes a kind of writing. And with the body in question, gender makes an appearance for all the collection's gaps. The show makes a point of diversity, not just with Nevelson, but also with Helen Frankenthaler, Grace Hartigan, and Hedda Sterne. This can feel like tokenism, and things do trail off toward the end. Sadly, Janet Sobel never appears at all, when her drip painting—perhaps the first drip painting—was so arresting in the old MoMA. The show also places Norman Lewis, the African American artist, early on, where he fits perfectly.
History also expands, literally, around the edges. Wilfredo Lam and Milton Resnick greet one in the corridor coming off the escalator. The two floors below, in galleries for books and prints, add other connections—and demote Mark Tobey to the margins. These connections include the obvious sculptors, such as Seymour Lipton and Isamu Noguchi, but also architecture and music. Abstract Expressionism's formalist systems end up including Buckminster Fuller, while its chance impulses now include John Cage. See, the line between the late Modernism and the next wave keeps slipping. The works on paper could easily have included Robert Rauschenberg for his erased de Kooning.
Often critics stress the struggle against Europe and for an American art, much as Harold Bloom insists that great writers must struggle against influences as great as themselves. One truth behind the label "action painting" is that these artists had to stop struggling against anyone other than themselves. (Maybe if Pollock had welcomed "the anxiety of influence," he would not have died so young.) Their self-discovery had less to do with the massive ego of today's celebrity art, for all the attention they received. Rather, they had to see even themselves as "the other," along with the blank canvas. And one virtue of MoMA's retrospective is to add "the other" through a greater diversity of New York artists.
A bigger surprise comes in the main galleries, with their emphasis on photography. In an obvious sense, photography set the scene, with Life magazine's famous group shot of "the irascibles" (by Nina Leen) and its four-page spread on "Jack the dripper" (by Arnold Newman). A room also looks for parallels in such near abstractions as Harry Callahan's streaks and Aaron Siskind's blur. More provocatively, Robert Frank gets a full, tall wall for The Americans. At least it serves as another reminder—that the idea of America was up for grabs. Textbooks can be beautiful things, but that page is still being written.
The New York School and America
The "triumph of American painting" has taken a lot of hits over the years, like much else from the Cold War. When the Modern speaks instead of "Abstract Expressionist New York," it is not just celebrating a city, with itself at the center. It insists, too, on the present, when art no longer ends with two fateful words (a label attributed to Robert Coates). This once, however, a slam comes from the right. For Loren J. Munk, a self-promoting Brooklyn critic, New York still suffers from "metro-centric myopia." Oops, there go those brainy coastal elites again. "Ironically," he writes, "almost none of the innovators or stalwarts of the New York School were or are natives."
It sounds well worth noting. David Smith hailed from the Midwest and Clyfford Still from the Great Plains, and one can imagine those memories in the towers and canyons of their art. With Pollock, Wyoming and Depression-era California have become very much part of the myth. And Robert Rosenblum saw in them all the Romantic sublime, which in American terms long meant the Grand Canyon and Hudson River landscapes. Rosenblum in fact had more in mind Caspar David Friedrich, Peder Balke, and Northern Romanticism, but what the heck. Go team America!
Think a little more, though, and one wonders what the fuss is. No one denies or complains that Bushwick studios hold men and women from all over. So does midtown or Wall Street. People come to New York to succeed—and that, too, is precisely a legacy of the 1950s, even if Pollock did much of his best work after heading out to Long Island. Just as important, the touch of Americana is plain wrong on its merits. It has the facts wrong in today's global economy and global art scene, and it is just as much a lie when it comes to the postwar years.
Surely at no other time have so many key artists been New York natives, and many more were immigrants or the children of immigrants. WASPS were few and far between. Newman, Krasner, Gottlieb, and Frankenthaler—all were New Yorkers with immigrant Jewish parents, while Pousette-Dart grew up in a nearby suburb. Louise Bourgeois was French, Nevelson Russian, Hoffman German, de Kooning Dutch, Rothko Russian, Lam Cuban, Sobel Ukrainian, and Gorky the survivor of yet another genocide. Noguchi was Japanese American, Mark di Suvero was born in China to Italian citizens, William Baziotes's parents were Greek, and Kline's were from Germany and England. At the same time, they had a place in which to exchange ideas quite different from the expanded, fragmented, and financially pressured art scene today.
Not for nothing were their politics of the left, so far from Monk's ugly nativism, and all eyes still on Europe. As Tyler Green observes, Francis thrived only in exile, in Paris. Motherwell came from the Pacific Northwest, but he dedicated his art to elegies for the Spanish Republic. Pollock may or may not have seen Native American sand painting, but he struggled for years to work through Surrealism and Cubism. As for their critics and supporters, Rosenblum, Clement Greenberg, and Harold Rosenberg were New Yorkers, while Meyer Schapiro had fled the Ukraine. All four set painting in opposition to American popular culture, and all were of Jewish heritage.
At least none of them wanted to build a mosque at Ground Zero. But seriously, no one should be surprised. This used to be standard history for the "greatest generation," with pride that immigrants built this country and that America provided refuge. One could tell the same story about the scientists who built the A-bomb, though without the excitement of the Cedar Bar and the subways that early Rothko himself painted. As with the A-bomb, it is not an unblemished story either—and with Pop Art it was already coming apart. Yet it is hard to imagine American art without the "metro-centric" world that brought it to life, and it hard to imagine a future for the aging white America now so desperate to forget.

"Abstract Expressionist New York" ran at The Museum of Modern Art through April 25, 2011.