A Coloring Book of the Mind
John Haber
in New York City
Arshile Gorky: Drawings
Count on a radical artist to have an old-fashioned idea. Arshile Gorky believed in drawing. He kept telling his students how much technique matters. He kept struggling with it himself. Just picking up a pencil led him to new themes and, at last, a new style or two.
Now the Whitney returns the favor: it believes in Gorky's drawings. An exhibition sees them at the heart of his final years, driving a breakthrough to Abstract Expressionism.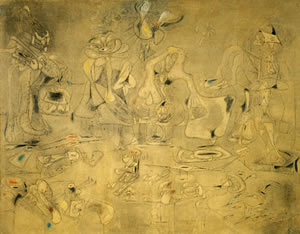 I put off seeing the show until I had absorbed a fine new biography, by Hayden Herrera. I wanted you to have a review in two parts. I wanted my thoughts to move from theory to practice. And in practice I found a different narrative entirely. Herrera values Gorky for his uniqueness—between his native Armenia and America, between early Modernism and New York's future.
The Whitney begs to differ. It values an artist always in the vanguard. Ironically, that approach ends up challenging the show's focus on preliminaries, as if painting's future were still to come.
The essence of postwar painting
He said it over and over to his students: the essence of painting is drawing. Gorky delighted in taking them to the Frick Collection, where he had a special fondness for J. A. D. Ingres. He so admired another consummate draftsman, Pablo Picasso, that art people wrote him off as a cheap Picasso imitation. Maybe it took Gorky to appreciate the willful modernity of Ingres's line. Maybe the fixation of both Ingres and Picasso on women matched his own—from the decade he spent on his portrait alongside his mother to the unraveling of his marriage that preceded his suicide. An eerie blankness holds his mother's face at an impossible distance, just as Picasso's twists so often do to his lovers.
One has trouble imagining another modern artist whose career comes through so fully in drawings. Modernism, after all, takes spontaneity and disorder so much for granted that drawing can easily seem superfluous. No wonder artists from past centuries often look more accessible on paper, without the aura of an Old Master. Today, in fact, one actually prefers to speak of works on paper. The term boasts of independent creations, ready to enter the textbooks, a museum, or a postmodern installation.
Painterly abstraction may seem to make drawings even more irrelevant. One remembers Willem de Kooning drawings largely because Robert Rauschenberg erased one. Mark Rothko does not so much draw as paint, whatever the medium or the changing composition. Not so with Gorky.
On the one hand, drawing represents for him a link to the past. It frees up recollection. Herrera, like many others, often sees household objects from Gorky's childhood in the shifting outlines. Drawing also gives a stubborn teacher and a troubled mind the discipline to carry on. Like painters from the Renaissance to Thomas Eakins, Gorky finished his most famous full-scale drawing by overlaying a grid, for transfer to canvas. Of course, he had to ask de Kooning—perhaps the most startling oil painter ever in America—what to do next.
On the other hand, drawing propels him forward. It gives him new subject matter. A mural commission for Newark Airport delights him, because he can draw transatlantic ships and planes—for him as for so many, emblems of modernity. Drawing also frees him from routine. Sketching in the Virginia countryside, away from his studio, helps to shake off the past and create a new one before a triumphant return to the big city.
The medium also drives changes in style. At first Gorky takes such care with encrusted oil, as did Richard Pousette-Dart, that he could almost have baked Picasso's still lifes in an oven. Drawing helps him to accept Surrealism's automatic gestures and leaner textures. It helps him thrust compositions toward the edges, harnessing Cubism's play with the geometry of the frame. As with Jackson Pollock's enamel tracery and Janet Sobel's drip paintings of roughly the same time, Gorky blows up the intimacy of drawing to the epic scale of painting. He ends up redefining postwar painting.
Running ahead
Herrera refuses to label Gorky as simply Abstract Expressionist. She sees him between periods as between nations, no matter how much he identifies with both sides. With his untimely death, he could almost serve as the movement's Moses, unable to enter the tent of meeting because of the glory of the Lord, dying in sight of the promised land. Her testimony to his personal magnetism practically borders on Deuteronomy: "His eye was not dim, nor his natural force abated."
The Whitney, in contrast, brings out Gorky the modern. It starts with a wall of portraits. For the first time, I realized how much he sees art history through the eyes of Picasso. He mimics Picasso's own drawings after Ingres, with their thick, loopy line and abundant white space. The museum also gives far more space than the biography's color plates to Gorky's murals. Most of them survive solely in studies anyway. I had been wondering what they look like!
More blatantly still, the Whitney rushes ahead to Gorky's last years. The first room has those portraits, plus sketch after sketch on just a single theme, Nighttime Enigma Nostalgia. By choosing that dark theme, rather than a more overtly Cubist still life, the Whitney makes his early work prefigure his late paintings. Then comes a wall for the mural studies—and in no time one has reached 1943, a man in his 40s, and a major artist. A good half the show runs from 1946 through 1948.
The medium helps the Whitney's case, too. Drawing often shows Gorky at his most progressive. Do the first oils seem labored and inflexible today? The equally dense cross-hatching for his early Nighttime Enigma Nostalgia looks as fluid, rich, and emotionally revealing as anything he tried. In effect, by its highly selective presentation, the Whitney is running ahead of itself from the very first room. Fine with me. Gorky always wanted to take the lead.
Drawing also means motifs constantly in motion, never settling into mere nostalgia. With ideas still working themselves out, it gets harder to seek out echoes of the old country. Mostly, one sees the mainstays of American early Modernism—not butter churns, but people and landscape. Pollock, de Kooning, Norman Lewis, and Lee Krasner turned to them as well for that space between abstraction and representation.
Then, too, if Abstract Expressionism blurs the boundary between painting and drawing, why not look first at drawing? The bursts of primary color in The Liver Is the Cock's Comb all but arise naturally from experiments with crayons. As in some formalist theory, the medium here really is the message. In the tense final years, pencil and charcoal take over, and Gorky's color grows sparer. In Betrothal, the same line that shapes his figures also connects them by a painful thread, like wire drawn to the breaking point.
Drawing out Modernism
The Whitney's bias makes sense, given Gorky's influence and his best work. In those last three years, one should see not repetition but transformation. Still, I can understand why some visitors feel cheated. The museum cheats even more by hanging half the show with little regard to chronology. As in so many canonical accounts of the avant-garde, art once again steps out of time.
Conversely, a selection of drawings, however careful, cannot disguise what they leave out—Gorky's paintings. A show this big suggests a career in full. Even the exhibition title manages to sneak in the word retrospective. The medium, however, cannot quite live up to that message.
For one thing, first thoughts show how far Gorky had yet to go. He is seeking motifs, not arranging them into anything larger. They lack that instinctive push to the edge of his paintings at their best. I thought of another hesitant approach to allover painting, with another veteran of New Deal murals, Philip Guston. Formalists may not come away so pleased after all.
Even more, drawings cannot show how line and color interpenetrate at their best. Gorky's paintings taught a generation to see American Surrealism not as a coloring book of the mind, but as a process of discovery. Instead of outlines, he taught them layering and erasure. One realizes how much Gorky's oils depend on thin washes for the illusion of continuity and depth. One realizes how the painted ground gives a work its fearful symmetry.
I left happy, but I felt that I had somehow overlooked a room that never existed. What, I thought, if the Whitney had attempted neither drawings alone nor a full retrospective? What if it had neither omitted painting entirely nor let it take over? What if, instead of then interspersing paintings with their closest studies, it had ended with half a dozen of his most luminous works? It might have made the repetition more satisfying and a career more intelligible.
The Whitney cannot help making Herrera's point despite its best efforts. The Gorky on display here remains an easel painter. He can neither shake off memory nor recreate it as an image of the future. Paradoxically, like even the most insightful critic, neither the book nor the museum can quite encompass his art.

"Arshile Gorky: A Retrospective of Drawings" ran at The Whitney Museum of American Art through February 15, 2004.