Folk City
John Haber
in New York City
Ralph Fasanella, Willem van Genk, and Outsider Art
Jeffrey Beebe and Space Is the Place
And here you thought you knew outsider art. How strange how many artists now have defied the label—and how many art-world insiders have embraced their discovery.
Ralph Fasanella and Willem van Genk sure defy it. Their urban visions seem madder than ever, but they track the modern city and its threats, its pleasures, its politics, and its betrayals all the same. They are equally at home in the American Folk Art Museum and New York. Then again, Jeffrey Beebe, in a group show on the theme of crazy places, points to New York itself as a "city of sociopaths." More to the point, he has in mind the art scene. In a solo show, he then reconsiders its place at the center of the universe.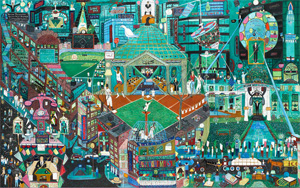 Modernity and betrayals
If nothing else, outsider art takes a true outsider—a regionalist and a madman barely touched by modernity or the art world, right? That definition has started to look suspect, now that folk art has entered the mainstream. Maybe it looked frayed from the moment Paul Gauguin left for Tahiti. Consider, though, the even stranger case of two blunt but cosmopolitan artists who stayed put. They hailed from New York and Europe's most open-minded capital. They were a union organizer and a world traveler, an artist who found support in Ad Reinhardt and an artist who learned from art history books, a guy who preferred Capital to the Bible and a guy who happily painted May Day in Madison Square.
Ralph Fasanella and Willem van Genk embraced modernity. Both roughly straddled the twentieth century and made art from its emblems. Born in 1914, Fasanella grew up in the Bronx and painted a vertical city. He found a proletarian vision in the view through apartment windows, and he often centered his crowded compositions on an A-frame structure, like a steel-frame cathedral. Born in 1927, van Genk found a somber, muted realism in his native Amsterdam, but he painted the Brooklyn Bridge and drew on an ad for Soviet Airlines. He made his last and most memorable art in the shape of trolley cars.
For Fasanella, progress was a political imperative, much as in children's books and adulthood for Tomi Ungerer or black culture for Archibald Motley, but then so was the colorful, unsophisticated look of folk art. If anything was more suspect than fine art, it was a garden party. He painted one outside MoMA, with the privileged classes inside, although the sleek interior in his hands still has its magic. He also never gave up his dedication to Marxism, and he drew insistent parables from Lenin's coffin and the execution of Julius and Ethel Rosenberg, but his real subject was America. It held the bridges to Manhattan and his beloved Yankees. It found relief from the turmoil and betrayals of the 1960s and 1970s in a headline, Agnew Out/Mets In.
Betrayals for him lay everywhere. Stalin was already a betrayal, and "CIA = KGB." Still, his true tragic heroes and villains were at home. The son of Italian immigrants, he painted his father, an iceman, as Jesus on the cross and his mother in the kitchen, both with the inscription Lest We Forget. His fallen idols included John and Robert Kennedy, and a barely recognizable cross between Lyndon Johnson and Barry Goldwater rides through Dallas on horseback with a raised pistol. (Hee haw!)
van Genk, too, had a hero, but in his father, a member of the resistance in World War II. The Nazis interrogated the son, leaving memories of sleekly forbidding trench coats. van Genk went on to collect raincoats, which he used as a kind of canvas to bring out their mockery and their shine. He also traveled to Cologne, Zagreb, and New York, painting them all on wood. (Yes, he really does make it into the American Folk Art Museum.) Yet his dark clutter finds its acme in Amsterdam.
He adopts more open compositions than Fasanella, although they grow flatter and flatter after 1970, and a touch of Modernism in his Art Brut. He could plumb collage itself for elements of color to create the illusion of depth. His trolley cars pasted together from advertising compete with Robert Rauschenberg and Pop Art. Still, he was an actual schizophrenic and an obsessive collector. What, then, is outsider art—a style, an ideology, an idiosyncrasy, or a compulsion? For these artists, all at once, and (as the saying goes) you know it when you see it.
Artists and sociopaths
When Amy Wilson told her Facebook friends to look out for Jeffrey Beebe's City of Sociopaths, I had to ask: can I be a sociopath, too? Apparently not, for I would have to be an artist. Clichés of tormented genius aside, I would have to be navigating the Borough of Perpetual Childhood and the Borough of Questionable Success, maybe for the rest of my life. I would have to move between a forbidding maze of New York streets, but only when they contain galleries. Still, that city contains multitudes, and it looks and sounds very much my own.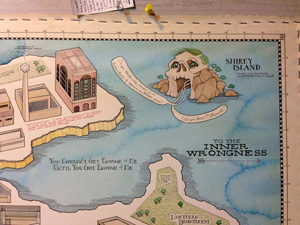 Maybe no man is an island, but Beebe's mental map has its share. His New York has a dominant land mass like Manhattan, a confusing one like Brooklyn and Queens, and a more isolated one like Staten Island. (Bronx residents, eat your heart out.) Two smaller islands nestle in between, perhaps awaiting summer sculpture and the next Frieze art fair. They have their quaint and formidable connections, like the Williamsburg Bridge reduced to a footbridge with a closed gate. But then artists from the outer boroughs often run into a brick wall.
Not that the boroughs have the right shapes, the right spatial relationships, or the right streets. Numbered avenues follow an impossible order, and name streets may belong anywhere. They are just the right places all the same, like Ten Eyck for you hot Bushwick and East Williamsburg types. They do not have museums and galleries exactly, but they do have an Acrimony Tower topped with gold and a warehouse for "large-scale mediocrities." They also have parks and prisons, dead ends and waterfronts, warnings and invitations. Beebe's ink, watercolor, and gouache does not show people, but this is only a map, with a semi-official seal to prove it.
It also contains confessions. The labels alone seem less like designations than words meant only for you, but Beebe strews dozens of other thoughts along the streets and the margins. "I compromised my fantasies in a manner which still amazes me," one tale begins. "I have toadstools growing under my heart." Maybe I know what it is like for artists, trying like them to earn a dollar here and there—or maybe even an audience. Like them, too, I do not want to admit that I have ever had to try.
You may know angrier maps of the art world, thanks to William Powhida and Ad Reinhardt, or smarmier ones, thanks to Loren Munk. You may know poignant and funny ones, too, thanks to Wilson. If Beebe's struggle with his sanity reminds you of hers, they are both in a group show, "Space Is the Place." The title aside, Sun Ra fans, it is the shared space of artists, not of jazz musicians. I cannot even swear what holds the participants together—although a "spontaneous abstraction" by Steven Charles does look halfway between a circuit board and a map. Chris McCaw's photos of the tracks of the sun and Kenneth Goldsmith's sinister cartoon may have something to do with space, but so does art.
Beebe and Wilson evoke space in another sense as well, like Jim Shaw and his "Thrift Store Paintings," the place in art of the outsider. And the show has a work of actual outsider art from 1957, by Eugene Von Bruenchenhein—a bit like early Wassily Kandinsky, give or take harsher colors and a gigantic insect. Wilson's contribution turns her drawings to fabric and three dimensions, with a convincing pretend Museum of Modern Art that one can enter, if one dares. "Increasingly," one reads inside, "trips to art seem like unfortunate family gatherings." Maybe not this trip, not when one can also enter a cabin the size of an outhouse, by Fred Tomaselli, lit only by pinholes in its walls. It looks scary, but inside it brings the sorry spectacles of Yayoi Kusama back to the starry world of ordinary sociopaths and of art.
Refractory refractions
When we last left Jeffrey Beebe, he was navigating New York, the "city of sociopaths," to find his way as an artist. It was a treacherous time, in a group show filled with sociopathology. Contributors fought over what kind of sociology and pathology makes art so strange and so familiar. They adapted the resources of outsider art and comic strips (the space of sorry clichés like "when we last left our hero"), to an art world in which everyone is an outsider—and, it often seems, everyone else is an insider. They made the vulnerable girls in Amy Wilson's drawing seem downright normal (which, by the way, is a compliment to them both). But that was "Space Is the Place," and this is now.
One year later, Beebe is back at the very same gallery, and the sociopathology has only sharpened. So too, though, has his global positioning system. Then he navigated my own New York—and a city that anyone, like me, not a struggling artist can be grateful never to know. Now his complaints extend to the entire universe. They include a map of malevolent constellations along with the "real" solar system, looking no less disturbed by myth. Beebe calls the show "The Battle of the Invoked Impossibility" and its topology his "Refractoria." If that makes you think of both personal and optical properties, in refractory and refraction, this is one stubborn artist.
Words come fast and furious, like the word polysemic. A typical drawing has not just labels, but then a host of further annotation and explication below. Still, the show is not just a novel hung on the walls. Visual puns are growing as important as verbal ones, including the varied styles of atlases. Colors lend fiery regions to planets and the sun. Besides, the scale of an artist's book would make the text too hard to read.
Beebe's light is clearly refracted by his vision. It has the persistent madness of outsider art, but the disillusionment of an insider who thinks that he has seen it all. It observes the comet Obsessive, in detail after detail from an obsessive draftsman. It ranges from the Stony Runts closest to the sun to the Frigid Behemoths lumbering far away. Both might find themselves at home among the closest thing he has to humans, a pageant in medieval costume that he calls his genealogy of blandness. They could describe as well the implicit humanity of the whole.
Not that life here is easy to come by. Nor, most emphatically, is love. The solar system numbers among its "infatuates" a planet very much like Saturn, give or take the moons Ire and Spit. A map of what might or might not be the South Seas includes the Cemetery of Kisses, where "your absence is my inspiration." The artist means this as the narrative of his life, starting in Indianapolis, the "city of impasses." A stop on the way to New York sounds downright idyllic, in Chicago, the "city of Rilke."
In the words of the German poet, "Oh for an angel to stamp out this market of comforts." Fellow travelers may become stuck in the Land of Temporary Novelty. The diagram of the solar system picks up one from MacDonald's, with its own misunderstandings, and might work quite well as a place mat. Another work approaches a bestiary, but also product logos. The show must represent years of work, but will its novelty run dry, and is Beebe once again at an impasse? We shall just have to see where he navigates next.

Ralph Fasanella and Willem van Genk ran at the American Folk Art Museum through December 1, 2014, "Space Is the Place" at BravinLee Programs through February 8. That show takes its title from Sun Ra, who also inspired the artists in "Back to the Future" at the Studio Museum in Harlem through March 9 and "Equations of Sight" at On Stellar Rays through February 23. Jeffrey Beebe returned through February 21, 2015.