The Art of Real Estate
John Haber
in New York City
MoMA and the Museum of American Folk Art
There has to be more to architecture than the clash of finances, egos, and ambitions. There has to be more to museums, too—but not, sadly, when it comes to the wars over the Museum of American Folk Art.
Not that it houses a museum, at least for now. As you no doubt have heard, the Museum of Modern Art bought its next-door neighbor lock, stock, and barrel in 2011. That is when what is now the American Folk Art Museum decamped for smaller quarters by Lincoln Center. And the Modern meant to demolish the building, designed by Tod Williams and Billie Tsien, for yet another expansion. Under critical and public pressure, MoMA announced in early May 2013 that it is reconsidering. There is no question, though, what is still in the cards for the Museum of American Folk Art—and an update in the new year makes it all too clear, for destruction took place in April 2014.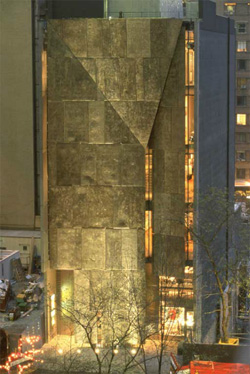 If so, it will have had a short but remarkable life. Completed in 2001, it quickly won the World Architecture Award for best new building in the world, the Municipal Art Society Masterwork Award, and later the American Institute of Architects National Honor Award. Martin Filler in The New York Review of Books calls its loss an "act of vandalism," echoing James S. Russell. Petitions are circulating to save it. No amount of prizes, however, or support could shield it from a different kind of architecture lesson, about finances and ambitions. And the lesson applies to MoMA most of all.
Art for growth's sake
The ego trips began with the Museum of American Folk Art itself. It undertook its renovation in 1997, tempted by the lure of celebrity architecture and the promise of larger audiences. Nor was it alone. Just to list developments since then says something about museum politics and the pressure to aim high. To name only a few, the Met kept encroaching on Central Park and Fifth Avenue, the Morgan Library bridged from its old home to that of J. P. Morgan, MoMA assimilated P.S. 1 once and for all, Amsterdam's museum district added what looks to at least one critic like a gigantic bathtub even as the Rijksmuseum underwent a classier renovation, the Guggenheim proposed another expansion on top of its toilet tank, the New Museum piled its white boxes on the Bowery, the Drawing Center briefly sought a place at Ground Zero, the Whitney announced its move from its modernist classic to the Meatpacking District, with a design by Renzo Piano, and the Met promised to move right in. Yoshio Taniguchi started work on MoMA's last addition to its real-estate empire in 1997, too.
In each case, critics swooned, before wondering in time whether the buildings add anything new or indeed work at all. Would the Museum of American Folk Art be any different? Maybe yes, in architecture that somehow resonated with both Postmodernism and tradition. Herbert Muschamp, an apostle of the new, called it "already a midtown icon," while Paul Goldberger, his predecessor at The New York Times and no stranger to the canon, praised its sensuality. Still, the museum had borrowed $32 million to finance the expansion, and the bill came due all too soon. (It defaulted.)
Its neighbor to the east was already eying the property—and another expansion, designed by Jean Nouvel. True to form for MoMA's madness, the French architect's plans for the site rose slightly akilter to the height of the Empire State Building, windows crossed by enormous struts. (He has since backed down several stories.) To make it happen, MoMA under Glenn D. Lowry had snatched up two town houses and a hotel just further west. He offered to swap land, but the Folk Art Museum refused. It had not yet given up on its ambitions, and it clung to the walkway between West 53rd and 54th Streets, with again the misplaced hope of greater traffic.
Lowry must have been delighted. He had his chance now for a still larger apartment tower that just happens to include additional exhibition space, mostly still to be determined. "It's not," he assured The Times on April 10, "a comment on the quality of the building or Tod and Billie's architecture," and alas one has to believe him. Of course, that does not sound much like a reason to tear down a beloved building, so Lowry also questioned whether its façade conformed to MoMA's "glass esthetic." If a glass esthetic hardly describes the Museum of Modern Art that Taniguchi all but destroyed, he was plainly making excuses. He has had plenty of practice.
Barry Schwabsky in The Nation compared Lowry's rationale to trashing a Kandinsky that clashed with the office décor. Williams and Tsien (more recently at work on the Barnes Foundation) pointed out that one floor in fact aligns perfectly across the two buildings. One could imagine a creative connection, just as Yale University has now connected its art galleries, with architecture from past centuries to the present. Nor need every museum expansion be an act of destruction. For Yale, the Drawing Center, or Maya Lin at the Museum of Chinese in America and SculptureCenter, architecture has proved modest to a fault. With ICA Boston by the waterfront, Diller Scofidio + Renfro have already made a brand new building an act of urban recovery.
It could serve as a model for midtown Manhattan as well. Already, the Museum of American Folk Art seems almost suffocated between its neighbors, meaning MoMA. Just how much has the museum learned from the last expansion, with its failed spaces and lack of room for art. What does it say that it is now using that alley between buildings for perhaps the ultimate descent of a great museum into Disneyland, with the spectacle of Rain Room in a temporary shelter—and the more than three-hour lines leading up to it. Is art even a priority, and is architecture? What does it say that MoMA's chairman, Jerry I. Speyer, is a real-estate developer?
MoMA blinks
Remarkably, even Speyer feels the heat. That is not to say that MoMA will back down from yet another museum expansion. For a time, Speyer has called the fate of the Museum of American Folk Art an "open question," and at least the museum feels the burden of answering it. Diller Scofidio + Renfro, which has also overseen the conversion renovation of the High Line into a popular park, will now formulate a justification for the westward expansion. I am sorry to see good architects paid to find an answer that the museum board wants to hear, something bear in mind in assigning responsibility as others cry for MoMA's director and chief curator to step down. Still, one can expect a sophisticated response.
And that takes one back to the glorious enigma of the Museum of American Folk Art. One could call it hand-crafted or industrial, much like folk art and design. From the outside, a descending triangle cuts sixty-three silvery brown rectangles into three planes, only gaining mass as they reach the street between a narrow door and window. Inside, past the bronze and white copper, are still stranger collisions of green and white walls, wood floors, mottled stairs, and narrow corridors ending in pools of light. It could be at the center of an exhibition of contemporary architecture—the kind that the Museum of Modern Art puts on every day. When its architecture department recently exhibited Henri Labrouste, who designed the great libraries of Paris, did it sense the irony?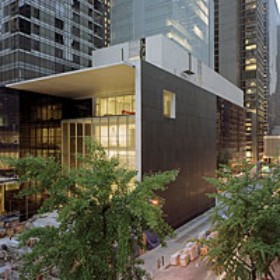 At The Times, Michael Kimmelman has formulated his own protest, and I could not have put it better: "a museum dedicated to contemporary art and design wanted to destroy a distinctive work of contemporary design." And, he lamented, it probably still wants to do so. New York's paper of record may have come late to the game, where once its critic led the ill-fated fight to preserve Penn Station. Yet has come, and now the pressure is on. "The stakes go beyond the Modern to civic health."
I have been rude to Kimmelman in the past, far too rude, but for him urban architecture has been about urban spaces all along, and now midtown is reconsidering two of its finest public spaces. As it happens, the pressure is also on Penn Station. At the time of its demolition and sorry reconstruction, it received only a limited permit to house Madison Square Garden above it. If that permit lapses, change is in the air. Now the City Planning Commission has recommended against an indefinite extension. I have no idea what will happen to Penn Station, and I have no fondness for the idea of moving its entrance a long block west to the post office—but public spaces are my spaces, too, and I want them back.
Not everyone agrees that saving the Museum of American Folk Art would be good for art—or even that saving a museum, like the Detroit Institute of Arts, would be good for a city. Jerry Saltz argues that it could never serve MoMA's permanent collection, not even small work. I would not be so sure. That collection includes outsider art and modern design, Lowry does not raise anything like that objection, surely all those prize committees had the sense to look inside the building, and surely no building could be that bad, not even Taniguchi's. I hesitate to enter the debate, because Nouvel has had successes elsewhere—and because I had too little acquaintance with the museum in its sad and wonderful decade. Still, I have to caution Saltz or anyone, given all the crippling past enthusiasms, later disappointments, and the real story of insiders and outsider art, finances, ambitions, and egos.
Kimmelman has also done the debate a favor by quoting a "forty-something friend"—who could easily be me:
I used to spend my days in the previous incarnation of MoMA after my father died. Back then MoMA was my chapel. I would make my way to my favorite Rothko, and the progression from the street to that gallery in the old building didn't feel like you were moving through a shopping mall or a W Hotel. It's just not a place for New Yorkers anymore.
Maybe one day it will be again.
An update: love thy neighbors
The evening of January 8, 2014, I received MoMA's press email, supposedly from the director, announcing that the expansion that will demolish two buildings next door to make room for luxury housing. It will replace the architectural wonder of the former Museum of American Folk Art with a pane of glass. Jerry Saltz compares the planned glass boxes, by Diller Scofidio + Renfro, to a two-tiered squash court, while Martin Filler in The New York Review of Books calls it a "bland and banal scheme" with "all the presence and panache of a commercial parking garage entry." Well under half the museum expansion will display art.
Destruction finally began on a day often associated with threats, April 15. I might be more disgusted had I not expected it. Why not just donate the permanent collection to the Met, which could at last give it ample display in the great building that the Whitney Museum is determined to leave behind? Then replace the entire midtown block with a mall and be done with it. Sure enough, however, destruction took place right on schedule, in April 2014.

I wrote this as very much an unfolding story, even after the 2014 destruction, with more of the worst surely still to come. Barry Schwabsky on "MoMA's Demolition Derby" appeared in The Nation for May 20, 2013, Martin Filler on "MoMA: A Needless Act of Destruction" in The New York Review of Books for May 23, and Michael Kimmelman in The New York Times for May 13, right after Speyer's promise to reconsider the matter. Of course, one may visit the American Folk Art Museum across from Lincoln Center.