Out of the Woods
John Haber
in New York City
Robert Motherwell, Hans Hoffman, and the 1940s
Ad Reinhardt: Black Paintings
It took years for Robert Motherwell to find his way out of Europe. He even brought a map. It also took collage, and the Guggenheim Museum sees his cuttings as crucial to his emergence as a painter. For Ad Reinhardt or Hans Hoffman, meanwhile, currents in European Modernism were just a part of the fight for a distinctly American art. Reinhardt's polemical spirit emerged early, but it found its fulfillment only in the 1960s, with his black paintings—just when Motherwell found a new spareness as well.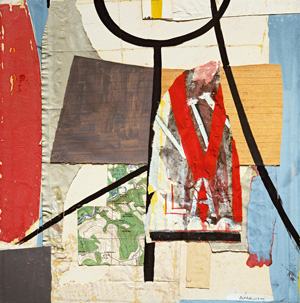 For a privileged moment, New York City has its own Rothko Chapel, with nary a Rothko in sight. To be sure, it does not look much like a chapel either. And Ad Reinhardt would not have wanted a chapel—while many who find in Rothko a spiritual experience have no patience for Reinhardt. They will find common ground, though, in those black paintings. They will find, too, his wry but passionate commitment to art and politics. They will also find a place in Chelsea for quiet.
On semi-automatic
That map was a military map, labeled Infantry Woods. And it shows not just Europe, but Europe at war. It points to the epicenter of a civilization in crisis. It also enters at least two works from the 1940s, in "Robert Motherwell: Early Collages." Peggy Guggenheim encouraged Motherwell's turn to collage and gave him a show at Art of This Century, her downtown gallery, in 1944. "It was here," he wrote, "that I found . . . my 'identity.' "
Talk about looking for love in all the wrong places. One way or other, European art was hanging over everything. It hung over a generation of American art, as it worked its way to something new. For another painter who grew up on the West Coast, Jackson Pollock, it meant Surrealism. For Mark Rothko it meant dark shadows lurking even in New York's subways, and for Arshile Gorky it meant his own past. For Motherwell, it meant first and foremost Pablo Picasso.
"Picasso and American Art," a few years back at the Whitney, did not include him, but it sure could have. One interior looks right out of Picasso, down to the boxy perspective and stubbly ink—and Kafka's Big Room from 1944 cites Picasso by name. And "Personages" (as Motherwell likes to call a room's inhabitants) was a Surrealist term, but his people are consistently Picasso's. Collage was also Surrealism's defiance of painting, but of course Cubism introduced it. When Motherwell represents objects through textures, he slips in wood veneer along with fine paper, much as with Picasso's guitars. For an experimenter in the unconscious, few artists were as conscious and deliberate.
The curator, Susan Davidson, opens in 1941 with an "automatic drawing," closer to Joan Miró, but this American was at most on semi-automatic. Who else would have a personal breakthrough while putting identity in scare quotes? Born in 1915, he loved modern literature and visited Europe with family in 1935. A photograph shows him in his studio with a picture of Charles Baudelaire. Not every student goes to Harvard to become an artist, but he did—and from there to Columbia University, to study with Meyer Shapiro. The great art historian introduced him to Max Ernst and that heady wave of Surrealism in America.
Still, he was finding his way out of the woods, and if his identity included Europe, no problem. After Picasso, the most obvious presence is Motherwell himself. When he mixes sand into a collage, he recalls the grit of Surrealism and wartime for Kurt Schwitters, but also the landscape of Italy. He began his signature paintings, the series of Elegy to the Spanish Republic, in 1948. He gets funkier and funnier, as with a collage for Pancho Villa, but then he had traveled to Mexico in 1941 with a friend and influence from Europe, Roberto Matta. Motherwell already has his mute colors and earth tones, and collage becomes leaner and leaner until it vanishes entirely.
He was moving beyond Europe and Abstract Expressionism as well—toward the spareness of the 1960s and 1970s. His late series, Little Spanish Prison and Open, have the single line of a barred or blank window, almost in anticipation of Peter Halley. Notoriously, Serge Guilbaut has asked How New York Stole the Idea of Modern Art. Yet New York was not so much stealing as, slowly, letting go. And it remained, as the title of one collage has it, In the Shadow of World War II. Decades before the triumph of "theory," Motherwell was among the first to realize that "identity" is always in quotes.
The un-Rothko Chapel
New York will never lack for Mark Rothko. MoMA's collection alone ranges from the Surrealism of early Rothko to a black and gray canvas completed in 1970, the year of his suicide. Yet for a while one can contemplate another kind of blackness—or what Pierre Soulages has called "beyond black." Thirteen black paintings by Ad Reinhardt occupy a single room, a reminder of the presence of black paintings in art today. Robert Storr, the curator and dean of Yale's School of Art, also includes a large selection of Reinhardt's cartoons from the 1940s and of slides from his travels, from 1952 to 1967. Whether Reinhardt looked at art, antiquities, or politics, he never minded an argument.
The show coincides with a new catalog of How to Look, Reinhardt's 1946 "art comics"—with each sheet a "page of jokes and a plea." First published in P.M., a left-wing daily, they insist on abstraction as nothing more than painting. "The best pictures are not paintings," he writes, and "the best paintings are not pictures." He also refuses to let any gut reaction to painting go unchallenged, and that means you. A welter of earlier cartoons makes clear, too, his support for organized labor, the New Deal, and the war on Fascism. At least one, of a rising balloon for executive salaries beside a balloon tethered to the ground for wages, should ring a bell today.
The black paintings occupy an oversized white box, so typical of big-money dealers, under intense lighting that makes it hard to see more than a uniform glare. They also hang behind ropes that keep viewers a good four feet away. Even Reinhardt might have preferred the intimacy and natural light of a chapel. One cartoon already warns of art caught between business, government, esthetics, and education—and Chelsea has come to exemplify them all. I cannot question Storr's scholarship in designing the installation, in collaboration with the Ad Reinhardt Foundation, but it is a harsh view all the same. One may never see half the layers in these three by three grids.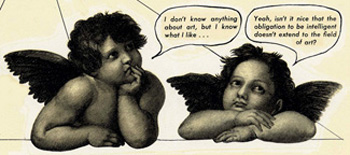 It will have to be enough, in their first exhibition since at the Jewish Museum in 1967, the year of his death. In the past, I have looked up close to see only black—and then all but jumped out of my skin as a Greek cross appeared out of the blackness. This show prefers slow discoveries, from an artist who did not believe in revelations. If he does not receive a chapel, well, neither does Dia:Beacon up the Hudson, with its own dedication to late modern austerity. As designed by Robert Irwin, who knew how to bring light into a museum, Dia's site in a a former factory has the scale of a cathedral—or a major airport's terminals laid end to end—but some things just space. It seems only right that members of the same family funded the Rothko Chapel and the Dia Foundation, and it seems all the sadder that the co-founders of Dia must now sue the foundation for selling off parts of its legacy.
For Rothko, so phenomenal a colorist, the turn to black meant a culmination, but also a growing discomfort with the world. For Reinhardt, black squares instead eliminated distractions to art, while also concentrating deep color and translucent oil as never before. He worked on them, though, from 1961 to 1966, the years spanning the commission of the Rothko Chapel. Sure, his comic comparison of Abstract Expressionists to boxers labels Rothko a middleweight. Yet his admiration extends even to the welterweights, for he saw them all as a victory for art. And both artists ask one to take time for small differences in the space of darkness.
When a 2008 biography harped on the comics, they only got in the way of understanding. They became less an avenue to Reinhardt's art than his cross to bear. Here they may help those, like me, who identify with Rothko to appreciate an alternative to his grandeur and self-doubts. Reinhardt can seem unfeeling, but for him feeling is inextricable from passion and intellect. And the passion and the questioning come together in black. If one insists on a chapel instead, one will have more than a dozen versions of a Greek cross, with no God in sight.
Figuring out abstraction
Did Hans Hoffman descend to figure painting? Surely not the elder statesman of a new American art, first at the Art Students League and then at his own school? When Lee Krasner brought Pollock to class, she changed the course of Abstract Expressionist New York. The premodern past was past, students like Alfred Leslie and Louise Nevelson were learning, and it was time to begin anew—and never mind that both Leslie and Nevelson loved the human figure. Yet the first thing that may catch one's eye in Hoffman from the 1940s is unmistakably a person or even a cartoon. Viewed in profile, he sports a broad smile, a yellow complexion, a sailor's cap, and a hand thrust forward. He could be a beggar, a joker, or a threat.
At least I think so, for up close the figure dissolves into thick lines and bright colors. A bare arm flung back hangs limp and suspended, as one painterly gesture among others. A more aggressive humanity returns in the show's second room, where a figure instead faces left, if indeed he exists at all. Black against a light purple background may or may not describe iron jaws, a nose like pincers, a German officer's hat, and an evil eye. The yellow stripes on his back could stand for armor plating. If the first figure seems ripped out of the comic pages, Hoffman could have pulled this one out of wartime propaganda and wartime fears.
No doubt Hoffman had fears of his own. Born in 1880, he returned to his native Germany after studying in Paris, only to flee to New York in 1932 by way of a brief stint in California. And the conflict in Europe hung over a generation now associated with abstraction, as in collage for Motherwell or childhood memories for Gorky. Even Reinhardt, who demanded painting as nothing but painting, really did churn out cartoons that took sides when it came to art, class struggle, and world war. They had seen Guernica, and Picasso survives as their common inheritance. Again and again, early Hoffman relies on broad curves and tooth-like shapes out of Picasso in black and white.
Yet Hoffman in 1945 and 1946 looks almost nothing like the artist one has come to know. He adds not a single floating vertical. Those impasto touches take up much less than half a mature painting, but they go for to define it. They detach themselves from the background, to assert paint as pure color and an object in itself. At the same time, they pull the whole canvas forward, marking its space as anything but a stage set. In the 1940s, however, Hoffman was still willing to let a massive image accumulate in a shallow foreground, like the ruins of war.
The artist one knows was emerging all the same. Freehand curves cut loose from fields of color, because drawing still comes first—but only in paint. All six works on paper are compositions, not preliminary sketches, just like the seven paintings. Hoffman already makes a striking colorist, too, by restricting his range to one or two light primaries plus an accent of deep purple or red. He is also starting to let paint find its own way, with splatters or the tip of a loaded brush pressed flat. Drip painting, here we come.
As for the figures, are they there at all? It is tempting to say no—or to write them off as signs of immaturity. Yet Hoffman was in his sixties, and he, too, exhibited with Peggy Guggenheim in 1944, when artists like Pollock or Willem de Kooning were surely watching. People have seen traces of the human figure in Pollock's last work, and they have seen it as a betrayal, much as de Kooning's women before him or the merger of abstraction and cartoon agonies in Philip Guston later on seemed one as well. But then people have looked to "action painting" for a human presence anyway. By turning back to the birth of "pure painting," in all its contradictions and impurity, one can appreciate how much was at stake.

"Robert Motherwell: Early Collages" ran at The Solomon R. Guggenheim Museum through January 5, 2013, Ad Reinhardt at David Zwirner through December 18, and Hans Hoffman at Ameringer | McEnery | Yohe through January 25. I leave a much fuller attempt to understand Reinhardt to my review of his biography.