Surveying Modern Europe
John Haber
in New York City
Luigi Ghirri, Ruth Rosengarten, and Brian Griffin
I have trouble picturing a young Luigi Ghirri as a land surveyor. The profession calls up expanses even now yielding their secrets—and only now opening to human settlement. Ghirri's photographs are thoroughly inhabited and anything but expansive.
Ghirri describes modern Europe as stiflingly familiar territory, as does Ruth Rosengarten in recovering a family history. He also makes it appear downright impossible territory, without a touch of digital manipulation. So, too, does Brian Griffin in Margaret Thatcher's England. So get real. There is socialist realism, the kind with workers up on a pedestal, and then there is "Capitalist Realism." Do not ask which is more chilling.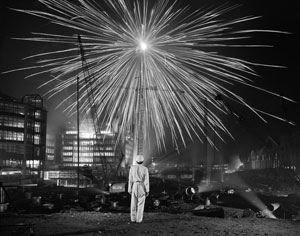 Photography inside-out
What is left of the Italian coastline after the weekend crowds out for a tan and, of course, a Coca-Cola sign? What is left of that narrow sliver of water, hemmed in by the equal blankness of the sky, concrete walls, and sand less like a beach than an empty lot? For Luigi Ghirri, even rough stones settle beneath a jet stream, ambiguously a wall or a force of nature. Ghirri shares a gallery's Chelsea spaces with little-known photographs by Ellsworth Kelly. Not surprisingly, they look very much like Kelly's paintings, in everything from a barn door to city sidewalk. No other painter saw abstraction as so literally an abstracting away, whereas Ghirri surveys a land in which the mark of humanity or the artist refuses to go away.
Not that the living is easy. Another bather finds herself on a narrow railing high in the Alps, with the mountains closing in on both sides. Their jagged peaks resemble the back of a billboard in another image, its icy blue taking over the sky and its outlines like an abandoned cathedral. A window frame, a lock at its center, barely keeps out a city under construction, reduced somehow to black and white. Ghirri plays again with foreground color and found imagery for the neon blue of a chain-link fence in front of a vast hall, perhaps the very one that Orson Welles used for The Trial. It is hard to say whether its seemingly endless typing pool is locked in or out.
Then, too, a land surveyor takes the earth's measure. Starting in 1970, Ghirri saw instead "a tangle of monuments, lights, thoughts, objects, moments." He saw them, too, as "analogies from our landscape of the mind, which we seek out, even unconsciously, every time we look out a window." More of the quote supplies the title for the thirty-five photographs in "The Impossible Landscape." One sunlit building is only its reflection in a puddle, but if you cannot figure out which one, never mind. You sought out the analogy and the tangle.
Ghirri's subject is the banality of everyday life, touched by leaps of the imagination. It looks less than composed and yet thoroughly implausible. He might have snapped away at random as he traveled from Italy to Austria and France, only to find that the scenes had shifted without his knowing it by the time he got home. One photo collage takes the same building from multiple angles, so that a tree seems to march across a balcony and window, while another leaves uncertain whether one is looking at tiling or pixels. Nothing has the scope or specificity of America for Robert Frank, Mark Steinmetz, or Lee Friedlander, which makes sense—and not only because Europe is more settled territory. To return to the quote, that "impossible landscape, without scale, without a geographic order to orient us" is not nature or culture, but photography.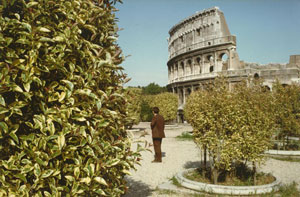 Plainly one of its tools is rephotography, and another is color. Ghirri combines them with an advertisement for Canon, the girl behind the camera face to face with you. Her smile dissolves in a blur of light, whether from her flash or his. Like Jan Groover, he helped claim color photography for art, as part of what a 2007 show called "Colour Before Color." Only where Groover saw the beauty of tableware, or the "the photographic object," he looks past objects to their settings. And then he turns the settings inside-out.
Ghirri often brings the outside in or the inside out. Posters peeling from a wall look instead like women peering or revealing themselves from behind. The Colosseum appears just past planted trees, like part of a backyard. A woman enjoys the company of leaves slipping in from a window, while a couple in bed appears to have landed out of doors. What might pass for the very same couple then ends up the scrap of a snapshot on the street. Ghirri, who died just short of fifty in 1992, might almost have ended there, too.
A woman's loves
With "Dear Fusia," Ruth Rosengarten recovers a woman's private thoughts and half-forgotten loves. Yet the faces behind them emerge only slowly. At least they do in the gallery, where Rosengarten displays letters to her mother. To add to the gesture of publicity, she has enlarged them so that anyone can read and look around the edges. Look longer, though, and old photos peek out from behind the handwriting and weathered paper. They appear as little more than ghosts, like memories barely accessible to the mind.
It was not like that for Rosengarten herself. In going through her mother's private possessions, she must have encountered letters and snapshots on an equal footing, along with goodness knows what else. Like a proper mystery novel, they must have come, too, with shocks along the way. Who knows all the characters in a parent's life, going back to before marriage, and who even wants to find out? What kind of woman preserves them all anyway, like Walker Evans collecting picture postcards, rather than commit them to the trash? One speaks of a scrapbook with good reason.
Caring for it all would have posed a special challenge to this woman—and a special need. Born to Russian Jews who had every reason to flee, her story crosses several continents and changing identities. Fusia was just one of her nicknames. As a child in Shanghai, then a British possession, she learned English, although she heard mostly Russian at home. She later lived in South Africa and Tel Aviv, with their own secular Jewish cultures. The letters are all in English, language alone providing a sense of continuity, although some bear official stamps in Chinese and Hebrew.
I would not be surprised if Rosengarten has added them to her photo collage, borrowing from other documents. They convey a progressive layering, along with the snapshots and the actual prints, which do not reach to the edge of a sheet. Not that the narrative is any easier to pin down, despite their frankness and each writer's care to include the date. One has only a line or two in each, with room only for shows of affection and humor. Someone from the 1940s signs a note "Hitler," in quotes. Rosengarten may not want a resolution—not when the story reaches to her in England and the present.
Laetitia Soulier, too, offers a family history, with a sense of home and a recognition that she may never quite fit in. At least she appears in one of her photographs and, I imagine, her children in others. If none of them fit, it is only reasonable, because home here is a dollhouse. Or rather, a dollhouse is only one of several homes, all of them well furnished and none of them accommodating. Near the gallery desk, she deposits a desk of ordinary size in a curved style out of "progressive" tastes from at least fifty years past, but it holds several tiny rooms of its own, each meticulously modeled. Behind it, bright red wallpaper covers a wall with its several scales, from floor to ceiling and from details to patterns.
All these turn up in her photos, their format wide enough that anyone might belong. One child lies half within a model like a giant, in a room lined with still smaller boxes and multiple versions of the same green wallpaper, big and small. Others lean and step over the top of several rooms, while models behind a fourth almost make perfect sense as real space in perspective. Still other models never do appear in prints, perhaps because they contain only wood scraps from their own construction. The show's title, "Fractal Architectures," attests to a dizzying logic that Soulier pretty much undermines—not least by allowing everyone a rest. In her self-portrait working in pencil on what might become the scene itself, even her dress picks up the surrounding patterns, but the only way into her thoughts is by a spiral staircase and a timepiece small enough to fit in the cabinet.
Get real
Under Stalin, Soviet photography had to choose between propaganda and experiment, and the choice could be a matter of life and death. For Brian Griffin, the choice no longer exists. The market has its dogma, and the results are surreal. Griffin shares the gallery with Meryl Meisler and, in one of her photos, "A Scholarly View of the Jewish Mother." Meisler presents the entirety of Long Island as one big dysfunctional family. This being the 1970s, for a gay woman about to come out of the closet and depart for Manhattan, it also like entering a very campy theater already in progress.
Griffin looks instead to modern photography as both propaganda and experiment—both well apart from the choice between formalism and everyday life. He has the startling angles of Alexander Rodchenko and El Lissitzky, along with their raking, glowering shadows and light. Sliced bread rises up and flops down across a man's bare back like steel teeth. He has the poses of official sculpture, in at least one case on a pedestal. Most of all, he has the unsettling narrative impulse of Surrealism. Men in office doors could come right out of subway phone booths in a nightmarish painting by George Tooker.
This is political photography—and that means both serious distrust of the reigning ideology and an obvious message of its own. "Capitalist realism," Griffin's coinage, has a double irony. It says that the right's answer to Communism is just as oppressive, and its answer to a worker's utopia is just as unreal. In their different ways, socialist realism and free markets promise liberation, which never comes. That man on a pedestal is not bronze but a human being, only burdened by the same gestures and the same harsh tasks ahead. Fortunately, though, the sixty photographs, from the mid-1970s to 1990, do not only take sides.
"All right we are two nations," John Dos Passos wrote during the Depression—a formulation still alive for America's left in "the 1 percent." Griffin's work, too, divides roughly in two, between workers and management, but neither is exactly triumphant. Another laborer hammers futilely at the ice-covered Alps. Others lie on their backs, crushed beneath the pipes they meant to forge and the tools they hoped to wield. They cannot, though, resist giving the item on top a kiss. Maybe capitalism is not torture, but sadomasochism.
The men in suits, too, are more comic than sinister, not to mention slimmer and more stylish than bowler hats for René Magritte. One stares at an industrial eyesore as if on a visionary landscape, while another seems unlikely to make it out of bed. Two share a horse, like Lady Godiva dressed in gray. As in The Waste Land, a crowd flows over London Bridge, but death has not undone so many. They pass the dark confines of perhaps a limo toward a gleaming modern city, as if trapped between their overseers and their work, but with the edge on both. The bridge rails have their parallel in bright vertical bars in the foreground that may serve as a vision or a prison, too.
Griffin works almost exclusively in black and white, with lights suffusing the shadows and shadows entering the light. A man seen through a cracked window gestures like a police officer making an arrest, but the cracks hold the light. Another suited man holds a letter that appears to dissolve as in a flame. A worker looks up past wreckage to what might be fireworks in the night. A show like this can become as oppressive as its subject matter, whether in its comedy or in its anger. Both, though, get to share in the light.

Luigi Ghirri and Ellsworth Kelly ran at Matthew Marks through April 30, 2016, Ruth Rosengarten at Rooster through March 12, Laetitia Soulier at Claire Oliver through April 9, and Brian Griffin and Meryl Meisler at Steven Kasher through April 9. The review of Brian Griffin first appeared in another form in New York Photo Review.