Off the Wall
John Haber
in New York City
Charles McGill: Between Painting and Sculpture
Iva Gueorguieva and Henry Rothman
Not only is Barack Obama the first Kenyan socialist president of the United States. He is also among the first African Americans ever to be accused of spending way too much time on the golf course.
Maybe not the very first, since not all suffer the same attention from the conservative media, and I hear he also plays a mean game of basketball. Still, he is ripping apart a stereotype—almost as much, in fact, as Charles McGill. McGill makes art from "reconfigured" golf bags, a polite way of saying that he guts them and tears them to bits, hardware and all.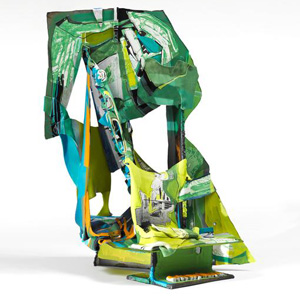 A viewer may remember most the bag, just as linen or canvas serves others as a ground. The work, though, has more going on. It is definitely not par for the course.
McGill is painting, for much of the work hangs on the wall. If he is simultaneously making sculpture, he is not alone. Quite a few painters these days are a little off the wall. Joe Kupillas, Joan Waltemath, Merlin James, and Marsha Cotrell all stop short of shaped canvas, even as they reshape art and the room. Iva Gueorguieva pushes her canvas toward sculpture, too, even as Henry Rothman imbues collage with the street. They are just one more sign of art now as a hybrid, of mixed media and mixed messages.
Unstretched
Some painting is truly off the wall. Not figuratively, since it keeps getting harder to offer an alternative or an avant-garde. Nor consistently, for some of the best painting out there still works with gesture and geometry or in wall painting. Still, especially in a crowded market, artists feel the pressure to make the past their own. That can mean cutting across media—or across whatever divide remains between abstraction and representation. And sure, it can mean cutting across the edge of the canvas and, from there, heading off the wall.
I first encountered Cordy Ryman with a work that slipped tidily into a corner. Now slivers of green wood that trace a path through space. I kept searching for the right place to stand, from which they would resolve into a cube, but it never came. Of course, his father, Robert Ryman, long ago made the bolts that mount a painting part of the work, both binding it to the wall and setting it apart. Shaped canvas, as with Charles Hinman, has long implicitly done the same. Again, it keeps getting harder to stay in place and yet harder still to "make it new."
Joe Kupillas starts with jagged overlays of line like those of Jonathan Lasker or Mary Heilmann—who already imply a leap off canvas and into space. His do so in real space, with bungee cord wrapped around a painting or color directly on the wall. When a work lands above the gallery's desk, it might have floated up there only a moment ago. That bungee cords effectively hold a painting in place may or may not count as irony. Then there is simply loose canvas hanging down apart from the wall. Kamau Amu Patton thinks in terms of "feedback loops" of sound, digitally translated into geometry, but his horizontal stains of dark, intense color look the most traditional of all.
Joan Waltemath presents unstretched canvas as one of two bodies of work some years apart. Its black bands can appear as a compositional element out of Russian Constructivism, but also as border, frame, or division. The other series is just as rigorously abstract. Yet its muted palette, its seemingly arbitrary insertions of smaller rectangles, and its half-erased surfaces had me thinking again of Jasper Johns. If Johns consistently uses borrowed imagery to allude to the artist in his studio, Waltemath says that she bases all her work on the golden section and the human form. It may not be so easy to separate her two series after all, especially in a show called "One Does Not Negate the Other."
Merlin James, too, takes the measure of his studio. Naturally he finds it full of paintings. The Brit runs to the fad for exhibiting the back of the stretcher, with a bit of scrap wood on top now and then, perhaps as proof that it really does hang on the wall. Yet his light scrim in place of canvas brings the translucency and physical reality of a painting, in work dedicated to both. It also brings art as object closer to still life. One can keep looking through it to rediscover the painting.
For her largest new work, Marsha Cotrell embeds a white circle within a black field the size of a gallery wall. Yet it, too, peels away from flatness, across inkjet prints—the circle conforming to a single sheet of paper. In smaller prints, the whites glow like lamps in a dark studio, while glimpses of actual interiors have her spying on herself along with you. Still more computer-assisted drawing throbs within the outlines of a monitor, so that the work's construction and imagery alike ties it to the artist's workspace and the conceptual space of the digital. Often, as with Patton, the conceptual framework is never half as convincing as the painting. And sometimes, plain old compositions look mysterious and new.
Par for the course
Charles McGill makes art from golf bags—and elegant art at that, its thick vinyl and leather akin to the richness of painting in oil. Much of it works perfectly well as abstraction, including tondos, or round paintings, that might serve as bundling for characters unseen. One encircles the grid of the show's title work, Territories, while two hang side by side in, respectively, black and white. McGill works between painting and sculpture, like any number of others since Robert Rauschenberg and Jasper Johns. Some works target Johns directly as, well, Targets. They also recall how Johns himself lurks just under or outside his surfaces.
For late Modernism, painting had to assert itself as material substance, and so it does for McGill. Straps and buckles hang down under their own weight. The hybrid animal of one work's title does not mention an elephant, but it has a long, thin strap as its nose. Yet the fragments also make a point of their origins. Columnar works on the wall could almost pass for intact golf bags, only gaunter and near to collapse. They could also be portraits of someone not unlike the president, including Well Dressed Man.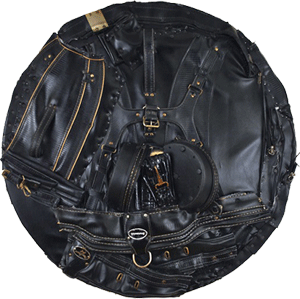 Actually, McGill's obsession with his medium dates back almost a decade before the current presidency. It includes a manifesto on the one kind of African American who comports with stereotypes of the golf course, the "club negro." Stereotypes of the black male appear less directly in the sheer violence of reconstruction. If leather and the occasional wild animal have overtones of masculinity, too, so be it, although cute little animals may make old-time gallery-goers want to run for cover. Freestanding pieces also include a rearing horse, an image that Kehinde Wiley has adopted for his glitzy ghetto portraits as well. Then again, the rider might be just another white guy playing polo at the club.
Even the abstractions are susceptible to narrative, right down to the straps and hardware of a human life in chains. The grid of Territories might correspond to an urban map, with the city as contested territory, and I do not have to tell you about black and white. Still other pieces come closer to the spareness of early Surrealism, like a skull of light brown flaps, or the elaborate playfulness of so much installation art. A fortress doubles as pedestal for a totemic head all but out of Easter Island. Still, the tondos carry at once the most violence and repose, without even having to reach for meaning beyond their surfaces. Target practice here takes aim at you.
Samuel Levi Jones papers, paints, or sculpts a gallery's walls with another fabric whose identity all but disappears in his hands—the covers, spines, and worn brown end papers of lawbooks. Unbound, downstairs at the Studio Museum, poses lost opportunities and never fully realized questions. Surely others have revisioned the grid with stacked books and, indeed, photographs of a law library. How is this different? What is the relationship between the authority of Minimalism and the authority of the law, and how do both, movingly or tragically, impinge on the black community in Harlem? Yet the questions remain alive, and their torn and crumbling material form is haunting.
Staring at the sidewalk
Iva Gueorguieva keeps one guessing at what goes into her sculpture. Heading for the checklist of works feels like cheating. Not that the work is all that much about the process of its making. The art is labor intensive, but Gueorguieva does not wear that accomplishment on her sleeve. She even hides her traces. Look closely, though, and they are there.
Actually, her sleeve may well go into the work. She covers found metal with fabric and, where necessity or impulse dictates, a touch of clay. The sculpture rests on pedestals like Renaissance bronzes, ceramics by Ken Price, or a horse by Raymond Duchamp-Villon but are resolutely abstract. They also provide a surface for paint. The metal serves as armature, but it hard to say which material holds things together. It is just as hard to say which is responsible for the sense of motion, the armature or the paint.
Just when Gueorguieva is making the leap into sculpture, her collages are getting smoother. They, too, incorporate torn fabric, but one has to look hard to find it. One painted edge looks much like another, in bright colors with plenty of white. Colors also come as lines or curves. Both the palette and sense of motion call to mind Wassily Kandinsky, but without any special pretense to greatness rather than continued exploration. Where Kandinsky was inventing abstraction, she seems content to be making it up as she goes along. She just happens to invite others to explore along with her.
It may not be a coincidence that she is pushing simultaneously toward two and three dimensions. Metal, too, has a surface, most notably in cross-section—that porous sort as so often with Frank Stella. Some slimmer scraps thread outward as well. Paint can build up, too, again as in late Frank Stella. Light colors and all-over surfaces keep it all from becoming too fussy. Meanwhile the marks of its construction keep it interesting.
The play of surface against construction also helps decades of collage by Henry Rothman. Cubism and Kurt Schwitters used paper and found textures in much the same way, but for one thing: Rothman keeps things quiet. If his weathered surfaces suggest the side of buildings, he used to photograph just that. Occasionally he throws in found lettering, like torn posters left to decay. They have me thinking of how only a dog can stare forever at the sidewalk—but then wanting to join in.
Part of the dilemma of painting now is its very recovery of interest. Anyone can fling around color, and plenty of artists do. I have to apologize at once for how often I write about them and how many I leave out. Painters often blame the market for demanding product rather than creativity, meaning them—but that overlooks how easily conceptual artists and artists in other media could blame them for producing according to the rules of the game. Gueorguieva and Rothman may point to a way out, by their immersion in time. One will just have to stare a while to know.

Charles McGill ran at Pavel Zoubok through April 18, 2015, Samuel Levi Jones at the Studio Museum in Harlem through June 18, Cordy Ryman at Morgan Lehman through February 7, Joe Kupillas at Molly Krom through April 11, Kamau Amu Patton at Callicoon, through March 29, Joan Waltemath at Hionas through March 14, Merlin James at Sikkema Jenkins through March 7, and Marsha Cotrell at Eleven Rivington through April 5, Iva Gueorguieva at Ameringer | McEnery | Yohe through May 23, Henry Rothman at Lori Bookstein through May 30.