Postcards from the Edge
John Haber
in New York City
Walker Evans: Picture Postcards
Jem Cohen, Patti Smith, and Jane Hammond
I used to take vacations. I promised myself to see every painting by Jan Vermeer—and I came within one, in Buckingham Palace, before it crossed the ocean anyway for a Vermeer retrospective. Perhaps tourism always mixes entertainment, discovery, and personal obsession.
So do postcards, and so in another sense does art. For several months, artists made that connection hard to miss. They displayed photo albums, from real and imaginary journeys. For Walker Evans, it meant actual postcards, both spontaneous and slow preparation for his own portraits of a nation. For Jem Cohen, it meant something as casual and familiar as Polaroid snapshots, but as the ghosts of Manhattan. For Patti Smith, tourism carried her to Spain, with ghostly obsessions of its own.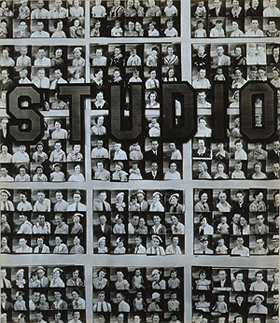 Each makes it difficult to believe what they saw. Meanwhile Jane Hammond makes it difficult not to believe the impossible. She conducts a tour of imaginary cities, in Europe and America, and of her life. So what if each of her photo albums is a collage? A postscript fills out her art with photo collage and "dazzle paintings" three years later.
Folk documentary
I did travel more in the past, and I used my comfort in cities to teach myself about art. Whenever I left a museum back then, I picked just a few postcard reproductions—of images that I especially hoped to remember. They all ended up in a closet, mostly forgotten, but ever so neatly arranged in art-historical sequence. They still add up to an idiosyncratic textbook. They must still say something about a culture, about what gift shops and tourists want from culture, and about my own manias. For me, postcards created a portrait, partly mine and partly all their own.
They did so as well for millions back in the Depression, including Walker Evans. From among an estimated seven million postcards that Americans exchanged in those years, Evans saved some nine thousand, starting as a child in the Midwest. He filed them compulsively, under headings very much his own. His portrait of America includes fancy architecture and madness alongside railroad stations and street scenes. It runs to resort communities, but also the electric chair at Sing Sing. It reflects his hopes for photography as "lyric documentary," as he put it late in life, and it gave him models for his work.
Those postcards have not lost their power—or the illusion of shared memories. At "Walker Evans and the Picture Postcard," visitors eagerly point to towns they know, as they never would even with The Americans by Robert Frank or with Lee Friedlander by car. It still looks like that, they insist. Stand back, though, and the dozens of main streets from Long Beach to Louisiana look all but identical. Buildings and parked cars flank broad avenues, in a steep perspective that told of growth and prosperity in less than prosperous times. Instead of the sepia tones that one may associate with the past, the saturated blue, pink, and yellow dyes told of modernity.
Evans sought an alternative to what passed for art photography, in a distinctly American vernacular. For a time, he wanted to contribute to it directly—with postcards, sponsored by the Museum of Modern Art, of his own work. The plans fell apart in 1936, but MoMA gave him an exhibition two years later, "American Photographs," and the rest is history. He continued to draw on postcards nonetheless. The Met includes a dozen of his photographs, sometimes in postcard format and sometimes paired with postcards. The resemblances are striking—but so is what the postcard overlooks.
Of course, he works in black and white, rather than color lithography. Compared to a postcard image, he moves Main Street off center, leaving a building in bleak isolation. He refuses to elide images of decay, from crumbling Pennsylvania shacks to Joe's auto graveyard. He crops closely, pressing commercial signs and church fronts up against the picture plane. Penny photos from a portrait booth become the tight grid of STUDIO. He captures the epic faces that had no place in a picture-perfect America.
He aspired to "folk documentary," but not at the expense of plain forms and plain folks. His appropriation of mass reproductions looks ahead to Andy Warhol. He collected bottle caps and pull tabs, too, like pieces of the puzzle for Robert Rauschenberg or Tara Donovan for the Museum of Arts and Design. Yet he also had to head in 1936 to an impoverished south, with James Agee, in the Farm Security Administration project that became Let Us Now Praise Famous Men. He could not simply collect an iconic America. He had to create it.
Polaroid's last rites
With the Polaroid all but extinct, Jem Cohen conducts last rites. His photographs turn all of New York into a cemetery, with stately memorials and many ghosts.
The frame of a high rise under construction looks like a monument worn down by time. A sidewalk newsstand looks like a mausoleum for its vendor. The plain rectangles of walls and construction fences look like gravestones. A bearded man stuck in the lower corner of a photograph at the Met could be their bewildered caretaker. Cohen exploits the warm, faded palette of a color Polaroid under strong artificial light. It gives faces the sculptural simplicity of wooden saints.
No doubt everyone is headed for a graveyard, if not always voluntarily. In the city of Trinity Church and Green-Wood Cemetery, a graveyard can offer a kind of peace, a sense of history, and ambiguous signs of life. Cohen gives the big city a human scale, from the dignity of faces to a solitary figure rushing past a construction site. That man at the Met sits beneath a risen Christ. For the most part, Cohen's portraits date from before the last real-estate boom, while his cityscapes come just in time for its decline. Perhaps only the years in-between were truly dead.
Patti Smith, who takes up most of the same gallery, aims right for death. A black sculpture of two broken poles and netting represents the litter that carried a dying Rimbaud in northern Africa. Many of the photographs in her Veil series show bare church altars or tormented sculpture after Rodin or late Michelangelo. In their midst, an actual veil drapes across a large crucifix. I hate to say it about her of all people, but the solemnity quickly becomes pretentious. She might be rehearsing "Jesus died for somebody's sins but not mine," but without the irony or anger.
As a redeeming factor, the photos document a culture's preoccupations, far more precisely than Warhol Polaroids had. She took them in Basque country, as variations on a theme—veils, drapery, or the haze that covers how people look at things. She, too, uses an old Land camera, and the veils play against its crisper black and white. Drawings that accompany the Rimbaud sculpture, many composed of words, also have a lightness and wit that the photos may not. As in the electrifying 1975 opening to Horses, Smith is not exactly keen on redemption. Still, I felt much more alive—or at least more down to earth—back in New York, in the two small rooms by the entry.
Cohen, better known as a filmmaker, has collaborated with Smith and other musicians. Three of his short films run on a monitor, with the ghostly silence of a Polaroid. They again navigate the passage of time and a city at night. One film tours Chinatown, from sped-up shots barreling down streets to those restaurant fishtanks that make one wonder about one's dinner. Another slows down a ticker-tape parade in lower Manhattan, punning on the slips of paper that once filled the air of the Wall Street trading floor. At the end, in darkness, a single person could be walking in freshly fallen snow.
The compliment of belief
Jane Hammond sounded more bemused or bewildered than upset. At her opening, she kept having to explain the obvious: she had doctored these images. She had not spent years searching magazine archives for such improbable conjunctions. She had not photographed them all herself.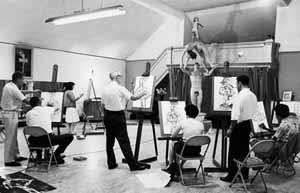 How could anyone dedicated enough to seek out the artist get her so wrong? Black swans do not float through inner cities, as if a catastrophic flood had turned faceless apartment complexes into the canals of old Europe. Acrobats could not sustain their three-tiered pyramid through a life-drawing class. A bride and groom would not walk a narrow aisle between white-robed, decaying mummies. Besides, as a 2005 show of spiritualist fakery proved yet again at the Met, photographs do lie, and the photo collage predates even Analytic Cubism. Surely by now, after Photoshop and its abuses, just about everyone takes skepticism for granted.
She deserves the compliment of belief all the same. Hammond titles the works "Photographs," and it took time and patience to find their uncanny elements. Some of them recur in isolation, sharing a matte with snapshots of her own, many of herself. She looks out in varying degrees of art and artlessness—as a child, in perhaps the stylish 1960s with a camera, and older. A typical visitor lingers most over these two-dimensional photo albums. Could they reframe the entire show as autobiography?
Even with obvious cutting and pasting, the collages offer another recent history as well. As Sigmund Freud knew, the uncanny always looks familiar. Besides, Hammond captures a style, at the end of the Eisenhower era, when irony was about to erupt into a culture war. Garry Winogrand might have snapped that nude bather sharing the foot of a waterfall with an elephant. Diane Arbus might have photographed Zwei Frauen mit Streifen—a blond and brunette on the same striped bedspread in the same striped dresses, doppelgängers but hardly twins. Hollywood might have happily staged the dancers and accordionists descending a villa's grand staircase.
Like the two women, the heritage of these works weaves between Europe and America. The statue of a Greek god reclines on a front porch, contemplating freshly fallen snow. A man in a goat's head takes archery practice while tending a herd of sheep, like the missing link between the American West and tribal rituals. That heritage also includes Modernism. A black-and-white collage with sexual innuendo just has to recall Hans Bellmer and Surrealism. More recently in grisaille paint, Mark Tansey has punned on the frozen moment of life drawing with an atomic explosion.
Still, the temptation to seek out the artist makes some sense, just as it does for other pretend documentary photographers, such as Hannah Starkey. A collage is somehow precarious, like photography's traditional frozen moment. In one, a daredevil or failed climber hangs from a rock, itself balancing in space thanks to geologic processes. In the photo albums, the acrobatic pyramid recurs most often after Hammond herself. If one thinks that beauty depends on balance and harmony, that, too, will seem a little less certain and less realistic now. It will also help one understand a good liar—and art.
Pop Art's children
Hammond has an old-fashioned charm but a less-than-innocent eye. Three years later but by no means closer to the present, two boys pose at the beach with stuffed animals big enough to mount, and one of them does. Maybe he won his donkey at a carnival, of a kind that does not come often these days. Its big ears alone would make quite a prize. Those hours are already distant memories, before the urge to line up at F. A. O. Schwarz for what families could never afford. Elsewhere a nude kneels to offer up an hourglass, because time itself is on display.
These subjects approach the camera to show off, but ever so eager to please. This is comedy, not the flattery of studio portraits or the anger of appropriation in the 1980s. It is hardly realism either, although the pride and prejudice are all too real. A stern, frumpy seated woman dominates a ramshackle house and tree, its branches lined with toy dolls instead of leaves. They may be the only Christmas ornaments she has, but anyone who dares set foot in her yard may end up among them. African women have all but their heads and shoulders mired in a lake, from which the man bearing a cross in the background will never redeem them.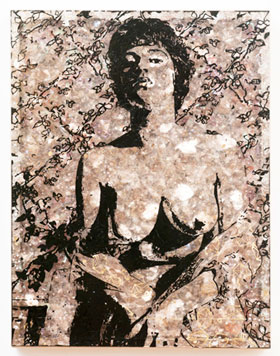 Says her gallery, Hammons's "photo vernacular now consists of over 10,000 snapshots." In plain English, she is a pack rat, but the technique itself trades in memory. Photo collage goes back to the birth of Pop Art in England—with Richard Hamilton, who died just days after her opening. So does the tart sadness, and so do some of the compositions. The pirate in one interior takes the place of the bodybuilder holding a lollipop in Hamilton's classic, Just What Is It That Makes Today's Homes So Different, So Appealing? The plump man in the foreground, in place of Hamilton's nude on a sofa, even looks like a middle-class Brit.
A boy in a playground, in one of Hammond's "dazzle paintings," has the gritty "kitchen sink realism" of England's New Wave film in the early 1960s. The child on the jungle gym behind him could almost have turned away in shame. Dazzle they do nonetheless. Hammond prints their photograph on metal leaf, before covering it with acrylic, mica sparkle, and Plexiglas. The process adds a whole new layer (or two or three) to her layered photo collage in black and white. Blowing up old snapshots to cover metal leaf gives them that much more of memory's coarse grain.
Both series seem suspended between generations, and so in a sense is Hammond. Born in 1950 (and very much American), she is too young for Hamilton's rise and too old for the pride and confrontation in Catherine Opie. Here the only Beijing miracle consists in Asian kids scooting around in toy cars, like future American consumers. Her very weirdness aligns her more with Arbus or Winogrand—who just happens to have called a portfolio Women Are Beautiful. Her primary subject, leisure time, already suggests the past. Would that father be at legal risk today if the child fell?
Pop Art's specter is everywhere these days, when quotes quote quotes about quotes. Hammond's own dazzle has something in common with the deliberate tackiness of Andy Warhol seen through the eyes of Richard Prince. She trades in fears and temptations, like the bare-breasted woman with her head thrown back. She acknowledges vulnerability and sentiment, like the father tossing his daughter in the air. She holds images at a distance, while inviting one up close to count the layers. Yet her memories are still vivid, and this century is still sorting them out.

"Walker Evans and the Picture Postcard" ran at The Metropolitan Museum of Art through May 25, 2009, Jem Cohen and Patti Smith at Robert Miller through April 18, 2009, and Jane Hammond at Galerie Lelong through October 11, 2008, and October 22, 2011. A related article looks at "Walker Evans: American Photographs."