An End to Nightmares
John Haber
in New York City
Goya's Last Works
Plan on some extra time at the Frick, for its exhibition of Francisco de Goya's last works. You might need it to get past the shock of the first room.
No doubt students of Goya's earlier work come to expect shocks, from his unnerving Disasters of War to his painting in black of Saturn Devouring His Children. No wonder two stars of shock art today, the Chapman brothers, adapted the first.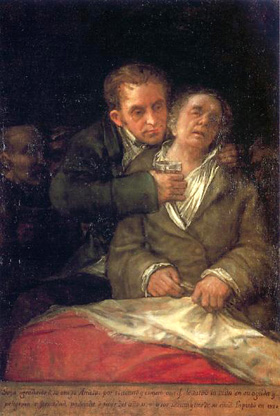 However, Goya's ability to startle extends to his final years, too, from a vision on canvas of his own close encounter with death to experiments with lithography, barely twenty years after its invention. It includes the human comedy that he found in exile, on the streets of Bordeaux—and within his own vivid memories and wild imaginings. It includes the black carbon smears of his late ivory miniatures or the still darker struggles in a bull ring.
Now, a postscript four years later brings Goya at the Frick up to date, with a small show of drawings from Spain—and from much of his career. It places him in context of earlier Spanish artists, from the start of the Baroque. However, I had better start at the beginning, with perhaps my biggest shock of all, in a vision of reasonably healthy, sane human life.
Goya's last gasp—and then some
I had started diligently enough, trying to take the measure of those nine paintings one by one. At some point, however, I had to draw back, to appreciate the community that Francisco de Goya has brought to life. Here, I felt part of that community, too. I stood amid them, side by side on three walls—the physician, the bookish international trader, the architect, the attorney's wife, the playwright and poet, the judge turned schoolmaster, the artist himself, and the cleric who had given him refuge from political terror. They and others here define the very ideal of a liberal elite.
Goya presents them simply, with a restricted palette and a seemingly casual brush. In contrast with the pale green backgrounds and sharp red highlights, the artist's deep blacks take on almost the semblance of a rich brown. Blue shadows veer into a hint of beard stubble, while the palette knife adds a bright, translucent white to sleeves. Thin scratches after paint is all but dry add that extra sparkle. Brush marks remain especially noticeable in a female portrait, taken from the permanent collection. That portrait provided the impetus for the show, curated by Jonathan Brown and Susan Grace Galassi.
Just over half length, elbows thrown out, they engage the viewer with little more than a glance. Two read intently, and one has his writing before him, but no one seems lost in thought. For people like this, books focus the mind rather than induce a dreamy introspection. They come across as warm, informal, and intellectual, but also active, composed, and unafraid. It only makes sense that one could mistake the last painting, of a milkmaid, for a portrait as well.
Their vigor appears even in the apparent despair of the very first painting on display. It shows the artist, barely conscious and tended by his physician, whom Goya credits with saving his life. The sick man, in the pose of a dead Christ, grasps his sheet for warmth, but also as if to contrive in his own burial. The doctor, his eyes in menacing shadow, lifts a cup to Goya's lips—at once the healing drug, the chalice of last rites, or the poison that will bring them on. The three figures behind them, barely distinct from the darkness, could serve as physician's assistants, bringers of death, or demons to welcome the invalid into the underworld. Goya completed the painting as an ex voto, or thank-you for his recovery, but with thanks like that, who needs satire?
The painting's subject may be dying, but the artist has the skill and edgy vision to make it very much alive. One can consider it as the start of Goya's last years. One can also consider it and two self-portrait drawings nearby as just the first of several compact, well-focused groupings of his art. The exhibition's three rooms include the oils, painted between 1820 and 1824. It then continues until his death in 1828, with selections from his last two drawing albums, miniatures, and lithographs. Each stage comes with shocks of its own.
I had entered expecting the work of a man in his seventies, on the brink of or enduring exile. I anticipated a painter taking stock of himself, Spain, and humanity itself. I expected more of his harsh satire and my own worst fears, as in his recently completed Black Paintings. And one does find that, but also a confident artist still looking, imagining, and experimenting.
Beggars and choosers
One has every reason to expect a broken man. His first severe illness, in 1790, had left him deaf and a far cry from the young man who, rumor has is, fought as a toreador. He suffered the loss of several children. A drawing shows his dissolute surviving son with vacant eyes, a loose jaw, and a patchy cloak that threatens to overcome him entirely. Of course, it also shows the artist's keen objectivity and the increasing range of technique in his final years. Recently I had my first look at Munch at the Modern, which ends with his own foretaste of death—Between the Clock and the Bed, which supplied Jasper Johns with his own theme for some years. Goya makes Norwegian and his larger retrospective tame by comparison.
When it comes to Goya, one can hardly separate the personal toll from the political one. The royal painter since 1799, he had witnessed the vagaries of the court, the devastation of war, the destruction of his nation, and the looting of its art as Napoleon crossed Spain on his march to Portugal. After five years of occupation, a new monarch took command, his reign then briefly interrupted by a military coup. His return to power brought deadly purges, the triumph of the Inquisition, and the end of liberal hopes. Along with plenty of his friends and patrons, Goya chose exile in Bordeaux during an amnesty in 1824. Even that did not bring rest, as the artist traveled first to Paris, then twice to Madrid and back in order to see his son.
One imagines a man in his late seventies on those long journeys across the mountains, in search of those who cared for him and never at home. One imagines him in Paris, where J. A. D. Ingres and Eugène Delacroix had shown together at the Salon of 1824, dividing the art world between Neoclassicism and Romanticism, and where Théodore Géricault had died only months before. One imagines him unable to meet with these artists but recognizing their breakthroughs, with more than a little pride, as already his own. On imagines him on the streets of Bordeaux, unable to speak French or to hear a word. However, he could still observe, and for Goya that almost amounts to listening.
His always prodigious output of drawings continued unabated. They mix memories and discoveries, still pungent, of the human comedy. More interestingly, one rarely knows for sure where the observation leaves off and the comedy begins. One loses the very distinction between social realism and fantasy. The weariness, austerity and grandeur of old age may recall one of Goya's favorite artists, Rembrandt, as in a sleepy reclining nude among the miniatures. However, Goya's eye still takes leave of the studio, whether for the street or the skies.
Even for his own time, his subjects seem strikingly specific, even familiar. A fashionably dressed man roller-skating could pass for a roller blader today, with the same ambiguous mix of egotism and prowess. Even when he returns to older motifs, he gives them a contemporary or utterly fantastic twist. Giambattista Tiepolo in Italy or François Boucher in France portrayed figures on swings, as part of a romantic idyll. Goya's swinger has somehow soared into the clouds, and no one can foresee the way back down.
Other images have more humble roots, but here folk tales, too, have an uncertain origin and even less certain ending. In one drawing, an elegantly clothed fox encounters a dumb-faced beggar. Goya takes equal delight in the fox's snout, the sheer white of his cloak, and beggar's open expression. I have no idea who is taking advantage of whom.
Shades of black
Does the ambiguity come down to a withholding of judgment? For all his own torments—or even because of them—the artist seems to have arrived in Bordeaux with a greater empathy for ordinary men and women than ever before. Even when his imagination runs to freaks, witches, and dreamers, he hardly gives in to despair.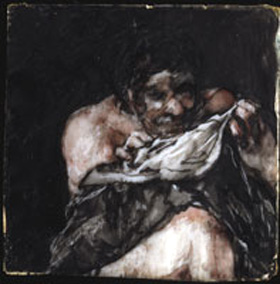 A lunatic reaches so forcefully through the bars of brutal confinement that one cheers for him before backing away.
Goya's sympathies comes across particularly in a long-standing favorite subject, the treatment of women. They endure terrible husbands and indifferent overseers. A female giant towers over a pale gray mass of gaping men, and one has no trouble labeling them as the freaks and fools. The confusion of gawking and responsibility recalls another giant so many years later, in a photograph by Diane Arbus. In the miniatures, he returns to two legends of victimization and independence—Susanna at her bath, surrounded by the leering elders, and Judith taking deadly revenge. Artemisia Gentileschi would feel a kindred spirit.
Yet the very last drawings do look more fantastic, and the ivories and lithographs express one last burst of violent folly. The miniatures recall images from the Black Paintings. The bullfight scenes in lithograph grow messier each time, their loose figure eight dissolving into chaos. Edouard Manet admired paintings like the one here on loan from the Getty, but his Dead Toreador looks truly noble by comparison.
If Goya is always looking, both within himself and without, his changing imagery relates closely to his experiments with technique. To some extent, he is simply adapting to the physical limitations of age, by giving up his thin, controlled line for something looser and less exacting. However, he is also open to new media and to chance.
Even before his lithographs, his drawings adopt a closely related tool, black crayon. A last stroke of jagged black might lend a nasty caricature to eyes or deaden a gesture with a layer of fabric, like that on his own son. His miniatures do not bother with a fine brush and traditional stippling. He smears black on near squares of ivory, from two to three inches on a side, and takes it from there. Rubbing with his thumb helps shape the figures, scratches dig through for white highlights, and white watercolor adds still more. The overall black and white makes the narrow touches of color stand out with unusual intensity.
One can see why his style had such an influence on Manet and others, especially when it comes to oil on canvas. Manet must have loved the bold but feathery touch of the palette knife. He would have understood the freshness with which Goya's portraits evoke a circle of friends, much like Manet's own sitters. He would have admired, too, a growing conception of paint as a single surface, rather than worked up by layers and refinement from a large-scale drawing or underpainting. As if in rebuke to Vermeer's Milkmaid, Goya's adds more color, a fluid pose, and patchy brushwork even closer to Impressionism—enough that some have doubted Goya's hand.
Empathy and horror
Manet would have appreciated Goya's variety of black, but he could not have understood his varieties of blackness. Where Manet's generation documents a new avant-garde, a culture of writers and artists within a newly comfortably urban middle class, Goya's eye roams all over the map. Where they would have related fully to either his liberalism or his alienation, they never even saw how Goya's nightmares again take over from everyday life. Perhaps Paul Cézanne comes closest, but Cézanne's development hinges on his sublimating the thick outlines and explicit sexuality of his first paintings.
At the same time, Goya's ambiguity makes him a pioneering modernist before the idea existed. His protests speak on behalf of his subjects as well as against them, with revulsion but without cynicism, coming near to love for all the howls and grimaces. Work this restless also makes it hard to pin down what he actually saw—and even, at times, what he believed.
Certainly Goya could have observed at first hand any number of his carnival entertainers, madmen, and beggars, in a culture that put them all on public display. They served at once as entertainment and figures of sympathy. They stood as object lessons, in a moral and class war with the sides as bitter and as jumbled as in America now.
Michel Foucault and others have used that public display to criticize liberalism—from Goya's lifetime through the present. They have seen mechanisms of repression in the madhouse and festival ground. However, if contradictions in Goya's intellectual circle existed, he made them his very subject, just as he looks objectively at the madman through the bars. If he himself felt the tension between his liberal sympathies and his horror at human folly and cruelty, he could turn that tension into art.
As with the Memling portraits this past fall, the Frick continues to defy expectations for a city's cherished refuge. Too often, when New York City looks at major Western artists, it has a lot to teach, along with the strengths and weaknesses of a strong point of view. The Met's recent shows of Fra Angelico and now Antonello da Messina have broken ground, but they have also had to tiptoe around an artist's most important work. With Fra Carnavale and the early Italian Renaissance, the Met focused on a lesser-known artist from its own holdings. With Leonardo, Peter Paul Rubens, or Vincent van Gogh, it sensibly limited itself to their drawings. Less happily, on other occasions it has set forth seriously distorted views of the Northern or Italian Renaissance.
By sticking to eight critical years and refusing to sacrifice its ambitions, the Frick manages to focus on critical work by a major artist. It shows him experimenting with painterly technique and new media, in ways that look past his central role in Romanticism to his influence on Manet and beyond. It shows him pursuing his nightmare imagery, all but prefiguring Odilon Redon or Surrealism. It shows him building on his closely observed satire, prefiguring even contemporary political art. Can the Frick enter the mainstream without bankrupting its ideals—or itself? Time will tell, but call Goya's last works a good start.
A postscript: Goya in Spain
The Frick would like you to know something else, too: Goya was Spanish. Not that you were in doubt, given the most famous Spanish artist before Pablo Picasso, and the Frick has done as much as any institution to make sure of that. More than four years later, its focus on Spain continues with its newly cleaned portrait by, shall we say, the runner-up, Diego Velázquez. First, though, it asks to bridge the two with drawings from Baroque Spain and Goya himself. "The Spanish Manner" amounts to two distinct shows, each with its own room, but more than a short corridor connects them.
Jusepe de Ribera in the 1620s draws a bat heading straight for the viewer. Even without a human ear below each wing, it carries the shock of an experience that, I trust, you will never have. Yet for all its strangeness, it is a study in anatomical precision. The furry mammal looks as familiar as house mice, and legend has it that a bat actually landed on a patron's helmet. A Latin inscription marks the entire sheet as most likely a study for a coat of arms. Artifice and fantasy get along just fine with naturalism, practicality, and solid workshop training.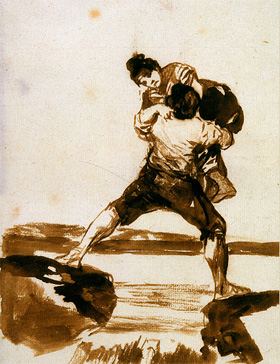 Much else before Romanticism lives in just that world, between the miraculous and the real. It allows a lesser-known artist, Antonio del Castillo, to make a solid figure study out of a gaunt Saint Jerome. It contributes to the sweeter finish of Bartolomé Esteban Murillo, and it helps Antonio del Castillo y Saavedra lend Murillo's religious ardor to peasants. Neither Velázquez nor Francisco Zurbarán appear, but otherwise nearby museums suffice for a decent Baroque survey. Few drawings by those two survive, in part because of how they worked—and in part because because Spanish collectors long showed little interest in drawings. Lots (in both senses of the word, auction fans) are lost.
Lots else, though, comes right out of Goya's playbook. An auto-da-fé, like a martyrdom (by Vicente Carducho) with a dog prominently enjoying the show, anticipates his distrust of piety and the madness of crowds. Ribera's precision extends an open-mouthed satyr or a profile—with another tiny man resting on his head. He accentuates the difference between David and Goliath, as if the fallen giant belonged in a freak show. The room ends with a Holy Ghost by Francesco Bayeu, looking so very much like a life study. Just down the hall Goya is waiting, in a self-portrait from just three years later—fashionable, dour, and gentlemanly, but also soon after bitter illness left him deaf.
The Frick showed late Goya not as a tired, cynical fantasist, but a fine and vigorous observer. Here he moralizes to his heart's content, but with ambiguous morals. A nun's hurry to shed her robe could mean the dread weight of religious orders—or of harsh laws against them. A man, striding across rocks and water, could be abducting a woman or rescuing her. Goya embraces victims, like the mutilated man hung in the sack of his clothes. Yet he depicts human sympathy, too, in prisoners joined in mutual support or shepherds at rest beside a sheep in calm profile.
Humanity still has more than its share of fools. A man exposes his butt to a woman quite eager to see it, a woman clutches her eggs like a proverbial wet hen, men masquerade as asses, and many more hide behind crowds. And the artist relishes them, with dry scratches for a torturer's flesh or dots for eyes almost like anime. The Frick's painting of men at a forge turns out to have begun on paper with a freer stance and tauter arms. Black washes create a beggar's shadow, a nun frightened by a guitar-playing ghost, or the dark landscape closing in on a nude. Goya sees everything in black and white, except for human beings.

"Goya's Last Works" ran at The Frick Collection through May 14, 2006, "The Spanish Manner: Drawings from Ribera to Goya" through January 9, 2011. A related article looks at Goya portraits before his illness and at the height of his reputation.