Romanticism and Revolution
John Haber
in New York City
Jacques-Louis David and Eugène Delacroix: Revolutionary France
Pierre-Auguste Renoir: Impressionism and Full-Length Painting
In 1795, the greatest painter in France barely escaped the guillotine. No, not in the Reign of Terror, but in seeing an end to it. Ninety years later, an artist participated in a quieter and more successful revolution, simply by returning to Paris and to fashion.
Not every artist can take some credit for a revolution. Jacques-Louis David could, and he had petitioned for Robespierre's life only days before. Now awaiting trial himself, he drew a fellow prisoner in a military coat, a radical's long but perfectly trimmed hair, and the profile of a coin of the realm. It is also a loose, open coat—accentuating the man's broad shoulders and plain features. He will not gesture, boast, or explain. His identity has not survived, which may mean that neither did he.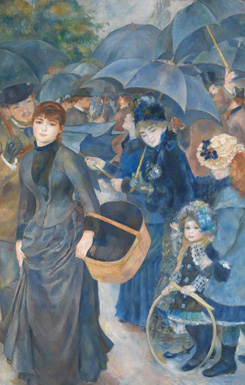 In 1830 France had not laid down its arms, especially as an emblem of revolution. Liberty on the Barricades would not stride half as dramatically without a rifle in one hand to balance the flag held high in the other. A study by Eugène Delacroix lacks the rifle, the chaste profile, the armed man in a frock coat and tie to one side, the boy with a pistol in each fist to the other, the pleading woman, the corpses at their feet, or the smell and smoke of death in the air. Her pose emerges whole from the turn of her hips and breast, her hair upright like a military cap, and the impulsive thrust of each arm. And each curve seems to emerge spontaneously from pencil on paper, even with touches of white. After thirty-five years, art is still fighting over the form and substance of radical change.
David's portrait comes first among almost eighty drawings from the Louvre, going clockwise at the Morgan Library, but Liberty faces the visitor on the way in. A history of art might leave it that—Neoclassicism and Romanticism, stubbornness and impulse. First a revolution or two cut through the sentimental excess of Rococo, and in time, Romanticism crosses the channel with Théodore Géricault and triumphs with Delacroix. "David, Delacroix, and Revolutionary France" insists on a third player right in the title. It suggests that line and color, precision and epic sweep, were fighting it out before them in the Baroque and after them in Modernism. Just a few months later, the Frick finds a surprisingly traditional care for line, color, and high style in "Renoir, Impressionism, and Full-Length Painting."
Revolution and fiction
David not only survived but changed sides along the way. His turn to Roman history and myth gave the revolution precedents. His plain, rumpled, but precise portraits gave it its day-to-day cast. It demanded an allegiance to art, the kind that sketched a fellow prisoner or, not on display, his prison window. It demanded an allegiance to France, and in no time he was working for Napoleon. When he draws the emperor crowning himself, as the pope looks on helplessly, he snagged a twofer—the imprimatur of the church and lack of need for one.
David was better at image creation than image control, as befits the inventor of art as avant-garde. Napoleon declined to have his coronation turned into a painting, but he ensured that David's workshop flourished on behalf of empire. The artist's modesty always got along well with ruthlessness. His classical subjects have a way of killing themselves and others, and his portraits embrace homely faces. Their awkwardness extends to his compositions, which arrange characters in no particular order in two dimensions. As Michael Fried pointed out long ago, he treated the picture as a stage, with big gestures and a moral.
Anyone could grasp it, starting with the new middle-class. That includes David's anonymous fellow prisoner, but it also includes divisions within revolutionary France. With J. A. D. Ingres the bourgeois has come to look distinct indeed from the laborer. Among eleven drawings of its own, the Morgan shows Ingres's self-portrait at age twelve, in military gear. Before long, the uniform is gone, along with the painstaking detail. Ingres can surround a face with a far greater economy of line—a button or two here, a collar there, an instant gesture, and a commanding pose.
The middle class had its own revolution under Louis Napoleon, the one that Marx derided and that wraps up the show. By then Ingres had survived in exile, on portrait commissions in Italy. He did not need much encouragement to return to Rome either, to bask in success and to run the academy in Rome. By then, too, the cult of virtue had given way to another kind of popular front. It includes Romanticism and Liberty on the barricades. It includes perhaps the first mass culture.
Even before with Jean-Baptiste Greuze and the Enlightenment, art was discovering cheap fiction. Gabriel de Saint-Aubin had illustrated novels. Here Pierre-Paul Prud'hon finds his subject in Jean Jacques Rousseau or a lover's first kiss. Anne-Louis Girodet finds his most enlightened sitter in a bookseller. By the show's last decades, artists like Paul Delaroche are creating medieval epics, with courtly or religious themes. Alexandre Dumas himself makes an appearance, in a portrait by Ignace Isidore Gérard Grandville.
The classicists foretold Romanticism in their own way, as in sculpture by David d'Angers. For all the sentimental gleam in his women's eyes, Prud'hon introduced the cross-hatching and epic sweep that David denied, and a male nude has an athlete's lean musculature. With Girodet, the Trojan Horse seems to arise from a pool of ink. With Delaroche and others, the Romantic impulse itself gives way to the slick historical fiction of Salon painting yet to come. Honoré Daumier wraps it all up with the head of a young woman. The nineteenth century has found its domestic interiors.
Revolution beneath the surface
What then had changed? The course of revolution, for one thing, and how much terror a nation could stand. Elisabeth Vigée Le Brun fled France, but a pupil of David, François, Baron Gérard, defended the Terror by drawing an army of slaves returning democracy to Rome. Their mass, its facelessness broken only by its leader, looks more than terrifying enough. By the late 1840s Théodore Chassériau is celebrating Peace, Protector of the Arts and of the Tilling of the Soil. The show's last third runs to names largely unfamiliar to museum culture.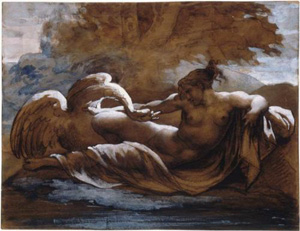 Europe, too, had changed, thanks in part to Napoleon's armies. Jean-Étienne Liotard, a Swiss painter, had his Turkish themes years before, but those themes start to look less exotic and more reassuring. Antoine-Jean, Baron Gros, shows Turkish armies in flight with the gusto of an eastern fantasy. Girodet's The Revolt at Cairo celebrates France's suppression of the Mamluk rebellion, but his injured Turk has a wholly human fall. Delacroix's kneeling Arab in a sweeping white costume stems from his own trip to Morocco. By contrast, the "orientalism" of his Turkish bath may be a conscious regress, just waiting for Henri Matisse and the twentieth century to disrupt it.
Disruption was never far from the surface anyway. Romanticism simply drove it further outward and further within. Naturally illicit longings have a way of aiming at women. Prud'hon draws The Abduction of Psyche in chalk and ink, and Daumier has another abduction sixty years later. The hill behind extends a centaur's head into a black cloud. Women themselves run to innocents.
For Théodore Géricault (who painted actual madmen) an abduction is a scene of origins, just as for William Butler Yeats decades later, in Leda and the Swan. The tree above them, like another dark and twisted cloud, mirrors their thoughts and intertwined bodies. Géricault also poses a soldier after Michelangelo, as Adam at the creation of Eve, as if the battle scene sprung from within. Most of all, the artist kicked off French Romanticism with depiction after depiction animals. A sheet makes it hard to tell the wildcats from the house pets. Antoine-Louis Barye made animals in need of taming his speciality.
As with clouds, trees, and distant continents, landscapes introduce a wider range of feeling. By 1840 François-Marius Granet is in Rome, where Camille Corot had made his crisp early watercolors. Théodore Caruelle d'Aligny is lost in the forest of Fontainebleau still earlier, in 1828. Corot's own Italian scene has the immersion in branches, stream, and rocks that will alter art through Paul Cézanne. They show a still broader influence, with hints of Japanese mists in Granet's view of the Seine. They also show a fantasist's trust in observation, like Delacroix with the seacoast at Normandy.
Where German Romanticism or Anita Brookner describes infinite longings, the French are not half so good at sitting still. Compared to William Blake, John Constable, and the English, they also come late to Romanticism. They had a few heads to roll first. Preparatory drawings, though, have an advantage—in that heads roll sooner and further. In textbooks, Neoclassicism can be one of the driest or most melodramatic asides in history. On paper, revolution is still in the air.
That scandalous umbrella
Impressionism was not all sunlight and flowers. Its critics hated its seaminess, and they continued well after the scandal of Olympia, in which Edouard Manet allowed nudes to share a weekend outing with ordinary men, as if proper bourgeois dress was the real offense. Sometimes, in fact, the loudest voices were unconcerned for nudity and sex at all. "Yes or no," wrote one critic in, appropriately enough, Le Journal official de la République Française. "Must we paint the stovepipe hat, the umbrella, the shirt with wing collar, the waistcoat, and the trousers?" For the Frick Collection, the answer is a resounding yes. "Renoir, Impressionism, and Full-Length Painting" assembles nine displays of Impressionism and fashion, lingering over collars, waistcoasts, trousers, and best of all umbrellas.
That critic wrote in April 1877, the month of the Third Impressionist Exhibition, in which Gustave Caillebotte found his most ambitious painting in, yes, Paris in the rain. Caillebotte captures the glories and strangeness of those modern boulevards, with an intersection near the Gare Saint-Lazare and a couple closer to safety—protected by only a lamppost and the man's top hat, broad black coat, and umbrella. And the critic did warn most of "the costume whose black and deforming uniformity we all suffer." T. J. Clark, the Marxist historian, ended the opening chapter of The Painting of Everyday Life with just that quote. He wanted to recover the tensions within modernity and Impressionism, for all its precision of color and light. For the Frick, though, as for the Barnes Foundation, those paintings and their high style are hardly bleak or even entirely modern.
Pierre-Auguste Renoir, it notes, was the son of a dressmaker and a tailor. On his return from painting the outdoors alongside Claude Monet, he could luxuriate in Parisians taking ever so much care for their image—not portraits for the most part after all, but friends posed for the occasion. He calls the earliest painting here, from 1874, La Parisienne, and it glories in the blue of a woman's hat and dress, that single color accented by her pale face and hands, with only an off-white flurry behind her. For the next nine years, one can see changing fashions right down to three successive couples in a country dance, a flower or straw hat cast aside defining the picture plane. One can see the changes within a single painting, The Umbrellas. When Renoir returned to it after perhaps four years, in 1885, he surrounded a family dressed for success with the broader shading of clouds, a woman's full-length dress, and a swarm of umbrellas behind her.
Those broader fields of blue and gray now fill the picture. Streaked with lighter tones, they show Renoir at his most modern, almost like the color planes of Paul Cézanne. And the critics were on to something, for Renoir was never better than when he cast color theories to the winds and indulged in black. In Moulin de la Galette, blacks ripple through the picture almost like points of light. They work with the many spots of white, from chandeliers and the light they cast, not to mention the straw hats and yellow orange highlights on clothing. Whites play a similar role in the daytime scene of Luncheon of the Boating Party—and together they evoke an entire class of society set free.
One can feel something of that excitement beneath the elegance of two dancing couples, each painting structured by the contrasts of black, white, and the woman's red hat. Mostly, however, the paintings could use more color and black. Early ones lean almost entirely on caked and broken white—not all that different, as it happens, from Monet's wintery landscape in the Frick. Have you ever wondered what Impressionism was doing there at all, amid the most concentrated collection of older European painting in New York? Frick himself acquired La Promenade, a stroll in the park that Renoir sent to the Second Impressionist Exhibition in 1876, to mostly bad reviews. With this exhibition, one can see an answer in its very tameness.
At least this once, one can rush right past the period rooms decorated by Jean Honoré Fragonard and François Boucher, with their frillier Rococo pleasures—not to mention a dull standing figure by another dedicated follower of fashion, James McNeill Whistler. When it comes to women, one might look instead to Ingres, for a portrait of alert intelligence. One may not change one's mind any time soon, but one can see how Frick saw them all together. Oddly enough, modernity's harshest tensions come in La Promenade. Two little girls advance with almost beady eyes, shepherded by their minder (probably an older sister), with not one smiling. Even then, femininity and leisure were an obligation.

"David, Delacroix, and Revolutionary France: Drawings from the Louvre" ran at The Morgan Library through December 31, 2011, "Renoir, Impressionism, and Full-Length Painting" at The Frick Collection through May 13, 2012.