Up in Smoke
John Haber
in New York City
Political Art after 9/11: Part II
Leon Golub died this summer as he had lived and painted, as a witness to torture. Born in 1922, he had earned a reputation as the consummate political artist. His scenes of institutional terror and politically charged violence are, for many, as hard to efface as graffiti. His harsh surfaces, acrylic ground forcibly onto canvas, mirror at their best the brutality of his subjects and the anonymity of their victims. He died August 22, 2004, in time to have seen the outrage of Abu Ghraib unfold in prime time, but with accountability for its acts very much an open question.
Just two months before, another successor to Francisco de Goya ended in ashes. A fire in an East London warehouse consumed a sad number of works by Young British Artists. And, no, neither I nor my friends are responsible.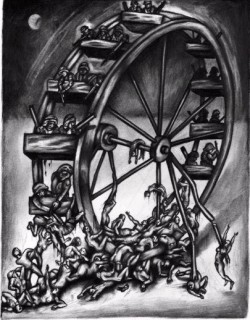 Among the losses, just a single work had taken Dinos and Jake Chapman years. In their construction from hundreds of found objects to form a swastika, they were continuing a protest begun in their sculpture patterned on Goya's Disasters of War.
"I'm upset"
So is that it, then? Has political art after 9/11 gone up in smoke or refused to join the protest, even as conservatives use its specter to deny the Drawing Center art's place at Ground Zero? In an accompanying essay, I took on two critics who seem to think so. Anna Somers Cocks makes the case from my side, while Roger Kimball, as usual, denounces the whole affair from the right.
That first essay of mine quarrels with them both. I argue that art remains politically engaged, because it has to be, but rarely according to the formulas of political activists. Politics and art alike are too embedded in metaphors, images, personalities, and institutions. But you have to expect that opinion from a Web site with Postmodernism in its title. Here I continue the story with some artists who make their politics explicit. And Cocks notwithstanding, they are everywhere.
The artists who took their losses in London, for starters, have no intention to give up and wallow in their notoriety. "I'm upset," Tracey Emin said, "but I'm also upset about those whose wedding got bombed" in Iraq that month "and people being dug from the mud in the Dominican Republic." To their credit, the Chapman brothers had taken their politics seriously as well. That includes not only their subject matter, but also their conception of art as patient model building, for a work years in the making. And they have every determination to rebuild it, embracing the differences that will arise.
Here in New York, examples come even more easily. I especially liked "Bush League," a summer group show at Roebling Hall. Also this summer, Sue Coe exhibited drawings caricaturing the usual suspects, from corporate logos to Bush and Cheney.
With "Boys Gone Wild," artists more under the influence of Gilbert & George than of Francisco de Goya and Goya portraits gave it a try. They filled a Chelsea gallery with sand, a pretend oil tank, and what could pass for celebrity photos taken from the news. Scott Hug and Michael Magnan wanted even unspeakably cool people to experience the desert heat. They would surely understand a show titled "Love/War/Sex," if only it dispensed with love and war. I just wish I had brought a small child with a pail and shovel.
More recently, at American Fine Arts, Hans Haacke and others got mileage out of merely quoting the headlines. Last, at Exit Art, still the city's most ambitious alternative space, forty-one artists are tackling "The Presidency." And who among them knew what lay in store for those attending the gallery's election-night party?
Strategies
If I could propose political art in this foolish age of anything goes, global art fairs, critics as curators, and "Open House," it might look like this. I should want, of course, a reasonably focused, heartfelt theme. I should want a halfway recognizable target. Given the state of an artist in society, it could hardly hurt to pick people and institutions with real power that also neglect the arts. If that does not include Bush, the war on terrorism, and the mass media, one should be more surprised than disappointed.
I should like the feeling to arise in no small part from the sensation of encountering a work's facture—or from artists playing against and cutting into their materials, conceptions, and illusions. Will this temper the certainty of political art, by suggesting the fragility of the work, the vulnerability of the artist, or an actual sense of humor, for goodness sake? All the better. That happens anyway when one takes ideologues as one's subject matter. Oh, and this being the usual gallery scene, better throw in a video or two. That way, I can curse not only politicians, but also how easy it has become to take up new media.
Roebling Hall shows what happens when these strategies work. I recognized only two gallery artists, David Opdyke, with his obsessive maps of America as power grids, and Christoph Draeger, who for once is not, as at Exit Art, recapping a familiar disaster as a jigsaw puzzle. Here the hazy image, Endless Summer, sticks in the mind as if floating between suburban ennui and Iraqi desert heat. No wonder an Iraqi-American, Ahmed Alsoudani, uses the dry colors of Guernica to depict war.
Images of burning—the title, in fact, of Dan Ford's work—appeared more than once. So did images of Bush or of newsprint itself, worked by an artist as if both to distance them from reality and to burn them in memory. Melanie Baker pulls it off it in charcoal, Wayne Gonzales in pixilated acrylics, Jane Benson with a door ambiguously labeled "Occupied," and Anne Deleporte as if shot away by bullets.
Tired of attack ads? Laura Parnes had me squirming with parodies of the administration's warrior mentality. One suggests "vote for Bush or burn in hell." Another offers a balletic action sequence that could have come from any number of movies. It ends with the suggestion that one vote for a real Hollywood actor specializing in fighting roles, rather than the one who boasted "Mission Accomplished." Perhaps one could hack those electronic voting machines to write him in.
What, however, happens when my strategies do not quite pay off? Turn next to Exit Art.
Anyone but Bush
Exit Art may call its fall show "The Presidency." It might well have chosen instead the title "Anyone but Bush," for its unrelenting campaign against the current holder of the office. I sympathize, but consider what that leaves out.
One has no exploration of a president's constitutional powers and functions. One has little evidence of what options a president could explore, beyond the witty Post-it notes by Peitrapiana. "Don't lie just tell the truth," and "Learn geography." "Your mother-in-law just called twice." Do they personalize or trivialize the choices? As the right would say, you decide.
More surprisingly still, one has no dispute over the actual president's policies. Diane Nerwen comes closest in The Thief of Baghdad, a seamless reworking of B movies into a comic tale of liberation. Douglas Fairbanks invades Iraq like the ultimate smart bomb.
Most past presidents, should one remember them, appear solely as Jonathan Allen's Portraits of Corruption. Allen digitally alters photographs according to the office holder's acceptance of influence. And guess who comes off the worst. George Washington puts in a second token appearance, in more ways than one, as a towering, 3D recreation of the image on a dollar bill. Timothy Blum's clay sculpture will continue to dry out and crumble to dust over the course of the exhibition.
Sure, Bill Clinton turns up indirectly, but again more for the personal than the political. In Bonita Makuch's hilarious reading of the Starr report, two porn stars alternate lines, as in a film script rather more evocative than members of Congress could have hoped.
When I visited, there remained, for just over seventy-two hours, the perhaps foolish hope that another could become president elect during much of the exhibition's run. Yet the Democratic candidate appears only, as I shall explain, more or less as an audience write-in.
The culture of war
Yet another title might well be "Image, Power, Money." Work after work blends the three. Besides Blum's evocation of cold cash, Cynthia von Buhler presents Uncle Sam as one of those old barber-shop figures that responds to a coin. Here our good uncle duly pontificates on weapons of mass destruction and other recent scandals. I found some hard to recall in much detail even now.
Half a dozen videos edit George W. Bush's speeches to leave, reasonably enough, little aside empty gestures. That still permits prolonged applause, the trademark smirk that so annoys people like me, and in one video the word America repeated over and over. This politician definitely stays on message.
Even the installation's austerity reflects the purity of its good intentions and a remoteness from actual political structures and acts. Works cling to the walls around mostly empty space. I turned almost gratefully to Lisa Charde, for her remodeling of the American flag as a literal straitjacket. Someone should stand up for sanity here.
That write-in vote I mentioned could well sum up the mix of idealism and cynicism, the same mix that encourages Francis Michael Palazzola to sketch the White House in brown acrylic smears representing . . . oh, forget it. A collective, Flash Light, invites one to vote at a touch screen for the one past president one most wishes could hold office. (Nope, no downloading music or video games allowed.) When I visited, John Kerry actually came in first, followed narrowly not by FDR or Lincoln but by "nobody." You can decide whether liberal cynicism like this prevailed on election day—or whether a nobody did win.
Art's value in a political debate has to come in bringing the abstractions of both art and politics down to earth. It has to make the connections between the political and the personal seem as natural as breathing—or at least as unpretentious as laughter. It has to listen, as even journalism cannot. While I have tried to single out some who can still laugh, this exhibition has little time for frivolity. As Pepe Colo, a curator, puts it, "culture is war."
The show has a long way to go to remain relevant through its run. It has far too little space to move from a prescription for art to political or artistic urgency. Its strengths in anticipating the election blind the exhibition to its own and the nation's future. It forgets the political reality—or unreality—of art in a world of institutions and images, the very world it hopes to deconstruct.
Target practice
If Roebling Hall's exhibition lives up to my loose set of strategies, Exit Art's sometimes does. With luck, it has the salutary, indeed inescapable value of a call to arms with enough lapses in purpose to let me survive the ordeal. Others may do even worse.
Consider the Chapmans again. Am I reviewing a work that I not only have never seen, but never can see? Somehow that suits its vague promise of political significance. Those GI Joes set out in the form of a swastika demonstrate the Chapmans' talent for breaching taboo subjects. Yet, as with a similarly provocative show on Nazi themes at the Jewish Museum over a year ago, I have trouble imagining anything beyond the provocation.
So what's the target? Mass production? Boys playing at war? War period? Specific fascist wars, if only I knew which ones? The commercialization of art itself? Even I want to plead guilty on all counts.
John Lennon asked to give peace a chance. Rather than targeting the bad guys, he asked people to step outside politics in order to achieve political change. It still sounds heartfelt and subversive, in a way hard to recapture in today's cynical political climate. But artists cannot fall back on similarly targetless protest, especially when that means a utopian sensibility without the idealism. It gives new meaning to the old phrase, get real.
Conversely, artists may pick their targets a little too easily. Sue Coe offers a talented but flawed example, with all the earnestness of British art. On the one hand, Coe—who actually lives in the United States—worries too much that she will lose touch. On the other, she worries that cartoons cannot bear the weight of events. As a result, she labors with a slavish literalism over the vocabulary of political cartoons while taking extra care to suck the humor out of them. The problem is not that they spell too much out. Rather, they seem so arbitrary that the targets actually get off the hook.
One drawing shows America piling on packages labeled with corporate names. Without the labels the image would make no sense. More often, she caricatures the usual suspects. Yet without a good cartoonist's flair, the distortions simply make Bush and Cheney unrecognizable. A greater art would find them disarmingly, searchingly unfamiliar.
Two traditions
Coe's signature drawing, as well as perhaps the best, makes war into a Ferris wheel. Is the image more familiar these days from London's Millennial landscape than from Coney Island? Could the choice suggest mere ignorance of America, so many years after Reginald Marsh? Probably, but the simple idea has something of Goya's unrelenting, unforgettable pessimism. It suggests that, whatever happens, the suffering will begin again. It provides a powerful icon of anguish and of relief—and yet I wish that it had the specificity of real cycles of power and despair.
The interest of an important political artist looking at America should not be overlooked. One should also evaluate the style for oneself. To me, it simply smudges the essentials through its detail. To another, the effortful drawing may well invoke strong emotions. I think of the honest difference between people who "get" Golub's tortured surfaces and those who do not. If I am in the latter camp, forgive me.
An even stronger interest lies in Coe's summer context, amid a gallery's drawings in two related traditions. One is Expressionism, the other self-taught artists. One is an angry, agonized, and very political art. The other is an attachment to drawing in which detail takes on a curious life of its own, akin to cels in a cartoon.
One sometimes sees these traditions as united by a common thread. One imagines in both a crudity and simplicity that violates traditional proprieties. Both, the story goes, were also neglected when formalism reigned. And both are now all too fashionable—as sticks with which to beat Modernism. They take one from outrage and "outsider" art to Goth in sixty seconds.
For me, the show's virtue was to upset that utterly cartoon image. As an exhibition of Max Beckmann at MoMA QNS and Beckmann in New York convinced me, German Expressionism is a chapter in modern art as well as in human anguish. Here that chapter combines a startling concept that comes right in your face with a subtle effacement of the image. The combination makes the sense of injury and loss burn all the more. It makes me remember where I began this two-part essay—with art that discovers the political through the humanity and visual play that make it survive disasters.
I shall remember the longing in a head of a girl, by Erich Heckel, the black lithograph as soft as ashes. I shall remember the penetration into space of John Heartfield's man killed by Nazis and Kathe Kollwitz's hands, almost but never quite caressing a powerful face while they reach up for help. I shall remember the admiration outweighing scolding in seated women with raised skirt by Egon Schiele. I shall remember that neither passion nor Modernism, ideas nor convictions, ugliness nor beauty rules out politics after all.

"Boys Gone Wild" by Scott Hug and Michael Magnan ran through July 30, 2004, at John Connelly Presents, "Bush League" at Roebling Hall through September 6, Sue Coe at Galerie St. Etienne through October 16 along with recent acquisitions in prints and drawings, and "The Presidency" at Exit Art through November 21. Related articles turn to "September 11," the National September 11 Memorial, and the tenth anniversary of 9/11.