A Very Public Museum
John Haber
in New York City
The Virginia Museum of Fine Arts
Artemisia Gentileschi: Venus and Cupid
In expanding, the Virginia Museum of Fine Arts wanted something thoroughly contemporary and thoroughly traditional. And for the most part Rick Mather, the British architect, delivers.
As usual, success comes at a cost—the cost of compromise. As a tour soon after the reopening shows, though, that compromise is ever so contemporary in museum expansions, too, and not entirely a bad thing. A visit also allows a fresh encounter with another recent acquisition beyond the architecture, by Artemisia Gentileschi.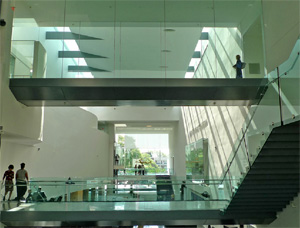 The urge to expand
The very idea of a mammoth expansion has come to define a modern museum. Every one, it seems, insists on new architecture to display more of its collection, to snag traveling exhibitions, and to attract attention—most notably the last. Ultimately, a museum has to appeal to visitors, and at least since Thomas Hoving that aim has become a moral imperative. It is a matter of civic pride and public education. If it makes the public or the museum as institution dictate to the art, so be it. As for tradition, this is the Virginia Museum of Fine Arts.
It is that very rare American museum outside the Met that still aspires to do it all, on a grand scale, across continents and from European painting to contemporary America. The original façade, facing a stately boulevard laden with hopes for the old South, even looks as if someone had done his best to raze the Met's towering steps and start over. In their place, a broad plaza and gentle ascent far exceed the scale of the original entrance itself. Shut for years, it now allows the curious to experience the 1930s, when the museum first asserted its place in proper society. Europe had invented the all-purpose museum as a compendium of knowledge and of culture, and it only makes sense that the old interior stairwell leads past busts of the VMFA's founders to galleries for Baroque paintings and a hall for tapestries. Yet the proper entrance shifted some time ago to the side, where the new building now sets the stage.
In today's art world, expansion is all about taking center stage. MoMA is already chafing at the constraints of its 2004 expansion and the disheartening MoMA atrium, at least when it comes to having enough condos to sell, and the New Museum seemed hardly to care what would lie within its striking stacked boxes. VMFA has its priorities generally in line with the times as well. The new entrance leads from the garage past a café and gift shop to a three-story atrium the width of the building, ending in a forty-foot high glass wall. Sometimes kids play in the colorful swiveling chairs. Upstairs a rather good restaurant overlooks the sculpture garden, still in progress, on grass that covers the garage like earth on a bunker.
The combination of contemporary and traditional is itself contemporary. Renzo Piano has earned his share of museum expansions, thanks to a reputation for playing it safe, and Mather follows him closely. Like Piano's addition to Morgan Library, the atrium affords plenty of light and air, passage between buildings, views onto old and new, and even much the same glass-covered elevator. The new façade is simple and rectilinear, like stone Chiclets crossed by windows. They let in ample natural light to everything but the art. The interior looks wonderful and does its job, even if its job is not to look too wonderful.
It has its ups and downs, corresponding closely to the literal ones. I had to keep staring up at the passageways between buildings, like the walkways in a big-box store. I had to admire the care to put education first, on the ground floor rather than hidden, and the library visible right from the atrium. I had to like the long vistas between galleries, closely modeled on the plan of the old museum. The old building has a grand hall, too, with softly radiant geometric murals by Sol Lewitt. The new atrium has a Lewitt Splotch sculpture, of colored fiberglass peaks out of a toy store.
In short, Mather preserves the old museum while making it user and kid friendly. A modern museum's mission of molding the public has given way to building a public, like first Saturdays at the Brooklyn Museum. Like a Dutch church in the golden age, back when painting meant idolatry, VMFA extends and substitutes for a town square. In fact, it owns a fine painting of a Dutch church interior, though by a lesser light of the genre. Andrie de Lorme chooses a vantage point that downplays the church's geometric plan, plays up its mammoth pillars, gives burghers time and space to socialize, and captures a dog peeing. Richmond has leash laws, but it dreams of just such a civic role.
Coming out of the utility closet
The galleries at the Virginia museum follow the same cautious steps into the present. They want to take the public's pulse, hoping that it will not run too fast or skip a beat. On leaving the atrium, one can easily forget whether one has entered the new wing at all. It does not rely on new materials, high ceilings, and movable walls. The sole departures from a modern museum's white box come in the older building, where stairs lead off of smaller spaces for European painting. Not surprisingly, those rooms also look especially good.
The expansion boasts of almost half again as much space, but one would hardly know it. In part, that just shows how effectively the museum worked before. In part, too, it reflects how many square feet now go to public areas. A small gallery for temporary exhibitions actually opens off and returns to the atrium, as if one had never left. If anything, the art now seems short of space. It says something that the museum passes off a downstairs corridor as the "center gallery."
Temporary exhibition space mostly hides on the lower level, which at first glance looks more like utility closets or the way to the bathrooms. It really does pick up from other recent museums, like the lower level at the New Museum or Morgan Library. It just happens to hold some art. These galleries also seem the most cramped and unfriendly. In contrast, the rooms upstairs shoot for wide open spaces. And there, too, the new museum is taking its cues from the old.
Pretty much all galleries, new and old, stick to a large grid joined or interrupted by long vistas. Some views derive from connecting corridors, but more often from the doors between rooms, like the nineteenth-century wing at the Met but with tunnel vision in place of grandeur. They can create striking connections, or they can take one's eye off the art. They help explain why I vividly remember a standing portrait by John Singer Sargent, but also why I forget so much else. I have a feeling that the curators will learn to rely on them more and more. The museum has already undertaken considerable rehanging, bringing old and new still further together.
When I came, two weeks after the reopening, several rooms were still in progress, mostly non-Western art. Still, South Asian art had already opened, in the new wing, another reminder of just how much the collection spans. I could reacquaint myself with almost too many favorites, like the many examples of Martin Johnson Heade, the nineteenth-century painter of tropical flowers and glistening landscapes. A mammoth cross-hatch painting from Jasper Johns is at once bright, simple, somber, and gloriously puzzling. The entire collection is heavily American, most of it now in the new wing. It also centers on the 1920s, when the museum was coming to be.
All this ignores any number of trends. On the other hand, it actually goes awry the few times it tries to put art in context. American furniture on platforms along some walls, with painting hard to see above, makes an uneasy cross between galleries and period rooms. The one full-blown period room bars entrance, like a creepy installation by Edward Kienholz. I felt happier in the most blatant and absurd throwback of all, rooms devoted to collector Andrew Mellon's love of horses. Albert Bierstadt really could paint more than landscapes, Eugène Delacroix really could blend precision with Romanticism's luster—and I really could find my way back to more public spaces.
Love and death
Just days before the opening, Alex Nyerges, the museum's director, wrote of his excitement. A museum, as he put it in the local paper, "bridges time and distance" as the instantaneity of the Web never could. "There's an almost mystical quality to a painting or sculpture made by the hands of an artist, sometimes hundreds or thousands of years ago." And he cited just a single painting, Venus and Cupid by Artemisia Gentileschi. The 2001 acquisition was the museum's last notable investment before its expansion. If the new building is all about building a public, so is singling out a great woman artist who has entered the popular imagination.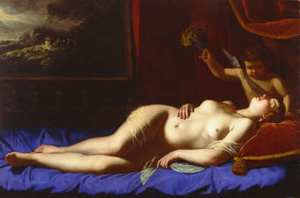 Online at least, his guest column imagined her standing before the painting in triumph and contemplation, in 1673, about fifteen years past her death. The editorial flub makes a kind of sense, too, given the work's quirky history. The canvas came to scholarly attention only in 1985, too late for an authoritative volume by Mary D. Garrard, and entered a prominent Princeton collection, as one of two paintings attributed to the artist. Even now, some lists of her work omit it. The museum purchased it the year before her joint retrospective with her father, Orazio, at the Met. It looks teasingly like her art but hard to pin down, and I knew I had to see it again.
It looks so strange, I thought, that she must have painted it. Anyone else would have tried to straighten it out. Venus lies asleep, stiff as a corpse, on rich blue bed linen like a queen's funeral shroud. Her breasts point straight up and her lower body turns forward, twisted beyond a nightmare. Her pale skin and keep shadow bring her that much closer to death. Cupid leans over her head, waving luxuriant feathers—whether in tribute, mockery, or erotic child's play.
Another striking blue linen cover the crotch of Cleopatra, from around 1627, and both women's heads rest to the far right on a red tasseled pillow. Venus and Cupid also reflect Venus and the Lute Player by Titian, in the Met. So does Gentileschi's framed window onto a wooded landscape. That, too, argues for a date in the late 1620s, when the artist shuffled between Venice and Rome. The basic catalog of her work, by R. Ward Bissell, votes for the end of that span so as to allow for a Roman influence, a Danaë after Annibale Carracci, and sure enough Cupid leans forward as if to catch Zeus's approach as a shower of gold. Garrard dates the painting a few years later still, in Naples, to match a document that may or may not describe it.
All that jumble of dates and sources matters, because of how badly Venus and Cupid sits with any of them. Where Cleopatra has fallen, this Venus seems never to have risen. Where Titian's Venus basks in splendor and promises pleasure, this face turns away. Her landscape seems flatter, smaller, and ghostlier, to the point that I took it for a painting within a painting. A monument in the distance, in moonlight and darkness closer to Flemish art, could signify the worship of love or a tomb. As always with the artist, who in real life took her rapist to court, both sexes pay a heavy price for a man's lust.
The confusion had me doubting her hand at all. Could someone have patched together, badly, motifs from all her work? That would explain the flattening of the landscape or slim, long-legged nude, where Gentileschi's women all have the earthy fullness of her self-portrait—or of her Judith taking cold-blooded revenge. Or could her father have painted Venus after all? That would explain the Mannerist exaggeration of a nude's pose or the cold modeling of her flesh, not to mention her breast in profile for male delectation. Even to ask shows how her experiments must have awoken others, as they do today.

The Virginia Museum of Fine Arts, with a new building by Rick Mather, reopened May 1, 2010. The director, Alex Nyerges, wrote in the Richmond Times-Dispatch for April 15.