Speculative Ruins
John Haber
in New York City
Maddy Rosenberg and the Artist's Book
When I look at art, I like to think that I have discovered a hidden corner of the world. When I read a book, I may feel that I have entered entire cities. With Maddy Rosenberg, an artist's book offers something of each.
Small pleasures
Like any work of art, it first presents an object and its images. Although her covers rely on paper and other store-bought materials, their textures and patterns give the illusion of old cloth or leather binding, but without the pretension. Unlike older rare books, they require touching.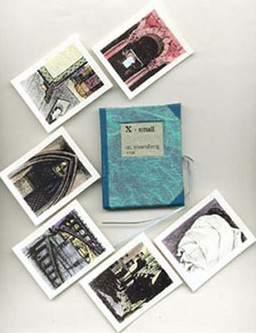 The cover of Show and Tell has a twin fold-out at the center, like French doors, so that one's touch helps it show and tell more. One has to retrieve Dance of Death from its three tiny drawers. As an actual flip book, its dance can begin only in one's hands. Still other books unfold like an accordion. And with Grotesque New York, the book can in turn hold one's hand in its spread: the string that binds its small, shaped images can also serve as a bracelet. It works like a charm.
Rosenberg herself loves creating books for the pleasure of holding art in her hands. (She has since opened Central Booking, a Brooklyn gallery featuring artist books.) She had often worked on a small scale, the scale of so much landscape in an artist's book, even before her first artist's book in the late 1980s and more thorough immersion over the last twelve years. She calls a book of hand-colored lithographs X-Small.
She still works small in other media as well. I in fact borrowed this article's title from a spring 2006 show of her paintings. How often has a gallery postcard carried a reproduction larger than the painting? One older painting consists of a grid of palm-sized pieces mounted on and widely separated by a white panel. Her newer paintings may bring disparate images together into a single work, isolating them further by bands or frames of flat, bright color, painted directly on wood. If you want her to work large, she can accommodate you—on her own terms.
Along with a book's physical presence and scale, drawing, too, helped lead her to this intimate medium. Rosenberg grew up in Brooklyn and attended the High School of Art and Design in Manhattan, and many of her images capture the Gothic tracery on the exterior of New York buildings, much like scale models by Christina Lihan. Others describe towns in Europe. The fluid blue of a cyanotype makes the stone steps of a hilly street look both solid and worn by time.
She has started making digital prints at her Brooklyn studio, directly preserving the feel of drawings. Before digital, however, she mostly chose lithography, again for its closeness to drawing. She often sticks to monochrome or the subtle touches of color from a second or third impression. In her paintings, bright, relatively flat colors describe buildings as structures. In her drawings, they take on much greater intricacy.
Unreal city
In part the scale acts to displace the observed into the imagined. I think of fragmented memories. As her subjects suggest, the intricacy definitely belongs to the city, and it has its dark and fantastic side. The perspective—observed rather than calculated, much as in the trecento work she admires—may open onto other structures and their shadows. A three-dimensional construction in paper and foam rubber aspires to the most famous "speculative ruins" of all, the Tower of Babel. An artist's work is never done.
Rosenberg often returns to gargoyles, as in Reptiles and Grotesque New York. In Show and Tell, a shrouded woman weeps, while a stone face from the façade of Notre-Dame de Paris looks over the wall with a strange but undisguised delight. Her cities appear devoid of life, except for them and the viewer.
A blue Stone Wall could pass for a fortress or dungeon, and other prints have such titles as Jagged Edge and No Exit. Shadow of Descent—a collaboration with Hubert Sommerauer, an Austrian artist—has its inspiration in Piranesi's prisons. Its ingenious cuts and folds open into a freestanding stage set, with sight lines leading in every direction but out. Her earlier Through the Glasslight, also with Sommerauer, at least promises the view through cutout windows.
However, be careful of taking anything literally, even the relationship between art and text. Some artists turn to books because they like working with text or with writers. Rosenberg does not want images to illustrate a text or vice versa. She thinks of letters, too, as images. Asked to incorporate words in one project, she did—the plain text WORDS, over and over again. She might admire a work by Simryn Gill, with selected words from a book simply sliced away.
If all this sounds depressing, you have missed the love of real places, the sly humor, and the theater. She has also made actual miniature paper theaters, and of course the play's script has no text. Her gargoyles have a way of smiling.
Besides the puns on stonework and humanity, on three real and depicted dimensions, the levels of representation extend to her sources. She works from books rather than sketching out of doors, but what appears preposterous pretty much always exists. New York is like that.
Points of entry
Show and Tell suggests a work's many points of entry. One tries the double doors, only to close them again in order to turn the pages. One will have noticed first, however, a subtitle: The Secret of the Sex. Will it present a peep show—or perhaps the battle of sexes?
One finds instead images of women, more often than not as shrouded as that woman in tears. She seems not cut not from stone but from the imagination. But no, she is among images from the Green-Wood cemetery, Brooklyn's old haunting grounds. She also seems not just to bend but to float above the wall. Rosenberg uses white backgrounds here to pull carved stone from its architectural context, bringing it further alive.
Naturally I took personally the gargoyle not quite eying a weeping woman. It reminds a male viewer of his presence. And yet the women here have stories of their own to tell, each of an independent life. The Virgin Mary has a fully outlined architectural niche, although not quite untouched by the imagination itself. At its base, Rosenberg has added a row of Hebrew letters. A nice Jewish girl—not the one from Brooklyn—has recovered her past.
Those Hebrew letters form the symbol chai, living. Has the stone come alive, or had I just missed the sheer energy behind the dungeons and tears?
Rosenberg herself has the energy to juggle painting, prints, and a good deal else beside. A graduate of Cornell, with an MFA from Bard, she recently pulled off the organizational feat of curating New York/Paris DIALOGUE Paris/New York. This fall 2005 exhibition of artist's books spanned six locations in its two cities. Before that, she co-curated several shows, including one in 2001 bridging Bristol and New York—called, naturally enough, A Tale of Two Cities.
"When I enter a great city by night," Dickens wrote in his own Tale of Two Cities, "every one of those darkly clustered houses encloses its own secret. . . . No more can I turn the dear leaves of this book that I loved, and vainly hope in time to read it all." Rosenberg does not need me to read at all, but I can still turn her leaves to enter a great city.

This article first appeared in slightly different form in Artists Books Review (Spring 2006). The show of her paintings mentioned here ran at Safe-T gallery through May 13, 2006.