Traveling into the Light
John Haber
in New York City
Giovanni Battista Piranesi and Francisco Oller in Europe
Does it take a world traveler to pay attention to the skies of Europe? Does it take an artist to draw away? In 1777 Giovanni Battista Piranesi sought out Greco-Roman sites, with drawings and prints that break out of the mad prisons of his confining fantasies and into the Italian sunlight. They combine careful observation of the present with unsettling perspectives on the past. And then, eighty years later, a Latin American artist came to France to exhibit and to learn, only to keep his eye on home.
Had you forgotten that Camille Pissarro was born in the New World? Have you ever thought about what he left behind? Apparently he did. In 1858, he invited a rising star in San Juan to Paris. They had in common their outsider status (doubly so for Pissarro, a Jew from Saint Thomas), their skill, their love of sunlight, and an Old Testament beard. But did Francisco Oller truly become an Impressionist?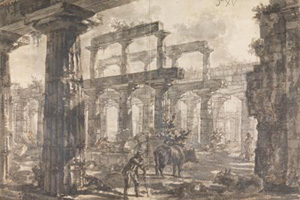 Prison break
Giovanni Battista Piranesi, then just past his mid-fifties, stopped at the three ruined temples of Paestum, near Salerno. Barely a year before his death, could he have attained at last a sense of release? Raised in the Republic of Venice, he had made his name with monumental views of Rome that belong at once to the fabric of a modern city and the past. Now he sketched the sunlight of southern Italy, so hot that herdsmen sought relief in the Greco-Roman ruins of their early Doric pillars and triangular lintels. He lives most to this day with the Carceri d'Invenzione, or "Imaginary Prisons"—prints so fiendish and intricate that they soon came to stand for a confining dream. Now he turned to what the period knew only as holy ground, as a basilica and as temples to Neptune and Ceres.
Perhaps his prisons never did press in all that closely with their torments. They reach upward in level after dizzying level, anticipating the steel frames of Europe's great railway stations still to come. For Piranesi, though, there was no escaping the fantasy or the fever. Now he subordinates peasant life to his own unreason. He adopts baffling points of view, multiple perspectives, and sudden contrasts between light and shadow that bring out the crumbling incompletion of columns and triangular tympani, weeds flourishing at the top. One temple looms beyond another as less a relief or an alternative than a pale vision.
Who are these people anyway? The fifteen studies leave them ambiguously at work, at rest, or at play, at times quite out of scale to the architecture. One figure is absorbed in reading, and some might well be tourists. A man of the cloth appears outside, but he might be a figure out of commedia dell'arte or just plain slinking off. Few speak, and pigs and cattle loll contentedly, to judge by a discernible smile. Most look just as ghostly as the temples—and just as often drowned in the towering contrasts of light and shadow.
The artist still took his care. He worked extensively in black chalk before adding pen, ink, wash, and sometimes red chalk. He also meant the series as models for prints on the same scale, which his son, Francesco, completed after his death. If the etchings look clear by comparison, one can attribute the difference to the media or to a generation. In 1817 Sir John Soane acquired fifteen of the seventeen surviving drawings in 1817, along with two etchings as "Piranesi and the Temples of Paestum," on loan from the architect's London museum. Downstairs at the Morgan Library as "Exploring France," fourteen oil sketches from the Thaw collection, shared between the Morgan Library and the Met, fill out a view of landscape art just entering the nineteenth century—their diligent precision caught in time between Neoclassicism and the crisp light of Rome for Camille Corot.
Was it Romanticism yet? Arguably Piranesi reached that before anyone else, and one should not think of his prisons as designs out of M. C. Escher, with the latter's more rational or even mathematical exuberance. It was Thomas De Quincey, in Confessions of an English Opium-Eater, who compared the Italian's art to "the delirium of a fever," after conversations with Samuel Taylor Coleridge. It may seem strange that Soane took to them as well, but the English architect, known for his rationality and institutional restraint, had met Piranesi in Rome. Besides, in sorting out the corner and side views for the Différents Vues de Pesto, wall labels make clear each building's classicism and symmetry. Maybe you knew all along—and what one cannot quite see still helps account for a drawing's impact.
Italy had just stumbled on the ruins as well, south of Pompeii, in the process of attaining modernity. The rediscovery coincided with road building. If it misunderstood what were originally temples to Hera and Athena, ancient Rome had already renamed the site in toppling a greater Greece. Piranesi was always observing and always the antiquarian, even when he was making things up—not just architecture, but also the rot and struggle of everyday life. A shepherd leaning on a hoe could come right out of Jean-François Millet decades later in France. Choose your own prison.
Sugar, sugar
"Impressionism and the Caribbean" could easily be called how the Caribbean and Impressionism avoided each other at all costs. Of course, at twenty-five Francisco Oller was impressionable, but the movement was barely getting underway. Camille Pissarro did, after all, invite him to exhibit in the official Salon. And his most ambitious work is bright, colorful, solid, and an idealized vision of home. Completed in 1893, El Velorio shows a wake as a happy occasion, drenched in sunshine even indoors. Its more than a dozen characters, both black and white, cavort in a relatively shallow space near the picture plane.
Its pulse and lightness look ahead, almost to the next century, much as a preparatory study in watercolor sets a woman quickly and directly on paper. Yet its hard edges and role as a public showpiece look back, to a firmer and more settled world. So do Oller's portraits, which present artists and political actors alike as figures of authority. So, too, do his still lifes, which insist on native fruit but with the acrid greens and precision of the late Baroque. He might have seen something like them in Madrid, where he stopped on his way to France to study at the Royal Academy. The Brooklyn Museum hangs the still lifes together, and they hardly change in style from his first efforts to the end of his life.
El Velorio could not travel from Puerto Rico except in reproduction, but the show is all about traveling. Subtitled "Francisco Oller and His Transatlantic World," it wants to place him in context, and that context covers more than three countries and at least a hundred years.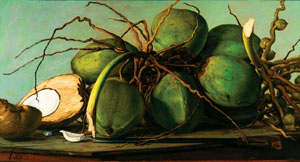 Enter to one side of a partition, and one sees a retrospective of just forty paintings, beginning with the still lifes. Enter to the other side, and one has a small survey of Caribbean encounters with European and American art. It corresponds to a country on its path from Spanish colony to U.S. territory and commonwealth. Oller himself, the show points out, was a Spanish citizen.
The earliest painters here, José Campeche and Luis Paret y Alcázar, have the stiff brushwork of portraits in the Met's American wing. Benjamin West himself ventures south, his sitter holding a map of the plantations he will exploit. Oller later gives President McKinley a rolled-up map in hand as guide to conquests in the Spanish-American war. The nineteenth century brings Frederic Edwin Church from the Hudson River School to Jamaica, but Emile Goury has already brought grandeur and Romanticism to the blue hills of Guadeloupe. Context includes, too, Puerto Rico's slow path from slaveholding to free. Oller himself championed the abolition of slavery, but he is not above African American stereotypes, and he happily documents his nation's sugar mills. On a second trip to Spain, he takes its side in war, with a cavalry scene, and serves as court painter to the king.
Last, context means Paris, to which he returned twice. He befriended Paul Cézanne, whom he depicts painting outdoors, although in muddy shadow. The curators, Brooklyn's Richard Aste and Edward J. Sullivan of NYU, conclude with the museum's holdings of French artists and Winslow Homer, paired with Oller to show what he could do. Even at the end, it was not quite Impressionism. Compared to Claude Monet, he never dissolves sunlight into individual brushstrokes and colors—and indeed he shines with a nocturne in Puerto Rico. Compared to Cézanne's landscapes, with areas unpainted and thought itself always in progress, his are always finished.
That first trip abroad really was decisive. Oller would have seen not just the Prado and the Salon, but the earthy realism of Gustave Courbet, the sharp contrasts of early Corot, and the sunlight and shimmer of the Barbizon painters. He contrasts lush greenery with pale earth shot through with light. He shows black labor heroically isolated in a field, much like a peasant for Jean-François Millet. He never could give up playing by the rules, just as he called his course back in Puerto Rico "Drawing and Practical Geometric Perspective." The boy peeking out from behind a portrait of a mathematician, finger to his lips, could be adding an impish touch—or reminding the class to pay attention and to shut up.

Giovanni Battista Piranesi ran at The Morgan Library through May 17, 2015, "Exploring France" through October 4, 2014. "Impressionism and the Caribbean: Francisco Oller and His Transatlantic World" ran at The Brooklyn Museum through January 3, 2016.