Feat of Clay
John Haber
in New York City
Gian Lorenzo Bernini: Sculpting in Clay
That ancient "who handled marble as if it were bronze"? Forget it. Callimachus had it easy. Gian Lorenzo Bernini handled them both like modeling clay. He also left his fingerprints in clay.
In fact, he often modeled in clay, with a facility akin to a performance. To believe the Met, Bernini completed thousands of terra-cotta models before his death in 1680, of which barely fifty survive. "Bernini: Sculpting in Clay" rounds up thirty-nine of them, a feat in itself. It also has thirty drawings, three bronzes based on his studies, photographs of the completed works, and close-ups of his working methods. It shows how he transformed not just the Baroque but a city, as sculptor, painter, and architect. It also shows an artist thinking aloud—but an artist who created the illusion of spontaneity in an extraordinarily public art.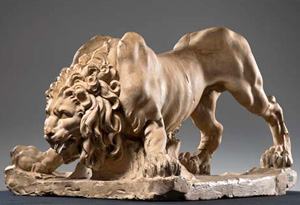 When sea-wind swept the corners
William Butler Yeats (whom of course I was quoting) could almost have described Bernini. Callimachus, in the third century B.C.E., "Made draperies that seemed to rise / When sea-wind swept the corners." And one of Bernini's first mature works, completed in 1628, began as little more than drapery—cinched around a saint's waist while rising effortlessly to the side. A charcoal study captures it, the gesture of an outstretched arm, the taut muscles under his shoulder, and nothing more. Much the same elements come together in a bozzetti, or clay model, assembled from just those separate pieces. Bernini tossed off more than a few like it while his patrons watched.
His Saint Teresa in Ecstasy seems to melt in a sensual fire. His Fountain of the Four Rivers, for Rome's Piazza Navona, integrates flowing marble, water, action, and emotions. It must have seemed, like Yeats's treasured lapis lazuli, "a water-course or an avalanche"—and it earned him the commission for the Fountain of the Moor the next year, in 1653. Almost twenty years later, nearing seventy, he began another public project, for the Ponte Sant'Angelo, the classical Roman bridge. Its rhythms extend beyond each of the standing angels and their wings, to cross the bridge itself. The Met recreates the experience with ten terra-cotta figures, in two rows to either side.
Yeats found a sense of tragic joy within the rise and fall of civilizations. Bernini's Rome has survived quite well, thank you, and his performances for the leaders of church and state helped to ensure that. They gained him commission after commission. That bridge leads to his colonnaded architecture for the Piazza San Pietro and to his baldachin, or canopy, over the high altar of Saint Peter's Basilica. Five more angels, studies for the two angels of the baldachin, form a semi-circle at the Met that seems downright planned. They proved one of his last works.
Born in 1598, Bernini was only twelve at the death of Caravaggio. He had catching up to do, and he knew it. He had career breakthroughs in 1621, with the patronage of a cardinal, and 1623, with the appointment of a new pope. For the next half century, he approached his wildest flights of imagination with the fervor of the Counter-Reformation and a passion for control. He sketches drapery alongside musculature, because the motion of one arises from the actions of the other. It shows the same keen sense of discipline that he destroyed so many bozzetti rather than expose himself.
Did he really manage two or three thousand? I have my doubts, even in a long lifetime and with working methods so deliberate that Saint Teresa alone took seven years, starting in 1645. Still, he could well have destroyed more than a few. The fragile studies hardly counted as art then, and it would have taken real effort to preserve them. What remains hardly promises a blockbuster survey. It exceeds its promise and then some.
It gives a clear sense of the stages in making art. For once, too, the Robert Lehman Wing serves well, as with the twin rows of angels. Ian Wardropper of the Frick Collection, Anthony Sigel of Harvard's art museums, and C. D. Dickerson III of the Kimbell Art Museum in Fort Worth, working with Paola D'Agostino of the Met, use one of the awkward corner rooms just for the fountains. The rest proceeds chronologically, with a marble from 1617 as a teaser. It shows Bernini, not yet twenty, still caught up between his sculptor father's Mannerism and the Baroque. It also introduces the thought processes of someone who did not like to think aloud.
Thinking in motion
Bacchanal has an almost innocent sense of humor, in part thanks to sharing its characters with traditional images of Charity. Two nude infants lean into the standing young woman, their feet resting on a branch behind. A wolf nibbling grapes at the tree's base could be supplying the third leg of the footstool—or eating it away. Below, a third child and another wild animal or two round out the cast. The instability derives ultimately from a proposed equestrian monument by Leonardo, who pictured a rearing horse trampling a fallen warrior as its sole means of support. Bernini, though, sets the idea fully into motion and into the round.
At least he will in time, starting in clay. Of course, he builds on Bronzino and on Mannerism, with its decorative excess. He builds even more on Caravaggio in his early work and the bursting of the picture plane, like the hand of a dead Jesus lying still against his tomb. Even that early outstretched arm, of Saint Longinus, owes something to the arm of Jesus in The Calling of Saint Matthew—which in turn quotes Michelangelo, from the Creation of Adam in the Sistine Chapel. Bernini, though, sees the possibilities of sculpture for carving fluidly into real space. And one can see at the Met how he does it.
He thinks in motion—an arm raised, an angel's wing, a rider in motion, or David (not seen in clay) turned as far as humanly possible at the very moment of slinging that shot. He thinks in space. That early saint, Longinus, has a wide-open stance, with the feet facing more than half a circle apart. Habakkuk looks up and to the side, while angel who transported him to Babylon looks down, the two locked in a spiral. The angel also seems to look unnervingly past the viewer, until one walks around the terra cotta, when suddenly he confronts one head-on. The sculpture depends on one's seeing it in the round.
He thinks additively, almost like a Cubist, from discrete limbs and planes. No wonder he slaps together several models from separate terra-cotta pieces. And naturally the planes are fluid, like the long, curving façade of the Louvre. (One can see it in a dense drawing from the Courtauld, on loan at the Frick.) The planes may also describe human anatomy. A model for the Triton Fountain, for the Piazza Barberini in 1642, has long since lost its arms, leaving only a muscular rising chest.
In all these ways, he thinks in figures. He is at the opposite extreme from Leonardo, with those notebooks full of waterfalls and machines. In fact, he is at the opposite extreme after all from Yeats and the Romantic imagination. Nothing, not a cloak or a curtain rises of its own accord. It is part of his humanism, but also his discipline and control. The illusion is compelling all the same.
The illusion may be greatest with his two female saints, twenty-five years apart in time. Saint Teresa, begun in 1645, is the more overtly provocative. Her ecstasy is so violent that it seems only right that the clay model now has a jagged chunk missing her chin. The Blessed Ludovica Albertoni, begun in 1672, finds Bernini closer to his deathbed, and she is on hers. She lies full length, head thrown back, eyes closed and mouth open, one hand to her chest and the other pressed to the pit of her stomach. Something between ecstasy and death ripples through her entire clothed body.
Thinking sensually
In all these ways, too, he thinks sensually. He is not so far after all from the post-pubescent enjoying his Bacchanal. A model, for a fountain and not for Daniel in the Lion's Den, shows only the lion's butt. Two drawings give only the barest outlines of Daniel, except for his balls in one and a large, limp prick in the other. Two other studies focus on a warm hug—a deity clutching his dolphin and Saint Jerome in prayer the Cross. Two babes in Bernini's own version of Charity kiss.
All this can seem contradictory or downright hypocritical to some modern eyes, given his severe faith. One can write it off as a man's work, and one can imagine his pleasure in posing the clay folds across Teresa's waist. Yet one can also accept it as natural, the meeting point of all these habits of thought for an artist who brought sculpture into this world. Bernini accepted the physical alongside the divine, as part of a richer reality. It even adds greater interest to his acceptance. Where another artist, like Rembrandt, might have unbared his deepest love with irony and objectivity, Bernini presents lust while seeming to refuse it as his own.
Does that leave everything as a public performance? Bernini must have made some of the most extroverted art ever. It shows in his relative lack of interest in faces. The drawings omit them, and for decades the bozzetti hardly bother with them. One gets a mustache here, a dent for an eye there. To the extent that psychology enters at all, it enters through a visible passion.
The exhibition helps explain just how that passion takes shape. It points to shape of a knife blade in a fold of drapery and to knife's teeth in its texture. Bernini achieved some of his twisting motion and emphasis on the human figure with his fingers, by drawing the wet clay around an axis. If he had access to Silly Putty along with clay, the virtuoso would probably have thrown that in, too. The few bronzes also show by comparison the static results from his pale followers. Another artist contributes one terra cotta as well, painstaking assembled from narrow strips of clay, but Bernini thinks big.
Here and there one can spot his fingerprints. I would not make too much of them, though—not in an artist so compulsive and so far from confessional. The real surprise is how rarely he left his mark at all. In his last years, could that have begun to change? If one can point to his evolution as a creator, apart from youthful games and a growing mastery, it is there. It brings the show to the far side of the Tiber, with lower lighting and a fitting conclusion.
More and more he does pay attention to faces, and more and more he lets things flow of their own accord. A curtain billows beside late riders, Ludovica Albertoni comes closer to death, and his only late portrat bust (again, not in clay) clasps his chest, too, in humility and prayer. The angels for the baldachin in Saint Peter's kneel modestly, after the rising angels of the bridge. Bernini may have known that someone else would have to complete them from his models. In crossing the bridge to create a canopy for a famous burial ground, an aging artist was bringing together all his themes at last—of art, the artist himself, and the city.

"Bernini: Sculpting in Clay" ran at The Metropolitan Museum of Art through January 6, 2013.