Back to the Garden
John Haber
in New York City
Romantic Gardens: Landscape Design
Mike and Doug Starn: Big Bambú
It is Sunday morning as I sit down to write, when beyond my hearing lawn mowers are coming out, and an American ritual is getting underway. People are cutting and planting, taking care to make arrangements not too uniform and not too dissonant, with the pleasing surprise of familiar colors, and very much their own. They take pride in their access to nature, so long as nature does not get out of hand.
If the Morgan Library has its say, they and their children are heirs not just to plot of ground or to the postwar growth of suburbia. They are part of the spread of Romanticism, as a lasting vision of nature and community.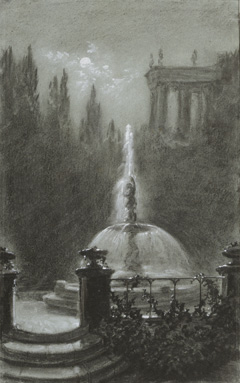 "Romantic Gardens" traces landscape design from the early 1700s to a Central Park that New Yorkers will still recognize as their own. Some fold-outs would look just fine, too, alongside contemporary artist books.
"Romantic Gardens" asserts more than a succession of periods and style—from the Enlightenment through the Picturesque to the planned city. It insists that Romanticism did not begin or end as abruptly as one thought, if at all. It presents the triumph of the middle class, with its own tug between privacy and a larger world. It claims the city as the real heir to the Romantic garden.
Meanwhile Mike and Doug Starn take that theme seriously, with a forest of bamboo overlooking Central Park and Manhattan buildings. If a tree falls where only tourists can see it, does it make a sound? Definitely, if it is the roof of the Met.
The genius of the place
The Morgan begins with a challenge to an older kind of private property—not New York City apartments, but an aristocrat's grander estate. This property could be all-encompassing, including entire empires, with classes clearly distinct and laborers in their place. Beauty, too, especially since the Renaissance, demanded a proper relationship of parts to the whole. Strangely enough, the Morgan starts the Romantic rebellion with practically the embodiment of classicism, Alexander Pope. It quotes Pope's admonition to respect "the genius of the place," and that becomes the theme of the exhibition. However, to follow his advice, a human genius or two has to intervene.
That includes Pope himself. As so often, the Morgan mixes rare books and works of art, for what a later exhibition calls "A Dialogue with Nature." As usual, it can draw on its own vast resources, including the autograph manuscript of Pope's "Of Taste." This time, though, loans range widely, and the show is a collaboration, curated by John Bidwell of the Morgan, Elizabeth Barlow Rogers of the Central Park Conservancy, and Elizabeth S. Eustis of the Landscape Institute of the Boston Architectural College. They show Pope putting his beliefs into action at his estate, Twickenham. That includes a refusal of symmetry, in an arrangement of vegetation, promenades, and grottos.
Not that the old order was out the door. Pope's poetry really got rolling with his Pastorals, but his advice is in accord with an order that puts people in their place. Man is not the center of the universe, but then again you are not the center of humankind unless you rank accordingly. "Of Taste" was an epistle to a lord. Still, this is a rational order—and increasingly a wild one, too. Poetry comes in perfectly rhymed couplets, but the proper study of mankind is man, and the Enlightenment is underway.
A sign of change amid proper deference comes even with Jean-Honoré Fragonard. His gouache of the 1760s shows a tall arch topped by the further arch of bending trees. This takes serious money, and the people within have their privileges, including leisure. There are, though, lots of them in their "petit parc," and it almost resembles Central Park looking north from 72nd Street past the steps and toward the lake this time of year. As with the grottos, tumbling water and soaring rocks take on increasing significance, to the point that Kant classified landscaping with painting rather than sculpture or architecture. In one last glorification of eighteenth-century magnificence from around the same time, Charles-Joseph Natoire sketches a cascade at an Italian villa.
For a while, those cascades will grow wilder and wilder, regimes will fall, and artists will celebrate the ruins. An educated person's obligatory "grand tour" must include Switzerland and Italy, although cultures now did landscaping and architecture with tourism in mind. J. M. W. Turner contributes a watercolor of the Alps, with water, rock, and sky all but impossible to tell apart. The Romantic sublime looks impressive even in miniature. It also breeds a reaction, as William Gilpin's River Views, Bays, and Coasts announce another ideal, in the mediation between beauty and the sublime called the picturesque, long before today's art of endangered places. For another source, Europe could look to Chinese art.
Turner's champion, John Ruskin, could paint, too, although his similar scene cannot immerse the viewer half as well. And if anything can define Romanticism once and for all, it is that immersion. The human mind does not simply accept the imprint of nature, but rather actively engages nature in the creative act of understanding. The rest of the exhibition describes the transformation of that engagement. It moves more and more from the genius of the place to urban and national renewal. Simply touching up the old would betray both past and present.
The land we live in
As one sign of engagement, the Romantics put themselves in the picture. Sentimentally but beautifully, Samuel Palmer's 1830 watercolor shows a man gazing at the moon, while Caspar David Friedrich leaves contemplation of the moon to a statue. As part of his tour of the continent, Thomas Rowlandson draws a doctor sketching—the educated viewer as artist. In Salisbury Cathedral at the Frick, John Constable shows visitors pointing, and in a wonderful work now gone forever from the New York Historical Society, Asher Durand shows painter and poet but also humans and landscape as Kindred Spirits. I could not get over that one could hold Lyrical Ballads in one's hands (give or take a glass display case). William Wordsworth and Samuel Taylor Coleridge did not just walk the Lake District together, but they even made their manifesto suitable to carry along.
At the Morgan, a drawing of farmland crossed by water shows how much Constable could define light with pencil rather than color and, in turn, use light to define space. He does much the same in his paintings when he uses color to imitate light in defiance of atmospheric perspective. Claude Monet and Impressionism do much the same, though more sweepingly, especially in Monet's late painting. The Morgan does not get that far—although another exhibition does extend the time frame, with Andrea Palladio, the Renaissance Italian architect, and his influence. Yet the pace definitely accelerates in the second room, which leaves England to race through France, Germany, Russia, and of course America.
The pace of art does slow, with more documents than memorable paintings and drawings, but there is a lot of change to document. Naturally revolution and reaction have more violent consequences in France. For the Enlightenment there, nature could be idealized apart from culture, as for Jean-Jacques Rousseau, or hostile and indifferent, as for Voltaire. It could also be tamed, though in the industrial revolution with often scary results. Paris put Père Lachaise cemetery outside its city walls for reasons of public health—and because the city itself became a liberating force. Paris looks romantic and old world today, but it took razing and rebuilding to give it shape.
From that point on, the modern city and private estate alike had to include greenery, as with August Wilhelm Schirmer's 1834 view of an English cottage. Water makes one last gorgeous appearance in charcoal and gouache by Carl Gustav Carus, not falling over rocks, but in the points of light on a fountain. Washington has Mount Vernon. (Jefferson's planning of Monticello right down to the vegetable and herb garden falls to the earlier show about Palladio.) And with Ralph Waldo Emerson, landscape defines the unique promise of a nation—for William Cullen Bryant, Picturesque America, or The Land We Live In. F. E. Church even thinks of Olana, his faux Persian castle high above the Hudson, as the center of the world, although in person it looks more like a comic fantasy.
All that leads to a natural conclusion to light and landscape in Calvert Vaux and Frederick Law Olmsted. Before their landmark city parks, Olmsted undertook a trip cross-country. (Mathew Brady may or may not be his photographer.) If a city had to include communing with nature, both had to derive from America and its destiny. Church and Olmsted even collaborated in pushing for Niagara Falls as a public park, though shared with Canada. Suburbia and suburban sprawl would have horrified them, but middle-class capitalism culminated in making one's garden grow.
The forest for the trees
After all the Met's incursions over the years into Central Park, the park strikes back. Last year for its summer rooftop sculpture, the museum chose a tree, although one that gave new meaning to "old growth." The shapes so familiar from the park below became a hundred-foot tangle of branches, courtesy of Roxy Paine. And this year? Trees—or an entire forest of bamboo by Mike and Doug Starn.
Not that one can see the forest for the trees. Thousands of poles form a dense canopy almost out of Lee Friedlander, lashed together with miles of nylon rope not altogether far from the bungee cords of a future rooftop city, in 2012 by Tomás Saraceno. The artists dare one to follow a single pole from beginning to end as it crosses or binds to others. They also dare one to follow the architecture of the whole, for architecture it is. It will not keep strong rains out, much like an actual forest canopy, but it will hold people up—along a gently sloped walkway, open to timed half-hour tours. Nothing on the climb poses the challenge of timed tickets, waivers, long waits, and displays of ID.
Even after last year, Big Bambú ups the ante for site-specific art. Art again almost goes over the edge, rather than pose like rooftop sculpture by Jeff Koons in 2008. Café-goers have to find their way among the branches, and one is welcome to touch. Tour groups can hardly help it, even if they could resist testing the heft and firmness of a pole. The Starn brothers began with a still larger but tidier bamboo arch at their studio near Dia:Beacon, but reconfigured it for the Met—and New York City building codes. Each year's work also has a conflicted relationship with the larger site below.
Paine's Maelstrom transformed familiar North American trees into a single, monstrous hunk of bright polished steel. Big Bambú imports its materials from South America, but they feel supple and alive. Paine's past work, in Madison Square Park and in Central Park itself, surrendered to its surroundings, while the Starns play bad boys, like Matthew Barney climbing the Guggenheim. Those colorful nylon strands are in fact rock-climbing equipment, and construction began with the assistance of twenty rock climbers. Yet Maelstrom steps out of time, with echoes of a Siberian cataclysm. The Starn brothers invite one to watch the work grow, as they labor still further overhead, laying the next branch.
In mid-June, nearly two months after the opening, they had still completed only the first of three stages, ultimately to ascend fifty feet. At the their gallery, a wall of photos documents its growth. In photos, too, the arch at Beacon looks stable, while the wall behind it resembles a grid of living cells. Other photos, by Diana Kingsley, turn wooded soil into still lifes, while Emi Fukuzawa sketches something between blades of grass and abstraction. All these works, Paine's included, reconfigure the urban landscape as a fuzzy border between nature and culture. So does the premier urban garden of all, Central Park.
Big Bambú comes in a long line of land art and "nonsite" since Robert Smithson, with his embrace of entropy and chaos. That is why one cannot see the forest for the trees. Overhead, the artists often stop to think about the next move—or about something else entirely. It is hard to believe that they and engineers have a plan. In theory, tours can see all the way to the George Washington Bridge, but nothing stands out against the park's summer greenery except the grandeur of New York. It makes sense that I used my nearly three-hour wait to jog in Central Park.

"Romantic Gardens: Nature, Art, and Landscape Design" ran at The Morgan Library through August 29, 2010, "Palladio and His Legacy: A Transatlantic Journey" through August 1. Mike and Doug Starn had the roof of The Metropolitan Museum of Art through October 31 and Leo Castelli through July 30.