"Proof: Goya, Eisenstein, Longo" will have anyone wondering: what could the names possibly have in common, across at least three art forms, two continents, and two centuries?
The elevator at the Brooklyn Museum opens onto a cavernous space, through January 7, interrupted by only the exhibition title and a single work—the First Amendment in charcoal by Robert Longo, off to the side.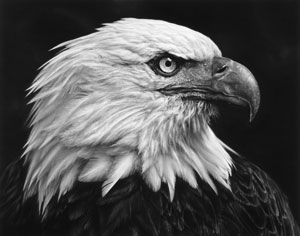 Is the empty chamber just one more assertion of solemnity, from an artist known for anything but? Is the promise of two historic figures to come nothing more than a plea for legitimacy, and where is the art? Show me the proof, he may have you shouting, and in a strange way he does.
Robert Longo made his name in the 1980s with Men in the Cities. They set dancers against white backgrounds, dressed for success and wildly contorted, as if struck by bullets. The disco era was already coming to an end, but they had unmistakable power—thanks to their controlled line, their resemblance to film stills, their reflection on wealth in Reagan years, and the throes of death. Are they now as dated as the Tribeca of Bright Lights, Big City, where men still wore dress shirts and ties on their way to the club scene? Perhaps, but Longo has not just shifted his eye to art and film history. He has been bringing his realism to a fever pitch and his politics into the present.
That opening charcoal of the First Amendment is a plea for the past, right down to its eighteenth-century handwriting, but also for freedom of expression. Yet the show may have you wondering about its premise even past the U-shaped antechamber. It devotes its first room to seven films by Sergei Eisenstein, on contiguous large screens like the walls of a great chapel. It also slows them down by a factor of a hundred, so that you have to work hard to see them advance at all. You can wait a long time for the horrifying woman shot in the eye or the triumphant mutiny on the battleship Potemkin. Did no one tell the museum that films like these made history with montage—rapid and often disruptive editing suited to the Soviet revolution and its betrayal under Stalin?
The films are mesmerizing all the same, and Longo has something serious in mind in rewriting Eisenstein. He and his fellow curator, Kate Fowle, want to insist that great art does slow you down, through the power of images to confront events. He is also drawing connections. The next room has suites of prints by Francisco de Goya, born more than two hundred years before Longo, in 1746. After turning cinema into stasis, he arranges selections from the Spaniard's Bullfighting like successive film stills. He also unites Goya and Eisenstein in their command of darkness and light, precision and intimacy, and of course the disasters of war.
Longo has not just chosen his precursors, but recreated them in his own image, and he does so again in the roughly twenty charcoals that follow. He copies a painting by Joan Mitchell as carefully as the First Amendment, but in a spooky black and white. He transforms the urgent diagonals of The Raft of the Medusa by Théodore Géricault into wilder blurs, facing Syrian refugees on the opposite wall. That large drawing after a photograph strands its subjects high above a dark sea. Other ancestors include Venus with her reflection in a mirror by Titian, a fallen idol at Nineveh, figurines from the office of Sigmund Freud, and implicitly Freud himself. And other current events include the women's march in January 2017, President Obama on the tarmac, the riots in Ferguson, and an athlete's more plaintive protest.
In each case, he is in search of an unmoving, unforgettable image, and he is fascinated by bright lights and his own black dust. He applies it to reflections off an iceberg, a window shattered by a bullet, and the white crest of a bald eagle. He applies it, too, to a plain black rectangle, which hangs between Obama's blackness on one wall and pilgrims crowding into Mecca on another, with the black cube of the Kaaba at their center. He loves images that function as symbols—of climate change, Black Lives Matter, American ideals, or faith. He also loves to draw parallels. Even the treatment of refugees as a triptych has a parallel in the raised verticals of nearby works.
One can almost forget yet another difference from his precursors: Goya and Eisenstein dreamed up their imagery. The athlete's raised arms may stand for the victim of police violence in a pose of surrender, praise for the dead, or a salute to black power, but not thanks to Longo. He is still the appropriation artist of the "Pictures generation"—and still capable of the irony that preserves the gesture of handwriting or color field painting in a spellbinding copy. He renders the women's march from behind, with a glowing light on the horizon like a glimmer of hope or a ghost, but which one? If you can get past the baloney, you can delight in asking for proof.
Read more, now in a feature-length article on this site.