Framing a Life
John Haber
in New York City
Lorraine O'Grady, Cy Gavin, and Rashid Johnson
When it comes to race and gender, has anything changed in thirty years? Perhaps, but then so has art.
Lorraine O'Grady photographed African Americans when "theory" was a buzzword and critique was a demand. Cy Gavin paints a gay black male when, in painting if not in life, pretty much anything goes. She uses art to comment on itself and to frame others, while he puts himself at the center of the frame. She asserts her pride while allowing others to perform and to play, whereas he keeps silent, at least on canvas, while seeming at once to laugh at himself and to cry in pain. As for the passage of time in black America, Rashid Johnson sums it up in a single work about himself and his father. Between them all, identity is as complicated as ever.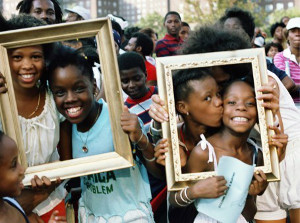 I love a parade
How can art frame a life? Should it speak of an individual or a community, race or gender, youth or age, or what people see in each other as a day grows long? Does life lie most in the streets they inhabit, the styles they put on, where they go for dinner, or how they spend the late and early hours of the night? Or is it all just a parade? For Lorraine O'Grady, it is all of that, only she provides the frames. Back in 1983, for the African American Day parade, she outfitted fifteen performers in white, mostly black women—and all of them carried picture frames.
The result was Art Is . . ., now back at the Studio Museum in Harlem, and surely it is timed to make the case for the museum's planned expansion, announced just days before the opening. With forty photographs, O'Grady has the basement galleries normally reserved for selections from the permanent collection, which clearly has nowhere to go. The room just outside, where one might expect an installation, has photos by high school students with their own multiple lives. They run to natural light and personal memories. The museum mixes them with photos of Harlem from the 1920s by James VanDerBeek, who started the workshop and studio program long ago. His pool hall, each table with its triangle of balls, is the ultimate in geometric abstraction, only waiting for the break.
O'Grady was trying something just as audacious—to express the lives of others, with her own array of rectangles, but as a performance of her own making. The series has become a paradigm of political art for those who reduce politics to parades and marches, as in "Zero Tolerance" just recently at MoMA PS1. One and all, after all, are taking part in a celebration of racial identity. The women in white are dressed for fashion or a wedding, while others are dressed for the streets. This could be a very small-scale The Americans, the vision of an entire country by Robert Frank, for African Americans. Yet it is first and foremost about people.
The photos do document a community, because the parade walks right through it. Awnings for food and nightlife testify to hours and lives that one cannot see. At the same time, a parade is out to forget all that. Marchers head for sunlight, company, a long walk, and a good time, and the photos attend to those as well. Politicians and public speakers are nowhere to be seen. People stroll, and the performers approach a dance.
In a sense, the performers put everyone on the spot, but everyone, too, seems eager to join in. While the performers hold the picture frames, their subjects reach for them, too, to frame themselves and each other. A boy thrusts an arm right through one, but O'Grady is already breaking the picture plane, as the frames multiply like images in a mirror. One performer makes sure that her portrait includes a white cop eying a young black man, but elsewhere a policeman stands apart from the performance, with an awkward smile. He makes one aware that someone else again is framing these pictures, with a camera. The floats, windowed buildings in the background, and even lanes for traffic add their frames as well.
Maybe you get to decide among them, or maybe not. Plainly the photographer directs the lives of others, and a parade float serves as a stage. O'Grady earned attention earlier in the 1980s, with more overtly gendered and political work, in a decade of irony and the "Pictures generation." Later, for the 2010 Whitney Biennial, she paired images of Michael Jackson and Charles Baudelaire—who called his Haitian mistress his "black Venus." Still, here she leaves art more open-ended, like the work's title. Others, too, can choose their frames.
Dreams of a father
When Barack Obama called his account of his early years Dreams from My Father, he allowed himself to share in his father's dreams. And then he let himself imagine that, all along, his father was dreaming of him. Turning thirty, Cy Gavin is still making an "Overture," even after his father's death. In a show named just that, he creates narratives of them both in paint. They never appear together, and they may never overcome their isolation. Yet there, too, he acts out a dream of connection, in which a life ends only to give way to another.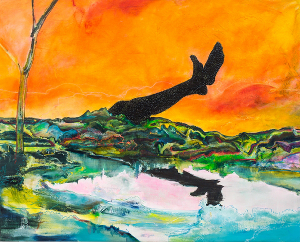 Father and son share pitch black skin and hellish landscapes. Southern trees look on fire and Bermuda locked in an icy sea. And then the two men dive right in, damn the consequences. The father tumbles backward into an open pit, arms flung wide in helplessness and fear. The son immerses himself in arctic waters, hands raised as if in prayer. Both are determined to stick it out, well after the macho posturing of a Kehinde Wiley falls away.
Gavin may sound over the top, but then one cannot spell overture without overt. Besides, he brings a duly hellish sense of humor. He morphs into a bear in pointy shoes for Black, Black, Black Is the Color of My True Love's Hair. His spirit hovers in outline in another painting like Casper the friendly ghost. He also makes his landscapes vivid and painterly, with acrylic and oil that approach the fluid brightness of watercolor. J. M. W. Turner comes to mind, for one, with much the same dichotomy of fire and ice.
The landscapes look familiar enough from Western painting and Western narratives, for all their polar extremes—just as "Black Is the Color of My True Love's Hair" is an American folk song, Kerry James Marshall has taken to the barber shop as the locus of African American community, and blackness has a dark place in America's history. The open pit has the brutality of a strip mine. Still, the painter also mixes in hair, diamonds, pink sand, and his father's ashes. He incorporates blood, too, like Wangechi Mutu, Bathélémy Toguo, and other African American artists, not to mention David Wojnarowicz. Staples or pins outline some bodies as well. Gavin has painted his subjects, in two dimensions, but they force themselves on his imagination like a rough collage.
Gavin sees identity in terms of doubling. It runs to gender, generations, and, of course, race. The staples refer to an African ritual of exchanging bodies for "spirit vessels," but they come mass produced in America. The artist quotes The Souls of Black Folk by W.E.B Du Bois: "one ever feels his two-ness—an American, a Negro; two souls, two thoughts, two unreconciled strivings; two warring ideals in one dark body, whose dogged strength alone keeps it from being torn asunder." If he has the strength for that, he can endure a painting, a funeral, and a block of ice.
Clearly he has the body on his mind. If he is slow in making overtures, he is, I gather, a gay male from a Pennsylvania family of Jehovah's Witnesses—not too far from the roots of that Appalachian folk song. His father's dreams could not have had much room for him. In Homecoming, the bear-like figure crawls across a landscape with, literally, no place like home. But then Obama, too, had only an absent father, who died when the future president was just twenty-two. He did not even get to scatter his father's ashes in paint.
Watermelon men
Rashid Johnson calls his installation Anxious Men, but why worry? It exudes confidence at every step, and that can easily rub off onto you. The air of confidence starts with its sheer existence, filling the back room of the Drawing Center from wall to wall. It could be his most ambitious work ever, sharing the floor with Richard Pousette-Dart, for an artist with no shortage of opportunities and ambition. Johnson has claimed the entirety of African American history and culture as his own, while remaking it as an act of his imagination, with what a past work called the "New Negro Escapist Social and Athletic Club." Welcome to the club.
Here confidence extends to the very comforts of home. Wallpaper gives the illusion of a wood-lined interior in white and a warm, dark red. A potted cactus in the corner adds to the signs of creature comforts, especially since the artist made his mark not in the southwest but in Chicago. The wallpaper serves as backdrop for half a dozen large faces, scrawled or rather incised into his characteristic mix of wax and black soap. They have a loopy presence, the white of pristine wall tile shining through the spattering and smears of black. Johnson knows how to get his hands dirty, but also how and when to clean up.
Step closer, and that wallpaper comes down to a repeated photo of a single man. Young and confident himself, he holds his own in a white robe meant for martial arts in an interior as personal as the one at the museum. The bookshelves behind him hold his favorites, including a volume on Malcolm X and a stereo receiver that might be supplying the actual room's soundtrack—Melvin Van Peebles's "Love, That's America," from Watermelon Man. The music could boost your confidence, too.
Shelves have been a motif for Johnson as well in his mix of photography, family and cultural history, and painterly blackness. He used them for The Ritual in the Guggenheim's summer show of recent acquisitions, "Storylines."
Where, then, is the anxiety, and where the men, in the plural? One might locate both in the incisions. The faces have something of Jean-Michel Basquiat, but without the air of street art and self-expression, and something of Nicole Eisenman, but without the preening or the insightful gender politics. Stare long enough at the repeated circles of those black eyes, and anxiety may set in after all. Could the man in the photograph also be staring you down, and could the music, too, insist on a confrontation, at least with white audiences? Or could they be reaching out to a political community across races, just as some at Occupy Wall Street adopted the same song.
Zanele Muholi reaches for community and diversity, too, in the LGBT population of South Africa. Yet the portrait photos in her "Isibonelo/Evidence," at the Brooklyn Museum and in Chelsea would not look out of place on Instagram, even in black and white. A second installation, of gay wedding photos, is even blander. Were there gay pet photos, she might have included them, too, as well as on Facebook. Her video of a gay wedding adds little as well. Johnson's wallpaper may look by comparison a polite fiction, but it cuts teasingly close to the truth.
Johnson stood out in "Freestyle," the first of several shows of emerging artists at the Studio Museum. Now he gets personal, and his multiplicity of faces extends to multiple points in time. The man in is his father, right around the time of his birth. The work exists then, now, and in the act of creation in-between. If Johnson's father looks at home, the work leaves his future unwritten, and the books behind him could just as well signal what another past work called The Crisis of the Negro Intellectual. Art's displacements and multiplicity can create confidence or anxiety, maybe even both at once.

Lorraine O'Grady ran at the Studio Museum in Harlem through March 6, 2016. Cy Gavin ran at Sargent's Daughters through August 20, 2015, Rashid Johnson at the Drawing Center through December 20, and Zanele Muholi at the Brooklyn Museum through November 8 and at Yancey Richardson through December 5. A related review looks at other shows by Rashid Johnson.