Ian Cheng and Maureen Gallace invite you on a journey through time and space. Cheng's animations and Gallace's paintings unfold in unfamiliar landscapes and disturbing times, or so they would like you to know—and I have grouped them with past reviews on landscapes with less than transparent meanings as a longer review and my latest upload.
His Emissaries took him just three years but covers untold millennia and the course of civilizations. "Clear Day" took her twenty-five years in search of "our common culture" and New England.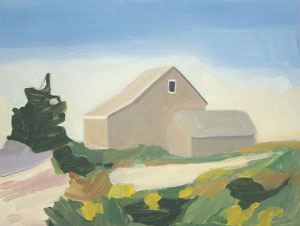 Robert Frank and The Americans have nothing on this project. Yet the real shocker is how little is going on.
Cheng's leisurely pace is all the more surprising since he worked in a platform for the design of video games. He is also streaming the trilogy on Twitch, known for games that test a player's reaction times, successively over the course of the exhibition. It plays out simultaneously at MoMA PS1 as well, through September 12. The LA artist has worked with Paul Chan and Pierre Huyghe, and he signals the work's importance by its sheer size, with projections up to ten feet tall—two of them roughly as wide as The Last Supper. He signals it, too, with such evidently profound titles as In the Squat of Gods, At Perfection, and Sunsets the Self. If that sounds in need of translation from the original artspeak, they also come with enough wall text to occupy civilization for a long time to come.
They have something to do with the very idea of "cognitive evolution" in the face of "social and ecological forces." In the first, life on the edge of a volcano suffers from brutal conquests while a duly cute heroine finds her way. In the second, the active volcano has given way to a more comforting crater lake, but the living destroy one another anyway. In the last, the life force has become oceanic, but not enough to stop further collapse. They involve leaders by the name of AI and Mother AI, presumably not the three-toed sloth native to South America and crossword puzzles. Artificial intelligence never quite lives up to its name in the present century either.
For all that, the look is welcoming and progress is glacial. People wiggle, fires burn, and something much like an uprooted shed or tree tumbles closer to earth. Birds fly past and dogs wander in, but no one seems to be going anywhere special. Snow-capped lands give way to gentle contrasts and warm colors. Cheng's true gift may lie in creating a space for contemplation—more like Doug Wheeler and his Synthetic Desert than anime. Let me know when the emissaries arrive.
Gallace has a lot on her mind as well. She speaks of genre painting, although it looks nothing like the Mississippi for George Caleb Bingham in the nineteenth century. She speaks, too, of disturbances and disconnections in rural America—and a reflection of everything from a divided nation to the economics of home ownership and powerful financial institutions. In reality, she keeps returning to familiar territory, in the Connecticut suburbs and on Cape Cod, and nothing much seems to change over the years. A grouping by subject only heightens the similarities. The creamy textures, spare colors, bare geometries for shelters, and looser brushwork for vegetation are reasonably skilled but thoroughly conventional.
They stick to the daylight brightness of summer and snow, from shorelines and beach houses to barns and suburban homes. True, Gallace bars access, with no people, no clear roadways, and a near absence of doors or windows—but that simplification is common enough in Modernism or realism today. I could see it again recently with Sweden for Rita Lundqvist or with gallery exteriors haunted by pillars of light for Adam Gordon, at Chapter NY through April 23. Gallace's most evocative landscape may well be MoMA PS1. More than fifty panels as small as notebook paper spread out across eight rooms, ceding space to the surrounding white walls. When it comes to the politics of art and real estate, "too big to fail" has nothing on the museum.
Read more, now in a feature-length article on this site.