Are You There?
John Haber
in New York City
Stephen Shore
Stephen Shore makes it hard to keep up, even in a retrospective. You may never see again so many images by a single photographer, from tens of thousands over the course of more than fifty years. How could he have found time for it all?
How could he have found time to work with MoMA in the first place, when he has been so busy on Instagram? He gave up practically everything else to do with photography in 2014, and he posts nearly every day. High-resolution digital photos of pavement, scum and all, make up his latest show in Chelsea. Before that has you shutting this page and tuning him out, he also realizes a potential in social media that you may never have known: you are there. It has me logging in right now.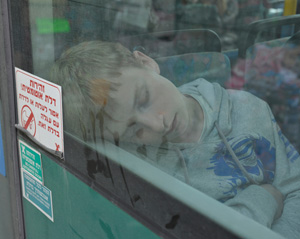 There, there
Stephen Shore might not agree with me. Surely that tired slogan belongs to old-time TV and radio when the photographer, born in 1947, was a child. Surely it is now the province of photojournalism, which does not interest him in the least. Even when he travels to Israel, starting in 1996, he is as likely to document its archaeology as its people. And even when he photographs the Ukraine and its Jewish community, in 2011 and 2012, he is concerned for survivors. He had his first major show, "All the Meat You Can Eat" in Soho in 1971, with found images—from U.S. Air Force publicity stills (way cool jets!) to people with an unknown present and an unrecoverable past.
Yet you can hear the words insistently, from the very beginnings, with Shore as a teenager roaming New York. (He had his first sale to MOMA at age fourteen.) The people, streets, and gas stations look undistinguished enough—but by no means indistinguishable. He does not prettify them, like Richard Avedon, or assign them a decisive moment, like Henri Cartier-Bresson. He does not bring out their character, conflicts, occupation, or history. And still, you have seen them before they are gone.
You can hear it again as Shore hangs out with Andy Warhol and the Factory. Faces both ever so familiar and unfamiliar flash by strumming a guitar, catching a cheap meal in Chinatown, or overlooking a fire escape. They are not so much sordid or glamorous as having a heady time, and you feel the rush at first hand before it is gone. You can hear the claim, too, as Shore crosses the South for "American Surfaces"—with friends, strangers, buildings, and cars on an equal footing and on the open road. He displays them in series like contact prints or, yes, Instagram. And not to worry, for there is not a cat picture in sight.
You can hear it more urgently still as he switches to a large-format camera in 1973, for "Uncommon Places," and the pictures open up. He had already moved to color, but without the saturated hues and artistry of such early adopters as William Eggleston and Joel Meyerowitz. He embraced it instead for precisely what art photography had excluded, the look of postcards and the ephemeral. Now, though, for the first time in Shore's work, images stick in the mind. You are there as a dust storm barrels toward you. You are there over breakfast in a diner, in a hotel room playing jigsaw, or in New York City as seen in a stereo viewer—or you must be, for there is no one else in sight.
You can hear it loud and clear as he goes digital. He started printing books on demand in 2003, in small editions like artist books, but most for the course of a single day. It might be a day at the dog show or in Central Park. Of the more than eighty books, some identify only the date as a subject—with the front page of The Times as their cover. That series ended in 2010, but then there is Instagram. The curators, Quentin Bajac with Kristen Gaylord, leave keeping up with it to you.
The successive series feel anything but planned. Shore worked so quickly not because he snapped away like Robert Frank, but because, he swears, he allowed himself just that one shot per subject and moved on. Even when he turns to landscape in the 1980s, in prints nearly four feet wide, he is following his life day by day. He and his wife moved first to Montana and then to the Hudson Valley because they saw the scene and fell in love. Still, they are also anything but impulsive. Behind all the drama of you are there, he has some tough questions about there and you.
There and you
You may have heard them already in the face of the dust storm. You are there—but where am I, and do I belong? Who am I, and what could I become? The questions arise from the brief film that introduced him to Warhol, of the blur from a moving elevator. They arise again all the way from those anonymous found faces to housing and highways in the occupied West Bank. Everything for Shore is occupied territory, and he takes care in his most picturesque landscapes to include people.
Their placement creates a sense of depth, but also of an unresolved history. Italy in 1993 fascinates him for its conjunction of modernity and tradition. The human imprint unsettles his images, too, by calling attention to their status as pictures. Shore photographs a glorious western landscape, but on a billboard along an arid Texas highway, and Paul Strand had photographed that village in Italy before him. Even in his most wide-open image, of Yosemite, one boy photographs another, wading. He is after selfies after all.
When he goes on set with John Houston, the director, for Annie, he is not documenting its making. Rather, he photographs the sets as if he were capturing 1930s New York itself. He is making conceptual art, but not only conceptual art. He is still the man who once handed out fliers to "Get Rich Quick!" at Lincoln Center and shot for a while with a toy camera licensed by Mickey Mouse. Yet he is also just plain into pictures. He likes light enough to have shot a movie theater, its marquee competing with direct sunlight.
He likes pictures enough, too, to have taken on all those commissions in the 1970s, from Annie and storefront signs to dying steel towns and the Yankees in spring training. He said that he did so as "an antidote" to his "innate formalism," which sounds crazy coming from him. Then again, the line might well have been aspirational. It came before his turn to natural beauty—and just before his taking up residence at Bard College in 1982. There he asked students to see how Walker Evans uses the picture plane to focus the image or how Thomas Struth invites one to cross it to enter a scene. He asked how Larry Fink uses the frame to make his actors appear to step into the picture, and he asked how Gary Winogrand uses people in motion for a sense of a shared or contested moment in time.
He is still an unlikely formalist. Part of him is still the young man toying with instant photography and deliberately washed-out pictures on UV film. He is still sending "Greetings from Amarillo" while insisting that you, too, are there—but still with tough questions. If you associate the claim with photojournalism, you have forgotten so many moments that gain their power from belonging to the lives of others. You did not raise the black power salute at the 1968 Olympics or cry out over a death at Kent State. If you associate the claim with social media, you have overlooked so many pictures of loved ones that you never cared to know.
Shore calls his series in Jerusalem and the West Bank "This Place"—but again, where? He finds individuals in the Ukraine, markedly alone, but also an old passport and an old uniform. In the Middle East, he finds food, a map, and a cemetery in ruins. What constitutes identity, then, and what is lost forever before one can remember? Maybe he cannot stop for an answer on the way to the next picture, but he can make you stop. Maybe there is no answer, not even on Instagram.

Stephen Shore ran at The Museum of Modern Art through May 28, 2018, and at 303 through February 17. A related review looks at Shore in the Ukraine and the Middle East.