Fashion Plates
John Haber
in New York City
Richard Avedon and Joseph Stella
I like to pretend that I have kept up with Tina Brown's tenure at The New Yorker. I would just as soon deny that I can remember Harper's Bazaar. Still, an awful lot of people recognize Richard Avedon's portraits and fashion photography. They can hardly wait to get to the Whitney, or they could hardly be dragged there.
I know the feeling. I can never see his most famous images, those women cavorting with elephants and snakes, without snickering. An Avedon retrospective tries earnestly to wipe that smile off my face. I hate to admit how well it succeeds. I gratefully admit that I also enjoyed a retrospective of a minor American modernist, Joseph Stella, while I was there.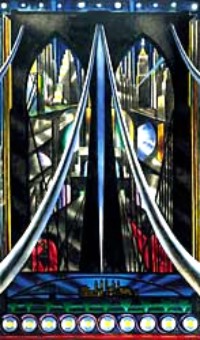 Avedon, a bit like James McNeill Whistler or Irving Penn beforehim, sees no need to abandon either high fashion or the respect of his peers. With The New Yorker, he is already staking his claim. Individuals face the camera squarely, with no apologies to it—or to themselves. The light takes pains to bring out their every flaw.
The white backgrounds hide equally little. They call up both the conditions under which the photographs are made and a police line-up. (Imagine art that makes the viewer stand between the two or confront the sitter like this!) Yet somehow Avedon's sitters always manage to look iconic. Celebrity and fashion may well deserve that much in our messed-up culture.
The exhibition has the same ambitions. The Whitney includes very little fashion photography, but Avedon's style is not very different for all that, and it is no less, or more, artistic. Cindy Sherman and "Fashioning Fiction" would pay close attention.
As Carl Sandburg might well have written (but thankfully did not), the elephants are gone. And those who danced among the elephants are gone. The exhibit opens instead on the streets of Harlem and the slums of Italy, and that same long, troubling wall documents hospital inmates. Malcolm X hovers above us, just out of focus, and Groucho Marx himself cannot manage a smile. When Ezra Pound laughs or Oscar Levant clowns, it is because one no longer cares and the other has been put on the spot.
What they are not is vulnerable. Even when bodies overlap, they appear to stand apart. It is what makes them sitters rather than subjects, even compared to the unsettling performances in photographs by Diane Arbus. It is what makes them stars. Andy Warhol might take only one corner of a long group photograph, but he knows to turn away, toward the edge—and, in Warhol's last decade, to himself. Even on that twenty-foot scale, prints have an eerie lack of grain or the blur of many a great Rembrandt self-portrait, crowning their absence of documentary context.
I find Avedon's approach to humanity glib and leveling, but effective nonetheless, especially compared to when supposedly serious artists do fashion shoots. I was unable to start snickering again about pandering to celebrities—until I reached the street. Now if only The New Yorker had long articles again.
Keeping up the image
I had too little time left to do justice to the Whitney's retrospective of Joseph Stella. I had seen before his paintings of a flower and the Brooklyn Bridge. Like Avedon's sitters or the Whitney itself, they hope to define icons of an American age. Dark and symmetrical, they could have been painted by a lesser Oscar Bluemner or Charles Sheeler—or photographed by a far greater modernist, such as Wendell McRae. They almost banished from my mind the icon's dark side—in the hands of another photographer and modernist, Walker Evans.
Given his own show, Stella turns out to be a very different artist than I had imagined. The painter worked not only here in the first half of the century, but also abroad. He was always more decorative than I knew, almost art deco, a trait he held in common with such contemporaries as Arthur G. Dove. And he ended his career with the intense colors and hard edges of a primitive.
Even in the space of an ordinary retrospective, Stella's exhibit looks too large for so minor a painter. It has the virtue, however, of making American art stranger than ever. In an afternoon now, I can start to imagine a pathway from early American Modernism to The New Yorker. I can start to wonder anew at quite another sort of icon, perhaps even photos of Jackson Pollock in Life magazine and the never-ending presence of Andy Warhol.

"Richard Avedon: Evidence, 1944–1994" ran through June 26, 1994, at The Whitney Museum of American Art. The works of Joseph Stella ran through October 9, 1994.