The Quick and the Dead
John Haber
in New York City
Sue de Beer: The Quickening
Rachel Howard, Suicide, and Fashion
A sociologist, psychologist, or feminist can tell you. Adolescence and young adulthood come with serious clinical symptoms, from outsize enthusiasms and a heightened sense of self-image to greater risk tasking, a greater love of slasher flicks, and a greater rate of suicide. Somehow in those years, art can mature as well.
In fact, art can also do better than a clinician. With The Quickening, Sue de Beer has her heroine suspended between the twenty-first century and Puritan New England, between sculpture and video, between B movies and the Apocalypse, and between life and death. However, what if the noose that tightened during the Salem witch trials becomes a fashion statement? Rachel Howard and Izima Kaoru want their morality plays to look good, while Sam Taylor-Wood heads straight for the style pages.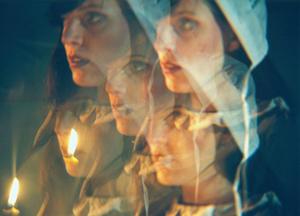 The longer view
Sue de Beer trades on the familiar—the object one has seen before that no longer fits, the room that feels especially like home in the dark. No wonder she is drawn to horror movies or, for that matter, to a medium as endlessly looping as video. No wonder one comes to her videos by way of an installation made from her props. No wonder, too, that with The Quickening she hardly minds repeating herself. One may wish to sit through it again just to be sure.
Of course, one expects a makeshift theater, of plywood and studio lights, not Matthew Barney factory productions or Bill Viola grand opera. With The Quickening, one enters through a dark woods, made of shadows cast on the wall. I stared at their cause—a white, latticed cylinder, with lights inside—and already felt excluded. Another trellis, the paneling for one scene in the video, forms the theater's drop ceiling. Carpeting looks lush and inviting, even if its deep red reminds one of blood.
The work's title suggests both a coming to life and an anxious pulse. The central character, a young woman, carries a candle through a seemingly empty house and meets with a slasher.
Even small moments all but quote her past videos. As in Black Sun in 2005, the young woman cherishes a necklace as something both precious and strange. There she danced in her bedroom with a horse, to the tune of "You Can't Hurry Love." Here she dances in sunlight with wild animals. And de Beer deserves to rest on her laurels. I gave much more space to Black Sun before, because so fine a video and an artist needed close parsing.
This time, however, de Beer seeks a longer view. Her character dances to classical rather than pop music, wears the white scarf and black dress of eighteenth-century New England, and may or may not die at the hands of a Puritan with a capital P.
The video cuts between a young man in his study and a woman who may serve as his maidservant, his victim, the subject of his sermon, the object of his fears and desires, or an imaginary other. It also cuts back and forth in time. She dies, she finds her moment of grace sweeping leaves and dancing in the woods, and then once again she awaits her fate.
The last dance
Where the outdoors has its music, the indoors has its harsh prose. In the first third, the elegant, slightly stilted voice of de Beer's German actor reads from Sinners in the Hands of an Angry God, the 1741 classic in American literature by Jonathan Edwards. In the last third, the voice reads from Au Rebours (or Against the Grain), by J. K. Huysmans, whose 1884 novel announces a turn away from naturalism and toward Modernism.
The artist sets up her parallel lives—the man and the woman, the Puritan fire breather and the decadent novelist—leaving it uncertain how far they converge. In his sermon, Edwards takes as his text a verse from Deuteronomy: "Their foot shall slide in due time." The French writer, too, speaks of sliding but into another kind of hell, the esthete's. Edwards finds sin inevitable and the only grace in a Christian faith. Huysmans finds his only recourse in the imagination, but at the cost of escape from life.
The video's moment of grace may belong to either, to both, or to none. Even the woman's dance in the wild may belong to the man's fantasy after her death, restoring a chronological sequence at the expense of her life. One may find peace only in female solitude or in a sexual dance that men both invite and repress.
All these disruptions in time leave her narrow alternatives wide open, like streets at midnight in a movie. They may mean that one always comes back to death, or they may rebut male linear narratives of an inevitable slide.
de Beer invites disruptions from within her texts. Edwards himself echoes Revelations, with its repeated cycle of prophecy, revelation, forgiveness, and judgment. Thanks in part to Huysmans, Modernism soon wrenched art and the imagination into this world and into multiple layers of time. The conscious mind now drew on an unconscious history and a harsh social reality. A work of art existed as an object in this world—like the video surrounded by plywood and carpeting.
Perhaps de Beer's turn from the Supremes to supreme literature in a plush, new gallery means that she is losing her sense of humor. I worry a bit, too, that repetition may mean deconstruction, but also something of a rut. However, her colors and shadows have lodged in me, most of all as they approach the quiet of death. Somehow, I bet she can hold Hollywood at bay for a while longer yet.
Suicide girls
Not everyone shares my awe at Gerhard Richter. Where admirers see him as taking painting apart and putting it back together, others see only shortcuts—the squeegee and the blur. When he devotes an entire room to the Baader-Meinhof gang, they see only exploitation of youth, beauty, and a single day of death. It hardly matters that the would-be revolutionaries milked exactly that, and so did a nation. No matter, when he wants things so meaningful and makes them look so easy.
I have qualms like that myself about Rachel Howard. She wants it all—the rush of gestural abstraction, the objectivity of documentary realism, and the seriousness of sex and death. And she wants it all blurry and knowing. "Fiction/Fear/Fact" all but says so from the moment one enters.
The Bohen Foundation's sliding office cubicles create one of the most ingenious gallery spaces in New York. The architects, Lot-Ek, update the Whitney's massive but mobile walls for the Meatpacking District, where abandoned trolley tracks already scar the streets and the High Line comes to its end above. The Whitney may find a home here one day, too, without even help from Marcel Breuer. For Howard, the cubicles create an enclosed gallery away from the street. One approaches it by circling around the foundation offices, with no art in sight.
One approaches it, too, with due care and, perhaps, due reverence. One needs at least the first to adjust to what one sees. Is that dark cylinder surrounded by creamy whites and long black drips her paintbrush? Are those women hanging weightlessly in the air—or hanged?
Downstairs, Howard seems to settle matters, with Suicide Drawings. Thick, bare outlines in ink on paper leave no doubt of their subject. The series includes some men, but the message of female vulnerability dominates. Does that indeed describe the paintings, however? Black makes it hard to dismiss thoughts of lynching rather than suicide, and I could not easily reconcile several of those frenetic, twisted poses even with death. Sure enough, the titles call one scene a party and another Ekstasis.
Granted the woman is in ecstasy and not an ecdysiast, but Howard wants things intense, attractive, and hidden. She builds the glossy surfaces with poured house paint on enamel. One can see industrial ingredients, a quasi-automatic process, and a critique of painting—or one can see extraordinary skill. A forgiving viewer gets to choose.
Death by Gucci
Like Richter, Howard wants to have it both ways. With both painters, art all but effaces itself, through successive layers and out-of-focus images. Howard, however, reaches much harder for beauty and for digestible, weighty subjects. Her previous show in New York ran through the seven deadly sins, and her art still begs for communion.
Unlike realism for Richter or Judith Eisler, hers does not hover so precariously close to focus. It also does not sift its emotions through mass media. It prefers old themes, new mysteries, and visceral thrills. I felt the sensation myself. If she has to assert her street credentials with a little flippancy, too, so be it.
Does that sounds like "shock art"? Howard comes from the same university as some of the Young British Artists, and she, too, knows how to provoke. Her exhibition title may describe the ambiguity inherent when art collides with truth telling. Then again, it could describe an evasion of exactly that. I leave it to Jonathan Edwards to decide.
Izima Kaoru presents some of the same problems and the same guilty pleasures. The Japanese photographer poses fashion models face up on the floor. These "Landscapes with a Corpse" include psychedelic hues and mysteriously empty warehouse interiors, but both make death awfully attractive. One corpse even has her eyes open. Her white outfits bears not a trace of blood.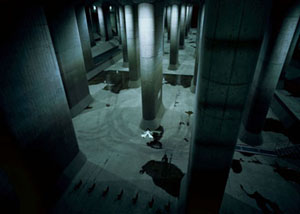 Kaoru increases their appeal with close-ups or manipulation of scale. In one case, the space looks impossibly large compared to the body pressed against a pillar. And that body, the C print's title notes, wears Gucci. This art, too, wears drama and sex appeal on its designer sleeve, and its threats have none of de Beer's expansive personal or textual histories. Sometimes dead girls just want to have fun.
All these suicide girls had me worried enough. Will suicide become the next fashion statement, and will pundits call it fourth-wave feminism? When The New York Times Magazine devoted its Sunday style pages that same month to women literally at the end of their rope, I grew even more anxious. I could not resist checking the photo credits. The postcards of the hanging belonged to Sam Taylor-Wood.
Hang loose
Hot artists have flaunted their style before. Hanna Liden appeared one weekend last year, and I have no doubt that I have missed others as well. I do not follow fashion, and alas it shows, but I recognized Liden instantly. I saw much the same photography that helped launch the Lower East Side gallery scene. Liden again posed attractive young men and women in the forest, wearing animal heads and little else. She did not even have to sell fur.
Yes, artists are selling out, but should I worry? Cindy Sherman, Shannon Plumb on the runway, Kaoru, and others have played with fashion role models—while Richard Avedon, Annie Leibovitz, and Madonna have aspired to art. Even the Frick Collection has approached art history through "Whistler, Women, and Fashion." David Hammons made a stark, unsettling fashion showroom out of an Upper East Side townhouse, with real fur. And he made it burn.
Besides, plenty of artists have day jobs. They must, to survive. Willem de Kooning, James Rosenquist, and Andy Warhol all worked in commercial art, and they drew on that experience later. If Taylor-Wood or Liden goes for the extra money, exposure, and influence, so what?
For one thing, market forces are distorting mainstream art quite enough already. More important here, however, the photographs say something about the artists. Liden seems that much more a document of downtown fashion trends, that much less an exploration of coming of age, gender, art, and nature. Her work for The Times may take others down a notch as well. I have admired Justine Kurland, with her nudes in a landscape, or Deborah Mesa-Pelly, with her outdoor hide-and-seek. Now I must ask whether they, too, are updating nature photography for the right market demographic. And then one has those thick ropes.
Nooses should scare me, especially surrounding young women. Women have suffered enough witch hunts without taking hangings as the theme of a Paris debutante ball. de Beer has told that story well. When the noose happens to hang near a black woman, I start to cringe even more. Londoners may not know New England witch trials and southern lynching that well, but they should know quite enough. Howard's status as Young British Artist seems more annoyingly relevant than ever.
More to the point, one can see the same glib allusions to sex and death in Taylor-Wood's entire career. She has made a stylish video from the tap dance of death. She has posed as the Dead Christ, but with an obviously much better body. If the teenagers in The Times that weekend scowled a bit, maybe they sensed competition on the other side of the camera. No, I shall not have to keep reviews current for fashion magazines as well as galleries and museums. However, I had better learn to dress better at the next opening, so that no one comes after me with a rope.

Sue de Beer's "The Quickening" ran at Marianne Boesky through January 10, 2007. Rachel Howard's "Fiction/Fear/Fact" ran at the Bohen Foundation through June 30, 2007, Izima Kaoru at Von Lintel through March 24. Sam Taylor-Wood made the style pages, in more ways than one, on March 11.