Dress Rehearsal
John Haber
in New York City
Whistler, Women, and Fashion
Madonna and Steven Klein: X-STaTIC Pro=CeSS
"Whistler, Women, and Fashion" takes one behind the scenes, to portraiture, modern art, and, yes, fashion in the making. By pairing painting and costume, private sketches and commercial prints, it takes on more than a few handy assumptions.
As daring and superficial as James McNeill Whistler himself, the exhibition gets one thinking about notions of art and craft, women and beauty, commerce and the avant-garde. It also makes for a useful contrast with another display of fashion and self-promotion downtown, by Madonna and Steven Klein.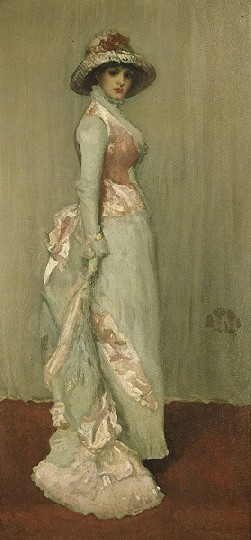 Surface tension
The Frick assembles a career survey in miniature, around two portraits that, by the terms of the bequest, cannot travel. Such a constraint has recently stimulated well-focused exhibitions of work by Edouard Manet and Diego Velázquez. The Frick did something similar for Whistler back in 1995, for a fashionable male portrait also in the permanent collection, like one by Diego Velázquez himself.
Here again, both portraits and sitters have long since lost their shock value—like much of art today, for that matter. However, the approach deepens. A larger and more provocative show, it comes just in time for the artist's centenary.
In the 1860s, Whistler's favorite model, her Irish complexion, and her white dress serve as backdrops for a fluttering array of color. The fan and brown flowers in front, like the vase and mirror behind her, blur the boundaries between surface, objects, and interior. The lines between European and oriental traditions, insider and outsider art, change as well.
A turn in the 1870s to "art for art's sake" produces women in gray upon gray. These two, the paintings from the Frick itself, outraged the Brits with their bleary mystery. Today they seem among his mildest and most flattering portraits, but they still define Whistler's image. Gone are the accessories, the reflection of color, and even the impasto. Wispy shadows serve as variations on a theme rather than markers of space and form.
Within a decade, the dresses become first more daring, then more sober—two contrasting assertions of a woman's independence. They also darken, along with the artist's now scandalous reputation. Finally, approaching his death and a new century, intense color returns. However, it now bleeds into still darker tones.
Throughout it all, Whistler matches not just dress and sitter, but also background color and subject. Together, they serve as variation on a theme of costume and flesh, in part under the influence of Asian art and Frans Hals. The full-length portraits look strikingly tall, as if space had no independent existence apart from costume. As in the mirror and the billowy skirts from his earliest portraits, Whistler describes his women from all sides—but in a world of decorative surfaces.
Intimacy and artifice
Downstairs, after another portrait from the 1860s, two rooms of drawings and prints trace again the course of a career. The realism of a flower vendor quickly gives way to sketches for fabrics and full-figured poses. In the center of each room stand dresses like those depicted upstairs. The glass cases and rigid mannequins could practically serve as comments on Whistler's controlling temper. Magazine prints further document the course of fashion, both as style and as commerce—long before fashion photography by fashionable photographers or even fashionable artists like Sam Taylor-Wood today.
By the end, the whole question of realism versus estheticism goes out the window, a century before Shannon Plumb videotaped her solo fashion show in paper clothing and a false mustache. The artist catches young women toiling at dressmaking. He records once-fashionable clothes thrown to rags. On her deathbed, his wife's frail pose poignantly recalls the languor of more glamorous models.
Have Whistler's women given their lives to introspection or exhibitionism, weariness or public exposure? Perhaps it no longer matters. Does he leave modern art or femininity the least room for spontaneity? Decidedly not. Not even Amedeo Modigliani could blend style and the avant-garde myth so well.
The show's intimacy and artifice hardly seem designed for a male slob like me. Indeed, that helps account for its challenge. It disrupts expectations of even a fashionable postmodern able to celebrate Impressionism and fashion.
Others have criticized Modernism for elevating fine art over humble craft and "women's work." Here, in its very formative years, the avant-garde portrays women strutting their stuff in costly fashion. Others have allowed modern art its movements, like the Bauhaus, intended to remake art, design, and life. Here the artist works alone, on painting and design, while drawings show his awareness of the toiling milliner at the first mass-produced sewing machines.
Others have created period rooms or displays of costume and craft. The Guggenheim has given posh brand names their own space and the aura of the museum. Here the curators weave painting and fashion into a single narrative.
Product lines
The narrative, like the artist's own, creates beauty as a product. That starts with feminine beauty. It includes the bows and bustles. It includes the pale, pink vest—of Whistler's own design—that echoes the harsh constraints of a corset. In the drawings, his line becomes freer as he approaches the hem. He takes careful note, however, of a woman's waist. The French word, taille, in his own hand, just happens also to mean trim or cut.
Beauty as product, of course, also pertains to his sense of the work of art, beyond that of any other American in Paris at the time. One sees it in the delicate, reserved, mannered surfaces, as feathery as the dresses or the shadows. One sees it in the artist's personal involvement with his subject.
He is there as the determiner of the pose, costume, and scene. He is there as the dandy. Leonardo da Vinci, who used the elegance of a painter's dress to argue for the priority of his art, would have understood. Whistler is there, too, in relationship with the sitter—whether a lover, a sister-in-law, or the others who willingly came to him despite his dubious status in society. When he paints with a long brush, he could be fencing with the sitter—or the work. The endless posing reduced one nine-year-old sitter to tears.
I admit it: I came bored silly with Whistler, including those old portraits that I had seen many times at the Frick. I raced through the drawings, with hardly a glance to the costumes. I kept returning, however, to the room of ten paintings despite myself. They looked stranger and more wonderful for the confrontation on the floor below. They also seemed to define something fascinating about his moment between past and present.
Elitism and the embrace of mere surfaces sure sound conformist, but they become part of Modernism as well. When John Ruskin accused Whistler of flinging a pot of paint in the public eye, the critic was defending democratic instincts against high prices and an all-too-exclusive art world in the making. That concern reverberates in galleries and museums today. Pressures of beauty and fashion—even in contemporary works near to abstraction—remain relevant, too, to debates over gender. The demands for self-creation and of inherited, commercial images sound more contemporary than ever.
As man about town, Whistler would surely have attended the opening in a suit and tie. (I cannot dare say what Madonna would wear.) As the painter of shockingly modern women, well on his way to bankruptcy, he would have raised a few eyebrows once he appeared. Having designed at least one sitter's dress, selected her pose, and obliged her to hold it through dozens of sessions, he might well have staged this exhibition himself.
An aristocracy of taste
In practice, it took three curators, from three institutions and three fields of specializations—Susan F. Galassi of the Frick, Margaret F. MacDonald, a Whistler scholar at the University of Glasgow, and Aileen Ribeiro, a lecturer on the history of dress at London's Courtauld Institute. They would know well that a sitter's dress connotes status in any portrait, in any era. The Frick alone has more than enough examples.
In the Renaissance, as in the Frick's Bronzino, dress stood for material possessions. For J.-A.-D. Ingres, with precise outlines and electric color, it stood rather for self-possession. In between, Rembrandt made that materiality stand for paint itself, as access to the artist's outer poverty and inner majesty.
Closer to Whistler's own time, with Thomas Gainsborough's peasant costumes for the wealthy, costume and status alike involve playing a role. In a show of Spanish influence at the Met, one can see Manet and John Singer Sargent developing character and art as role play.
Whistler sees status, costume, and art as produced together—by artist and sitter. He does not need to stress costume as a material possession. Despite the emphasis on fashion, he makes it surprisingly hard to make out the clothing. Scholars still debate whether a dash of black marks a bow or a bustle, a fringe or a boa. He demands an aristocracy not of wealth but of taste.
Dare I call Whistler's estheticism Victorian or modern, escapist or progressive? Dare I even call it great? Like Sargent, he inherits the breakthroughs of others, but with nostalgia for privilege. Just a few years after his death, Henri Matisse or Pablo Picasso make him a thing of the past. Perhaps Manet and his heirs already had.
Whistler does share their Spanish influence, and from the Matisse family business, he knew a thing or two about fashion. That early mirror comes right out of Velázquez, and the portrait of a girl is on its way from that very show at the Met. However, he plays the gray to Sargent's or Manet's black. Forget their heavy stage lighting, shallow sets, and bravura turn toward the viewer. Whistler does not paint for the masses. Art's shadows, spaces, and a woman's pose, he believes, are for those who know art.
Indecent exposure
That bond between painter, sitter, and audience helps explain his uneasy place between past and present. It made him difficult to understand then, at least in certain parts of London unused to the confusion in British art of celebrity and high seriousness. Ironically, it also gives him his backward-looking, genteel air today. Modernism, starting at least with Manet, invites viewers into the work, while throwing their gaze right back at them. Whistler invites one to admire his creation, with a commanding bow, while instructing intruders to stay away.
Which stance best describes art, gender, and the fashion industry now? Such artists as Andy Warhol, Cindy Sherman, and Erzstbet Baerveldt still have one asking (and Warhol's TV pilot interviewed Diana Vreeland). Yet not every display of fashion as art raises questions as well as "Whistler, Women, and Fashion"—or even Richard Avedon. Not every display even cares to offer Whistler's gentle pleasures. Fashion magazines, after all, exist to make one desire rather than question. So, apparently, does the latest production from two names known to everyone but the art world.
I had given Matthew Barney way too much credit for the silliest, most pretentious video art of the year. He has dropped to number 2 on the charts, without even a bullet. Madonna and Steven Klein have turned Deitch Projects, just north of Canal Street, into a market opportunity. One can almost hear the dealer planning the press party.
Klein, a successful fashion photographer, has a 44-page tie-in of the star herself now in W, among his many past photographic magazine inserts of vapid celebrities. Here, the two build videos into large, open sheds, like a trailer park after a bad storm. Talk about reverse chic.
If you think Madonna's music videos typify indie rock, and a Vogue spread on Brad Pitts epitomizes contemporary photography, I definitely have the show to see. Besides, in what other gallery can one catch the singer, lying naked except for Prada boots, twitch while a coyote strains toward her on a leash? Marilyn Minter would at least rub one's face in it. Madonna also gets to wear a hairy mask (and more name-brand accessories), while reciting from Revelations. She attests to the power of Satan while a dress burns.
Think of it as a poetry reading for the fashion industry. It also attests to Madonna's symbolic importance as all of humankind's deepest desires. Besides, I hear her replying, she really is indie. That stands for independently wealthy, right? Or maybe indecent exposure?

"Whistler, Women, and Fashion" ran through July 13, 2003, at The Frick Collection. "X-STaTIC Pro=CeSS," by Madonna and Steven Klein, ran through May 3 at Deitch Projects Annex.