Leaving Soho
John Haber
in New York City
Gallery-Going: Fall 1996/Winter 1997
New York's most talked-about art's district made it official one winter Sunday. With openings in concert at all its new spaces, Chelsea was organized. Sheetrock and spackling still lay exposed, and barely around the corner artists held open studios. The informality could have knocked Soho out cold. However, maybe it was the mild winter weather, but it all hit me with a chill only weeks later, back downtown in Soho. That was the day I saw the "for rent" sign at Paula Cooper.
It is one of those shocks I just have to talk about. It hung with me as I visited the gallery's new space. It tugged at me as I enountered gallery shows by such interesting artists Gary Hill, Ellsworth Kelley, Sue Williams, Ellen Carter, John Schabel, and others. It even haunted me as I escaped Chelsea entirely, to catch Leonardo Drew, Christian Haub, and Jodie Manasevit. Only a year later, with the district's second anniversary, would it stop.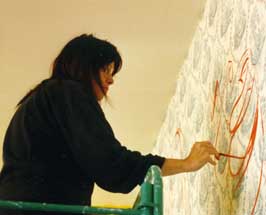 Chelsea's blue-chip ideals . . .
As everyone knows, Paula Cooper opened the first gallery In Soho, and she stuck to it, just as she stuck to her artists. From the moment I myself ventured past Houston Street many years later, I too had an instant loyalty. One could make it around easily even then, with time for puzzlement and for speechless pleasure.
I might start at Leo Castelli or Ileana Sonnabend and end up at Heiner Friedrich, just above OK Harris. And I needed that slow pace to take it all in. I could say I really enjoyed the art, but I would be lying. I expected only to be a little more ready to think, to perceive, and to return. Only a rare survey exhibition that can echo those days now.
Cooper's current departure for Chelsea marked the passing of something, but it had really already gone. I mean more than the changes in Soho, from the boutiques to the overcrowding at Fanelli's bar. I mean the stampede over to warehouses by the Chelsea Piers, where the Dia Arts Center was forming the core of a new gallery row before one day moving on to the suburbs.
Like Cooper, Dia too had kept its loyalties, with Friedrich himself its artistic director. As galleries spread along West 22nd Street, trees and boulders rose together, down the sidewalk and around the corner. Thanks to Dia, Joseph Beuys, the German artist, was planting and implanting them. Art and nature took a stand against the entropy of seizure and abandonment.
That was to be the story of Chelsea, a kind of blue-chip idealism. Incoming dealers stand already among New York's most exclusive, but also most interesting. The open studios on West 26th Street included "names" along with unknowns, and that first day's promise of Sunday hours and the revelation of fresh underpaint quickly gave over to Soho business practice. And finally, weeks after Chelsea's party for itself, Paula Cooper moved as well.
. . . And Gary Hill's ordinary men
First, however, I want to describe that—appropriately semiofficial—Chelsea afternoon. I have down its date, November 17, 1996, and yet all I remember is a row of men and a human hand.
It an installation by Gary Hill. As I entered from off the street, the illusion was breathtaking: men, back to the long wall, facing front. Hands at their sides, they could have been a police lineup were it not for the dark background, but it was their palpable reality that caught me unprepared.
As I approached, they seemed just larger than life, in part because their feet floated slightly above the ground, the better to enhance one's sense of recession in depth. Closer, they blurred out, and it was obvious: I had seen an image, projected from five separate overheads.
Hill himself had recruited them for the day from homeless people living near him. Like the gallery visitor, they too in a sense had come in off the street. Inside, as outdoors, they were both more and yet less transient, more and yet less in control. As outdoors as well, the gallery visitor knew the fear of lingering and the compulsion to look. They had become visible.
No photograph could have filled the long wall and moved, slowly and uncomfortably, like those affectless homeless men trying to hold still. They make a human presence both inescapable and frail. Viewers tended to approach close, then walk back to face the work and lean against the opposite wall. Tied to the obvious artificiality of the gallery space, I had become as unreal as that row facing me.
How fragile and how strange an illusion is the human presence. The problematic image of life took another turn in the furthest of three rooms, where wide open palms lifted up toward huge profile faces. Hands and ears could be seen to tremble as the sitter tried to hold still.
Once, rightly or wrongly, I had accused Hill of reveling in the void. If these new images speak of absence, it is a stunning absence at the heart of seeing. Compared to his retrospective at the Guggenheim, Hill had dropped video's clever gimmicks—obvious self-referential play with a TV monitor. It had gone beyond the medium's origins as something to watch on TV. He had stopped representing an epiphany rather than showing it—walks in the woods and quotes from philosophy. Again and again recently, he has made something prettier but no less biting and poignant.
The most beautiful space in the world
Weeks later I knew again how small one person can feel, when Paula Cooper opened in Chelsea. As I walked in from West 21st Street, Tony Feher was calling it the most beautiful space in the western world.
I can think of some stiff competition. How about the Scrovegni Chapel here, a Parisian bistro around chocolate dessert time there? How about the Central Park of my boyhood on a fall day, or the space between the eyes and a strand of hair on someone I have loved? He could have convinced me, though. Were it any more beautiful, the art would come off even shallower.
In fact, the two enormous rooms, joined by an open frame, will bury any individual work in a mixed group like that first show. Joel Shapiro contributed a white, open cone, of plaster or concrete. Shaped like a large megaphone, it could not raise enough volume. It looked orphaned from another, more European sculpture installation. The illusion of a butter churn in cast iron by Robert Gober could have been replaced with a real one at a fraction of the cost. And Jonathan Borofsky was at his most childish, which is saying a lot.
Still, it was nice to be in there, and Feher did quite well. In his work a knotted cord rose vertically, passed over a hook, and ended in a corner, forming a large triangle with the floor. The vertical segment held partly filled water bottles. He said the shape and its knots were inspired by sailing as a child in Corpus Christi, Texas. The associations meant nothing to me, but the pleasant openness did indeed tackle the room. Eventually, perhaps, someone will dare to do more.
Ellsworth Kelley and Sue Williams
Around the corner, across from the Chelsea Piers, a theater was showing Desire Under the Elves, a tale of passion in Santa's workshop. The rest of Chelsea was equally active. It left no doubt at all about the neighborhood's sudden blue-chip status.
Ellsworth Kelley had his first show since his retrospective at the Guggenheim, at Matthew Marks. Now there is another awkward, large box, seemingly endless from wall to wall, but Kelly looked wonderful in it. His modest, monochrome canvases hung at equal spaces all around the room, one corner pointing up, just off the vertical. Each formed a different irregular quadrilateral, like perfect diamonds of sheer color pinched by the act of bursting through the walls.
A smaller room in back held a vertical slab of finished blond wood. Since one could get behind it with enough effort, it acted as a totem, and I am not sure I liked that. I did like what I saw in the other back room, the office. There on this off weekend, the attendant played computer solitaire, a more modest "window" on color.
Sue Williams, at 303 Gallery, drew raves from the people who know what to like. In the Village Voice, Peter Schjeldahl (or however the hechjl you spell it) praised it as her first to put art first rather than feminist doctrine. Oddly enough, for me that only made it seem glibber.
At first glance the large canvases stood only as expanses of white and light colors. I might have been seeing late de Kooning only more calligraphic, Twombly's scribbles only more luminous, late Marden only more painterly, and yet curiously sweeter and blander than both. Up close the insistent lightness hardened into certainty, as I saw that the calligraphy was really drawing. Williams had taken her cheerfully pornographic, cartoon-style images, fragmented them, and connected them in an unstructured composition.
Ironically, the problem is that she seemed to have gotten over her anger. She seemed to revel in the reduction of women, sex, and abstract art to cartoons. Feminists know know the male gaze better, whether in painting or in film.
I know she did not mean that, but the painting could never quite lend her ambivalence an edge. Pierre Molinier's surreal photographs and Nayland Blake's toying with de Sade do far better.
Ellen Carter and John Schabel
Across the street, Ellen Carter was up to pretty much the same theme. (XL, her gallery's initials, belong to a former Protech curator. They make a truly snazzy logo, which may be the best thing about the cramped rooms.) Carter recycled images of femininity, from nakedness to Bambi, using sketchy collages and a video to the title tune from The Sound of Music. The sketches carried an overlay of recurring phrases, like this one: "IS THERE REALLY LOVE BETWEEN PEOPLE? YES THERE REALLY is." Really? REALly?
Carter's parody is more bitter and more obvious than Williams's, but the wistful sentiment is evidently real. I liked that combination. Still, so far she offers mostly quotations looking for an artist's own shape and medium to deaden them and bring them alive. I bet she will find them, too.
The block also held Helmut Middendorf's cartoon male shadows, not to mention a tree trunk erected by Ulf Rollof. The tree rotated as it dripped soapy water. Do not, please, ask me why. Just say it was the new Chelsea. I enjoyed far more the faces as seen through an airplane window, in photographs by John Schabel. Working in black and white, Schabel allows a single window per photo for his grey scenes, sometimes in the rain. The frame within a frame made the crowded faces look in search of meaning.
Leonard Drew
Chelsea is hardly the only site of upscale refugees from Soho. Up on 57th Street, Mary Boone's space lacks the intimidating high, narrow rooms of her former downtown gallery. Back then, as I pushed and then pulled the wrong door, I knew I was meant to feel stupid. Now, on Fifth Avenue just off from Tiffany's, I have clearly increased in worth. The entrance symmetrically frames an otherwise blank wall with each show's title, but nothing else cues one to the grandeur one really ought to feel.
My first act of proper deference led me to Leonardo Drew. (Yes, he really did!) Drew's five massive, crumbling pieces cling to the walls. I could imagine that something more imposing had spilled treacherously from behind and onto the floor.
The large grids look like painting, but their soft browns appear formed of a fine rust. It plates the repeated elements of wood, metal, and white fabric. Only a hand's width off the walls, they could be bookshelves or industrial equipment lying in decay—like the painterly grid itself, tokens of nostalgia. They look as if they had been there a long time and yet cannot last forever.
I wanted very much to like their elegiac solidity, but part of me had to admit to feeling manipulated. For a second, I had the presence of mind to remember real factory spaces, where art today indeed often takes place. I mean not art-world fantasies of time passing over delicate metals, but New York buildings. I mean the deserted industrial areas where artists have been surviving now for 30 years.
And then I saw myself again on Fifth Avenue, and I was ashamed of how much I still liked these works. They are good, but something is dead wrong. The air of decay made me not unlike Charlton Heston confronted with the Statue of Liberty in Planet of the Apes. I just was less sure what to curse.
Christian Haub and Jodie Manasevit
Thankfully, not all of the autumn and winter season had delusions of grandeur. Christian Haub has slowly built a reputation for integrity among abstract painters. For years after Clement Greenberg, abstract artists have insisted on the materiality of their medium. Museum shows still hope to sustain that formalist march of abstraction. It is as if paint were reduced to its support. Haub instead lends the entire work the translucency of paint.
Haub started with haywire geometry. It could have been Peter Halley and all that Neo-Geo were it not obsessive in the extreme. His breakthrough, I think, was the abandonment of oil for several years, while he worked in colored plastic. The reliefs resembled Mondrians that had begun to glow. I honor them when I admire David Reed's delight in the transparency of oil and alkyd.
In his latest phase, most recently on view at Littlejohn, Haub returns to paint and to flat surfaces, but built up with strips of paint. When I first posted this review, I actually mistook them for strips of canvas. It accentuates the power of paint as a palpably thick surface for the passage of light.
Jodie Manasevit, to venture back just once into Soho, has similar aims. Her more modest abstractions will not change my life. I think of them as "comfort food."
Most are oil on canvas. At first each one looks like half a dozen rows of clouds, or maybe shadows of birds in the sky. The shapes, in white or light colors, stand off against her more richly colored, textured background. The free-floating forms and closely worked surface enhance the ambiguity of image versus abstraction.
Seen more closely, the texturing is a deliberate, decorative patterning, almost mechanically so. Meanwhile, the shadowy forms turn out to derive from the artist's handwriting (which must be even less legible than my own). The result is to create a juxtaposition of scales—from the handwritten to the large, each form nested within the other, each reflecting or correcting the next.
Image versus abstraction—it plays out an unspoken puzzle of modern art. If all painting is a language, as Postmodernism teaches, can it also serve as sign of the artist's presence? As Hal Foster has pointedly described, the semiotic model of art had a "meltdown" in the 1980s, with the fashionable graffiti artists, although post-fashionable street art has returned today. Here it gracefully melted into shadow.

Gary Hill's first show at the new Barbara Gladstone had an unusually and deservedly long run beginning November 1996. The first Chelsea show for Paula Cooper, Ellsworth Kelley at Matthew Marks, Sue Williams at 303 Gallery, Ellen Carter at XL, and John Schabel at Morris Healy opened about a month later. Leonardo Drew appeared at Mary Boone earlier that same season, in September 1996. Christian Haub showed at Littlejohn Contemporary beginning in January 1997, and Jodie Manasevit appeared at Condeso Lawler in November 1996.