Take a Book
John Haber
in New York City
I would fast, only to read Cicero afterward. . . . I would shed bitter tears called from my inmost heart by the remembrance of my past sins, and then I would take up Plautus again.
— Saint Jerome
Saint Jerome at Princeton
Guido Cagnacci: Repentant Magdalene
If I were planning a long trip in the wilderness, I should be sure of one thing: I would take a book.
For Saint Jerome in the fourth century, that was easy: he had the Bible by his side and could himself write the book. In the Princeton Art Museum, Fra Angelico and Joos van Cleve agree on little more than that. They offer quite distinct sides of the Renaissance as well as Jerome, in the fifteenth and sixteenth centuries and in Italy and the north. As a postscript, I turn to a single painting from another small museum, the Norton Simon. With his Repentant Magdalene, Guido Cagnacci carries the story forward past Mannerism and into the Baroque.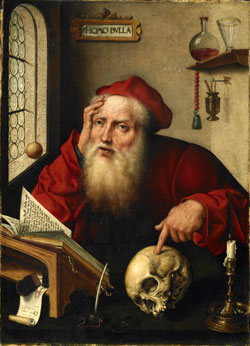 Responsibility and redemption
Art has always had two distinct images of the saint. He made his career in Rome, where his translation of the Bible into Latin, the Vulgate, set the standard. This was hardly the Reformation, when the printing press encouraged literacy, gave shape to modern languages, and made the text in those languages available to all. Latin was the language of scholars and the clergy, and Jerome had every reason to encourage their authority. He became a cardinal, and his writings urged piety and obedience on others. Yet he also traveled to the Holy Land, a trip that has made his own repentance the stuff of legend.
So which will it be, the word of god in the study or the word of god in the desert? What about neither or both? Two Renaissance paintings, a century apart, develop Jerome's image in unexpected ways. On a visit to Princeton, I got to know the museum again, and a pairing seemed only right. For my only art history course as an undergraduate, I blundered through a paper on a painting, no longer in the collection, by the workshop of Piero della Francesca—and, it appears, my classmates did little better with their choices. The professor, plainly annoyed, announced that he would make it easier on us next time, by asking us to compare two paintings to supply a framework, an approach popular in the lecture hall as well. Now I could see much of the museum the very same way.
Truth be told, the Princeton Art Museum has its share of also-rans, with a concentration on Mannerism and the Enlightenment. Still, one could put together a fine tour just two or three works at a time. An early aluminum painting by Frank Stella hangs near a black painting by Ad Reinhardt. Stella, surely the university's best-known contribution to the art world, uses notches in opposite corners to shape the canvas and, by extension, its successive stripes. Should one see the two paintings together, as the ultimate in late modern rigor, with no time for subtlety? Or should one contrast Stella, for whom "what you see is what you get," with Reinhardt, for whom what you see emerges only in time in shades of black?
Going back to the Hudson River School, one can compare a passing shower in the tropics by F. E. Church with a harbor shrouded in fog by Fitz Hugh Lane. For both, sunlight and weather shape the landscape. Yet Church's sunlight unites river, mountain, and sky as a vision of the cosmos, while Lane's bursts through the mist from behind, on equal terms with the human presence in sailing ships at rest. For those who have not had enough with "Unfinished" at the Met Breuer, a copy after The Death of Socrates, by Jacques-Louis David in 1787, shows his students staking out figures before bringing a greater polish and precision. And then an oil study by Rosa Bonheur, from perhaps the 1860s, shows not a trace of underpainting, with bare canvas beside Romanticism in action. With a little more creativity, one could compare a portrait of a singer by Angelica Kauffmann, from 1780, with a gypsy smoking a cigarette by Edouard Manet—as two versions of an independent woman, but as different as high and low culture or, for that matter, night and day.
The museum has three versions of another popular subject, The Mocking of Christ. They suggest how this, too, evolved from the Renaissance to the Baroque—as an individual's encounter with divinity. Sneers and carnival hats individualize the mockers, from the circle of Hieronymus Bosch around 1520, but also reduce them to a pageant. They line up behind and in front of Jesus, who looks away as Pilate prepares to wash his hands and to preserve his dignity. The actors seem to belong to three or four different worlds. That is one reason to assign the painting to a follower and not to Bosch, but also one reason for its power.
For Anthony van Dyck around 1630, those worlds have become one. Jesus bears his crown of thorns and a look between weariness and pity, while his mockers, one in armor and one in a silken shirt, approach gingerly, as if in prayer. A robe at his waist rises into the mysterious space behind him. For Domenichino soon after, that space has filled with another man entirely. His ordinary features and shallow depth contrast with Jesus, covered with blood and tears, and with a tentative but determined mocker at right. Could the first represent the donor, and what does that say of anyone's complicity, responsibility, and redemption?
The study or the desert
Circle back then to Saint Jerome, in the wilderness and at home. Most painters choose one or the other, but Albrecht Dürer in the early 1500s had room for both. A painting in London portrays the desert as a European landscape rich in vegetation. So does a painting in the same museum by Giovanni Bellini—and anyone who knows Bellini from Saint Francis in the Frick will expect a revelation to begin with natural light. Meanwhile a Dürer engraving places Jerome in his study, with the lion he tamed by pulling a thorn from its feet, in tunneling perspective that intensifies his concentration. He could be lost in a laptop like a student today.
Dürer also painted Jerome in his study, but with more on his mind than books. As for Domenico Ghirlandaio in Renaissance Italy or Jan van Eyck in the north, his Jerome sports a cardinal's red, but with an addled expression as he looks out at the viewer and away from Jesus on the cross. He rests his index finger on a skull, which separates him from his inkwell and his work. That gesture appears again with Joos van Cleve around 1528. It accords, too, for Joos with a Latin motto, Homo Bulla (or "man is a bubble"). Yet Joos also zooms out a bit and softens Jerome's puzzlement, to give him space for his scholarship along with his meditation on death. More imaginatively, the two go hand in hand.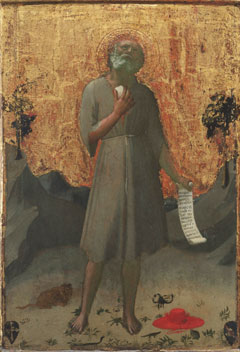 Joos, one of the first Antwerp Mannerists, has a reputation for classicizing even when he goes over the top. A dead candle adds another emblem of mortality, but then who needs a candle in a sunlit chamber? A rosary hangs alongside a vessel for holy water, and the Counter-Reformation had popularized rosaries to keep track of daily prayers—but the vessel also looks right out of a science experiment. Another call to prayer, phylacteries, shares the desk with Jerome's books. Even the skull shows the seams where its plates join, like an anatomical study, and Jerome points right to them. Here salvation in the next life begins with a discovery of the here and now.
Pieter Coecke van Aelst, a younger northern Mannerist, adopts almost the exact same composition at most a year or two later. One can never know for certain who came first. The younger artist lies closer to Dürer in Jerome's comic expression at that. Still, most money lies with Joos. Coecke might even be correcting his elder, simplifying the Latin riddle to Cogito Mori (or "think on death"), lest there be any doubts. For Joos, piety and scholarship alike demand doubts that the masses may never know.
At the very start of the Renaissance, Fra Angelico tore Jerome out of the desert in a different way, by elevating the spiritual. Many paintings place Jerome in repentance at the foot of the cross—old, gaunt, bearded, and balding. With Angelico around 1420, such external visions have departed, in favor of a man's encounter with himself. Jerome stands, younger and fully clothed, with his face to the sky. He also stands in isolation, against rocks, two spare trees, and a gilt sky. Coats of arms to either side could celebrate a donor, but also the austerity of a monastery.
Other emblems have fallen away to his feet. Here the lion looks comically small—barely larger than a snake, a scorpion, and a lizard because those, the saint wrote, were all he had for company. Jerome holds a scroll in one hand and presses a stone to his chest with the other, as if not for punishment but for comfort. Again, Dating is complicated, and the panel's gold background could belong to someone earlier, someone without Angelico's lightness of touch and of color. Yet he looks ahead to a growing inwardness, perhaps all the way to El Greco and Caravaggio, who place a Jerome writing or in meditation in little more than blackness. Take paintings in pairs, and the differences can stand out or fade away.
The last Mannerist
With his Repentant Magdalene, Guido Cagnacci may have created the last Mannerist painting—and the craziest. Just for starters, where is the repentant Magdalene? Oh, you can find her easily enough, but nowhere near the painting's center. And yet you will have trouble turning away from just that, even in a painting wildly off-center. There an avenging angel strides forward, to the left, in an exaggerated contrapposto turn that might mark the ultimate triumph of the Renaissance or a bitter parody. A garment spins away as if carried by his twist.
He is pummeling a devil that nonetheless levitates in front of him with its own splayed limbs and glossy flesh. Their axes of rotation, at right angles to one another, tear the painting that much further apart. What exactly are they doing, and is this even an angel? One wing rises so improbably that it could pass for a headdress. Light picks out their struggle between good and evil, but from a window barely up to the task of illumination.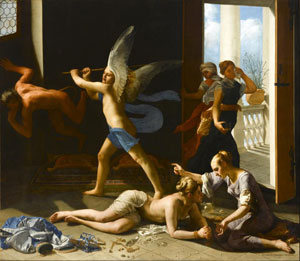 And then a whole other scene and source of light tail off to the right, where two servants hasten to leave, with good reason. They also join in their own twist, like two sides of a single body, dark and light.
As for Mary Magdalene, the prostitute who encountered Jesus, she lies prostrate before them all. She also belongs to the Baroque after all, the period after the late Renaissance and Mannerism. Caravaggio helped create that era in the 1590s with his repentant Magdalene, lost in thought, her jewels fallen to the ground. A pool of light stands for a revelation, a greater naturalism, and a new inwardness—much as it would for Jan Vermeer. He also painted Mary finding her true nature, as her sister holds up a mirror. Cagnacci takes elements from both versions, without their newly personal and somber spirit.
His painting at the Frick, from shortly before his death in 1663, continues a series of fruitful exchanges with the Norton Simon in Pasadena. Here the loan of a single painting argues for Cagnacci's importance. You may not have heard of him, but then even his contemporaries had their doubts. He had a reputation for half-length figures, like his Cleopatra slumped in death. A second version adds not legs but half a dozen other bare-breasted women, swarming about her corpse like her inner demons set free. Patrons demanded four full-length figures this time out, and they got six.
Born in 1601, Cagnacci has every claim on the new century. His soft edges and softer flesh take him beyond Mannerism, thanks to Guercino and Guido Reni. So does the blue sky at right, approaching Nicolas Poussin. His life parallels that of Caravaggio as well. He spent much of it on the run, including several love affairs, and died in Vienna. Still, his wildness and excess seem out of another age.
Mary and Martha, too, point in every direction. Martha gestures to the allegory at left, but Mary fixes her gaze on her sister. So many jewels lie about that she could hardly have worn them all, with one last gold bracelet clutched tightly in her hands. She has also cast off an elaborate dress and slippers—leaving her all but nude even in shame. Nor is Cagnacci altogether on the side of the angels. He creates so luxuriant an interior that you, too, may wish to repent. And then he signs the painting, in one last boast, beneath Martha's feet.

I visited Princeton University in August 2016. Guido Cagnacci ran at The Frick Collection through January 22, 2017. Related articles look further at Fra Angelico in America and Joos van Cleve.