The Regency
John Haber
in New York City
Paintings from the Dulwich Picture Gallery
Rembrandt: A Self-Portrait from Kenwood House
One does not often think of Rembrandt as ingratiating. Dramatic, sure, like The Night Watch or so much of his early work, facing down the viewer from across a pool of sunlight. Dark and introspective, perhaps, exposing his most private feelings or hiding behind the blur. Frank and sensual, always, from the thick oil on a bulbous nose or the lovingly exposed flesh of his wife and lover.
At the Frick, though, he welcomes visitors, in one of a delightful handful of loans from the Dulwich Picture Gallery. England's oldest public museum, it still reflects its origins in 1807. Two later bequests of English art round out the picture, and architecture by Sir John Soane gives it Georgian weight and balance. Baroque drama and Rococo pleasures belong to the past, Romanticism mostly to the future.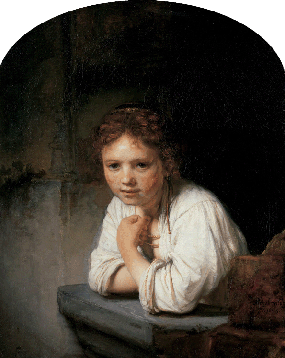 A trip to London's south bank, several miles from the city center, even feels like an escape from modernity—and yet, strangely enough, Rembrandt belongs. As a postscript two years later, more of London and Rembrandt comes to New York, with a late self-portrait from Kenwood House at the Met.
Rembrandt's reserves
Rembrandt does welcome visitors at the Frick, as he would again with loans from the Mauritshuis, from a partition framed by the gallery's stately entryway. Or rather, a young woman does, as she leans out a painted window and toward the viewer. As the show's centerpiece, her charm extends all the way across the museum's central court. Legend has Rembrandt hanging the painting outside his establishment, as a trompe l'oeil window. At some point after his death, someone cut down the canvas to an arched top to look more like one.
Not that he gave his actual studio a shop window. Oil painting this careful, rigorous, and impulsive would not survive the elements anyway. Rembrandt achieved this illusion with everything from a brush and palette knife to his own hands, and do not think for a minute of a child finger-painting. Besides, the painted window does not coincide in the least with the frame. The girl leans out diagonally from shadow, her arms resting on a stone ledge at a sharp angle to the picture place. Rembrandt added some bricks in the foreground, to make her more palpable but also apart from the viewer, without worrying whether the architecture adds up.
For all that, the painting really does reach out. The girl makes eye contact from its exact center, while her hands draw back toward her face, but that is enough. Individual points of sunlight sparkle from the ledge. One can forget that Rembrandt cared so much about the texture of stone, although paint stays fluid enough that scholars debate whether he intends a shallow pool of water there as well. In 1645, he had been in Amsterdam for fourteen years, setting aside the showy precision of Rembrandt's early years in Leiden. He had not yet fallen from success into bankruptcy, the girl's smile is unblemished, and sunlight and shadow do not yet interpenetrate in the complexity of his late style.
Legends do accumulate around Rembrandt and his workshop as they never could around someone as dutiful as Frans Hals. Was he painting a servant, assuming he could still afford one, or a prostitute? Probably just a figure study, a common enough genre for the Dutch market, but one can see why people ask. He made the girl's hands, lips, red cheeks, and braided hair full and rich, while burying her props completely in shadow. He makes the fall of her shirt casual enough to stand for innocence or experience, its materials cheap, and its folds luxuriant. She fingers gleaming threads around her neck, and they could represent draw strings for her shirt—or a gold chain.
One forgets how much Rembrandt relied on clarity as well as mystery, especially in his middle period. Her chain makes an interesting contrast with Aristotle's heavier, brighter one at the Met, contemplating the bust of Homer. The philosopher's dignity turns his thoughts within. The chain also has a parallel in the Frick's self-portrait by Rembrandt, where the seated old man holds his cane like a scepter. I looked longest, though, at the stone ledge. It thrusts into the viewer's space without losing a fraction of its mass.
In short, the girl packs calm and stability, but with barely stated reserves of sensuality and energy. And that formula could pretty much sum up the nine paintings from London. Samson for Anthony van Dyck sleeps on Delilah's lap and his own powerful arms. An infant Jupiter by Nicolas Poussin nurses on a goat, shielded from his murderous father by nymphs and shepherds. More nymphs lie asleep in a loose pyramid thanks to Peter Lely, from the Baroque in England, one exposing her muddy feet and cupping her naked behind. Rarely has so much sleeping gone on in a museum, without the guards once complaining.
Between Rococo and modernity
The formula sums up well the best tastes of Regency England. The collection began with two art dealers, the son of a French shoemaker and his French partner. The Napoleonic wars were not going to disturb transcontinental tastemakers. They worked on commission for the king of Poland—before his country deposed him and its neighbors divided it up. Perhaps their contract contained The Polish Rider. Even so, no one knows just which work they acquired for him, and dealers do highlight connections like that on their résumé.
One expects a British tact and conservatism. Bartolomé Estaban Murillo, the Spanish Baroque artist, offers a flower girl as a smiling peasant's gift for spring. Jean Antoine Watteau has one of his set pieces rather than a frank, weary sketch of actors or soldiers. A coterie of dancers, pets, and other companions cavort beneath huge arches, framing a lush landscape. Thomas Gainsborough gives a polite preview of Romanticism, in a portrait of The Linley Sisters amid cascading leaves and flowers. Their family must have looked on it differently after one underage sister ran off with Richard Brinsley Sheridan.
As with Rembrandt, the Dulwich does not run to tragedy or bitter comedy. The young Van Dyck does not yet have his glorious arrogance. He adapts Peter Paul Rubens in the latter's showy middle years, but with greater sobriety and empathy. Samson sleeps deeply without drunken contortions, his muscles do not ripple artificially, and even the soldiers waiting to blind him look on with admiration. In his early forties, Poussin's Arcadian vision squeezes classical profiles into a messy composition, far from the contemplative mood of his late Holy Family on the Steps. For that matter, Sheridan had not yet written The School for Scandal.
The show is surprisingly modern all the same. Canaletto painted Old Walton Bridge in 1754, during ten years in England, and it subordinates the action to the play of light on the bridge's then-innovative engineering. In fact, one can easily forget that Rembrandt belongs. One thinks of him as a failure, revived only by late Romanticism. Actually, Joshua Reynolds led his advocates around 1800, and the Dulwich's founding collectors displayed their painting prominently even before that. Dulwich College regularly loaned work to Royal Academy so that students could learn by copying—and Rembrandt got the most requests.
Michael Fried, the critic and historian, might see his welcoming gesture as a stage between "theatrical" painting and Modernism, and an early pupil of Rembrandt hints at both. In Leiden in 1665, Gerrit Dou still attended to detail. However, at age fifty his scene has become more capacious, with greater contrasts of darkness and light. A young woman plays the keyboard on a table by the window. A tall curtain draws back, as in a staged gesture, to reveal her face turned to the viewer, the shadows on the wall behind her, and ever so much more. The props themselves create divisions within a room, like successive acts in a narrative.
The young woman acknowledges the viewer, but without sacrificing her independence by so much as a smile. She does not have the focus on the task at hand in a greater artist's women or, conversely, embarrassment. The darkness hides depths, but also clutter. The light on a bare wall here never brings its own revelation. Still, the same devices run through painting in Delft, where music, flowers, and windows unto a larger world all speak of love. Jan Vermeer used them all, too, although Dou only paves the way for his rediscovery, and the Dulwich can only hint at changing styles to come.
A postscript: Rembrandt's inner circle
If most people know anything about Rembrandt, it is this. He was a true artist, the kind that expressed his genius in countless self-portraits—and who certified his genius in the patina of dark, heavy brushstrokes that makes him an old master. What, then, should one make of a self-portrait on loan at the Met, from Kenwood House in London? Around 1664, nearing sixty, he seems to have done everything to lay himself on the line. He painted large, and he painted bright, from the light that floods his face and for once pierces every shadow on the wall behind him. He painted honestly, from his unsmiling face and baggy clothing to the tools of his trade in his spare hand, ready for use.
He almost fills the self-portrait, with elbows cocked to either side and his palette extending past him to his left. He needs a haircut, and he could stand to shave. His hair, his shirt, his ill-fitting cap, the tips of each brush, and a speck of light on his bulbous nose compete for the brightest shade of white even beyond the plain white wall. And there behind him, to his left, he inscribes the most obvious echo of his familiar brown backgrounds. He does it with an uncharacteristic geometry designed to reinforce and to regularize his bulky form. He has traced a large, perfect circle.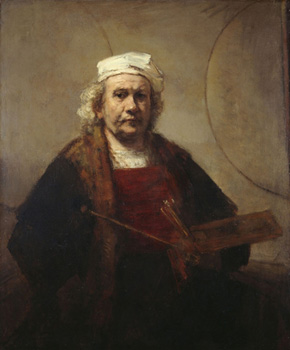 By this point you should be tallying up what I have got right and wrong, only they may blend together like shadows. The "age of Rembrandt" notwithstanding, others did not share his output of self-portraits, about a dozen a decade. Nor did they submerge their subject, a game of hide and seek he began early, as one can see in a small (and disappointing) concurrent show pairing him and Edgar Degas, although Degas prints often tackle Rembrandt head on. Early Rembrandt self-portraits have a more uniform brightness and tighter brushstrokes, but also a clever, confident habit of peering back from within a blur. When brushwork did grow heavy, he also happened to fall from favor until the nineteenth century, when artists started to see mass and form as a matter of construction rather than mere drawing—from Romanticism to Impressionism and culminating in Paul Cézanne. The Frick told that story of changing tastes only recently, with a focus on perhaps the greatest Rembrandt self-portrait of all, from its permanent collection.
Nor is simply laying on the brown or the white a sign of genius. The Frick made that clear, in bringing out workshop portraits with way too much cheating. When a scholarly committee (wrongly, I think) challenges the attribution of The Polish Rider, also in the Frick, it points to a poorly drawn or positioned horse's leg and to unclear perspective in the dark rocks. As for a sudden clarity, the loan to the Met shares much of its frankness with a 1660 self-portrait, hanging right beside it. One sees the same lighting from the left, isolating the beard stubble and increasingly wrinkled forehead. Someone looking for murk and foam should take comfort in that Kenwood entered England's public heritage via the Guinness family.
After its brief visit to New York, the portrait will join other paintings on tour during restoration of Kenwood House. For now, the Met calls its display "Rembrandt at Work," and one can study the purpose of all that brushwork, starting with the clothing. In the Met's portrait, Rembrandt builds the folds with sculptural precision, while next to it he draws out the mottled colors of a fur collar or the intense red of a shirt front. One can also see how much has changed. In the Met's portrait, from the cocked beret on down, an artist's work clothes and glance half-aside announce his artiness. Just a few years later, the artist seems more impoverished, but somehow richer—and more unflinching.
He has survived bankruptcy, a factor one has trouble not reading into the weary majesty of the Frick's self-portrait from around 1658. He has survived the death in 1663 of his companion, Hendrickje, whose 1660 portrait hangs nearby—and he faces the future without flinching, with the brushes and maul stick that might have helped with that perfect circle. Most call the circle a boast, referring to legend that Giotto proved his Renaissance genius by tracing one freehand, and Rembrandt painted a calligrapher attempting just that. Rembrandt's self-portrait adds a second circle, however, with one cut off by the frame and the other by his body. His geometry is forever doubled and incomplete, and his palettes show not a sign of paint. Rembrandt died in 1669, still resisting closure, but beginnings and endings never come easily.

"Masterpieces of European Painting from the Dulwich Picture Gallery" ran at The Frick Collection through May 30, 1010. "Rembrandt at Work: The Great Self-Portrait from Kenwood House" ran at The Metropolitan Museum of Art through May 20, 2012.