Michelangelo's Choice
John Haber
in New York City
Drawings from Munich and the Courtauld Gallery
New York does not often have a choice of two by Michelangelo. But then New York does not often have compendious loans from two European drawing collections.
In the first, drawings from Munich at the Morgan Library, he is an apprentice to Domenico Ghirlandaio. Saint Peter may date from as early as 1489, when he was just fourteen, although the Morgan places it perhaps three years later. The sheet also has room for a hand study, and I could be imagining it, but someone is giving the middle finger to them all. In the second, among nearly sixty drawings from London's Courtauld Gallery at the Frick, he is long past all that.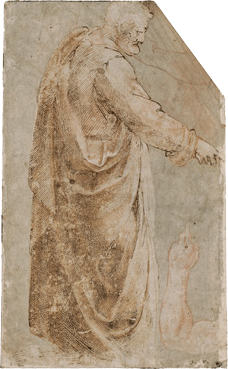 Working around 1533, he weaves an allegory for a young man much like he was a good forty years before. And each time Michelangelo was depicting a choice.
Good and bad dreams
For some artists, the choices come easy. At the Frick, Andrea Mantegna in the 1460s sets them down so quickly and vigorously that it is hard to believe that his Jesus, bound to a column, suffered alone—and without, at that, with an extra leg or two. As the Venetian artist works out the possibilities, on both sides of the sheet, they range from inner agony to outer collapse, but the vigor and implied musculature are never once in doubt. The Morgan has a more polished sheet by the same artist, the study of a young woman related to his Parnassus, with the fine finish of white highlights. Both collections, too, own a Leonardo drawing, one of Mary Magdalene and the other of gears, and naturally the first has the ultimate polymath's cross anchoring her face, the second a mathematical formula. And then there is Michelangelo, twice over.
The first, if the earlier date holds, could well be his first surviving work. And the more than one hundred loans from Munich's Staatliche Graphische Sammlung also include his teacher. Characteristically, though, he was educating himself—by sketching a figure in the first great fifteenth-century fresco, Masaccio's The Tribute Money in the Brancacci Chapel in Florence. One can imagine the impression it made on him, and he is said also to have copied Giotto from a century before. If those two names now stand for the origins of the Renaissance, in all its dignity and grandeur, it is only partly because of their influence. It is also because of Michelangelo and his influence, on art and on Giorgio Vasari's Lives of the Most Excellent Painters.
The sketch is not yet High Renaissance, for he was to help invent that, but one can see the change coming with striking force. Ghirlandaio's own drawing, from around 1475, shows the style's prosaic roots in the stately architecture of a Baptism—albeit with the artist's usual gentle emotions. Michelangelo shows what he had learned and then some. Cross-hatching fills the saint's back with shadow and his gesture with light. It picks up the figure's volume from Masaccio, but deepening the folds of drapery, as if they had just fallen into place, and lending Peter an unexpectedly dour glance, harsh nose, and slightly open mouth. Where the fresco centers on Jesus amid the circle of disciples, Michelangelo focuses on that one man off the side in the original, rendering onto Caesar, because someone had to make a choice.
At the Frick, a virile nude has only bad choices, but also the inspiration to look past them. He leans back against a hollow box and a solid sphere, as if against emptiness and against the world. His raised right knee, like the right foot brushing against his left leg, accentuate his precise anatomy—not to mention a slightly lewd abandon. Michelangelo probably intended the drawing for a young nobleman, Tommaso de' Cavalieri, in whom he had a certain interest. A faint but full circle of sinners surrounds the hero, holding out money but mostly fighting among themselves. The figure closest to him, seen from the back, sticks out his behind while accepting a kiss from someone of uncertain gender. You were tempted, and you were warned.
Choices are also, perhaps always, a matter of style. The late Michelangelo's lumpy muscles point well past the High Renaissance, to Mannerism. So does the slightly crazed composition, with so many focal points to distract its saint or sinner. Within the hollow box, empty masks leer that much more, and somehow they are the most real beings of all. Still, the young man looks upward toward a descending angel, and the rest is just a dream. The sheet's title, Il Sogno, says so, and so does the faintness of its background.
With the choice come mixed signals. The angel's slim trumpet almost touches the man's eyes, like an act of insemination—and it has the shape of a rather long erection. At the same time, the composition resembles that of another drawing, a Resurrection from a few years earlier, but with the young man in place of Jesus. It also follows one of Michelangelo's last great commissions, the Medici Chapel and tomb for an aging pope, where the nude marble Day and Night are an allegory of release from the cycle of days. Release or human connection did not come easily to Michelangelo, increasingly so in the weariness of his last sculpture. To trace his course from a young artist taking on the best there is to the choice of idealism and nightmare is to write a history of Western art.
An embarrassment of riches
For a New Yorker, unlike for Michelangelo, two European drawing collections in truth present not so much a choice as an embarrassment of riches. Visitors to the Courtauld might not even know what they are missing, on the way to some of the most celebrated of Western paintings—like an Entombment by Robert Campin, La Loge by Pierre-Auguste Renoir, and A Bar at the Folies-Bergère by Edouard Manet. Its drawings, too, amount to one show-stopper after another, like a design for the Louvre itself by Gian Lorenzo Bernini. The Staatliche Graphische Sammlung has a more public history. It began as an adornment to the palace at Mannheim, so naturally it a weakness for Germans from the 1700s and 1800s. It has more than its share, too, of studies for grand commissions, many unrealized or forgotten.
One may stumble badly on the lesser names, or one may stumble on a discovery. That German love of both overstatement and discipline touches Adolph von Menzel in 1855, as light falls on a decrepit stairwell framed by an arch and vines. It touches Carl Rottmann's Romanticism, where light streaks the landscape like a lens—as perhaps it did for the artist. Still, he cannot match the piercing blue light of J. M. W. Turner at the Frick, in preparation for an engraving around 1825. In Turner's apocalyptic seascape sixteen years later, also from the Courtauld, the red marks of dawn look like thumbprints. Another English Romantic, John Constable, similarly combines the precise and the visionary, as cattle pass an unfinished cathedral.
Back in Germany, around 1816, a dark bridge by Caspar David Friedrich frames the distant landscape as a vision—with the solitary, tiny crosser as the visionary. And Munich's nationalism pays off especially when it comes to a new century. It includes almost an entire wall at the Morgan of German Expressionism. Lovis Corinth has the sharp primary colors of Americans like Charles Demuth. Emil Nolde somehow turns thick, bright horizontals into the dark of evening. And Ernst Ludwig Kirchner's angular nude adopts the fabric pattern behind her as her acid red chin.
Neo-Expressionists like Georg Baselitz turn out as well. So does Bruce Nauman in 1973, in his usual murky ground between pleasure and parody. His space capsule turns the splatters of American painting into stars. Michael Heizer's black lines, in a study for earthworks, goes the rest of the way to abstraction. Still, even the differences in breadth underscore how much the two shows have in common, starting with their scope. Without a single place, time, or theme, both amount to greatest hits.
Maybe Munich has the edge where it comes to sheer numbers. Where the Frick boasts of "From Mantegna to Matisse," the Morgan tries "Dürer to de Kooning"—and it is selling itself short by twenty-five years at either end. Albrecht Dürer contributes a skillful enough charcoal portrait, although without the fun of a younger Dürer at the Frick still mastering his own virtuosity. In fact, the Morgan's Flagellation from Dürer's workshop has greater interest. Its plain line suggests a conscious reaching for an older vernacular, in the face of a growing audience for books and print. As for Willem de Kooning, he shows himself an equal-opportunity madman, endowing a mustached male with the broad, jagged shoulders and thighs of a de Kooning Woman.
Munich also has the edge where it comes to confusion. The Morgan lays things out roughly by period, but with artful breaks in chronology that I, for one, could live without. Poor Dürer actually turns up at least halfway through. Conversely, one can find one's own pairings. I knew that Leonardo upended the whole idea of an equestrian monument by proposing not a scornful stride, but a rearing on hind legs, supported only by a fallen warrior. Here the pose turns up in a counter-proposal from 1480, by Antonio Pollaiuolo—but also in Titian's 1537 atmospheric landscape, where the warrior appears as only open legs and the rider half tumbles off himself.
The last laugh
Just as often, though, the two shows run in close parallel, and one can enjoy them all the more for it. Each its Vincent van Gogh landscape, between farm and factory, and its obligatory early Picasso. Each has Rembrandt's first wife, Saskia, in bed. Both in pregnancy and with a young child, she looks more sickly and bored than motherly. And indeed both she and the boy died young. Still, Rembrandt tempers affection with objectivity, allowing an attendant in darker ink to dominate.
Peter Paul Rubens, too, shows his passion without breaking a sweat. In a portrait from the Courtauld, his young bride shares a private moment as she lifts her veil. She also moves her fingers across her Bible as if twiddling her thumbs and wears the silliest hat that Flemish fashion could ever have produced. At the Morgan, Rubens has his own equestrian portrait, with a human warmth that somehow got lost on its way from the study into paint. The artist turned foliage into a more formal arch, while trimming the man's unruly hair. He had to replace the face anyway, since he sketched from a medallion of someone else entirely.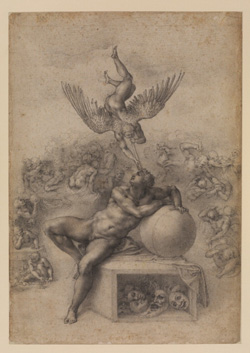 A review can quickly descend into a shopping list, and one will surely have one's own top of the list. At the Frick, Henri de Toulouse-Lautrec draws a prostitute in bed with the sly innocence of a sick child—and feet sticking out from under the sheets. A murky if academic nude offers another reminder of how much drawing in black mattered to Georges Seurat. For Francisco de Goya, an ugly singer levitates above a crone as if balanced precariously on her head, and who is to say who has cast a spell on whom? Pieter Bruegel designs his complex carnival, while Paul Cézanne pursues his own lifelong balancing act. A glass and bottle rise shining to the left, apples tumble from their dish to the right, pencil does its loop the loop, and watercolor takes its liquid course across the foreground.
At the Morgan, the rigorous simplicity of Federico Barocci's profile and lean musculature, around 1590, marks the transition from Mannerism to the Baroque. Earlier, around 1510, Fra Bartolomeo shows every trace of age but a total calm in every wisp of unkempt hair on his receding brow. Earlier still, Matthias Grünewald stresses the homeliness of a woman praying—and it takes imagination to see in her the wrenching emotions that he brings to much the same figures in paint. Adam Elsheimer around 1610 draws The Despairing Artist in Poverty, while three kids, two pets, and his own sculpture raid the joint. One can practically see him transplanted to Brooklyn. Then again, one can always come back to an artist and a choice.
Like Michelangelo in middle age, another Mannerist, too, takes a break to observe a younger man. Jacopo da Pontormo sketches an assistant, around 1420, seated on a block with his hand to his mouth. The Courtauld sees fear in his eyes, while I see eagerness, inexperience, and a touch of confusion. The paper's spots and stray black chalk have come to look like texturing on the worn stone. From Munich, Pontormo's red chalk interlaces two standing woman, giving them mass but also emotional closeness. His young man pouring wine is again a moment of rest, a hint of worldly pleasure, and a modest glimpse of the everyday.
Part of the history of western drawing is watching artists retreat further and further into the studio. Simon Vouet around 1630 draws a boy assistant without the least hint of personal involvement or anxiety. Come to think of it, I defy anyone not to see a mirror on an easel, by Max Beckmann, as an expensive monitor. Still, for a kind of pocket psychoanalysis of art, I am putting my money on Michelangelo. Put the choices down to the artist's lust, Neoplatonism, or anticipation of contemporary gender studies, but bear in mind the masks. Along with them, Michelangelo has the last laugh.

"Dürer to de Kooning: 100 Master Drawings from Munich" ran at The Morgan Library and "From Mantegna to Matisse: Master Drawings from the Courtauld Gallery" at The Frick Collection, both through January 6, 2013. A related review looks at Michelangelo drawings.