Enough Guilt
John Haber
in New York City
Caravaggio: The Last Two Paintings
Hercules Segers: Mysterious Landscapes
Just weeks before his death, with his fate very much on his mind, Caravaggio painted the death of a saint. Do not, though, expect special pleading on his behalf. With "Caravaggio's Last Two Paintings" at the Met, there is more than enough guilt to go around.
A bit later in the Baroque, Hercules Segers may have died by falling down stairs. No one can say for sure, but Samuel van Hoogstraten reported it, and it makes sense. Segers had a habit of narrowing his vision to what lay right before his eyes—and then ignoring it in his fixation on the inscrutable, the imagined, and the detail.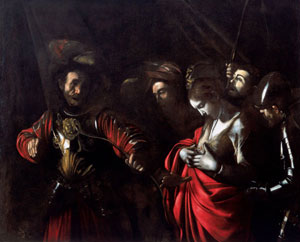 He bought some serious property along a canal in Amsterdam to observe the housetops just outside his window. And then he added what he pleased to his prints, for no amount of detail or atmosphere would suffice. At times you could mistake the etched, scratched, and acid-ridden plate for the print itself.
The flight to Italy
With Michelangelo Merisi, or Caravaggio, there is always enough guilt to go around. Maybe you know him from his early work, when he did more than anyone to invent the Baroque, along with just a handful of other artists. The wildness and excess of the late Renaissance become a greater dynamism—focused on fewer bodies, cleaner narratives, a greater command of light and space, a deeper insight into the mind, and a direct address to the viewer. They changed how anyone looked at painting, as much as the early Renaissance or modern art. They changed, too, how people saw themselves, as secular beings now personally involved in the action. This art can make anyone feel guilty as well.
Already in the 1590s, his actors stop just short of pleading guilty. The Card Sharps initiates a whole genre, with a scene of taking in the innocent. And a boy with a basket of fruit or Bacchus holding out a glass of wine shifts the subject of temptation to the viewer. That temptation also happens to include sexual beings as well as what they hold. Even at his most sunlit and lyrical, with Rest on the Flight to Egypt, Caravaggio foregrounds an angel's exposed leg, caressed by light. One can turn to a far darker late work, of John the Baptist with his smile long gone and his majestic robe still more revealing, and wonder how far the guilt has struck home.
Even in the paintings that put his art on the map, in two churches in Rome, Caravaggio cannot look away. Saint Paul from around 1600 lies on his back in one, arms outstretched and head toward the viewer, as a flood of light signals his conversion to Christianity. Yet his pose recalls a harrowing dead Christ by Mantegna, and one may question whether Paul's eyes will ever open. The man tending his horse seems ignorant of the moment—but with all the greater dignity. And with The Calling of Saint Matthew, Matthew raises both hands to his chest, as if to ask, who me? He could almost, too, be pointing to his wastrel companions, whether to ask if the calling is really his or to place the guilt for his past on others.
Caravaggio has problems with responsibility outside his art as well. He enters police records in 1600 at age twenty-seven, serves time for assaulting the police and women, and flees a death sentence in 1606 for murder. It drove him further and further south, to the setting of his last paintings. Is there any wonder that their backgrounds have grown so dark, to the point that one must look a long time to piece out the story? Maybe the real wonder is that he kept painting right up to his death in 1610.
One can never know for certain the cause of his death, although he did come down with a malignant fever—and maybe his pursuers finally caught up with him. One can never know, too, the order of his late work. Documents attest to commissions, but with ample room for guesswork. When a show claims his last two paintings, then, watch out for hype and careerism. And the Met has a history of both, although they come with the territory for a museum these days, in search of another blockbuster. The paintings hang in a room otherwise unchanged, to assert their influence.
For all that they demand close attention, all the more so since both came to light in just the last decades. Caravaggio's last work, many agree, does indeed show the death of a saint—The Martyrdom of Saint Ursula, on loan from a private collection in Naples. The Met places it next to The Denial of Saint Peter from its own holdings. Other candidates for near to last work include a version of Saint John and David with the head of Goliath, both in the Borghese in Rome. The head, bearing Goliath's horror and pain at the moment of death, is the image of Caravaggio himself. There is still enough guilt to go around.
Looking into the darkness
Maybe you vaguely remember the legend of Ursula and the eleven thousand virgins. (Talk about Mannerism and excess.) When she refused the advances of a pagan king, he slew them all. Even Ludovico Carracci, another reformer on the way to the Baroque, paints quite a scene. Instead, Caravaggio pares the killers back to a single soldier and the king, who shoots her himself at point blank. They are so close that the arrow has gone right through her except for its tail feathers. The martyrdom of a saint has become little more than a grisly murder.
Even here, though, the artist ponders the mysteries of death and responsibility. Ursula looks down and probes her wound, with a gesture not that far from the early Matthew's. The king's lined face, rapt expression, fancy armor, and plush robe identify him, but also lend him sympathy. The soldier could be abetting him or trying to intervene. And rather than showing himself a saint, Caravaggio is present as a witness, leaning over her back—whether in outrage or just looking for a good show. A second witness stands to his right, partly to draw out the distance that the arrow has traveled, but also to leave the painting's moral and literal center anonymous.
Matthew's gesture returns once again as the denial of Saint Peter. He, too, could be saying, who me? Yet he could also be accusing himself. His young accuser looks toward a soldier while pointing at Peter—as if her allegiance, too, could change at any moment. The soldier points to him as well, but with his true sentiments hidden by the visor of his gold helmet. Caravaggio again pares the scene down to its essence while binding its actors ever so closely to one another, to the viewer, and to their fate. No wonder Peter got off so easily.
All this takes looking into the darkness, between Caravaggio's murky late style and loss to the painting's surface over the centuries. The pointing fingers add up to three, just as Peter denied Jesus three times,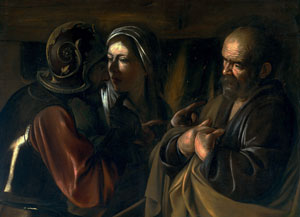 but I dare you to count. Ursula's skin has become as pale as death, only partly by intent. As I looked, a museum guard was telling another staffer that people have mistaken the arrow for a smear of colored shadow—and then he mistook it as well, calling the short tail an accident rather than a brutal truth. They are clearer in reproduction, after the camera's long exposure. Consider it a model for taking the time to observe.
I may still relish most the early drama, piercing the darkness. The late style matches a greater moral and emotional puzzle all the same. Peter comes off sympathetic at his very worst moment, his costume the most majestic in the painting and his expression the frankest. Caravaggio comes off not half badly either as a spectator. He is struggling to look, like accessories to a lynching, but then so was I. And then, in the hands of David, he is dead.
I wish the Met could have included David. He has always been the Bible's deepest portrait—his heroism, faith, and musicianship mixed with cunning, calculation, and lechery. They mix once again, too, for Caravaggio. David holds the head forward, at arm's length, as a challenge. His other hand holds the pristine sword, which appears to rise from his crotch, like you know what. He, the artist, and death are bound together in erotic wonder, with the viewer to determine the guilt.
Falling into landscape
To be sure, Hoogstraten is no authority. Born around 1589, Hercules Segers died, with or without stairs, while the writer was still a child, and most today place his death at the far extreme of Hoogstraten's guesses, in the late 1630s. Then again, the younger man had every reason to know what he was talking about. As a theorist and historian, he helped record the golden age of Dutch painting—and, as also a painter, he worked in the circle of Rembrandt, who valued Segers enough to own several of his prints and one of his even rarer paintings. Now the Met displays "The Mysterious Landscapes of Hercules Segers," with generous assistance from the Rijksmuseum. It may not make him another Caravaggio, but it hints at a missing link between Dutch artists and the preceding century or even this one.
Whenever Segers died, he had a career of less than thirty years, starting in Harlem around 1610 and ending in the Hague. He had already all but fallen out of sight. Hoogstraten reports that people used his work to wrap food, since they had no clue what to make of it either. (Segers may have purchased that house in Amsterdam with his wife's money.) He was among the first to turn to still life, including a pile of white books and an even plainer skull—much like an intimation of mortality by Pieter Claesz from around the same time, but without the shivers. Segers showed little interest in light or morals.
He also had a less than full eye on nature. He did study moss and branches hanging from trees. Almost anything, though, can look like lost in a weave akin to coral or the nightmares of Max Ernst in the twentieth century, even the side of a rearing horse or the trunk of a tree. Line alone matters, the denser and more capricious the better—line alone, that is, except for texture and color.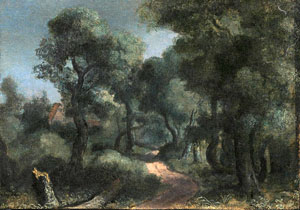 Segers often printed on colored cotton, before adding colored washes. He then altered the plate, the fabric, the dye, or the washes again before printing once, twice, or half a dozen times more.
Maybe you caught "Unfinished" at the opening of the Met Breuer or "The Unfinished Print" at the Frick some years before, but you do not know the half of it. No one knows how many Segers finished of at most two hundred surviving prints. Even his adding color is no sure sign of satisfaction. Nor can one know what he saw. He helped usher in views of mountains and waterfalls after the Alps and ruins after the castles of Rome. Yet he set his most exotic features against a backdrop of home.
Dating is difficult, too. The driest and most detailed surfaces come early, and travel may indeed have opened his eyes. Increasingly, he begins with outlines before adding more. Increasingly, too, versions grow more independent. Instead of merely a change from pink or yellow to blue and gray washes, they can become as distinct as night and day. Reversals, cropping, staining a plate with sugar and acid, and counterproofs, meaning prints taken from cloth or paper and not the plate, all come into play.
They also help explain his appeal to Rembrandt. The curator, Nadine M. Orenstein, looks for his influence in prints of Biblical subjects, but Segers also etched a solid oak and a row of trees, before the more famous artist's Three Trees. His scratchy technique approaches drypoint, a medium that Rembrandt liked, too. He anticipates Rembrandt's habit of altering a plate before cutting into it again as well. Just as interesting, Segers borrows from Pieter Bruegel and an earlier German printmaker, Hans Baldung Grien. Could that explain how art got from Mannerism to the age of Rembrandt?
It helps in revisiting the show's premise as well. The Met sees a fantasist while others were "toiling away at realism," but were they—and was that all Segers had going, too? Dutch landscape painters like Jacob van Ruisdael and Aelbert Cuyp seek a grandeur beyond the moment, while Jan Vermeer makes every interior a vision. Earlier Mannerists were even more unmoored from reality, and museums have since applied "The Visionary Landscape" to the sublimity of the Hudson River School in nineteenth-century America as well. Segers takes not vision but line and color as his subject, in some of the first art beyond realism and myth alike. At his most adventurous, Surrealism might not be too strong a word.

Caravaggio's late paintings ran at The Metropolitan Museum of Art through July 9, 2017, Hercules Segers through May 21. A related review looks at a younger Caravaggio.