How to Talk Like a Critic
John Haber
in New York City
A Primer to Art Criticism
As one drawback of this Web site, I write all the reviews. Other voices can speak only indirectly, through book reviews and, of course, through artists. However, as a handy primer to "constructive criticism," let me allow some of my very favorite writers to speak for themselves. Okay, so they get a bit of help.
Still confused? This art glossary, an introduction to artspeak, and a baker's dozen of sample docent tours will get you going for sure.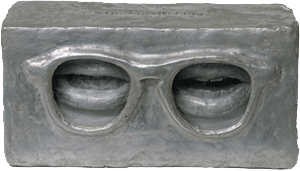 Jerry Saltz
It is long past time to ask ourselves—is all the money flowing through Chelsea making us stupid, or were we always stupid? And can I have some? The fact is that there are now 300 galleries in just the apartment above mine, and it makes a heck of a racket at night. Thank God they all follow me on Facebook.
Addressing the situation might take getting rid of the directors of a few by whatever means possible. It might mean shows focusing serious attention on art focusing serious attention on shows focusing serious attention on art. However, it is long past time to blame dealers and artists. There are committed, intense women at work. There are also others who should be committed, and I will name them in another two weeks, after a good rest.
Robert Hughes
The writer spent most of his youth in a simple mansion, in the decaying land of England. He looked at art, with a profound and hysterical sadness, but he didn't read too much, lest it upset him.
From there, this overweight man who could never comb his hair or repress a squint ventured out to pontificate to America, scavenging in art magazines for the slim and meager hopes of condescending to artists and the public on television.
At times, although not after sufficient drinks, his prose may seem fey or insignificant. There is a dim and treacherous line between "effete snob" and "pompous asshole." But seen in the balance of Time magazine, it will be remembered as the pristine vacuity of yesteryear.
Clement Greenberg
It is a platitude that critics look to art for a subject. Resistance to those conventions can take place only within the strict confines of the most advanced critic. Now, however, criticism takes as its task not writing about art, but the awareness that it is writing about art.
It is not that art criticism, as I see it, has given up on criticizing art. Rather, in the particular circumstances of modern culture, a critic's area of competence has turned out to coincide with me.
Simon Schama
As Rembrandt faced the easel, a brute fact disturbed his gaze. It lay precisely between the left leg of his easel and the halcyon existence of the bedroom. There, he abruptly caught his reflection in Saskia's behind. Could he locate it in paint, then or in the future, or only in her drawers?
There were three things to know and nothing more. First, Rubens had a penis growing out of the center of his face, where most men have noses. Second, raw tulips were selling for more than strudel on the Tokyo Stock Exchange. Third, he himself had painted the greatest and most masterpieces of an age. From these, all else follows.
Michael Kimmelman
This review puts one in the presence of sheer greatness. It knows when to take chances, to let things go, and to discover greater career opportunities. Everything attests to its resolve, its very mastery of self-publicity.
Certainly it has had its detractors. It has not hesitated to hide from the eye of strangers. It has disdained, even shot at people who hoped for a gallery or, worse, a studio visit. But after a good lunch in the artist's company, it leaves no doubt of America's future. Hey, let's go there now, ok?
Arthur C. Danto
You know, I was just heading over to his show, and the coincidence was too good to be true. At the Barnes & Noble in Chelsea, the covers of Kant looked so clean that Nietzsche himself could have scrubbed them with Brillo, which in turn could have come from an Andy Warhol. It is not that Warhol had Nietzsche in mind all along, or even knew how to spell it. (Remember: I before E.) The point is that one can imagine he could have, now that anything is no longer necessarily not art, and I did.
Peter Schjeldahl
At that point, the artist took up drooling, and it pays well, too. The results are glib, shallow, and depressing. I hate seeing this work in a museum. But I myself got it attention ten years ago, before I started to fall asleep at global art fairs or direct one myself, and you know, it still rocks.
Hal Foster
What was at stake in art prior to anal criticism was the ambiguous placement of the bathroom door. The nature of the market had overtaken bodily functions, to the point that the problematics of the art object no longer recovered its critical role. The surreal impulse was overtaken by the deferred indignity of mass culture and the altered semiotics of the sign for "Men," just as the Postmodernism of the marketplace coincided with resistance to hand blowers. At the same time, however, it no longer became necessary to deny or assume the real, or to urinate.
Holland Cotter
The artists in this fabulous group show have a remarkable clarity of drawing and materials. Their superbly realized themes roam across genres, subject matter, and whatever else I meant to say. Most important, they are black Third World queer extraterrestrial zombies. And so now are we.
Roberta Smith
On the one hand on the other hand on the one hand on the other hand on the one hand on the other hand on the one hand on the other hand on the one hand on the other hand on the one hand on the other hand on the one hand on the other hand.
On the one hand on the other hand on the one hand on the other hand on the one hand on the other hand on the one hand on the other hand on the one hand on the other hand on the one hand on the other hand on the one hand on the other hand on the one hand. Oh, it is fine. Really.
Guerilla Girls
There are not enough women being parodied on this page.

There do exist more conservative critics I actually dislike, such as Roger Kimball or Barry Gewen. I have violently or respectfully disagreed with others, too, such as Robert Alter, Anita Brookner, Anna Somers Cocks, Johanna Drucker and Ben Davis, David Hickey, Jed Perl and his Warhol bashing, Diane Ravitch, and Raphael Rubinstein. Suppose, however, I keep my sense of humor this once.