Full Disclosure
John Haber
in New York City
Did the 2008 Art Fairs Play Fair?
In their spare time, some people visit galleries and museums. In mine, I get up and go to the office. I try to think of it as a very time-consuming hobby.
Every arts writer knows the problem. Writing does not pay. For most, neither does making art. But does that force artists and critics to play both sides of the street, and can they avoid finding themselves swept up by art institutions? And does it matter? The last weekend in March proved the perfect time to ask.
As 2008 settles into spring, the choice between managing an arts fair and writing about art has caused a flap. Could Christian Viveros-Fauné simultaneously serve fairly as an art critic for The Village Voice and curatorial advisor to Volta? A blogger, Tyler Green, saw conflict of interest. Yet anyone who looks for conflict of interest at the art fairs and sees only a columnist misses the real money trail. (A companion article offers a tour of the 2008 arts fairs, including Volta, Scope, Pulse, and LA Art.)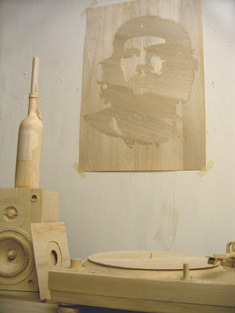 Excuses, excuses
It is not easy making money by writing about art, and I fail brilliantly. The experience could make me self-righteous, or it could teach me to give up altogether. I pretend instead that failure gives me insight into artists likewise struggling for recognition and for time to create. It also puts in perspective the fuss over Christian Viveros-Fauné. Briefly a critic for The Voice, he came under fire for potential conflict of interest, thanks to his role as managing director and curatorial adviser of two art fairs. The first, Next in Chicago, shares ownership with New York's massive Armory Show, and Volta runs alongside the latter for art's massive four-day weekend.
The offensive began naturally enough with a blogger, Tyler Green of Modern Art Notes, but all parties quickly learned to play defense. The Voice praised Viveros-Fauné as a fine critic and a "man of integrity," but dropped him anyway. It also stressed that he had written all along only on a freelance basis, as if that mattered to what he writes. Viveros-Fauné himself notes that many in the arts wear several hats, and so he has: he founded Roebling Hall gallery (sure enough, the very same weekend in Volta), and he has championed Latin American and global art as a writer and curator elsewhere. He has since written about something as safely quirky as the Barnes Foundation—for a rival New York free paper.
Green played a little rope-a-dope himself, but then almost everyone claims to hate the art fairs. He does not do "gotcha journalism," he insisted, before promptly hitting on Jerry Saltz, the last full-time reviewer for The Voice. Now critic for New York magazine, Saltz, you see, has shared a panel with Lucy Mitchell-Innes at her gallery to raise money for Barak Obama. Of course, Saltz's wife, Roberta Smith, writes admirably for an even more prominent rival publication, The New York Times—which just in time for the art fairs profiled artists funded by Prada, all staged as a fashion shoot. In turn its head critic, Michael Kimmelman, made his reputation by hanging out with well-known artists, then writing favorably about them, before taking on the role of architecture critic without reviewing buildings (other than his hopes for Penn Station). Got all that now?
In the interest of propriety, I should say that I know Viveros-Fauné, but he does not know me. I always looked forward to seeing him behind the desk at Roebling Hall, long my favorite Brooklyn gallery. I remember congratulating him one Sunday on the publicity for Eve Sussman. Her latest epic video had led off the Times Arts and Leisure section. I also cheerfully attended openings of Roebling Hall's new homes, first in Soho and finally in Chelsea. Nor did I once ask how dumb the first move was.
Viveros-Fauné, in sum, takes risks on behalf of art, and that makes his roles as an advocate for art worth taking very seriously. I shall not, I admit, miss his columns for The Voice. A trashing of Lawrence Weiner showed the difficulty for any critic of cutting reputations down to size. As so often, a negative response to an influential artist proved only the limits of a critic's sympathy and understanding. To round out the intricate story of vested interests, Viveros-Fauné concluded that no one would praise Weiner except for fear of contradicting, yes, Jerry Saltz and Roberta Smith. I had long found Weiner old hat myself, but his retrospective proved me wrong, shaking up my whole idea of conceptual art.
Sometimes, however, real work survives all the networks and all the rivalries, and Volta NY in fact stood out from the pack for 2008 (and has since influenced the 2009 art fairs, 2010 art fairs, and 2011 art fairs as well). Now, the pressure really does encourage cheating and Tyler Green's "gotcha journalism." In fact, they are part of the same career game. These days, Clement Greenberg would look suspect for his tireless advocacy, including of painters who gave him art. Even so, all writers have gone to openings and have met artists and dealers. When an artist writes out of the blue to tell me I got it, I get excited, and I also remember how often I did not get it.
Common sense and hard questions
Face it: conflicts of interest are not going away anytime soon—and not just because writers earn a pittance. Sure, it would help if The Voice treated regular contributors as full-time employees, with a decent salary and benefits. Consider, however, a related field with reasonably high standards. Art historians write books and articles for both scholarly and lay audiences while drawing a salary. They also juggle grant applications, teaching, lecturing, curating, and appearing on panels.
Departments do not just tolerate all that: they deem it a duty. The National Academy Museum, with its monthly panel of art critics, does the public a favor as well. I have myself shared at a panel elsewhere with an artist, on arts censorship. I had written about Amy Wilson before, without knowing her, and I hope that I have the chance to write about her again. The panel's organizer has recently pulled together a thrilling show of Stuart Davis drawings—and I absolutely had to describe that, too.
Normally, a little common sense and common practice should suffice. Reviewers can and should write about subjects they know, but not about their own commercial interests—and not without reasonable disclosure. One does not review a show that one has organized. Viveros-Fauné did, I think, cross the line, because commercial art fairs include almost anything one is likely to review. The global circulation of biennials and art fairs promises to overwhelm and bewilder artists, dealers, and markets alike. A critic should be probing them, not directing them.
While common sense helps, however, it should not keep everyone from asking hard questions. Critics should realize that they, too, are part of an arts scene that colors their judgment. As a rogue critic, so to speak, I do not have nearly the access, influence, or gossip that others do. Yet I have reviewed—and indeed savaged—a book published by Oxford University Press, where I edit textbooks (but not, alas, on art). It helped me articulate a theory of art, and I would have found another way had I worked in the trade division. I think I got that right, but maybe not.
Your mileage may differ, and this site will continue to take as a theme the power of markets and institutions. Jerry Saltz, too, has been a consistent, articulate critic of market pressures on art. Even if Tyler Green has his facts straight, Saltz and Mitchell-Innes also have every right to stick up for their belief in Obama. I hope that more like them and Viveros-Fauné will put their personal, artistic, and political commitments on the line. Conversely, one should not overestimate the power of individuals. Writers may fall into conflict of interest, but largely because they earn so little—and, often as not, contribute even less to the future of art.
The plain truth is that conflicts of interest among writers and editors pale beside the big bucks. In that article on Prada's patronage, John Baldessari happened to suggest that he would just love to see the convergence of art and fashion. Yet real critics and real audiences can afford to get beyond cynicism. Instead of the art world as a sinister conspiracy, one should think of multiple, diverse, and interlocking art worlds. But hey, one of them ought to pay my bills for a change.

Tyler Green writes for Modern Art Notes. Volta, curated by Amanda Coulson and Christian Viveros-Fauné, ran in New York City the weekend of March 30, 2008. A companion article tours the 2008 art fairs, including Volta. Another related article looks at the pageantry and influence of art fairs generally, starting with the 2004 Armory Show.