Too Long at the Fair
John Haber
in New York City
The 2008 New York Art Fairs
The Armory Show and other New York art fairs are big business, but also business as usual. People attend to see what that means for art's future, to make careers, and to buy, buy, buy.
This year, "business as usual" had even more sinister overtones than usual. A blogger, Tyler Green, saw conflict of interest—not in the big money, but in an arts writer. Christian Viveros-Fauné, briefly a critic for The Village Voice, also helped manage two art fairs that share ownership with the Armory Show, including Volta NY. A companion article looks at how to survive the pressures surrounding criticism and fair play. However, what did Volta NY contribute?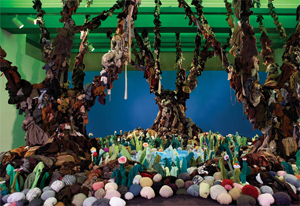 That fair, one of nine competitors to New York's Armory Show, raises old questions about whether artists, galleries, and critics can survive on the edges of global commerce. If writers will become curators, curators will become critics, and critics will speak up for themselves, then, how does each fair fare over a long weekend in New York? Follow me on the long march through Volta, Scope, Pulse, and LA Art.
Fair is foul
Probably everyone wishes art fairs would stop, please. At least they say they do, even if artists, dealers, and buyers compulsively seek them out. I know I sure did, reaching Volta NY as my third stop of the day. To my surprise, it proved easily the most rewarding one.
Word had it that the big Armory Show promises more installations, more solo acts, and more 2008 Whitney Biennial artists. What else can another art fair promise, beyond another "generational"? I decided to stick instead this year to some leading competitors, in what Roberta Smith of The New York Times has termed a fair of art fairs. Sure enough, they all keep the same promises, but in different ways. They might not include as many well-known artists and galleries, but can they help overwhelming and underwhelming at the same time? Maybe not, but the hum of European voices hardly seems to mind.
I started within minutes of Thursday's opening at West Houston Street, where Pulse, like the Armory Show, has abandoned an armory for the Hudson piers. It has not just outgrown the site of a more famous Armory Show, one that brought Modernism to America back in 1913. It is positioning itself as far more now than the scrappy outsider. One present and a few former Brooklyn galleries have hung on, amid nearly one hundred exhibitors. They fill the studied irregularity of booths large and small, presumably for every price range. They add up to the usual whirlwind trip from Santa Monica to the Slovak Republic, with a detour to avant-garde Tokyo and an exhausting layover in Germany.
And, yes, the layout features installations. One navigates the perimeter of an immaculate soccer field and a long corridor, in the sour glow of Julian Lwin's pink-orange lights and bulging polymer sheets. One ends a long way away, with a café/bar and a freestanding wall of display cases out of an old science lab. Leonardo Drew has stuffed them with, literally, white trash—ambiguously skeletons and industrial parts. In between comes an indistinct Sketch for a Landscape by castaneda/reiman, who helped initiate the construction sites with a feminist twist ten years before. Yet the installations in other open spaces look more like painted murals or minimal sculpture, and the booths themselves do their best to live up to older media and old expectations.
Is Germany always solemn and off-kilter? Is Amsterdam forever the swinging sixties, France still digging its way out of the School of Paris, Spain undecided between its cultural heritage and Frank Gehry, England an intellectualized rebellion, California comic strips on overdrive, Japan all manga all the time, New York unable to finish a work, and Canada too polite to interrupt? Must Saatchi Online exhibit, too, to exploit the excluded? Maybe not, but art fairs like this bring out stereotypes more than careers. They give the usual art-fair sensation of breaking into a dealer's back room only to find it a hall of mirrors. Do not even ask about African art, as in "Flow" at the Studio Museum.
That makes it hard to single anyone out, and it focuses attention most on the installations. Among the few solo acts, Devorah Sperber ditches her meticulous illusions of great paintings from the scraps of life in favor of Star Trek, and I hope that means the last generation. Basically, however, galleries empty their closets, or at least they display their roster as densely as decency permits.
And foul is fair
Scope's idea of business is far less impressive, but also something of a relief. The tent over Lincoln Center's Damrosch Park through Sunday does not look promising. One does not even get a site map or list of exhibitors, including a couple of relative newcomers from Long Island City but otherwise few New Yorkers indeed. A soothing bower of woolen clothing and bird songs by the team of Guerra de la Paz greets one on the way in. The materials and politics recall Mike Kelley and hisstuffed animals—as does the title, The Green Zone, with obvious reference to Iraq—but they also offer real comfort. Inside, the clean, regular array of about fifty booths turns down the volume that much further.
Volta promises business as usual, too. In fact, it promises the design business. It borders the garment industry, in an eleventh-floor showroom across from the Empire State Building. The display begins right off the elevators, with Aishleen Lester's biomorphic colored glass at London's Riflemaker. Its kitsch seems of a piece with the sleek, black-and-white partitions and gold-tinted ceiling fixtures. What seems at first the vacuity of a midmarket product line, however, translates into a thoughtful restraint.
Volta, directed by Amanda Coulson with Viveros-Fauné, has picked off several Chelsea, Lower East Side, and London dealers that the other Armory Show look-alikes could not, along with still more Europeans. Three small blocks of them, nested in concentric, U-shaped aisles keep one from marching up and down row after row.
Best of all, Volta focuses on artists. Each booth commits itself to a solo show. One has to squint to make out the gallery and its city on the corridor signs, in smaller type above the artist's name. Now if only the work at Pulse or Scope took as many chances as an average block in Chelsea, rather than blending into a kind of refined Surrealism.
Perhaps excessive echoes of Peter Max, Jim Shaw, or Cai Guo-Qiang would look out of place in a setting like Volta's. Regardless, the focus gives a leg up to reasonably traditional styles and media. Khalif Kelly, with his hints of Jacob Lawrence, brings his sad-eyed children more into close-up than in his last show at Thierry Goldberg. Realism also extends to gray-eyed portraits on wood by Suzanna Sinclair at Boston's Samson Projects and to Saul Becker's semi-abstract seascapes at Sunday L.E.S.
Photography and painting generally lean toward formal gestures, as with Clay Ketter's overhead shots at London's Bartha Contemporary of lots after Katrina. Even the rubble defines a strict geometry. Nude or clothed, Melanie Schiff's women at Chicago's Kavi Gupta somehow hide behind little more than light or shadow. Ronald de Bloeme's stripes and icons at Berlin's Hamish Morrison resemble blank, constricting sign systems of Peter Halley in bright enamel.
Fairly restrained
Otherwise, abstraction itself does not make much of a show at Volta. Perhaps that is because forms and techniques often disguise conceptual or political underpinnings. For all their beauty and for all Katrina's sordid history, Ketter's photographs would have fit with any number of projects documenting urban real estate. The crowds in Peter Funch's photographs at Copenhagen's V1 Gallery also imply continuous surveillance. At Josée Bienvenu, Ken Solomon weaves images of the presidential candidates into an oblique narrative of dissemination by mail. Democracy itself, it seems to say, is well on the way to extinction.
The one overtly political message—Jota Castro's list at Belgium's Elaine Levy of senate votes for war in Iraq under the heading of motherfuckers—appears just plain infantile by comparison to the rest. Political art often does best on the cusp of the personal and the political, and art fairs necessarily have some exclusions. I did not attend the one fair on "neutral" territory, the Dark Fair at the Swiss Institute, but big bucks and global travelers alone carry political overtones.
Volta's format makes it conducive to other things as well, including booths curtained for video. They include the simulated art machine by Peter Sarkisian at I-20. It also makes installations part of a defined space, rather than the "unmonumental" overflow of most museums and galleries. Why bother to trash the place anyway, with clean-up only three days away?
I cannot find a particular reason why David Ellis at Roebling Hall shapes empty alcohol bottles into a tepee or an eagle flapping its wings, although they look cute and emit a charming rhythm composed by Roberto Lange. David Errser does not make as much noise, but he leaves just as lasting an impression. He remakes London's Seventeen as the daylight remains of an all-night party, as clean as its blond balsa-wood surfaces. Ashtrays, cigarette ends, or a D.J.'s empty jackets for 45s have the same sharp, spotless edges as a table and chairs. Perhaps in deference to the fair's location, he calls it The Ideal Home Show.
Does anyone really need another fifty exhibitors? Can anyone stand yet another art fair? Even the names of the fairs blend together. Which one is Scope or Bridge, and does Pulse really take art's pulse or just order one to eat one's peas? Only a fool would cast Volta as a true alternative or a vision of the future. At least, however, it is a respectable vision of the present—and a good reason to return to what can survive potential conflicts of interest.
As dealer become arts writer become an art fair's curatorial adviser, then, Viveros-Fauné proves a tough test case for an outsize but insular art world. Before bloggers attempt an answer to conflict of interest in the arts, they had better ask what he is up against. Artists have often played theorist and vice versa, from Leonardo and Michelangelo to Ad Reinhardt and Robert Smithson, but has a swelling art market changed the rules of the game? As one last stop, I myself got to play both sides of the street.
Both sides of the street
I like to think that good arts writing has to integrate theory and practice, ideas and description, the issues surrounding the future of art and the stakes in a good show. In fact, I believe that, as one of its costs, art's economic boom discouraged exactly that. Just pick up a glossy magazine.
As it happened, at one of the art fairs this very weekend, I volunteered for one that calls itself "the only art magazine that's fun to read." I may not have played dealer or organizer, but I, too, got to work both sides of the street. With luck, it will bring perspective.
I was helping out Artillery, a still-new West Coast magazine that has been kind enough to run several articles of mine. (I assume that I alone make it fun to read.) I did not get paid, but it introduced me to LA Art, yet another competitor to the Armory Show and a modest one. Just fifteen dealers took up two floors of the Altman building in Chelsea. The magazines shared a dark room in the basement, as if guarding the toilets. I can safely report that the former department store has the nicest men's room of any art fair.
To avoid even the appearance of conflict of interest, I shall not review it in detail. In fact, I had meant to leave this out of the longer review. Well, actually there is no conflict of interest, but you would not put up with yet another rundown or too much more of my instinctive LA bashing.
Still, it was a sleepy affair. Even by early Sunday afternoon, dealers unnumbered customers. Amid the large, open areas, exhibitors blended into one another. So, for the most part, did their work.
They did not share the hyperkinetic or hyperconceptual sides of LA art, as seen in turn at Scope and the 2008 Whitney Biennial. LA Art's gods were Wilshire Boulevard and Santa Monica, not Cal Arts. Abstraction, whether hard edged or splattered, looked polite and colorful, while a large latticed cube of some bright-red polymer dominated sculpture. A photo of a German city at night, with an office complex rising at its center, shunned the usual alienation of German photography. In a painting, Paul cut John's hair, and the one or two images of war included smiles. When a dealer told me how he finds Jasper Johns in gray in need of Prozac, this New Yorker went into depression, I knew that I had seen a side of the art market that New Yorkers often repress.

Volta, curated by Amanda Coulson and Christian Viveros-Fauné, ran in New York City the weekend of March 30, 2008. A companion article looks at the questions surrounding conflict of interest. Other related articles look at the pageantry and influence of art fairs generally, starting with the 2004 Armory Show and in the 2009 art fairs, 2010 art fairs, 2011 art fairs, 2012 art fairs including Frieze New York, 2013 art fairs, 2014 art fairs, 2015 art fairs, 2016 art fairs, 2017 art fairs, and 2018 art fairs, including Frieze and NADA. Another related review reports on a panel discussion of "Art Fairs: An Irresistible Force?"