Public Markets and Private Treasures I
John Haber
in New York City
Vanity Fair Meets the Stavelot Triptych
No one likes the art market. They just buy into it.
Sure, Vanity Fair and W wave goodbye to 2006 with issues devoted to the arts, while Ryan McGinley, the twenty-something photographer, cuddles up on the cover of New York. And sure, Sotheby's head of contemporary art praises the market as "so smart." Uncomfortable? Think of them not as reporting or judging, but as advertising. Hey, business is business.
Besides, they may have served as a tipping point. Resentment has spread across party lines, to contemporary art's friends and foes alike. In a striking pair of articles only days apart, two astute critics come to bury the scene, not to market it. They also describe an underlying fault line. Even in apparently similar statements from eloquent critics, one can spot sharp practical and ideological divisions.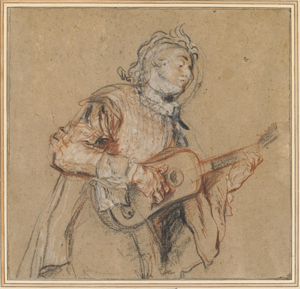 Jerry Saltz labels the market as a powerful but unstable force, which artists have to fight, critique, and exploit every step of the way. Meanwhile Jed Perl demands a return to an imagined past, which unfortunately might happen to have led to the present. In the second part of this two-part article, I then turn to the Morgan Library, for evidence of audiences, patrons, and corrupting influence—starting with Perl's own extended example.
The vortex of dreams
Saltz and Perl are hardly alone in their dismay. Do not blame them if I see a "tipping point," a phrase so connected to trend-spotting that a marketing manager would appreciate it. They also cast doubt on how accurately one can speak of "the art world" rather than a mad, lumbering beast, even while critiquing its power.
One ought to expect convergence and anger. Both critics and defenders of western civilization like to get down and dirty. And they can agree on one thing: even when artists do fashion shoots, art has to do with more than dollar value.
That may seem a foregone conclusion, even without price wars over Jeff Koons, Andy Warhol, or Marlene Dumas. Why even mention it? Novice collectors have long preferred the tried and true, the accessible and the visually overwrought—only now, with tax cuts and the growing visibility of art in a broader culture, there are more of them. Earlier private markets fostered Mannerism and the late Baroque. Now Alex Katz, Elizabeth Peyton, and, on video, Doug Aitken once again serve up court portraits for an age of empire. Perl himself compares arts writers to "courtiers at some newfangled Versailles."
However, something has changed. As Saltz puts it in The Village Voice, "Is the art market making us stupid?" More than ever, the market colors critical standards and artistic reputations—even, apparently, when the art is "not for sale." It governs how art gets displayed, in museum blockbusters, in installations like trash dumps, and in galleries indistinguishable from real-estate developments. Chelsea may even have swallowed the Whitney. Worse still, the market has altered how art gets made.
As usual, Saltz zeros right in on the practical consequences of Chelsea's "battle for Babylon" or the New Museum's move to the Bowery. First, viewers settle for their inner lives apart from broader realities. This "private consumer vortex of dreams" encourages the kind of art that makes the fastest impression. I myself like to think of Postmodernism as modern art pressed for time. Second, it confuses a "snapshot" of the present with a meaningful evaluation. In much the same way, one might argue, revisionist scholars reduce art history to a snapshot of the past, burying artistic change amid stale habits of perception.
Third, the market allows more people to make art full time—but only if they can build a career by age 35. Artists renting a studio and an apartment at today's prices may not last much longer. A public looking for the hottest stars wants them young. A collector relying on the familiar needs to have had them around from an early age. A dealer can hardly waste time on failed investments, not when a booth at the Armory Show, the costliest of New York art fairs, goes for $30,000 a day.
Laissez-faire
Jed Perl sees the crisis in terms of values. In "laissez-faire" esthetics, "any experience that anyone can have with a work of art is equal to any other." While other right-wing critics, such as Roger Kimball, can look at big money and see only a political agenda, to Perl admirers of this year's celebrities "can have it every which way." It means the relativity of judgment, but also of interpretation: "the meaning of the work is designed to be unresolved." It also means the end of distinctions between mass culture and fine art, of Bob Dylan alongside a more precious heritage.
Jed Perl may seem only to raise Saltz's concerns to a fever pitch, but consider how they diverge—and what that reveals. For starters, he thinks that anything goes, whereas Saltz thinks that collectors look to dealers, hype, and prices to confirm their certainties about the price of everything. (Whether the influx of new collectors and art advisors circling Jeffrey Deitch and looking for art that resembles stuffed animals makes "us" stupider is another matter.) Perl thinks that money discourages talk about quality, whereas Saltz thinks money talks. Perl thinks that art has taken on too many meanings, although he does not specify which meanings to leave out. Saltz thinks that perceptions have deadened.
Can anyone seriously doubt which to believe? Can any artist, scaling heights more formidable than Montmartre or the stoop of the Cedar Bar? Can anyone who reads about novice, wealthy collectors doubt exactly whose deadened perceptions have raised the walls? It hardly makes sense for Perl to stiffen the barricades further, not when his New Art City aims to recover forgotten talents from the 1950s. Now he can name exactly one living artist worthy of more attention, Thornton Willis. (That will teach you.)
His slippery tactics conform precisely to one side in the culture wars: if I dare to challenge his values, I have no values at all. Laissez-faire serves as a straw man, and knocking it aside leaves its convenient opposite—fixed opinions that need little justification at all. It makes impossible talking about political art.
One sees the same strategy in Perl's plea to protect the fine arts from popular culture. Yes, he acknowledges, "comparative investigation" can "strengthen our understanding." However, all that "terrific energy" leaves him "as tired as the next person," so why worry about it? Why consider European art's origins as a skilled trade, feminist claims for "a woman's work," or Modernism's incorporation of housepaint, scraps, and industrial parts? He has found a handy way not to talk about the matter, so that he can return to exactly where he stood.
One sees the trick, too, in the examples that carry the argument. Perl runs through one after another bloated reputation, as if handing out grades did more than flatter the reader's tastes—or his own. I loved it. I enjoy dumping on John Currin or Lisa Yuskavage as much as the next person. He tempts me with facile confirmation of my own prejudices, and that alone tells me to watch out.
War clouds
Saltz and Perl continue a long-simmering debate. For example, Art Since 1900, a provocative textbook by the editors of October, ends with questions about Modernism as institution and art's future in a market economy. Scathing replies from the right then accuse the authors of the same "loosey-goosey" world view. And the debate rages on.
Does the left pierce the veil, or does it merely add a theoretical gloss to relativism? How does the conservative base reconcile libertarians, the business community, and the values crowd? Culture has gone to war before, and not just in the galleries.
Perl writes for The New Republic, which somehow juggles Neoliberalism with in-depth art and book reviews. Not surprisingly, then, he has more sympathies for strong wills than free markets. His terms echo a lifetime in the culture wars. They allow him to plead for the esthetic experience and elevated standards. However, can those pleas engage the contractions and chaos of art now? How much can sincere judgments and interpretations matter when it comes to something as subtle and fictive as a work of art? Can they define art and allow it a future?
Readers of this webzine will have examined similar pleas before—from Robert Alter, John Armstrong, Anita Brookner, Peter Carey, Raphael Rubinstein, and Perl himself. Conversely, they will have seen how an economist, David Galenson, uses market models to confirm individualism and innovation in the arts. As a further sign of war clouds, I have found much the same distaste for contemporary art in two self-described relativists, John Carey and Dave Hickey.
A critic's judgment still matters. However, it requires an informed judgment, and art itself keeps supplying new information. One has to hold art to high standards, but also let new art disturb one's standards. A critic must then observe precisely how it does so. Especially when a critic flatters my taste, I should start asking questions. Take just one of Perl's problem cases: has Kiki Smith really "built a career" on her famous father—as opposed to getting the obvious leg up?
The derogation fits a market scheme so nicely that one almost forgets to ask whether it holds true. Smith has thrived on her imagery, her raw materials, her break at a crucial moment with Soho, her embrace of myth, her decorative impulse, and a new feminist art. That heady mix makes her interesting on her own, even as it contains sentiments that I cannot always stomach. I have a duty to sort all that out. In short, she has a talent for something worth examining, not just grading. And without that critical examination, one may not find one's way past auction prices after all.
Certainty and spectacle
When the rhetoric and results of criticism go so wrong, they tempt one to keep shouting back. One should ask instead what assumptions they leave unexamined. Perl leaps on market relativity because he has a vision of art that he wants to sell—one of greater certainties. Naturally they match the certainties of high culture.
Perl derides art open to contradictory interpretations, as further evidence that one "can have it every way." That demeans anyone who has wrestled with the perplexities of art, literature, and experience. He slams Yuskavage's dealer, who is "not sure what your work is about." That demeans artists everywhere who hate when critics like me insist that art takes words. However, it serves a properly Victorian conception, in which a connoisseur can expect a privileged experience: "the essential high-art encounter is a private encounter."
That might sound strange in a cathedral or before an altarpiece. It might sound preposterous in the grand public spaces of Renaissance Italy or the collective nightmare of Surrealism, even as both begin and end in private imaginings. It treats the nineteenth-century living room as the eternal human condition. In the process, it handily removes art from the contested public spaces of today—from Ground Zero to Chelsea. It shuns messy political implications, and it discourages both installation and digital media, which depend on shared encounters, shared tools, and shared access. Public matters like these have the potential to renew continuously the whole idea of art, its creators, and its audiences.
And that kind of arts education might scare someone. In fact, it might scare a few hot collectors. Ironically, Perl's assumptions lead logically to the market he derides, just as they did historically. Private experiences allow consumer choices, and trained eyes build lavish collections. Purely esthetic concerns create renewed interest in design and decoration. Perl manages to devote the last half of his essay to the Morgan Library, not strictly an art museum at all.
Ironically, too, Perl's argument reaches further than Saltz's, just as he takes more seriously that markets inform reputations. As perhaps the finest critic of emerging art, Saltz desperately wants a happy ending, and he finds one: markets amount to organized chaos, and art thrives on chaos. Perl's pessimism has the virtue of consistency, but also of accepting anxiety as a condition of art today. When he calls popular experience a "spectacle," he approaches Guy Debord's "society of the spectacle." But oops, French theory opens the door to relativism.
I admire both Perl's pessimism and Saltz's optimism. A day in Chelsea demands both. So does art's future, and no one can know whether this period's empire will one day demand a revolution in art—or at least an insurgency. For now, one can only insist that a critique of the present truly inform the past and truly care about contemporary art. In the second part of this two-part article, I consider Perl's own concluding example and an actual visit to the Morgan, where private interests and public spectacle collide. This once, with an ever strong and growing permanent collection, money talks, but a museum pretty much knows when to listen.

Jerry Saltz wrote in The Village Voice for January 18, Jed Perl in The New Republic for February 5. Saltz wisely jumped ship (for New York magazine) in spring 2007. "Private Treasures" ran at The Morgan Library, through April 7, 2007, as discussed further in the second part of a two-part article.