Apartheid: Before and After
John Haber
in New York City
David Goldblatt
David Goldblatt speaks of two inspirations for his photographs. In magazines like Life, he found a way of giving events the immediacy of people and places. After high school near Johannesburg, he tried to make a career of it. He failed.
In literature, he found other voices. He could imagine a deeper history—and connected lives that apartheid tried to keep strictly apart. He could surely identify with Nadine Gordimer, South Africa's best-known novelist. Her family, like his, left Eastern Europe to escape anti-Semitism and found more than their share, along with a not uncomfortable middle-class life. She wrote the text for his first book, In the Mines, in 1973, and she contributes to the audio guide for his retrospective. If literature weighs him down, that, too, is part of his style.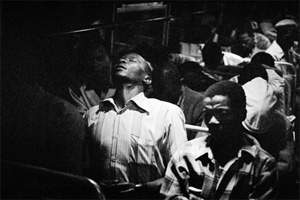 One can easily see a third inspiration, too, even beyond the trauma of his country. He did not become a full-time photographer until his early thirties, when his father died and he closed the family's clothing store. He was forty-three when that first book appeared. By then, he knew history as his history. He had photographed mines already closed, black workers forced to move on, and a shopkeeper perhaps much like his father who had catered to them. When he describes whites determined to do the right thing but still trapped in an immoral system, he must have been thinking about himself as well.
More recently, Goldblatt takes as his theme how little has changed. The white photographer sees the legacy of apartheid in South Africa lingering into the present, like South Africa's presence in Angola for Jo Ratcliffe. Like too many who never observed Africa, he looks to the proverbial dark continent. But when he does, he sees a very particular place and time. Born in 1930, he has been photographing South Africa from apartheid through today. In small black-and-white portraits through the 1970s, he shows not so much victims as sufferers. Sadly, thirty years later he shows almost exactly the same suffering.
The lives of South Africa
Goldblatt thrives on the conventions of photojournalism. Like Robert Capa and Dorothea Lange, he loves to pull a face out of a crowd. Like Henri Cartier-Bresson, he sees a century in motion. He returns to it again and again, from people in a crosswalk to black workers well before dawn, starting their three-hour commute to grinding labor. For Goldblatt, though, that motion is a matter not of people seeking refuge but of cold-blooded calculation by others. Johannesburg alone is less urban sprawl than a patchwork of artificial cities, black and white.
He works in series, for publication and to devote time and care to his subjects. After the mines, he takes on Afrikaners and the districts created for blacks to be separate but equal. He focuses on Johannesburg in the 1980s for portraits that try to make sense of black and white. He is there for protests that helped bring free elections in 1994. While his work spans fifty years, his retrospective fits almost entirely into the last quarter century of apartheid. It also sticks to black and white, part of his fascination with the past.
The past is also the domain of the novelist, and one can see his affinity. At the Jewish Museum, he consciously creates a history. A time line dating back to the colonial origins of South Africa places his life alongside political events. He supplies generous wall labels, in the first person. The museum adds only a running glossary for help. It also places a video by William Kentridge on the way out.
Of course, fiction is about lives, and Goldblatt is more interested in lives than moments in time. Even empty landscapes insist on multiple events, in a span from birth to death. An abandoned mine presents the puzzle of an M. C. Escher print. A long view captures fifteen hundred lavatories. Posts by the side of a road look like graves, and the headboards on a pair of beds look like gravestones. The flatness of the terrain, with the occasional hill a translucent silhouette, is like the setting for a ghost story.
The photographer uses that setting to make individuals part of something larger. His Johannesburg portraits imply parallels between black and white. Before that, he draws back from single sitters, with a high vantage point to insist on their isolation. Long, narrow rows of clothing press in on that shopkeeper. More often, Goldblatt shoots people in groups—and not always connecting. Commuters stream in two directions, never meeting, never making eye contact, black and white.
In Let Us Now Praise Famous Men, James Agee and Walker Evans worked on magazine assignment and produced literature—and Goldblatt counts that, too, among his favorite books. They celebrated the face of the Great Depression, just as Evans did when he collected postcards. Some descendants of their subjects feel used, which says as much about populism's transformation into right-wing individualism as about art. It also spotlights the dilemmas of documentary photography. This, they insist, is America. Goldblatt, in contrast, decries what is hiding right before one's eyes.
Heroes and villains
In one photograph, a black person in fact hides behind a pole. More often, white faces command full lighting, while black faces drown in harsh light or shadow. Shadows are Goldblatt's greatest weapon. They give someone too wrapped up in baggy stories and indifferent poses his one touch of formalist discipline. They cut across the wall of empty bunks in mine housing. On a bus, as part of that awful night-long commute, a man sleeps with his head thrown back in pain, while the man next to him falls in darkness.
Victims and sufferers in art, as in politics, can easily run to clichés, but that need not make them any less real. As clichés of African art and "the primitive," they permeate recent shows by others even at their most eloquent—with the successive labels of a global black culture, "négritude," and black magic. At the New Museum, the minister of culture for the Black Panthers even traced "black power" to African slave revolts. Goldblatt, though, does not have a slogan. In portraits he gives his sitters, mostly full length, just enough context to insist on their dignity and poverty.
Shadow can mean gray areas, too. The photographer cares about both good deeds and complicity. He knows prejudice from both sides, as Jewish and white, and Jews were on the front line in the fight against racism. He shows Afrikaners with faith in their superior destiny and affection for their servants. He shows a white woman teaching a black women sewing, whites praying alongside blacks, and blacks in the audience for white teenagers aspiring to Miss Lovely Legs—each with nuances of comfort and exploitation. He also shows the isolated black puppet states awaiting industry that never came, a testimony to good intentions that cannot mask cruelty.
Mostly, though, Goldblatt makes the good guys and bad guys very, very clear, whether one likes it or not. Methodists may pray together, but a Dutch Reform Church, he notes, quite intentionally resembles a fortress. Whites dance, while an unemployed black clerk sullenly irons his clothes. He long since gave up trying to lay them out flat or folding them first. The one black clearly complicit has his head cut off by the edge of the photo. The bracelet and tools identifying him as a mine's "boss boy" look like shackles.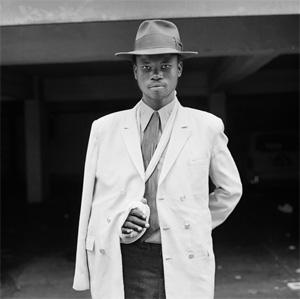 Especially early on, whites look like cartoon villains—the stiff CEO in his easy chair, the sullen white farmers and jowly politicians, the leaders of the National Party literally on their high horse. (One of the three was later the first to apologize for apartheid.) They get more nuanced in time, starting with poor farmers who can themselves claim to suffer. Kentridge, for that matter, starts to identify more and more over time with the rich plutocrat in his animations as well. Still, Goldblatt leaves a fundamental disparity between how blacks and whites act and feel. And it is often difficult to sort out when that display arises from them or from his engagement with them as photographer.
Alone, whites rest, while blacks toil. In groups, whites play to each other, while blacks play to the camera, when they do not stare in enforced isolation. A white teenager has the confident sneer of a top student. Outside the same big-box store, a black woman lapses again into weariness and shadow. At a family celebration, that gives blacks by far the brightest smile. One never knows for sure whether to call that sentiment and sympathy or pathos and desperation.
Africa yesterday and today
As resistance builds, things seem only to get worse. When change finally comes, it hardly gets better. Picking up where the Jewish Museum leaves off, the New Museum the year before paired photos from the 1980s with large color prints of the present. They all share a larger, looser composition. In cities, the camera arbitrarily cuts off empty streets and bleak storefronts. In the countryside, one has to look hard for the primary subject amid bleak landscapes, and that subject is not likely to be human.
In fact, the subjects are mostly death and displacement. Only the identities of the dead and the means of displacement have changed. The pairings might show memorials, not unlike Lee Friedlander—one to Afrikaner nationalists and one to leaders of the African National Congress. Nothing informs one that the latter deserve to live in memory. They might show a Dutch farm and an abandoned one. They might show the homeless or that long work commute to whites-only neighborhoods.
Along with the earliest shots, a second vast floor at the New Museum embodied displacement in a different way, quite apart from architecture so very cruel to photography. It set out recent triads of a single scene, often of red ribbons for the scourge of AIDS. They make the point of view hard to locate. Not that Goldblatt lacks for one. His dispassion is very much a part of it. It is also, again, a very personal point of view, with a personal history behind it, although the dispassion can easily take over from the work's very subjects.
Goldblatt, whose Lithuanian parents fled to South Africa, definitely knows displacement. His most original work can disperse attention a little too readily, although that, too, has a point. A younger South African photographer, Zwelethu Mthethwa, keeps things focused on his subjects, but Goldblatt might have found that too close to scrutiny or formalism. Without a museum's long labels, one might never recognize many of his subject—and not only because of their obscurity. And that, too, makes a statement, although not always the chilling one that he intends.
Curiously, the late 1990s pretty much drop out of the picture at both museums. Perhaps he had left the earlier images behind, and perhaps he felt forced to return to them. When MoMA exhibited Goldblatt ten years ago, he seemed more interested in picking out icons of squalor. For now, the format of the color prints has more of a signature style than anything in years. They have large white borders, held with two black clips each, nailed to the wall as in a classroom. That and the pairings alone show how slowly old lessons sink in.
Maybe it comes back to Goldblatt's struggle with his place in history. Critics of photography often ask who is taking advantage of whom. Who is bearing witness, and who is just looking—or staring? He can never recapture the power of classic photojournalism. He came too late, he is too aware of the brutal landscape to create icons, and his eye is too caught up in what he knows. Yet for all his flaws, he is always reflecting on history.

David Goldblatt ran at the Jewish Museum through September 19, 2010, and at the New Museum through October 11, 2009. More of the series on Boer monuments appear in "The Original Copy: Photography of Sculpture," at The Museum of Modern Art through November 1, 2010.