Between Ruthlessness and Pity
John Haber
in New York City
Zwelethu Mthethwa and Rineke Dijkstra
A photographer can do only so much. Too much hope or despair can lead to hectoring or sentiment, and sometimes it does. Too little can lead to manipulation or callousness. Remarkably, a young black photographer leans on formalism, but it is not mere chill. Zwelethu Mthethwa uses the resources of color to document migrant workers and disasters.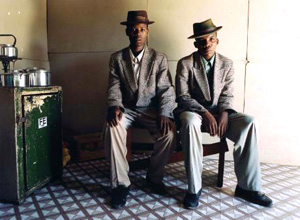 He also spotlights a photographer's use of people as subjects of another's narrative. Critics have often looked at art and asked who is looking. With many artists now, the impersonality of the lens is simply part of the picture. Rineke Dijkstra, too, adopts a sympathetic subject—not sufferers but children. She even lets them dance, but does she care? That, apparently, is for you to decide, and as a postscript I consider her use of subjects, time, and space two years later, in a midcareer retrospective.
Black and white in color
Zwelethu Mthethwa's sitters take such care in posing and so little pleasure. They may not notice the displeasure themselves, not when they maintain such evident composure. Women take pride in their autonomy and their private interior. Men take pride in their stiff collars and Sunday best. It speaks in the very space surrounding them. It speaks even in the pots on a cheap stove and the rags on the bed.
One can see it all the same in their eyes. No one in the seventeen photos at the Studio Museum so much as hints at a smile. They may look at ease with themselves and the camera, in charge of their lives, or ready to dance. But no one smiles. In a photo in the series but not in the show, a young man smiles broadly and maybe a bit anxiously—while lying half naked, like a failed fashion model. Pleasure may itself feel like a trap.
The photographer waits for them to invite him in. He gives them time to shower and dress to their satisfaction. His compositions help create that disturbingly bare space. Every assertion of space matters, too, for a migrant worker shuttling between dismal excuses for a home. Still, they cannot get over a habit of distrust of anyone's scrutiny—especially someone who cares about the liquor bottles on the shelves and how they dress. As with Willa Nasatir, even retreating to their interiors cannot save them.
Face it: suffering destroys lives, as Richard Mosse brings home in infrared photography of the Congo. That can be the very goal of torture, incarceration, or displacement—to strip others of humanity and community, on their way to anonymity and death. A system of migrant labor, as in Mthethwa's South Africa, requires human fodder as the cheapest and least visible means to an end. His past work largely showed that labor. But what of art?
Art has that special power to engage another as an individual, but also as a specimen. The photographer conspires, colludes, empathizes, manipulates, and stares. Either way, the subject just will not go away, in all his specificity and pain—and that tension is part of its power. Did Diane Arbus create only a freak show, and was there nothing more to centuries of female nudes than the male gaze? Among Mthethwa's "Inner Views" at the Studio Museum, who is entitled to self-reflection? (Your shoddy undergraduate essay here.)
I say we cut art a break. Existential crises of the soul come cheap, but conditions after apartheid are desperately real. And art has another tradition, too, of rescuing the human face of suffering. It guides the pioneer of photojournalism, Cartier-Bresson, who expressed his sympathy by documenting regimentation and people swept away in waves. It guides South Africa's best-known photographers, Jo Ratcliffe and David Goldblatt. He captures people smiling and even triumphant, in groups as at a wedding.
People under Plexiglas
Compared to them, Mthethwa marks a generational change, much like Teju Cole. He was born in 1960, thirty years after another Goldblatt, and a year before Catherine Opie in America. And she, too, extends her sympathies by allowing people a defiant plainness. In Germany, Thomas Struth and Andreas Gursky already made every portrait a chilly standoff. Like Mthethwa, they work on a fairly large scale and in color. He chose color as a "dignifying vehicle."
The curator, Naomi Beckwith, sees it as a challenge to the tradition of documentary photography, Goldblatt's included. As it happens, Goldblatt has also worked in color, although even his exhaustive retrospective at the Jewish Museum has no examples. He is looking backward anyway, with his love of silver gelatin prints, to the magazines of his childhood. As a determined moralist, he also has a way of seeing things in black and white. One might expect that Mthethwa would speak even more for people of color. His sympathies would avoid the dilemma of a white photographer obliged to treat people first and last as subjects.
Yet color, as with Struth, lends its own chill to public and private spaces. Mthethwa mounts prints on Plexiglas, with warmly saturated hues and coolly reflective surfaces. They combine a heightened intimacy and anonymity—all the more obviously when devoid of people. A second series, "Empty Beds," shows male hostels. Each testifies to someone's efforts to personalize his surroundings, whether with floral prints or the Madonna atop a calendar, and each is starkly empty. Someone has taken care in make that bed, but that care leaves harsh edges.
A third series seeks "Common Ground" in South Africa and New Orleans after Katrina. The bare walls, patched with tape and water stains, have the somber colors and dapper asymmetry of African American art after Synthetic Cubism, like Romare Bearden. They also press forward, as if to displace and exclude their occupants. Maybe that explains why Mthethwa often fails to reach me. He leaves one clueless between continents, as if the details hardly matter. He has an earnest tone, like Marlene Dumas, that can press solemnity to the point of unfeeling.
But he understands the costs. Acknowledging the complicity of the camera is already a gain. Suffering ennobles, people like to say, and Goldblatt's nobility now and again verges on sentimentality. As for Opie's confrontational style, it makes more sense in LA, where people can afford the confrontation. Mthethwa has the sense not to try too hard to overcome the distance. Even intimacy leaves an ominous distance, and it conveys the experience of displacement.
It gains most in the portrait series, "Interiors." Their enforced anonymity extends to each sitter's identity. Mthethwa leave photographs untitled because people could pay a price for his naming names. Two young men sit side by side in smart hounds-tooth jackets, white slacks, and fedoras. Even their cool has surrenders marks of difference and uncovers others. One falls in shadow, one in light, and both are unsmiling.
Among schoolchildren
Rineke Dijkstra loves children and dance. She just has a strange way of showing it. I See a Woman Crying (Weeping Woman) follows a class to the Tate Gallery in Liverpool. One can imagine them on the brink of adulthood—and of a realization. They speak hesitantly at first, about patterns and geometry. They can barely describe the painting by Pablo Picasso as about anything at all, much less a weeping woman.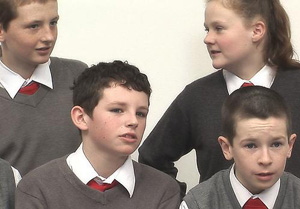 They seem almost as foreign to one another, but they are already taking cues all the same. As the group dynamics veer to the woman's feelings, they almost tumble over one another to respond. As they imagine what might make her cry, their diffident expressions might seem like crying, too. As they imagine Picasso's, they might seem as quizzical as his subject. Maybe they do get it, and Ruth, the child in a second video, draws it on her own. And there, too, is a connection in the present, for one can glimpse now and again another kid at work next to her.
It could be a story of finding meaning or completion, as in Raymond Carver's "Cathedral"—but do not expect either one anytime soon. We never see the finished drawing, and Ruth's heavily amplified pencil sounds like a nail scraping. In the larger video, one would not even know that the class is responding to art, rather than to a photo or merely a title. A school uniform holds their feelings at a distance, and so does their defiance of it—red ties askew, white shirt collars sticking out of their choice of gray sweater. The video's three channels are sometimes overlapping, sometimes slightly and jarringly apart. It refuses a true panorama, in unnerving close-up.
The kids look alarmingly unattractive and overweight anyway, even more than adolescence for Laura Larson. With English subtitles to cover their Liverpool accents, they might as well be on Mars. Their individuality could amount to a dozen words for sullen. For The Krazy House, Dijkstra sets up a white box in the Liverpool club and lets four teens loose to dance, but only one at a time. One could wait a long time for the second of four plain white screens to appear. One could wait forever for the dance itself to carry across the room.
Dijkstra's empathy and fascination depend on something closer to detachment and confrontation. In this, she is not so very far from Opie or Mthethwa, to name just two. And she does display half-length photos of the same children. In an age of irony, all three count as family pictures. No wonder some cherish Dijkstra's caring, some her dispassion, while others see an album better suited to Facebook. It is a rewarding paradox, and I just wish that, in Dijkstra's case, I did not so often see the last.
She may lack Opie's ability to define individuals. She certainly lacks Opie's awareness of how much their individuality depends on that confrontation. It is harder, too, to see the English schoolchildren as a part of the Dutch photographer's autobiography. She does, however, more easily let slip her fondness for her sitters. These and other photographers have affinities with Arbus or Garry Winogrand, but without the conversation between photographer and subject. Together, like it or not, they belong to a clearly dominant style, between ruthlessness and pity.
What third dimension?
Dijkstra turned to video because her sitters could not sit still. At the Buzz Club in Liverpool, in 1996, teens sway to the music and to their own inner rhythms, but in front of a white curtain. A split screen projection makes them compete while leaving them in their own worlds. The slower they dance, the harder they seem to try. Again in Liverpool, at the Krazyhouse three years later, more frenetic gestures turn the comedy into madness. When a couple make out instead, are they doing it for themselves, for each other, or for the camera?
As I wrote in 2010, Dijkstra loves children and dance. She just has a strange way of showing it. She earns their trust, and she lets them choose how to behave. She also looks for moments of exhaustion—in the dance, in the bull ring, at the beach, or after childbirth—so that they will not pose. In Berlin's Tiergarten, play comes all but to a halt. She wants to capture people as they are, and she associates their youth with simplicity, but in the process they become something else.
A 2012 midcareer retrospective, for all its unhurried pace across the Guggenheim's four tower galleries, becomes a kind of uncertainty principle. Those on both sides of the camera are looking, and so they change. It could serve as a metaphor for photography or for aging, and more than one series follows someone over time. A young man enlists in the French Foreign Legion, and one wants to find a psychology in changing uniforms and haircuts. A Bosnian refugee poses eleven times over eight years, from childhood and asylum to childbirth and adulthood, and one wants to find a story about vulnerability, hardening, assimilation, and learning again to care. But is it true?
People speak of both Dijkstra's ability to get subjects to reveal themselves and, sometimes, their refusal. More often, it is hard to tell the alternatives apart. One remembers the flushed faces of mothers and the red of newborn children, for their immediacy but also their uniformity. One remembers bullfighters still spattered with blood as they try to smile, as signs of empowerment but also oblivion. One remembers the girl sketching Weeping Woman, by Pablo Picasso, and her classmates talking about it, but they neither laugh nor weep. One remembers, with the soldiers, mostly pursed lips.
Dijkstra may exemplify a medium, but she also violates one of its most obvious assumptions, even before she turns to video. Surely photography captures an instant, even with an ungainly 4 by 5 camera, but she adds a dimension in time while editing out a dimension in space. She takes the scene for a documentary and eliminates the setting. In her very first series, from 1992 to 2002, bathers stand as verticals against the horizontal axis of shore and horizon, while a soft focus blurs background and context. So does the ease with which the series moves from eastern Europe and Belgium to Hilton Head and Coney Island. Of course, a white backdrop follows the conventions of fashion photography, but no one aspires to beauty or fashion.
The play of vulnerability and stereotype began with Dijkstra. Born in Amsterdam in 1959, she was a commercial photography when a biking accident cut her career short. After swimming one day, as part of her recovery, she decided on impulse to try a self-portrait. She could almost be hiding behind her goggles and the stripes of her one-piece bathing suit. She cannot escape the viewer's glance, but she cannot quite encounter even herself. Her sitters cannot hide or encounter her either, and one never sees what they draw or what they see.

Zwelethu Mthethwa ran at the Studio Museum in Harlem through October 24, 2010, Rineke Dijkstra at Marian Goodman through August 21. Her retrospective ran at The Solomon R. Guggenheim Museum through October 3, 2012.