Motherless Child
John Haber
in New York City
Arshile Gorky: His Life and Work
Hayden Herrera wrote about Arshile Gorky as long ago as her master's thesis, and she published nearly thirty years ago on his sculptures and self-portraits. As it turns out, she has an even more private stake as well in his life and work. It lies at the heart of a riveting picture of an artistic ego caught up in more than anyone could ever control.
Sounds mysterious? Herrera herself describes a mystery—the greatness of an American art born in poverty far away, the horror of a life cut short when it had most to offer. She also describes her intense personal connection to both, and I promise to reveal all, in good time.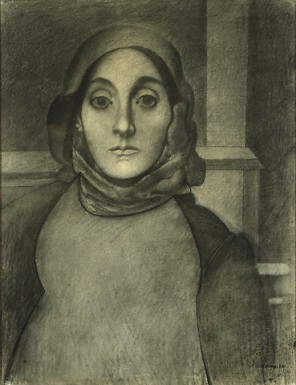 As it happens, however, she introduces herself only briefly on the back cover and not at all in the prologue. She defers even the usual courtesies to the back of the book. Her opening, set in 1946, describes instead the start of a descent into illness, isolation, delirium, and death.
Three fires
The unraveling of a life came at the very moment of a promise fulfilled. Gorky's dealer had put him on a retainer, and his work had begun to earn attention. Thanks in no small part to a wave of immigrants—most notably, Gorky himself—New York's bohemia was moving out of the Village and into the mainstream. Modern art had some new museums, and The Nation had a severe critic, Clement Greenberg. The next year, Greenberg was to credit Gorky with "one of the best pictures ever done by an American." Gorky bristled even at praise, but he had much the same opinion.
Gorky had also found a measure of happiness in the birth of two daughters and his second marriage, to Agnes Magruder. The daughter of a proper New England naval officer, she delighted in her own rebellious streak. She must have loved the dark-eyed foreigner with heavy brows, impulsive moods, and an often deliberate abuse of English. She also found a "feeling of . . . enormous security." As she put it, "I totally believed in him. He totally believed in himself."
Willem de Kooning introduced them at a party in 1941. In barely a month, she had moved into his Union Square studio and apartment. In barely a year, he began reinventing his art, with a fluidity that set the tone for Abstract Expressionism. They married on a trip cross-country. They spent their wedding night outdoors in a sleeping bag. To the end, through two additional marriages, his widow kept the affectionate name that Gorky gave her, Mougoush.
Yet the prologue tells instead of a disaster, the fire that ravaged a borrowed studio in the country. Before long, Gorky also entered a hospital with cancer, and he later broke his neck in an accident, with his dealer at the wheel. Mougoush began an affair with Roberto Matta Echaurren, or simply Matta, the Chilean Surrealist (and father of Gordon Matta-Clark) who had become one of Gorky's closest friends—and closest influences along with Surrealism and Picasso. In a mix of helplessness, guilt, anger, and fear, she soon left them both, taking Gorky's children with her. By 1948 he was wailing through the night on the doorstep of Isamu Noguchi in anguish and in rage. He hung himself on July 21.
That fire destroyed no small part of his own breakthrough, along with work to which he had clung from his already mysterious past. However, Herrera's prologue describes not a calamity, but a man at the height of his powers and glamour. She sees the "cigarette dangling from the side of his mouth," "enormous brown eyes," and "precision and ease braced with tension. . . . Gorky's concentration was fierce and total." Even the flames echo the quivering line of his canvases. The artist had lost nothing, he boasted, for he had still a third sort of fire "burning in his head."
Gorky's hopes for "rebirth" did not prove altogether wrong. His work of 1944 really had given impetus to Abstract Expressionism. Primary color saturates the canvas and pushes to the very edges. It owes much to European Modernism, but it leaves just as much behind. It eradicates at once Cubism's layered edges and carefully centered compositions, Matta's fluorescent, chilly mannerism, the storybook literalism of many other Surrealists, and the whole distinction between drawing and paint. Even his final torments deepened the gains that he had made.
Mother and child
In the next two years, charred earth tones, painfully thin lines, and hints of human rituals suggest fire, the harsh legacy of a marriage, and the breakdown within. Just as surely, they look ahead to de Kooning's Excavation and de Kooning's madwomen, the dark final palette of Mark Rothko, and Jackson Pollock, with his uncanny to spin a web out of black drawing. However, the fiery optimism of Herrera's prologue says something about her ambitions as well. So does the book's abrupt opening, her absence, and her entrance at last in two final chapters. Postmodernism teaches one to look for meaning in silences, like what Sherlock Holmes called "the curious incident of the dog in the night"—the dog who did not bark. It speaks of art and language as the absence of the thing represented, and it looks for absences in the very form of a work—even, perhaps, the form of a biography.
Mougoush, it turns out, married the author's father, and one key theme here is a stepmother's integrity. Herrera does not discount the toll on Gorky of betrayal and separation. However, she has real empathy for Mougoush as well. She makes one understand how an artist's ego and a man's suffering often crowded out a woman's life and drove her to escape. In contrast, she plays up every slight to Gorky by others, especially his dealers and critics, Greenberg definitely not excepted. One can see why Herrera's one previous biography took up Frida Kahlo, a woman artist in love and at war with an equally forceful male, Diego Rivera.
Herrera's admiration for Mougoush fits well with Gorky's obsession on his mother, too. She sustained him after his father abandoned them for America and through the massacre in his native Armenia. She led him on his difficult escape from Van, through the Caucasus, and into Georgia. She died in front of him, probably of starvation. She never saw him reach Boston and New York City.
Herrera takes his mother seriously indeed as the focus of childhood memories. She treats Gorky's great double portrait, as a child beside his mother, from the time of its gestation rather than as the finished work's place in the artist's development. Instead of a mother's stern, forward stare and a child's inadequacy, she sees the frontal poses of Armenian icons and Western Madonnas. She also links the tense, unsteady point of contact between mother and son to the electricity in many later abstractions.
The focus on Mougoush has a scholarly point, too. Herrera makes the case for her as the most reliable family narrator, in contrast to Karlan Mooradian, Gorky's nephew. Mooradian left a huge archive—of letters and interview transcripts—more than a few of them embellished or just plain fake. Mougoush helps Herrera recover the ambivalence of a painter's heritage.
Herrera places Gorky as obsessed with European tradition and American self-invention as with his past. For her, he is neither simply Armenian immigrant or Western great soul. He is also, she argues, neither the last American Surrealist nor the first Abstract Expressionist. He had so great an influence on others because he had the force to create an art of his own, drawing on the entirety of his life. Herrera followed up her biography of Kahlo with a survey of her painting. As the subtitle announces, Arshile Gorky: His Life and Work aspires to cover them both, and it sees them as inseparable.
Nature and recollection
Herrera's perspective makes her a natural story-teller. She can fill almost a hundred pages on Armenian history because she sees it as Gorky's personal history as well. She describes the paintings just as vividly. She evokes the freedom that his time away with Mougoush, in Virginia, brought to his art. Conversely, she sees the terror that nature and love held in his last years. In a modernist "glass house," where the owners saw an airy space and a window on a larger world, Gorky saw only darkness looking in.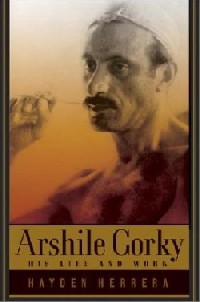 Her stance also leaves her wary of simple explanations—or downright defensive. Do critics latch onto Gorky's lies? I bet your relatives lie about their age, too, as do mine. She notes how often immigrants chose a new name and a new identity to go with it, and she argues against "one-to-one relationships" between shapes and specific objects. She insists on twin roots for his abstraction, in Modernism and in "Gorky's childlike awe at the marvelousness of nature and recollection." And no wonder, for Gorky had to create nature and recollection in his own image.
The man who fed Mougoush yogurt and spun tales of Van on their first date also fooled her, like much of the world, into thinking that he came from Russia. He claimed to descend from Maxim Gorky, the playwright, but he insisted so much on his roots back in Georgia that he revered Stalin to the last. He was imitating Robert Henri almost from his arrival in Boston, but he titled some of his greatest works out of Armenian folk tales.
The academician who taught his students to look at J. A. D. Ingres on visits to the Frick Collection made a mural for Newark on the theme of aviation, because (as Futurism came to understand as well) nothing else so suited the modern age. The painter long derided as a Cézanne and then Picasso imitator in fact left a legacy of American art. When "I walked into Arshile's studio for the first time," de Kooning wrote the year of Gorky's death, "the atmosphere was so beautiful that I got a little dizzy and, when I came to, I was bright enough to take the hint immediately."
Loneliness and an inner life came naturally to a boy who lost first his father and then his home, who learned quickly but attained language slowly. Arrogance and despair came naturally, too, in equal measures. He tried suicide as early as his Boston days, but on throwing himself in the Charles he changed his mind and confidently swam home. He bossed his students around so much that he finished their paintings for them. "I'm afraid I still thought of him," Rothko said, "as my class monitor."
Herrera encompasses it all with vigor. She does not have in mind a revisionist biography after Nouritza Matossian's Black Angel. She simply tells a good story. Her heritage makes her attuned to both Mougoush's fears and Gorky's magnetism. If this be feminist history, albeit very mildly, she makes the most of it. If Gorky felt the loss of a father, a homeland, a mother, two wives, his health, his children, and the body of his work, the biography sees how much that left him to create anew.
Blank slates
However, a focus on Gorky's uniqueness has its drawbacks. The theme's ambivalence about past and present sneaks into the narrative as well. For one thing, the biography offers little insight into other artists outside the Surrealist circle. One would never know about the controversies behind Greenberg's advocacy, the atmosphere of downtown studios, and the careers of others becoming prominent only in the late 1940s. Even such close acquaintances as de Kooning and Rothko the perpetual student have walk-on parts. Pollock and Lee Krasner appear only as rivals who pretty much missed the point.
The book intertwines personal history, world history, and art history. As a consequence, when the historical background gets thin, as in the departure from Europe, the chronology speeds up abruptly. At other times, the month by month progress makes it hard to remember the year. A number of forward references to later art are likely to confuse readers all the more. It hardly helps that the publisher relegates all images to four insets with their own disruption in time—two for photos in black and white, two for color plates.
The combination of historical sweep and interpretive caution adds vagueness of its own. One moment Herrera worries about literal readings, and the next she spots Armenian images that I have trouble seeing. The kitchen-sink approach makes her a better describer of art than an interpreter of it. A full chapter on The Artist and His Mother tosses in everything from religious imagery to biographical origins to formalism, but somehow the details never cohere. She seems to be laying the groundwork for a conclusion that she can neither state nor deny.
Still, the vagueness, like the biographer's hesitant introduction, contributes its own mirror of the artist and his times. It goes with a century of upheaval, with the destruction and remaking of nations and lives. Perhaps the artist did not know that the other Gorky, the true Russian, had taken a pseudonym, too, but others have passed on adopted names—to a wife or child if not, I admit, often to a nephew. Yet Arshile Gorky did it. Come to think of it, so did that Englishman so associated with integrity in language, George Orwell.
The slipperiness also suits Gorky's peculiar Modernism. It goes with the formalism that elevated unbridled expression and yet left the artist as among a myriad of masks. It goes with the impulsive spirit of an artist who declared a work finished when he could no longer face it—and then faked its date. It goes with a man who took such pains to disguise his past and eventually hid from the world for good. It goes with the unsettled legacy left to his children and the author. In a sense, his life and his heritage became an unfinished work.
The Artist with His Mother multiples images of blankness. The flower in the boy's hand will never sprout, reduced to an offering as withered as his left arm. The mother's stare, just a bit off center and with the tiniest hint of asymmetry, refuses the slightest hint of acknowledgment or emotion, even as it offers the promise of turning toward him. Her dress fades into chalky, raw brushwork and then into slate-gray underpaint, as if Gorky cannot face her. The brown rectangle behind her, like a window that will never open, in turn denies the typically blank, white backdrop of a photographer's studio. In the blank spaces of memory and nature, the artist must struggle unsuccessfully to articulate his image in the present.

Arshile Gorky: His Life and Work, by Hayden Herrera, was published in 2003 by Farrar, Straus and Giroux. I continue this two-part examination of the artist with a review of his drawings at The Whitney Museum of American Art, also in late 2003.