The Real New York School
John Haber
in New York City
Lee Krasner and Norman Lewis
Morris Louis: Veils
If there was a New York School, Lee Krasner was the consummate New Yorker. She was born here, outside the Manhattan elites, and went to school here. Yet she learned at least as much from the Museum of Modern Art, founded in 1929, just as she entered her twenties, as from the best teachers. For her, too, coming from an immigrant community to a growing circle of artists never meant leaving her roots behind. It meant working her way toward larger, more all-over compositions, in which line whips through paint and color.
One could say much the same about Norman Lewis, and the Jewish Museum makes the most of their pairing. Think about it—the daughter of Russian Jews and the son of African Americans from Bermuda, one from Brooklyn and one from Harlem, born just one year apart, amid all those hard-drinking white males.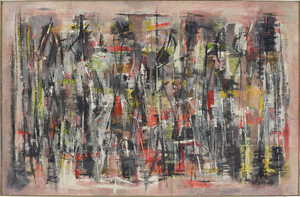 How close, though, are the parallels, in a show of just three dozen works by two artists, and how representative is the show's focus, the late 1940s, of their art? Did they even meet? Together in "From the Margins," they also raise serious questions about an art movement, its roots, and who its histories so often leave behind. As a postscript, while Krasner and Lewis emerged from the margins, an artist just three years younger, Morris Louis, found his own devotion to color in stepping out from behind the Veils.
Hebrew and jazz
Lee Krasner will always be part of the fabric of my New York. I associate her mature work with its gorgeous tapestry of light brown and with the smell of a hair salon in the Fuller Building, where she had a gallery at her death in 1983, when I was just learning about modern art. I look forward to her mosaic on State Street every time I leave the Staten Island or Governors Island ferry. She married Jackson Pollock a few blocks south of the Empire State Building, where I pass nearly every day. She introduced him to Hans Hoffman at the Art Students League on 57th Street, as close as the unruly westerner and student of Thomas Hart Benton ever came to a mentor. Without Hoffman, neither might have found an escape from an American Surrealism, toward an Abstract Expressionist New York.
Norman Lewis has his claim to the city, too, but a quite different one, and museums have been slower to notice. Krasner had her journey into the city and her education at both its radical and old-fashioned places, at Cooper Union and then the National Academy of Design. She and Pollock spent much of their time on eastern Long Island, then apart from the greater wealth of the Hamptons. Lewis was nurtured on a sail through the Caribbean, after which he remained in Harlem. She had a full retrospective in 2001, at the Brooklyn Museum. He turns up when someone remembers to ask about black abstraction.
He holds his own here, in part because he got where he was going sooner. He loved jazz as he loved the community in Harlem, and its characters and rhythms appear everywhere in his art. One can make out performers, instruments, and maybe even a musical score or two. All Lewis had to do was to let them loosen him up. One can watch his jagged line, most often in white, sinking more and more into larger and more luminous fields. Krasner works at every stage with exquisite care, even when piling on the paint. Her breakthrough, perhaps inspired by what she knew of Hebrew letters, assembles thin impasto brushstrokes into a tight grid of triangles and squares.
They could hardly be more different, in temperament as well as art. The show opens with photographs and two self-portraits. Born in 1908, she stands at her easel in 1930, in a crowded landscape of flowers and trees. Born in 1909, he painted just his head ten years later, with those luminous color fields running every which way. She is her bright, stubborn self, asserting her calling. He is dapper and charming. She could have done well to forget a certain charismatic drunk and cheater to take up with him.
The show keeps looking for parallels, and it gets them, but more in their education than in their artistry. Already in her portrait, Krasner is determinedly high culture, but a European culture that Europe itself had pretty much left behind.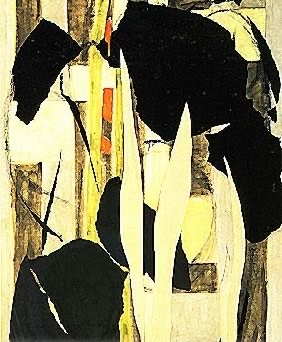 She is still reworking Post-Impressionism as it made its way through its narrower spaces to Modernism. Lewis is blending high and low culture in both subject and style. The second room makes the case for their shared encounter with Henri Matisse and Cubism, and it did them both a world of good. The encounter took too long for all of American Modernism.
She adopts a style close to Stuart Davis, in work for the murals division of the Works Progress Administration. He adopts large rectangles in near monochrome, almost like Notre Dame for Matisse. Mostly, though, she is struggling, while he is jazzing it up. The musicians are more legible, and their field of color more compact, but otherwise he is on his way. And then in the third and largest room, they settle down. That room covers just the years from 1946 to 1950, so crucial to both artists—and to postwar American art.
Writing from the margins
She may even leave him behind. He first concentrates his existing compositions into almost a dark cloud. She starts her Little series, that grid of geometry reaching to the edges, in black, white, and hints of color. He broadens his fields again, now more luminous than ever. With that growing and glowing cloud, anticipating Mark Rothko, he demands inclusion at last in a better history. Still, he is composing well within the borders of the canvas. She is working the entire picture plane into depth.
Krasner did have a certain advantage, in a sneak peek at Pollock, who had started drip paintings. She has two as well, one here and one in the show's final room, which carries her and Lewis into the 1960s. She is still fussy and obsessive. Her woven tracery pops off the canvas, less like Pollock than Janet Sobel, who has claims both to inventing drip painting and to outsider art. Still, Krasner's pop like nothing else in the show. If postwar art is about the art object, and if it is about color as line and line as color, she deserves more space in mainstream histories, too.
The last room leaps ahead to just a few works, as if to bid its actors goodbye. She has the largest, with only a few broad brushstrokes against a slightly lighter field, like calligraphic Chinese art, but in monochrome. He has the show's brightest work, in more ways than one, with something like lettering spewing out toward the right of a bright, bold red. It takes the shape of a megaphone, because it is a protest concerning civil rights. Still, it is also illegible, and that raises the question of identity. Is this really a show about a man and a women, a black and a Jew—and what are they even doing in the same rooms?
Maybe not all that much. One could give them separate rooms, with little loss other than making obvious the paucity of the display. Both Krasner and Lewis deserve more, much more, for all the show's focus on the years from 1945 to 1952—and the curators, Norman L. Kleeblatt and Stephen Brown, have a long way to go to explain why Lewis is in the Jewish Museum in the first place. One must find one's own answers, along with the pleasures. Mine might begin with their shared line, so wiry as to become not just drawing but writing, whether in musical notation, in Hebrew, or in abstract art. It might include their shared preference for detail rather than the iconic form of Pollock's drips, Rothko's clouds, women for Willem de Kooning, cryptic block letters for Franz Kline, or canyons for Clyfford Still.
An explanation might also include a deconstruction of the politics of postwar American art. For supporters, Abstract Expressionism necessarily means the triumph of American painting. For detractors, it is and was a tool of American propaganda, centered on a white male cowboy and drifter from the American West. At the very least, Krasner and Lewis slip away from those descriptions, as people and as artists. They should also have one remembering the actual politics and the players. If they were children of immigrants, so was the movement.
Willem de Kooning came from the Netherlands, Hoffman from Germany, Arshile Gorky from displacement and genocide in Armenia. Robert Motherwell came to painting from the front in World War II and Ad Reinhardt, another child of immigrants, from the home front in the struggle against capitalism and fascism. Barnett Newman was a Jew. Maybe another look at New Yorkers in the New York School will include him. Meanwhile, one can grapple with artists that elude the terms of politics or complicity. Krasner and Lewis may or may not have another message in their text, from the margins of New York.
A postscript: behind the veil
What lies behind the veil? Canvas, of course, and Morris Louis leaves plenty of it exposed to light. It was essential to his technique, of pouring layers of translucent color onto unprimed, unstretched cotton duck, and one example retains a gap that he never got around to filling. These are mural-scaled paintings, where fabric itself is the mural. One can imagine its novelty, amid the triumph of "all-over painting." Color surrounds even the floating rectangles of Mark Rothko.
Still, one may not have time to appreciate the empty space, not when there is so much resplendent color. Up close to his Veils, pigment sparkles in Magna, the acrylic resin made specially for him.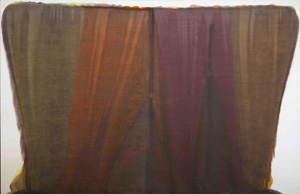 Step back and it darkens, as overlapping layers intercept the light. Colors shift from point to point across the surface, so that even from a distance they offer an immersive experience, as they were for him. Color also gains mass, anchored to the bottom edge of the canvas. The veils broaden at the top, in the direction of the pour, like gigantic mushrooms.
Not that he intended the image, although this was 1958 into 1959, when the word mushroom went with clouds, and school kids were hiding under their desks. Yet Louis was quite comfortable with metaphor, even in the heyday of "pure painting." He and Kenneth Noland got the idea of stains from Helen Frankenthaler, especially from her 1952 Mountains and Sea. The titles in his own series allude to veils and curtains, along with Grotto and Dawn, much as Alma Thomas (also in Washington, D.C.) alluded to flowers and trees. Did he think of canvas as a stage for the act of poured paint? What would one see if one could draw aside the veil?
Maybe canvas, or maybe nothing—nothing beyond the veil itself. Look up to the very edge, for what might peek out from behind, and one sees more color. Color is his real subject, and it is startling. Those deep blues, greens, purples, and browns began as light, unmixed colors, like bright orange. Veils may sound flimsy, and color-field painting has had to battle a reputation as lightweight compared to Abstract Expressionism before it and Minimalism to come, but these are not like the physical curtains that often heighten the illusion in trompe l'oeil painting. They are the thing itself.
Frankenthaler was turning to acrylic as well, in relatively small paintings from 1962 and 1963. A nearby gallery focuses on the turn, and there, too, one sees plenty of canvas. If the work looks downright sketchy after Louis, she, too, conflated object and process. Her color was also gathering mass, as the fields nestle, jostle, and overlap. She now draws only with color, reaching more and more to the edge. These are perhaps her purest but also weakest abstractions, before a sensation of landscape returns in her finer work, but then remember the date.
They were not alone in demanding that painting become itself at last. Frank Stella was about to undertake his first "Black Paintings," and the ultimate in black paintings from Reinhardt were on their way. Canvas takes center stage for Louis in his later Unfurleds, but there, too, color defines image and object, pouring in from each side. Painting as material object took on a personal meaning as well. Notice the colorless stains, in resin and solvent that spread beyond the veil? One had better, for they contributed to his death from lung cancer in 1962, at age fifty.

"From the Margins: Lee Krasner and Norman Lewis, 1945–1952" ran at the Jewish Museum through February 1, 2015. Morris Louis ran at Mnuchin, Helen Frankenthaler at Gagosian on Madison Avenue, both through October 18, 2014. Related review looks at a retrospective of Lee Krasner and at blacks and women in postwar abstraction.