Six Centuries of Madonnas
John Haber
in New York City
Thomas Wilmer Dewing and Picasso Portraits
Do the titles of these shows sound strangely similar? When men are the subject and women the object, exactly what changes on the old male games can painting ring? As a visit to Thomas Wilmer Dewing out in Brooklyn shows, together with yet more of Picasso at the Museum of Modern Art, the question has been a live one from as long ago as Renaissance Madonnas. It will not go away soon either.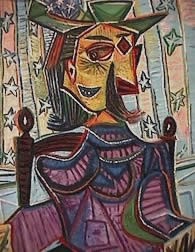 Yes, I do leave Manhattan
The Brooklyn Museum, while slated for serious remodeling to conclude in 2004, is a dowdy old building on the edge of Prospect Park. From the outside, it is another grand palace like the Met, expanded yet again from the McKim, White, Mead original. Facing off against the anonymous apartment complexes of Eastern Parkway, and turning its back on Frederick Law Olmsted's subtle park spaces, it looks more than a bit comical alongside the prettiest botanic garden on the East Coast. Inside, it reminds me of a barn. Maybe it would feel less empty if it could afford costly traveling shows.
Still, it has a some strong points, including its splendid permanent collections of African art and American art. Its rooms of the Hudson River School, past sunlit hills and passing storms, climax in one of Albert Bierstadt's most characteristic fantasies, a suitably oversized painting of the Grand Canyon. The damp blue-green light draws one in as the canyon itself never could, only to run up against the exaggerated vertical scale of the sheer rocks. I nearly rushed past a lovely little Fitz Hugh Lane to see it again.
Then too, no other local museum bets half so often on contemporary art. Its tastes are formalist, but they keep one guessing, and new examples, all just picked up this last year, can all be seen on the top floor. I especially enjoyed the surprise of James Hyde, notable among the many contemporary abstract artists deserving a little attention. He is just the sort of less than safe choice that helps set the Brooklyn museum apart.
I went out, however, for the typically quirky and significant temporary exhibitions. Right now the lobby displays a couple of dozen works from the Museum's collection, all panel paintings of the Italian trecento and quattrocento. They give added luster to a Nardo de Cione, bought at auction after its owner, the New York Historical Society, continued its pathetic self-destruction. They are dynamite.
Nardo was grimly conservative, in spirit and in doctrine. His imposing saints stare down Giotto's humanism. On her throne, the Madonna sits at once passive and impassive. His sense of form and monumentality, however, were as progressive as they come among Giotto's followers.
Most of the other artists on display will be known only to specialists, who clearly get all the fun. (Shall I let you know how many I could recognize—or how few?) In this context they come to life as one skilled, creative individual after another, sharing that individuality with their crisply drawn saints. The Renaissance seems almost to unfold afresh.
Dewing's more stately reverence
The museum also has a larger, much better-publicized retrospective, more than seventy works by Thomas Wilmer Dewing. Has a woman really moved all that far off her throne even in the art of this century? In America at least, perhaps not very far at all. And to think one calls this an American century.
The fin-de-siècle painter is easy to lose amid the dramatic changes in just decades from Impressionism to Modernism, which together have properly been called the painting of modern life. It remains an interesting cultural paradox that, in our country, those changes had a more stately cast. American artists influenced by Impression and its formalism moved quickly into images of beauty for the upper-middle class, not unlike Edouard Vuillard in Paris. Even when John Singer Sargent turned to landscape, he left the shock of the new to Thomas Eakins and his frontal nudity or, later, to someone like John Sloan.
The contrast is particularly obvious in their images of women. Eakins insisted on allowing female models and painters, and Sloan would soon create New York cafeteria scenes almost like Pop Art in their brutal vitality. Perhaps these revolutionary artists gave women their due only with a slight undertow of "whore with a heart of gold." Still, by contrast Dewing is all gossamer gold and a lot less heart, not to mention a much greater tolerance for nonsense.
His women are emblems of beauty, whether they engage in tasks associated with art, such as playing the piano and reading, or just stare off into space. The background, those soft-focused greens and browns, pulls his figures down to the picture plane.
Dewing clearly identifies his women with the picture. As later with another American Impressionist, Childe Hassam, they give him that much more of an assurance that he is entirely up to fine art. Under the influence of William Merritt Chase, John Singer Sargent, and William Morris, he was developing a very un-European Modernism, very American indeed in its prudery and trust in money. (Ingres, a greater portraitist, has almost the same fascination with moneyed subjects, but his apparent reserve can get awfully sexy.) Formally it was even well ahead of Sloan, or Robert Henri and all his passel, but the contradictions of American art would not explode until after two world wars.
Despite it all, one has to delight in Dewing's old-fashioned love of decoration. Many of the frames are original, the bulk of them by Sanford White; and the Brooklyn Museum, true to the memory of its architect, lets one know just which ones. White is best known for other buildings in the grand manner, including the first Madison Square Garden. Like White, Dewing had one eye on the new century and one eye on old techniques, as he practiced decoration and mimed the accumulation of past wealth.
One should not mistake Dewing's interest in the frame with modernist concerns for the material essence of painting. Still further is he from postmodern worries about the shifting border between art and life, or art and just what happens. His idea of a good time just comes suitably wrapped.
At his best Dewing feels safe, comfortable, and suitably rich, especially when he lets his deep reds and blues invade. Alas, he may look best of all in the darker tones of reproduction. I think I liked him best as I looked at the museum handout on the way home. Around the bend in Park Slope among the yuppies, a little elegance did not seem out of place.
Picasso: sexism the hard way
Dewing may look ostentatious out in Brooklyn, but shall I let others know how glamorous I was? At quite another extreme of museum-going, I got invited to the members' opening of the Picasso portrait show at the Modern.
The crowd looked remarkably attractive and wealthy for a show open to all full members. I wanted to wear a jacket and tie over jeans, in the hope that someone would mistake me for an artist, but I chickened out. I thought I might have to get my artist acquaintances speaking more regularly to me first.
The crowd, many times that for other recent openings, suggests that the show itself will be awfully packed. Picasso has long been the great artist you hate to love or love to hate—Matisse's rival, as Henri Matisse himself may have felt even before his fame. From good old perplexity at modern art to the overfamiliarity of its icons, from John Berger and his hard-nosed look at The Success and Failure of Picasso to some well-earned feminist attacks on his women, Picasso always has been too modern, not modern enough, or too sexist. Now, though, he is fully transmuted into the emblem of genius.
Can it hurt that Steve Martin now makes the step from playwright about Picasso to audio tour guide? And here I thought I understood the dynamics of museum institutions.
The show continues the Modern's new enforcement of dignity, like those stupid platforms under Brancusi a floor below. There are taped lines one cannot cross in front of many paintings, very much unlike the treacherous lines within the art. And there is rubbish on the walls about the paintings as transformation—including photos to show you what the people "really" looked like before Picasso transformed them in his own image. It nearly made me glad for us crowds, who had not yet been reduced to black-and-white (give or take a few in tails).
This overly vast show tries to be a second grand retrospective, this time reducing his work to problematic versions of his life. It is not just the photos. After some early views of family and friends, the exhibition proceeds lover by lover. The Modern actually has some basis for its leering approach, and not just in the artist's outsize ego. Portraits span his career, just as Rembrandt's self-portraits described his ego repeatedly, especially portraits of the women close to him.
The problem is that Picasso did more than any other painter to question the whole idea of traditional genres—especially in a male portrait, of Ambroise Vollard. In Analytic Cubism, people, landscape, still life, and the words that identify it all become a difficult, punning web of imagery. Cubist illusions tumble alarmingly out of the frame, rather than receding into the tidy perspective of a sculptural niche. How could Picasso's images sit still for the Modern's treatment?
Still, he came off wonderfully, even given the unfortunate number of near misses among some 220 portraits. Does the museum imagine that Picasso put on styles and love relationships with equal casualness? The rooms, more or less following the sequence of his loves, quickly shows how tricky his artistic vocabulary remained. He might have been a glib painter, but he constantly tried new things rather than using his style like a formula.
Demeaning the meaning
In a painting of his son on a donkey, the background is divided into grass and sky. The flat color fields allow only little prickles at the top of the hilly grass for texture. As one looks, the prickles start to look like rough threads, suturing the two halves together like Frankenstein's complexion. The transformation of well-arranged collage into disruptive suture could be right out of a deconstructive textbook, and it throws to the winds several parables of Modernism.
His portraits are never demeaning, despite what one may recall. Dora Maar is younger than in her photo. The artist's characteristic pairing of frontal and profile views, inner cutaway and disturbed traces of outer appearance, gives sympathetic appreciation to Jacqueline Picasso's lifelong depression. When there is anguish here, it reflects on mutual feelings: he is painting a relationship as much as either himself or the other.
The peak must remain the early Analytic Cubism that still stands out so in the history of art, thanks to Picasso and Braque. That period is also the least gendered in his art. Alongside the anonymity of Ma Jolie, omitted as not quite fitting the Modern's case, come penetrating portraits of his dealers. Kahnweiler, seen here, looks so sly that instead of sitting for his portrait, he could be lying in wait. I missed seeing the equally fine portrait of Vollard. Perhaps that dealer's high forehead seemed to the Modern too intellectual for all the sexual fireworks on display.
Almost as good are the mirror paintings of the 1930s. Contrary to art history (or to the artist's own Demoiselles d'Avignon), the mirror allows the subject to reflect on what lies within her and how it relates to her surface. Picasso's own image never appears in the mirror, and his position as male onlooker seems eerily excluded, almost nastily, by the harsh surfaces and the inward stares.
The show concludes not with the late Picasso, but by doubling back in time, to a room of self-portraits. The point, of course, is that the self-portrait was present all along, overwhelming his pretended loves. I could not altogether believe it, however—not after comparing the strangeness of the women to the lonely confidence of the man in the last room.
Ultimately, Picasso's very real sexism lies above all that—in his art's very strangeness. The superhuman can never be fully human. It is nonetheless humanized by an artist who does not himself know where the viewer stands, at least not enough to erect a pedestal. He knew to avoid the Dewing's Victorian Madonnas, but not Nardo's half-human kind.
Picasso himself claimed that his retreat from Analytic Cubism evoked both pattern painting and the firm drawing of the Renaissance. After a visit to Brooklyn, I know what real decorators and real draftsmen are like. Picasso's glory can only be in making them as strange as life.
The man's fascination cannot be dislodged by either appreciation or criticism like this. If you have to be a glib, sexist pig, it hardly hurts to be the mountain around which Modernism and Postmodernism have been forced to construct their roads ever since.

"Thomas Wilmer Dewing: Beauty Reconfigured" ran through June 7, 1996, at The Brooklyn Museum. "Picasso and Portraiture: Representation and Transformation" ran through September 17, 1996, at The Museum of Modern Art.