Behind the Masks
John Haber
in New York City
Ralph Eugene Meatyard and Morton Bartlett
Will anyone ever see the man behind the masks? Probably not, but four dozen photographs span the art of Ralph Eugene Meatyard, with nary a mask in sight. The show is not the only occasion for recovering half-remembered photographers, their child subjects, and their very adult obsessions. Where Meatyard has his masks, Morton Bartlett had his dolls, and both also photographed their children.
Well after Hans Bellmar and before Laurie Simmons, they really were playing with toys that took on a life of their own. Even earlier, before Surrealism, Artur Nikodem was seeing both the dark and limpid side of fairy tales, and even now Holly Andres is creating her own, with girls both vulnerable and center stage. Meatyard, though, could claim to be perfectly normal and in the heartland of America—or could he? A selection of sophisticated experiments in photography asks whatever that means.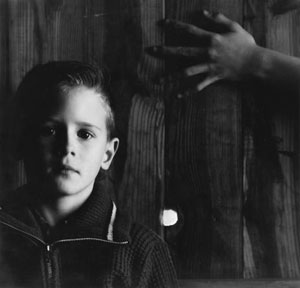 Long ago now, a pioneering photographer and filmmaker in Europe, Brassaï, wrote that "lighting is to the photographer what style is to the writer." Little did he know that it could also act as a disguise.
Normal enough
Some ten years since a survey at the International Center of Photography fully introduced Ralph Eugene Meatyard to New York, he remains a shadowy presence. So, too, do his subjects, and he means it that way. His photographs show motion in bare trees, woods like a shower of rain, ripples on the water, and empty houses. They show his children, who moved him to take up photography in the first place. Yet no one glowers more than the occasion warrants or looks disfigured as if caked and rotting, as elsewhere in his art. Something covers the face of just one child, back to the ground, but it could be just nerdy glasses or a shadow.
In truth, everyday darkness was Meatyard's most tempting and frightening disguise. The empty houses, really little more than storage sheds for farmers straddling the poverty line, were a fact of life in Lexington, Kentucky, and he set out with his kids to document them all. The Family Album of Lucybelle Crater actually pictures his wife, Madelyn, alongside family and friends. Her store-bought hag's mask, in all its gruesome whiteness, contrasts with her thick legs and country dresses. A doll for Laurie Simmons or Morton Bartlett never looks so at home and so clumsy. Her companion invariably has his mask, too, but a transparent one.
Nothing of that memorable late series appears this time, in what might serve instead as a close-up of the photographer's working methods. Like most of his output, it runs only from 1959 to his early death from cancer in 1972, although he bought his first camera soon after moving to Lexington in 1950—after a stint in the Navy, college, and marriage. The medium is a fitting subject anyway for a man who earned a living as an optician. People often puzzle over the contrast between the suburban father of three, two boys and a girl, and his spooky images, but he took the prefiguration of death in stride. He can come across as a strictly southern or folk artist, although he studied photography with Minor White, learned about spirituality from Thomas Merton, collaborated with well-known writers, and took an interest in jazz and Zen. Sometimes outsider art is just another name for ordinary madness that never makes its way to New York.
Maybe he never could get normal enough, between his birth in Normal, Illinois, and his name out of some horror flick with an ending as yet unknown. Still, his family albums challenge anyone to tease apart the normal from the fiction. One boy presses up against the entrance to a shed in harsh sunlight, in a fateful and futile struggle, while his brother stares out from behind a window. It takes a few moments to spot him—and longer to put him out of one's mind. Another subject looms up from behind a worktable, as if resting on it like a Renaissance bronze. Elsewhere the brothers share an arch out of Renaissance painting, but with one lying face forward and the other with his butt to the camera.
Are they subject to their father's demons or just playing around? They never break into smiles or gape in fear, and the one that might be mooning is, innocently enough, fully clothed. The whole family rests all but buried in dead leaves, somewhere between Andy Goldsworthy and an entombment. Meatyard had little interest in traditional portraiture on the one hand or the social fabric of America on the other. He did not need to cross America by car to penetrate the heartland, like Robert Frank, Mark Steinmetz, or Lee Friedlander, and he did not need appropriation to see nature or culture as a mask. No wonder he remained in his lifetime pretty much under the radar.
What he could do is experiment. The closest a boy comes to play is in twiddling his fingers like a puppet master, and Meatyard uses a long exposure to capture the blur. A double exposure multiplies tombstones, as if the dead were arising, and camera movement makes houses appear to crash into a tree. Near abstract landscapes take up half the show, their bareness in collision with their picture of motion. The sun seems trapped by undergrowth, while light traces across water like dabs of paint and planes in the sky. Maybe next time a show will take him back from sunlight and shadow to Halloween.
Life stages
It should be easy enough to plan a family when none of its members are alive. Easy enough, that is, unless you are Morton Bartlett, who brought to the dolls in "Family Planning" the same impulsiveness as a child. Born in 1909, he had every opportunity to act out his impulses. Little was riding on it, while he pursued photography much like everything else—on again and off, dropping in and dropping out, from Harvard to a career. He had a steady job for some time as an editor at Bench and Brush and Decorator's Letter from Home. They allowed readers aspiring to the perfect home to act out their impulses, within the space of consumer culture and glossy magazines. Yet all the while, from at least 1935 to 1955, he also worked on his sculpture and photography.
Both for him involved inanimate but not unfeeling objects. They gained attention well after his death in 1992, when they seemed to provide the missing link from the sexual undercurrents of childhood for Lewis Carroll and of adulthood for Pierre Molinier to the Postmodernism of Laurie Simmons.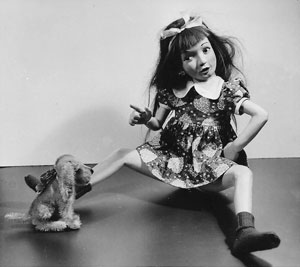 He really was playing with dolls—but not exclusively. The show interweaves his images of them and children, along with a prop or two. All appear to throw themselves into their work or, rather, play. They could almost approach innocence.
Bartlett looks young and confident himself in a portrait, bathed in gradations of light. And without attention to lighting, textures, and the breadth of a smile, one might have trouble telling the dolls and children apart. Both bury their bodies in the sand and their heads in a book—in the case of a girl, the Brothers Grimm. Both take equally to the home, the beach, and the woods as part of the theater of an inner life. Both, in short, are both staged and playing a part in their staging. In another self-portrait, preparing to hold a camera up to a girl, she pokes him right back.
Another almost forgotten career, too, belongs to a photographer who worked in other arts. Artur Nikodem goes back still earlier, to a childhood in Austria in the 1870s, education in Munich and Italy, and service in World War I. (He was better known as a painter, I read, but you could have fooled me.) He, too, also moves between femininity, objects, and nature, with portraits and landscapes drenched in light. The portraits may be nude and fragmented or clothed, alert, and alive. The landscapes, of a swan or a laborer with oxen, suggest a fairy tale themselves.
Is that a deer in the headlights, at the same gallery? Absolutely, and childhood for Holly Andres is nothing if not proverbial. For Simmons, girls find their gender roles not just in dolls, but in popular culture—most recently in the "Doll Girls" subculture, in photos at the Jewish Museum not long before. For Andres, myths and proverbs still have their hold, especially the mythic culture of white America. Her girls still live amid lakes, trees, fine wood, patterned wallpaper, and two strict parents. They still dress in plaid and polka-dots, travel in bulky automobiles, and pray each night at the dinner table. They also still have their secrets.
Andres conceives her photographs in series, and in a moment that deer lies inert before the headlights, as the title actor in The Fallen Fawn. The tale, concerns a suitcase with the contents of an unknown woman's life. Must or can the girls take it for theirs, and is anyone looking except perhaps you? As with Bartlett, childhood is a stage in every sense of the word. These girls, too, are not all that into sex. Growing up will have to take care of itself.

Ralph Eugene Meatyard ran at D. C. Moore through December 23, 2015, Morton Bartlett at Julie Saul through December 23, Laurie Simmons at the Jewish Museum through August 15, and Artur Nikodem and Holly Andres at Robert Mann through December 5. Portions of this review first appeared in a slightly different form in New York Photo Review.